A bowl full of joy, This Almond Joy Oatmeal is packed with nutrition and guilt free! Enjoy a bowl today!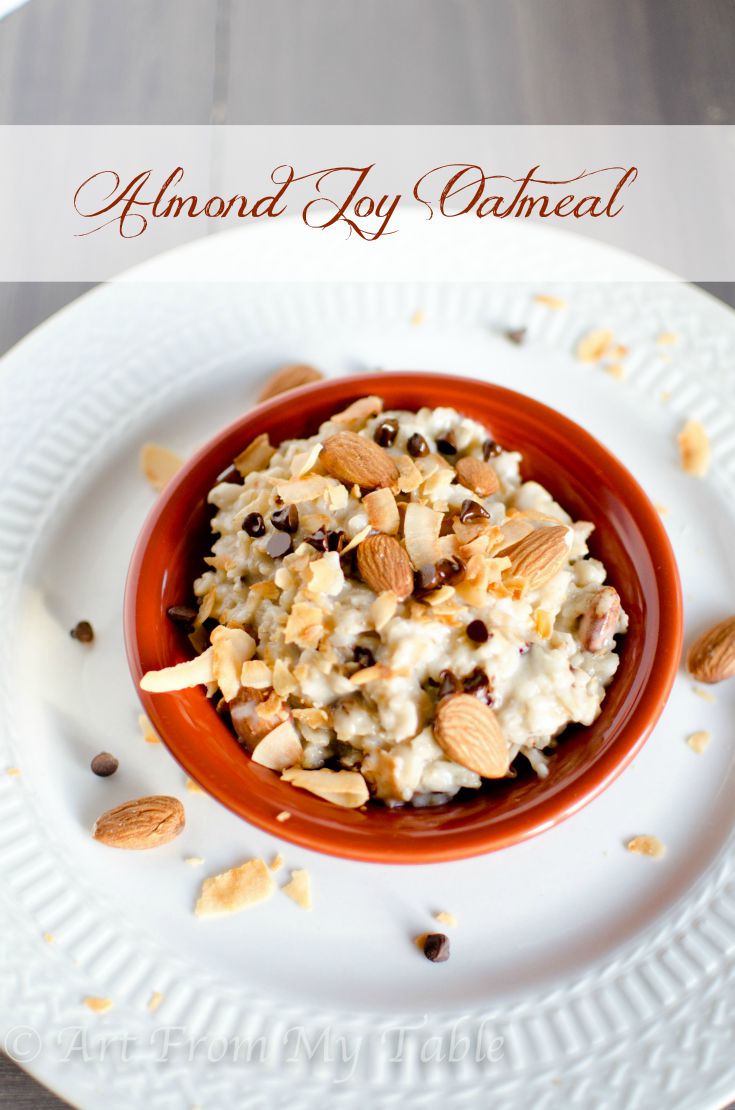 This post may contain affiliate links. I wouldn't recommend something to you unless I absolutely believed in it.
Welcome to day 3 of No More Boring Oatmeal! If you've missed the first half of this series, look here for day 1 and day 2. Yesterday I hinted that today's oatmeal would bring you JOY. 🙂  Well, chocolate, almonds and coconut? That brings me joy! This one might be my favorite yet. I don't know, they're all so good, it's hard to compare.
Almond Joy Oatmeal
Chocolate, almonds and coconut? Sounds too delicious to be good for you. Let's hit some highlights on the nutritional value.
Oats:  Lowers cholesterol levels, reduce the risk of cardio vascular disease, prevent heart failure, stabalize blood sugar, and more.
Coconut: rich in fiber, vitamins C, E, B1, B3, B6 and minerals including iron, selenium, sodium, calcium, magnesium and phosphorus

(source)

.
Almonds:  Lowers LDL cholesterol, protection against diabetes and heart disease, contain healthy fats, vitamin E, magnesium and potassium, and may help you lose weight. See more here.
Dark chocolate:  One of the best sources of antioxidants on the planet! It also contains many heart healthy benefits, it may protect your skin against the sun, and may improve brain function (yeah, I could use that). Of course you can't go crazy, it still has calories etc. But a little can give you some benefits and is oh so satisfying! Here are 12 proven benefits of dark chocolate.
One of the things I love about oatmeal for breakfast is that it's so satisfying, and I don't just meant the taste, I mean it fills you up. I don't still feel hungry, and I'm not starving an hour after breakfast.
Let's get started.
First, toast the coconut. This gives the coconut amazing flavor! You can put some it a frying pan and do it on your stove, or pop it in the oven, which is what I did. Just put it on a baking sheet and toast it for about 10 minutes or so at 300. Keep an eye on it, all ovens vary. I like to give it a little shake to move it around about half way through the cooking.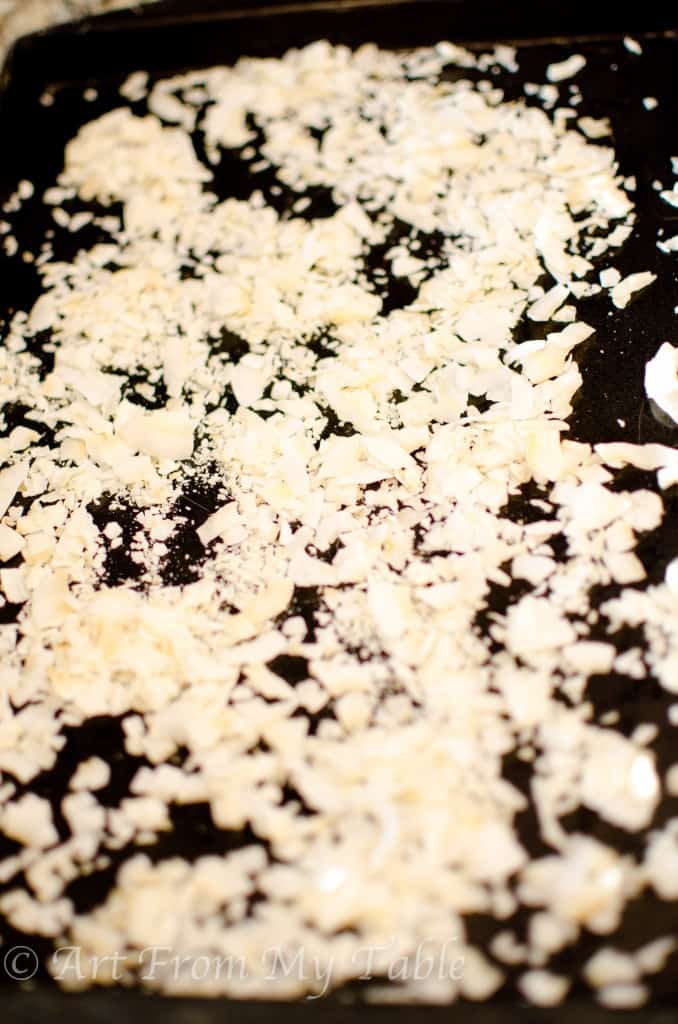 When it's finished, it looks like this:
Instead of cooking the oats in water, for this recipe, cook them in unsweetened coconut milk.
when it's finished cooking, turn it on low and add the honey, coconut, almonds and chocolate chips.
Go eat some joy!!
How are you making over your oatmeal these days?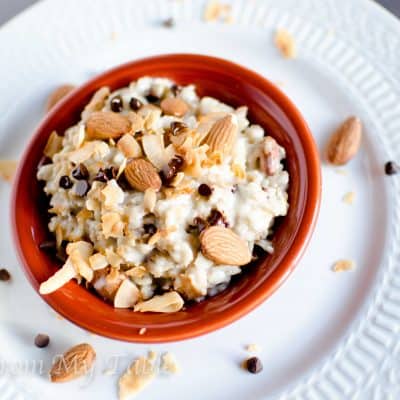 Ingredients
1 1/2

cups

oatmeal

3

cups

unsweetened coconut milk

2

Tbs

honey

1/2

cup

toasted unsweetened shredded coconut

1/2

cup

almonds

1/4

cup

dark chocolate chips
Instructions
Place shredded coconut on a rimmed baking sheet and toast for 10 minutes in a 300 degree oven, or until golden. Stir half way in between the cooking time.

Place oats and coconut milk in a medium pan, bring to a boil, reduce heat to medium low.

Stir occasionally.

Once it is to the desired consistency, add honey, toasted coconut, almonds and chocolate chips.