In this weeks blog hop I'm linking up Bacon Wrapped Apricots. These are a favorite at my Christmas Party every single year.
Welcome back to From the Archives Friday Blog hop!
**A quick note before we start, there will be no link party next week over the Christmas holiday**
It's almost the weekend! What are your plans? Do you have Christmas parties or other holiday events to attend? Are you having family over? It's one week away from Christmas! Who's a last minute shopper? This week is Theme week on FTAF blog hop, so link up any of your holiday or winter themed posts. If you don't have anything in that theme, no worries, we still want to see your lovely links.
Speaking of lovely links…
Thank you to all of you who are linking with us each week. I enjoy your posts and appreciate you all so much. This wouldn't be a success without you. I hope you'll tell all your friends so we can blog hop with even more fabulous people like yourself!
[bctt tweet="It's time for another #FTAF #bloghop! Grab your #holiday #archive posts and party with me!" @beckysblogg, @we3crabs, @coldtexan1″]
Please note, that this party is for archived posts. We want to see some of your old posts, we can see your new ones when visiting your blog. It's so hard to pick a favorite archive, if all the links are new. Help us out! We want to feature you!
This week in the kitchen…
Need a Christmas morning breakfast? As promised, my Egg Nog French Toast is up for you to see. I've also been getting ready for my Christmas Eve Open House. This is something we tried one year on a whim, and it has become our tradition. This will be our 7th year. So, I have been busy preparing for that. I will be serving these and these, along with lots of other hor d'oeuvres. We also have a love for steamers lately. I love to treat my kids to something special once a week, and this week it was this peppermint mocha steamer
One of my favorite things to do is sit with a cup of coffee and read your links!!!!
 Let's party!!!
Blog hop time! For all the non-bloggers out there, this is a great opportunity of find some new bloggers to love. For all my fellow bloggers, this is your opportunity to revive some older posts that either need sprucing up, or more love than they got the first time around, we will be pinning all the links to our FTAF boards. We have one board for all the links and another board just for our favorites.
Just a quick reminder, we want to see your archived, or old posts. We can see your latest goods when we drop in on your homepage, show us some stuff we might not see otherwise. 🙂
Meet The Hosts
Please follow them in some way and show them some comment love. 🙂

Ashley @ Chronicles Of A Cold Texan
Facebook | Twitter | Pinterest | Google | Instagram | Bloglovin' | BlogHer | Yummly | Guidecentral 
Becky @ Becky Has Been Blogging
Facebook | Twitter | Pinterest | Google | Instagram | Bloglovin' | BlogHer | Stumble | Guidecentral
Erica @ We Three Crabs
Facebook | Twitter | Pinterest | Instagram | Google 
Victoria @ Giveaways For Mom
Facebook | Twitter | Pinterest | Instagram | Google | Bloglovin | Stumble | Blogher | You Tube 
Samantha @ Feeling Fit
Facebook | Twitter | Pinterest |Instagram | Google | Stumbled Upon | Bloglovin'| You Tube
Chellie @ Art From My Table
 Facebook | Twitter | Pinterest | Google | Instagram | Bloglovin' | BlogHer | Guidecentral
Leave your hosts comments when you follow so that we can follow you back and support you in your blogging adventures! We're all about bloggers helping other bloggers!
Please make note: This is a link up party for archived posts. If you link up brand new posts, they will not be deleted but will also not be considered for Featured Favorites. Thank you for understanding.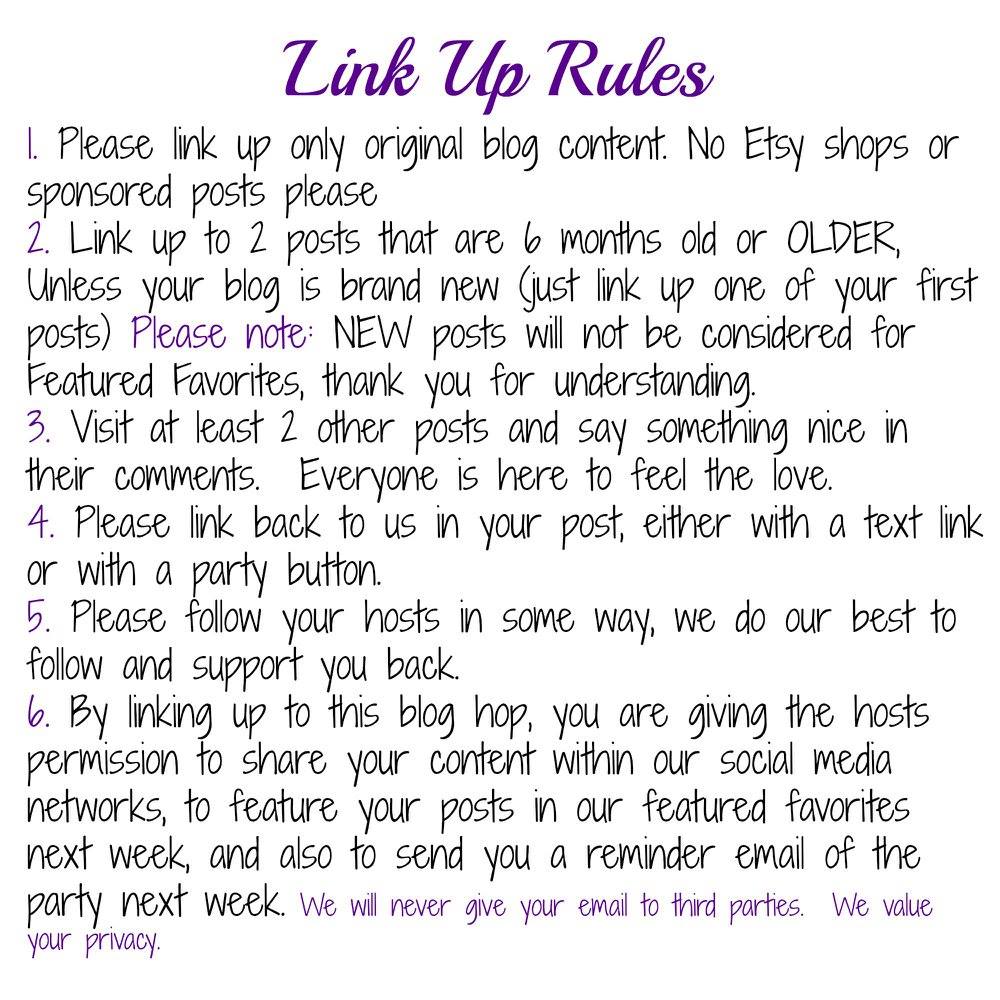 Check out last weeks Featured Friday Favorites!
Wholistic Woman~10 Budget Friendly Dinner Party Ideas
Don't Sweat the Recipe~Mom's Sour Cream Pound Cake
Day to Day Adventures~Making a Rag Rug
Smart Mom Smart Ideas~How Technology Changes Education
[bctt tweet="I was featured at #Fromthearchivesfriday! Come see! @beckysblogg @we3crabs @coldtexan1″]
 If you're featured, feel free to add the Featured Favorite button to you post or sidebar!
 How Does The Link Up Work?
Start by reading the rules (above) and add this button or a link back to your post.
[bctt tweet="It's #archivesfriday! Bring an old post out for us to see at #FTAF #linkparty! @beckysblogg @coldtexan1 @we3crabs"]
Follow Chronicles Of A Cold Texan Blog's board From The Archives Friday on Pinterest.   Follow Chronicles Of A Cold Texan Blog's board FTAF Featured Favorites on Pinterest.