Welcome to From the Archives Friday!
Or, welcome back if you are joining us again! And, Happy St. Patricks Day!  I'd love to know if you celebrated and how.  🙂
Come join the fun at #Fromthearchivesfriday #linkparty! Give some love to an older post. #FTAF…
Click To Tweet
Are you ready for Spring?  This week is…
Theme Week!
Once a month at our party we like to have a theme, and this week is it, and, the theme is SPRING! I'm looking forward to seeing all your spring archived posts.  I'm linking up a fun little springy treat I like to call "Bird's Nests".  The kids and I made these long ago.  It's a great one for the kids to help, it's super easy, not to mention delicious!
This week in the kitchen…
I've been photographing loads of Spring recipes.  My poor family sits patiently around the dinner table while I get just one more shot of whatever we're eating that night.  They're gems.  Do you like to eat seasonally?  If so, stay tuned, there's much in store for this season.
Thank you for coming to the party!
One of my favorite things to do is sit with a cup of coffee and read your links!!!! I enjoy your posts and appreciate you all so much. This wouldn't be a success without you. Please tell all your friends so we can blog hop with even more fabulous people like yourself! And remember, everything gets pinned!  
It's time for another #FTAF link party! Let's see your archived posts. #linkparty.#archivefriday…
Click To Tweet
Please note, that this party is for archived posts. We want to see some of your old posts, we can see your new ones when visiting your blog. It's so hard to pick a favorite archive, if all the links are new. Help us out! We want to feature you!
Let's party!!!
Meet The Hosts
Please follow them in some way and show them some comment love. 🙂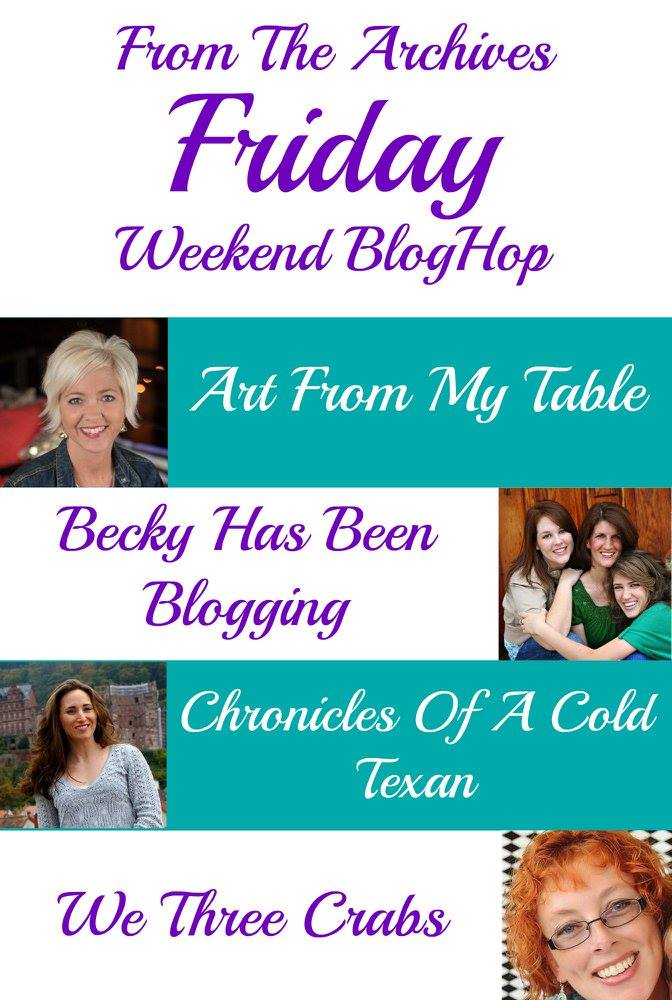 Ashley @ Chronicles Of A Cold Texan
Facebook | Twitter | Pinterest | Google | Instagram | Bloglovin' | BlogHer | Yummly | Guidecentral
Becky @ Becky Has Been Blogging
Facebook | Twitter | Pinterest | Google | Instagram | Bloglovin' | BlogHer | Stumble | Guidecentral
Erica @ We Three Crabs
Facebook | Twitter | Pinterest | Instagram | Google
Chellie @ Art From My Table
Facebook | Twitter | Pinterest | Google | Instagram | Bloglovin' | BlogHer | Guidecentral
Leave your hosts comments when you follow so that we can follow you back and support you in your blogging adventures! We're all about bloggers helping other bloggers!
Please make note: This is a link up party for archived posts. If you link up brand new posts, they will not be deleted but will also not be considered for Featured Favorites. Thank you for understanding.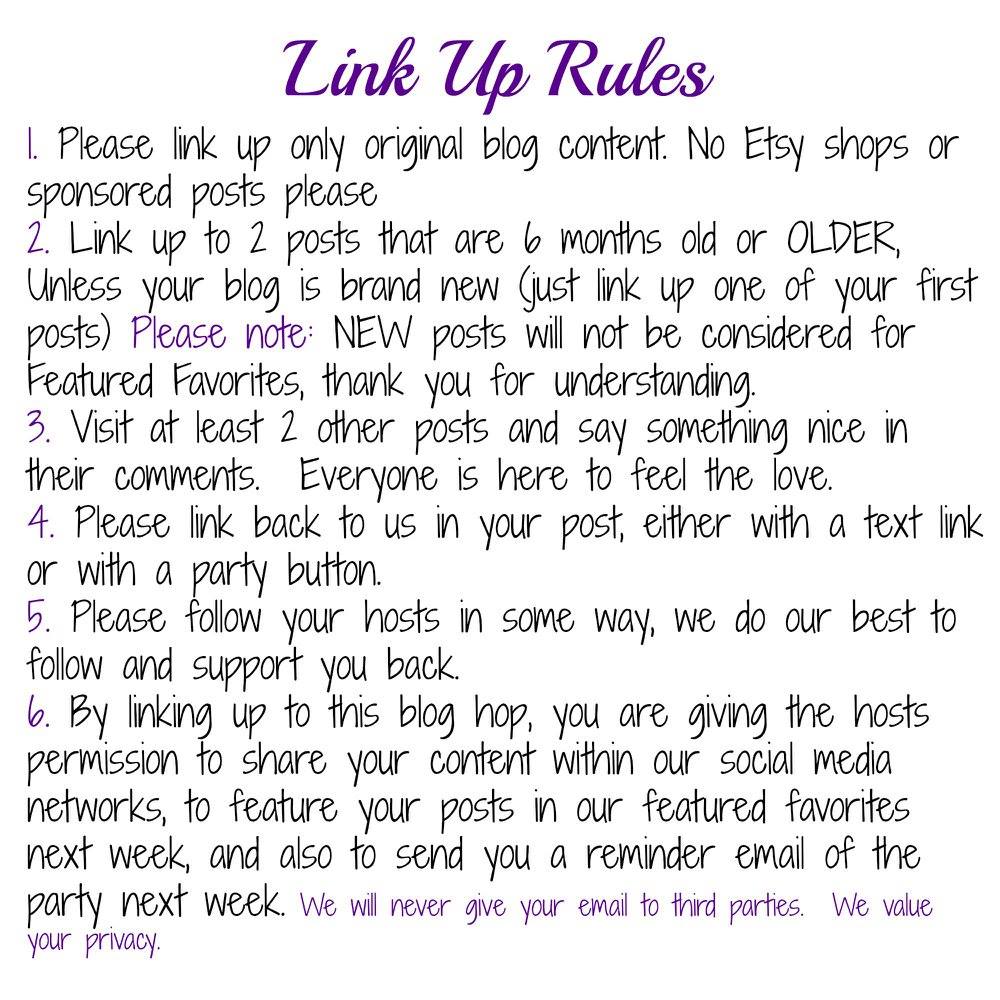 Check out last weeks Featured Friday Favorites!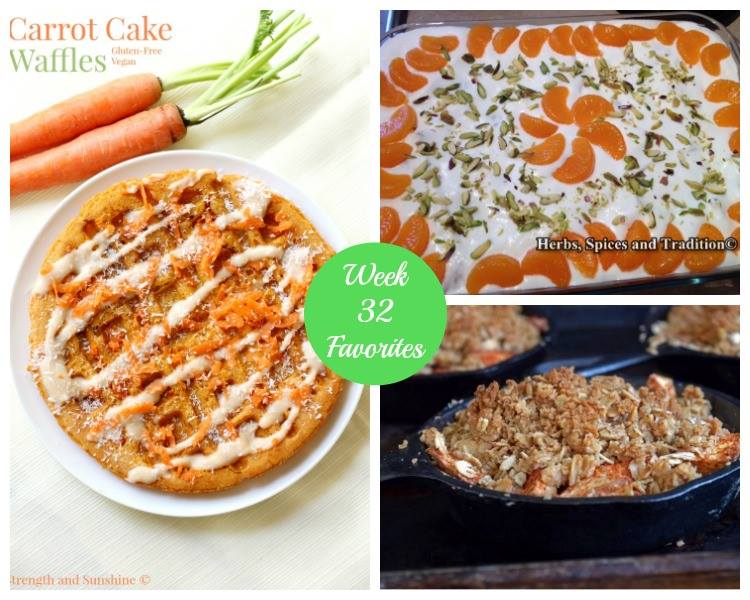 Drugstore Divas~St. Patricks Day Treat Bucket
Nourish & Nestle~Individual Apple Crumbles
Strength & Sunshine~"Secret Ingredient" Carrot Cake Waffles
Herbs, Spices, and Tradition~Orange and Mango Trifle
I was featured at #FTAF #linkparty! Come see! and add your #links! @Beckysblogg @coldtexan1… Click To Tweet
 If you're featured, feel free to add the Featured Favorite button to you post or sidebar!
How Does The Link Up Work?
Start by reading the rules (above) and add this button somewhere on your blog or a link back to your post.
It's #archivesfriday! Breathe new life into an old post at #FTAF #linkparty! @beckysblogg… Click To Tweet
Follow Chronicles Of A Cold Texan Blog's board FTAF Featured Favorites on Pinterest.
Follow Chronicles Of A Cold Texan Blog's board From The Archives Friday on Pinterest.

Blessings, Chellie