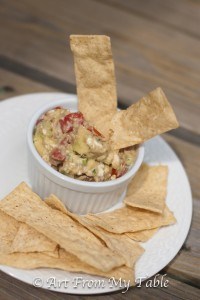 Here's a fantastic salsa that's a bit unique. I just made this for the first time and brought it to a family gathering, and it was a hit!! Everyone loved it. Honestly, I wasn't sure it was going to make it to the party after I sampled it, it's that good! Give it a try and let me know what you think.
2 plum tomatoes, chopped
1 avocado, halved, seeded, peeled and chopped
¼ cup finely chopped red onion
1 clove garlic, minced
1 Tbsp snipped, fresh parsley
1 Tbsp snipped fresh oregano
1 Tbsp olive oil
1 Tbsp white vinegar
4 oz. feta cheese, coarsely crumbled
1. In a medium bowl, combine tomatoes, avocado, onion, garlic, parsley, oregano, oil, and vinegar.
2. Stir gently to mix.
3. Gently stir in feta cheese.
4. Cover and chill for 2 hours or up to 6 hours.
Serve with tortilla chips, pita chips or crackers. As far as I'm concerned, you could just ditch the chips and grab your spoon!! I also think this would be great on chicken as well. Top a nice piece of grilled chicken with it…YUM!