My son's birthday was a few weeks ago, but do to the illness, etc. that I have been talking about, I'm just now getting that post up. This was definitely the easiest cake I have made so far.
Start with a 9×13 cake and a dome type cake. I just used an oven proof bowl and it was perfect.
1. after the cakes cool, put the 'mound' cake on top of the 9×13 cake, sort of toward the end. Hold it on with frosting.
2. Frost the rest of the cake. I have to say, the frosting was delish. I used 1/2 cup butter, 2 cups semi-sweet chocolate chips, and some heavy cream. Melt the first 2 together, then add the cream til you get the consistancy.
3. time to decorate! I used chocolate grahm crackers, fudge covered grahm cookies, and chocolate creme filled cookies (like oreos, but w/chocolate creme, I used the Meijer brand). Crush up the cookies, you need about 1 1/2 cups total, then sprinkle it on the top.
4. Place your gummy worms, plastic bugs, etc.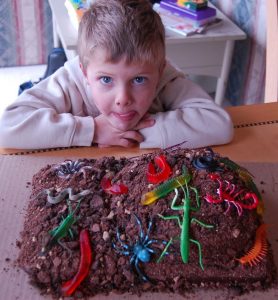 Mmmmmm…. bugs!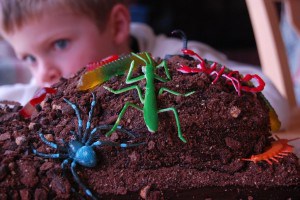 Close up of the mound.