Chicken Pot Pie Casserole with Sweet Potatoes & Apple
A new take on the traditional chicken pot pie with the addition of curry, sweet potatoes, and apples served up in casserole style!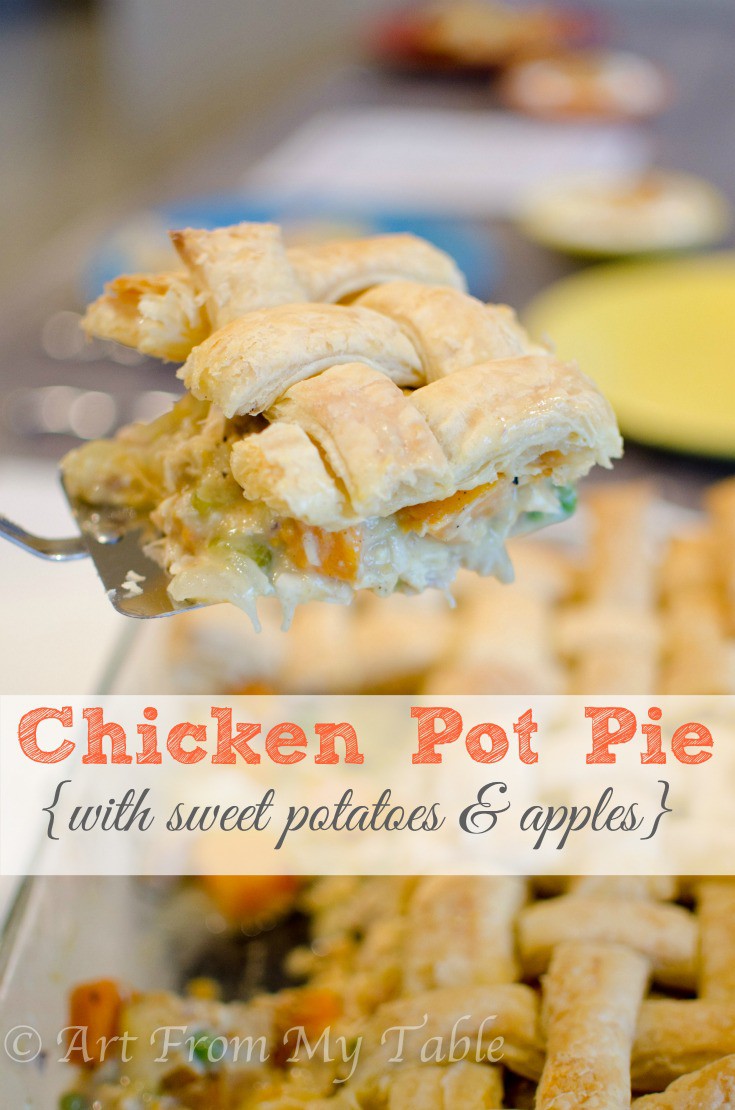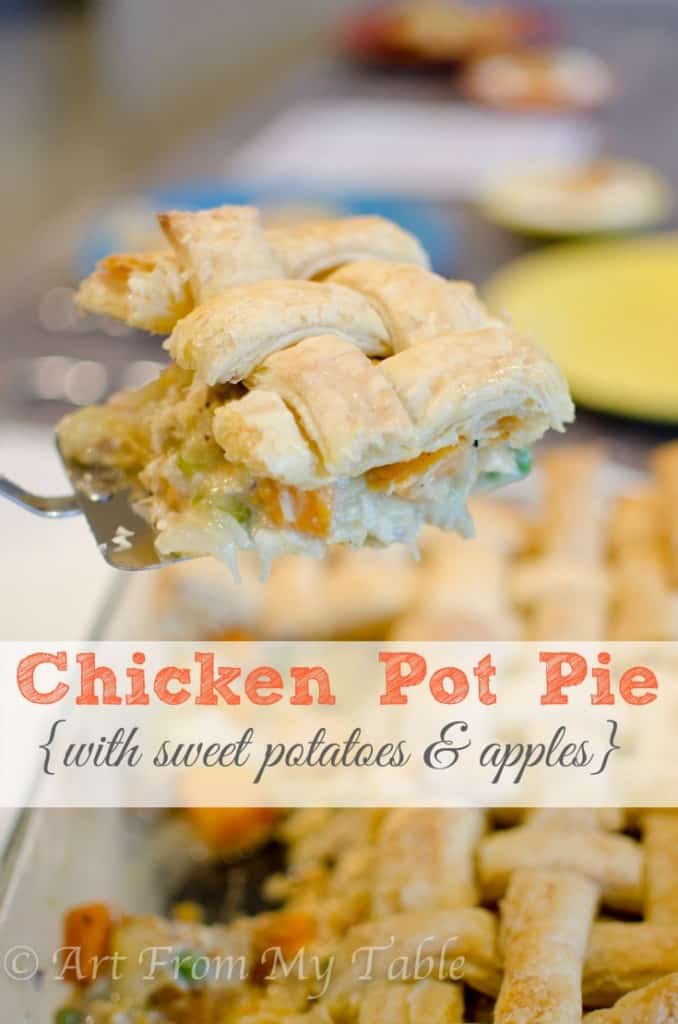 This is another divine dinner from Cuisine At Home. It's a wonderful, warm, comfort food, full of fall flavor. It's not your traditional Chicken Pot Pie, I like to think of it as a Chicken Pot Pie for grown ups because it has the addition of just a touch of curry and the sweet potatoes and apples. It just has a bit more grown up flavor. That being said, I don't know of a grown up that doesn't like traditional chicken pot pie, and my kids loved this just as much. They were already 'calling' leftovers for their lunch the next day. That's another reason I like this recipe–left overs. My family can eat a whole chicken pot pie, you know, the ones in the form of a pie. I try to serve lots of other things with it so there might just be one piece left over for my lunch the next day. With this one, just because there's more of it, I get to have it the next day too–unless my kids beat me to it! Haha! This chicken pot pie feeds a crowd for sure.
This recipe doesn't take too long to come together. I recommend prepping everything ahead of time, so that once you start cooking, it goes very smoothly.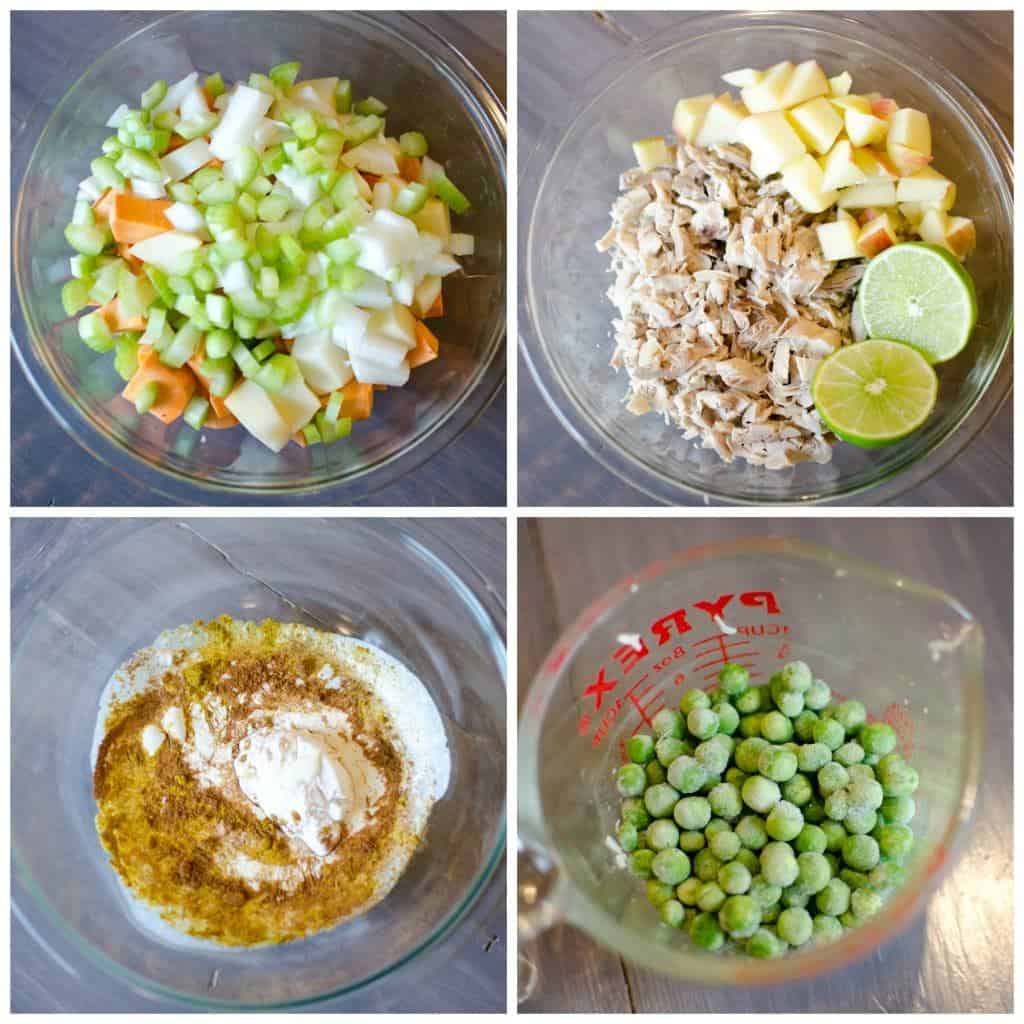 Once you've sliced and diced, get the 'crust' ready. I don't know what else to call it, I think crust refers to the bottom of the dish, but this one goes on the top. I guess we could call this upside down chicken pot pie too. Okay, not really.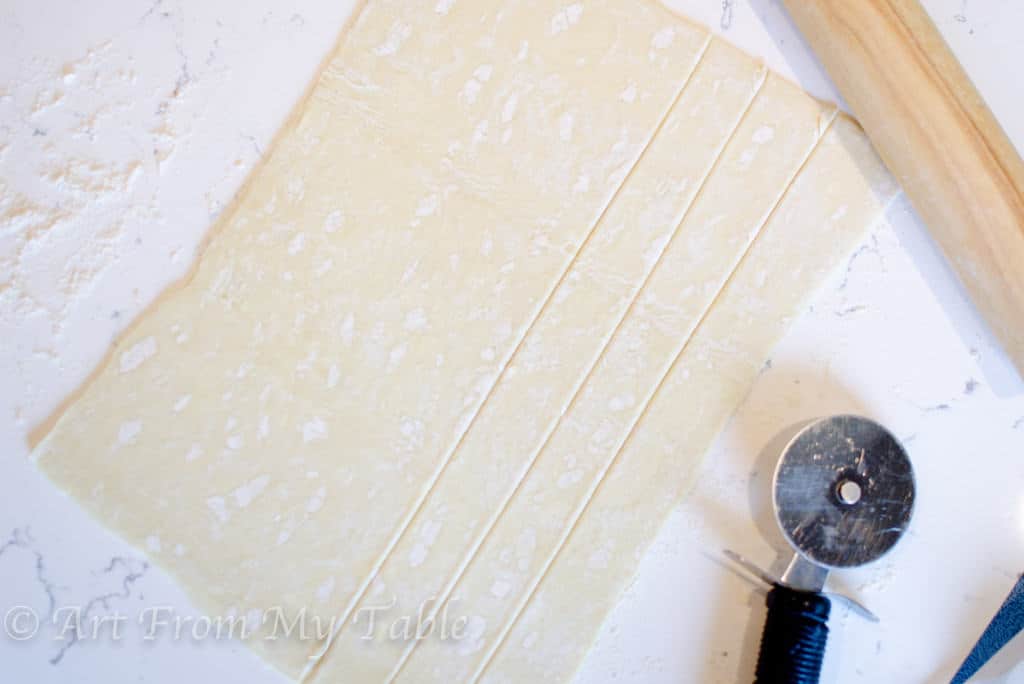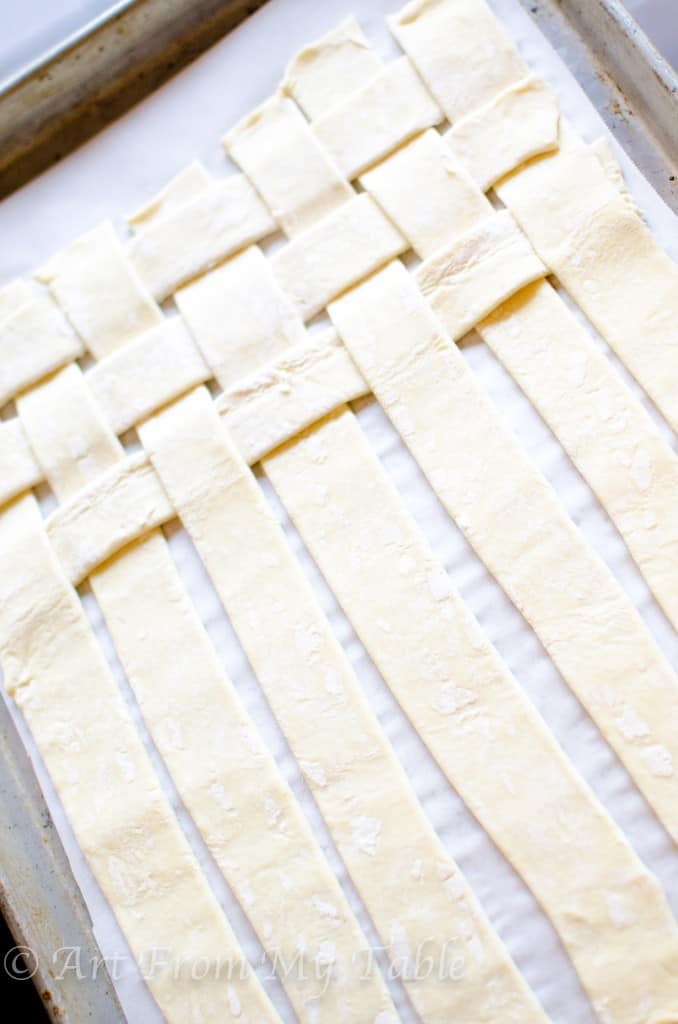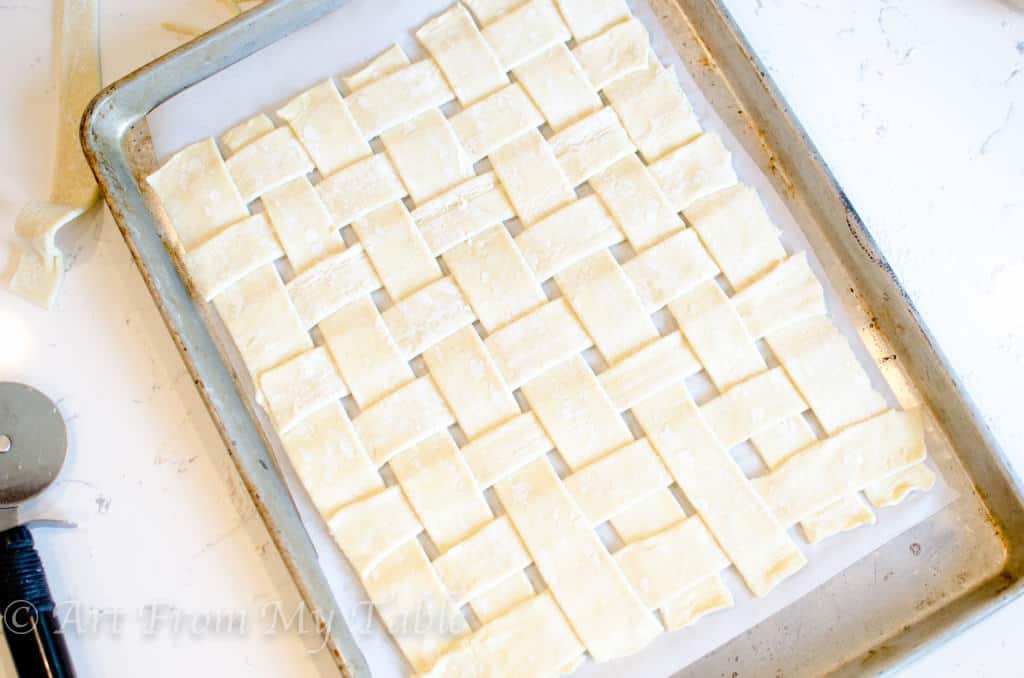 Looks tedious, but it really isn't. Pop this in the freezer while you get to cooking the rest of the recipe!
After simmering the veggies, add the yogurt and spice mixture. Yogurt! This is good for you! Do you think that cancels out the calories in the crust? Oh, never mind, let's not talk calories.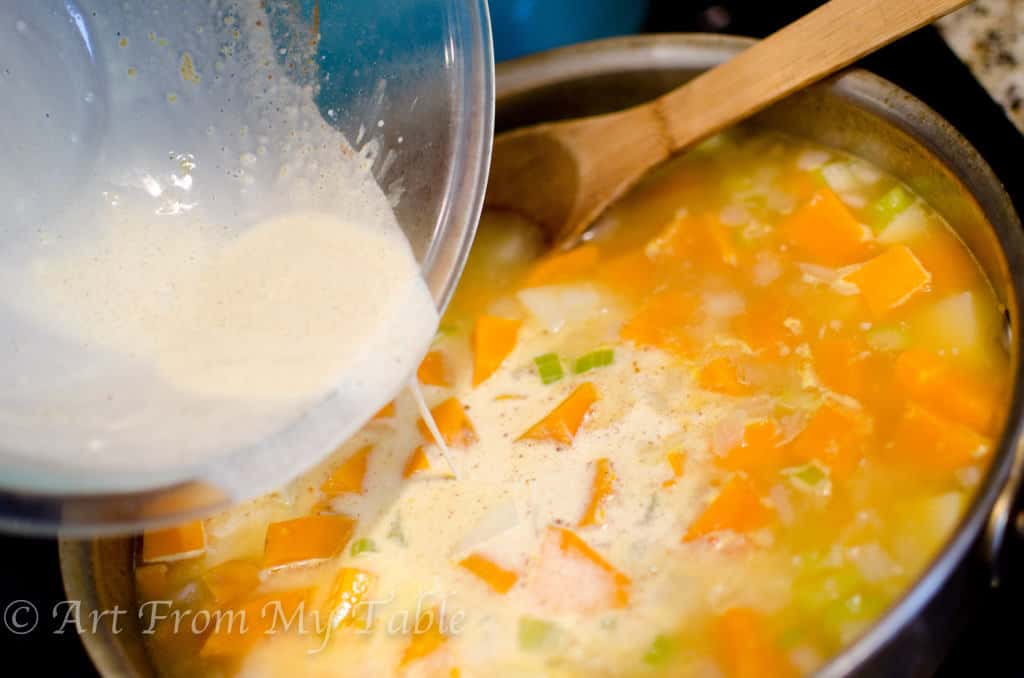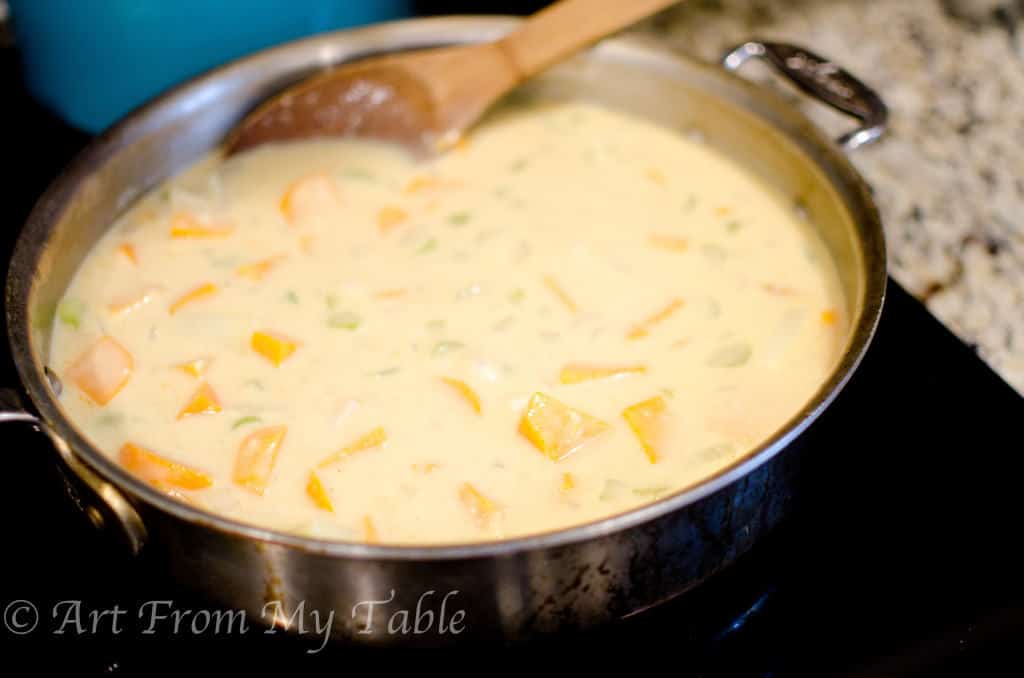 Let this cook a bit and get thick and bubbly. Then add the chicken, apples, lime juice and peas. Put it in a 9×13 inch pan and you're ready to bake it.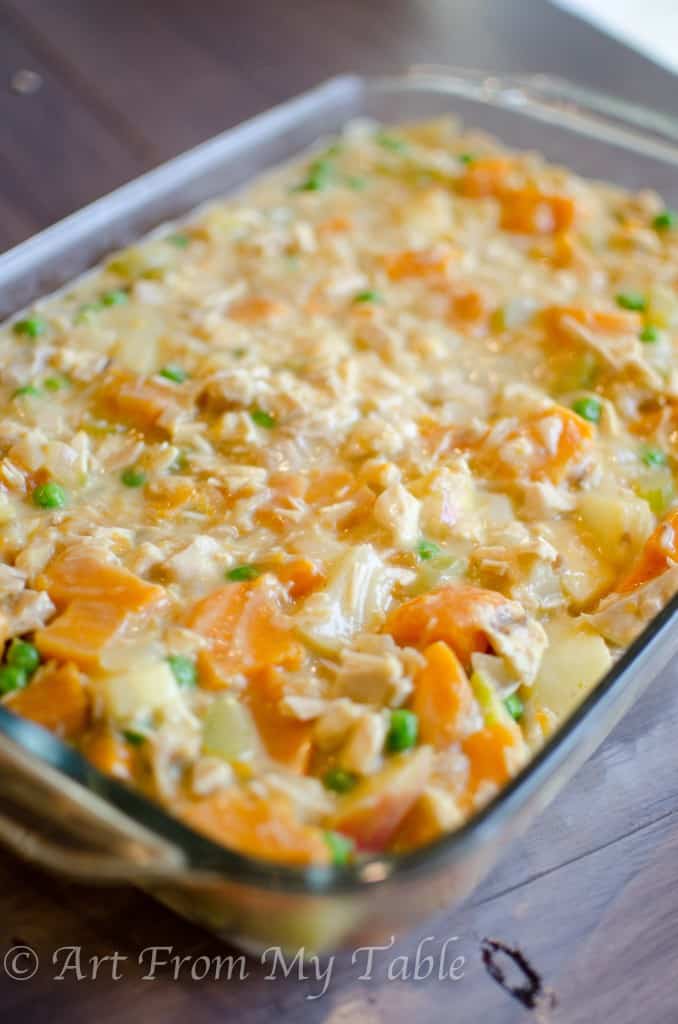 Bake the casserole, and the topping at the same time, but not assembled yet. This way it will be nice and crisp.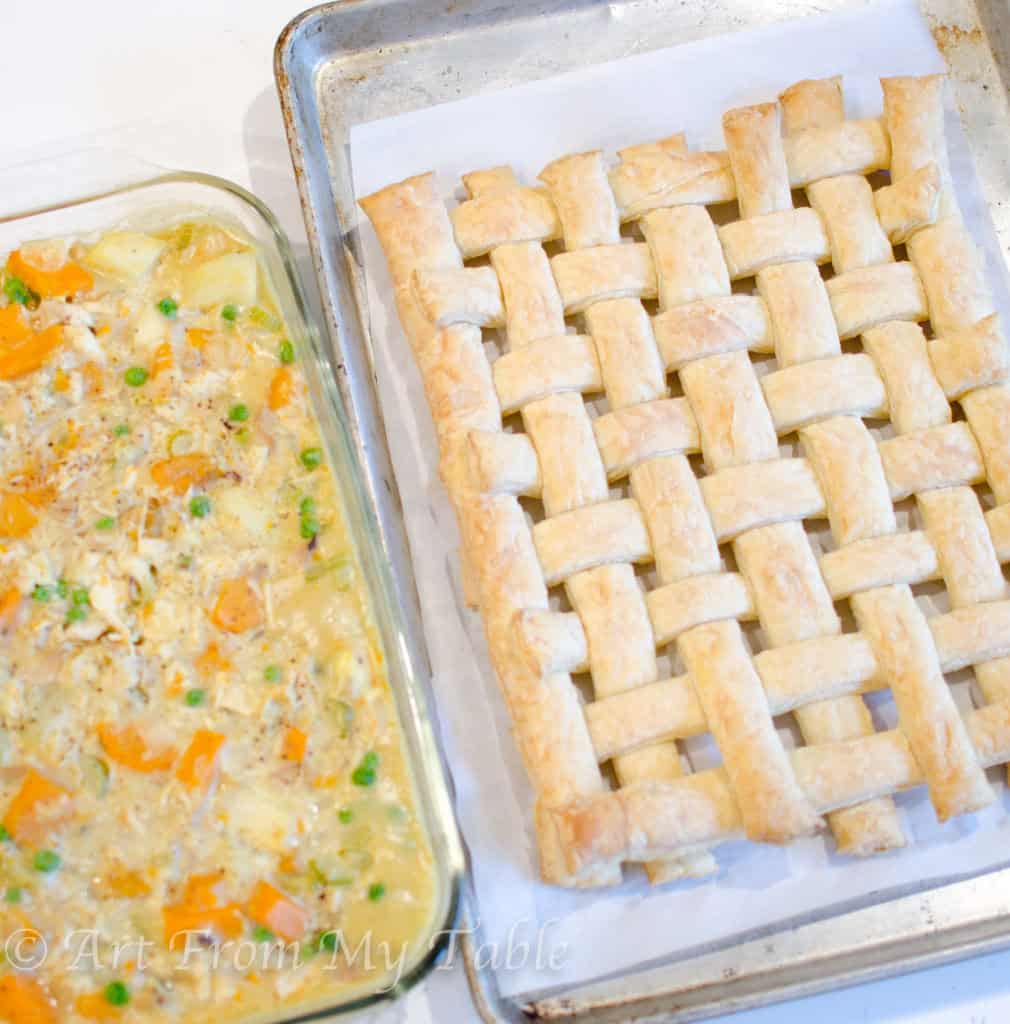 Then just slide the topping over and dig in!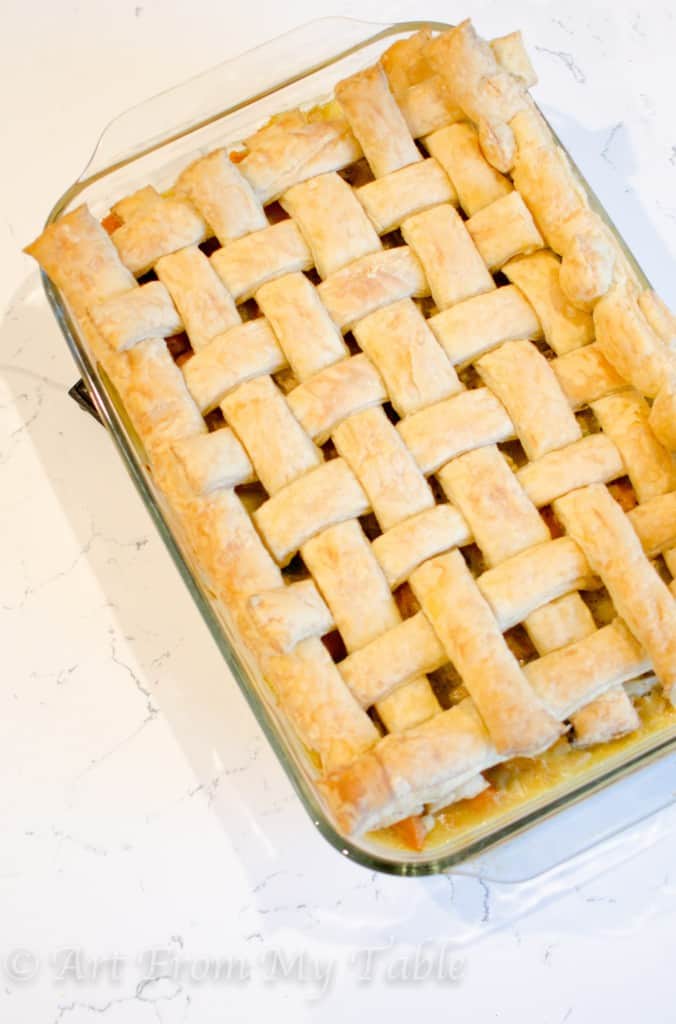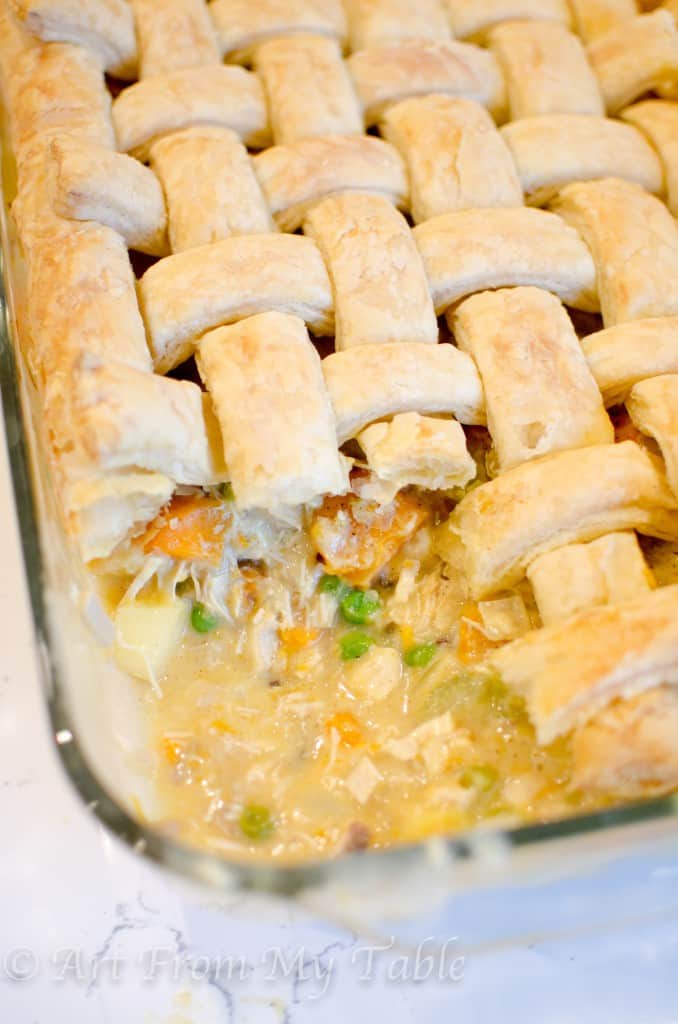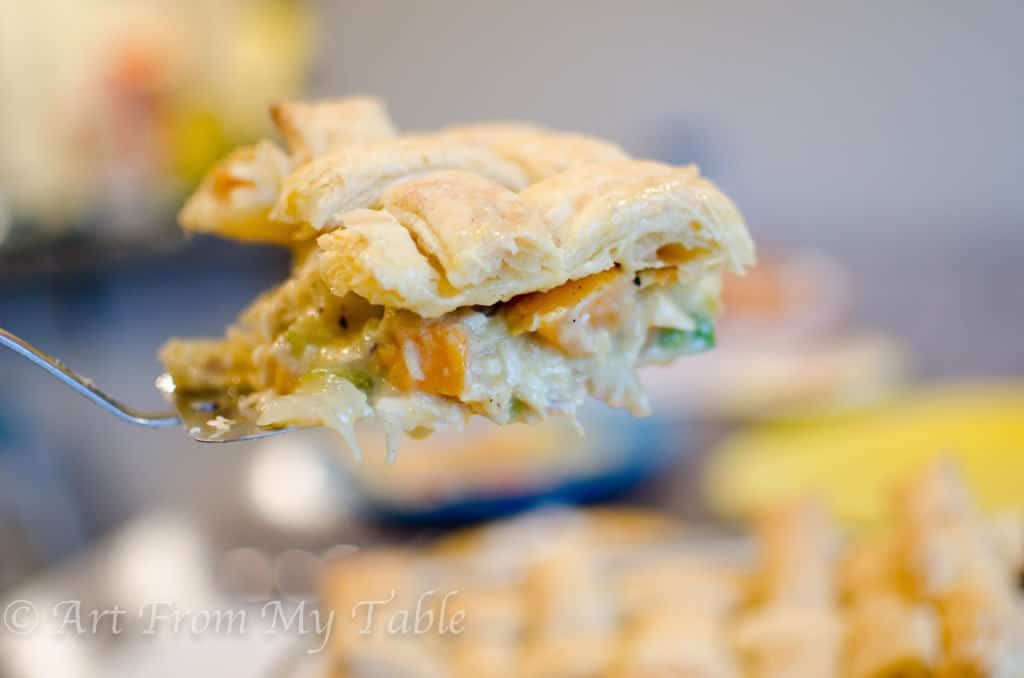 So, what do you think? Will you try this the next time you crave chicken pot pie? Do you have a new twist on a traditional favorite? I would love to hear your ideas! Let's connect in the comments below!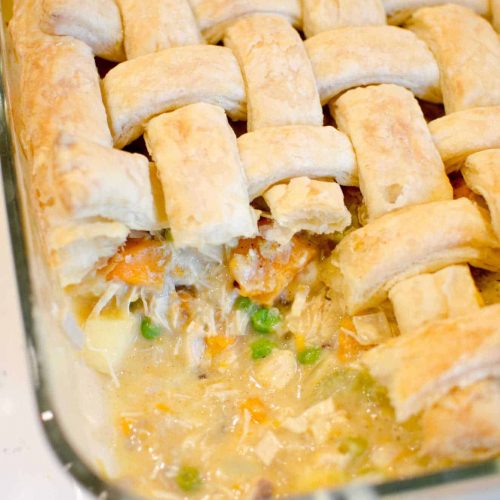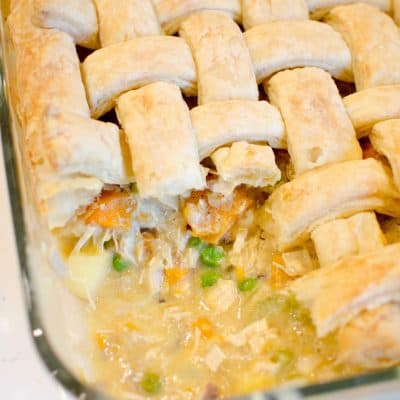 Ingredients
1

pkg frozen puff pastry

thawed (2 sheets)

3 1/4

cups

low-sodium chicken broth

divided

2

cups

peeled

diced sweet potato

1 1/2

cups

peeled

diced russet potato

1

cup

diced onion

1

cup

diced celery

1

tbs

minced garlic

1/2

cup

heavy cream

1/3

cup

all purpose flour

2

tsp

curry powder

1/4

tsp

ground cinnamon

3

cups

diced rotisserie chicken

1

granny smith apple

peeled and diced

1/2

cup

frozen green peas

1/4

cup

minced fresh cilantro

2

tbs

fresh lime juice

salt and pepper to taste
Instructions
For the crust:

Roll out one of the sheets of pastry just a little so it is the length of your 9x13 inch pan.

Cut pastry sheets into 1 inch wide strips.

On a parchment lined baking sheet, weave strips into a lattice pattern; freeze while preparing filling.

Preheat oven to 350. Lightly coat a 9x13 inch baking dish with nonstick spray

For the filling:

Heat 2 1/2 cups broth, sweet and russet potatoes, onion, celery, and garlic in a large skillet over medium-high.

Cook until vegetables are slightly soft, about 8 minutes.

Whisk together remaining 3/4 cup broth, cream, flour, curry powder, and cinnamon.

Pour mixture into vegetable mixture.

Cook and stir until thick and bubbly.

Add chicken, apple, peas, cilantro, and lime juice. Season with salt and pepper.

Pour filling into prepared baking dish.

Bake the crust and casserole separately, yet at the same time, so the pastry is crisp when you lay it on the pie.

In about 25-30 minutes your filling should be bubbling, and your pastry should be golden.

Transfer on top of the casserole.