The best Chocolate Cupcakes you have ever tasted in your life! Decadent, delicate, and of course delicious. Chocolate lovers, you won't be disappointed.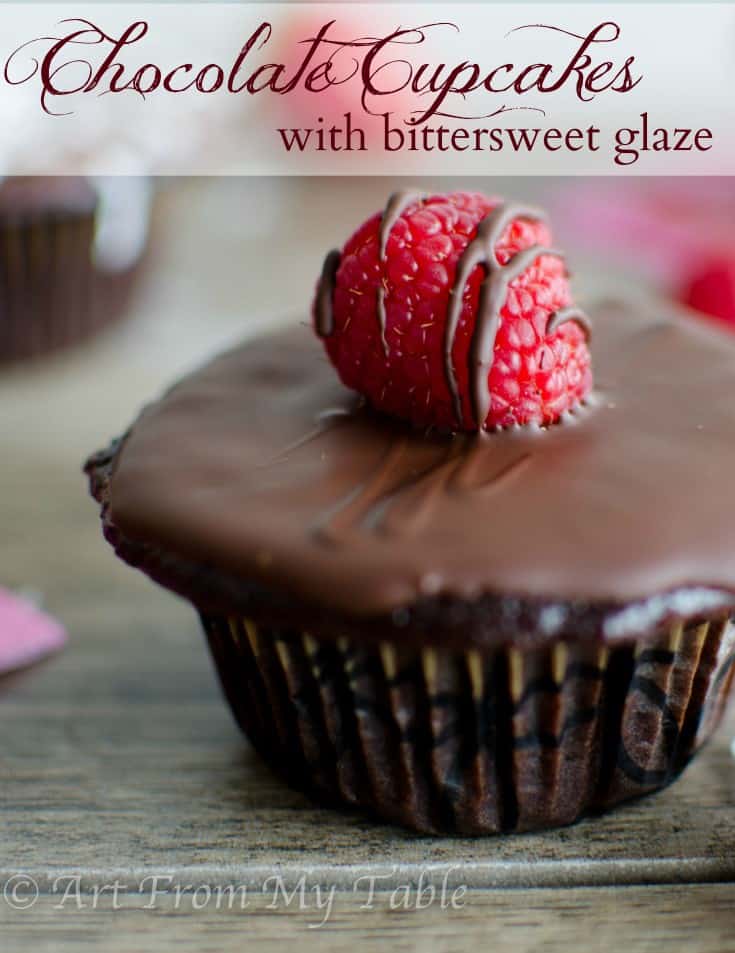 This post may contain affiliate links.
Talk about Death by Chocolate~ Oh. My.
Chocolate Cupcakes with Bittersweet Glaze
These best ever chocolate cupcakes are not for the faint at heart! Rich chocolatey yummy good deliciousness! There are no words friends, only moaning while you eat these. This recipe comes from Molly Wizenberg. I read her book "A Homemade Life" and thoroughly enjoyed it. From the moment I read about these cupcakes, I couldn't stop thinking about them!
So here they are for your enjoyment. I'm not kidding when I say these aren't for the faint of heart. They are oh so rich. I really only need half a cupcake to satisfy that chocolate craving. But of course, I'm gonna eat the whole darn thing!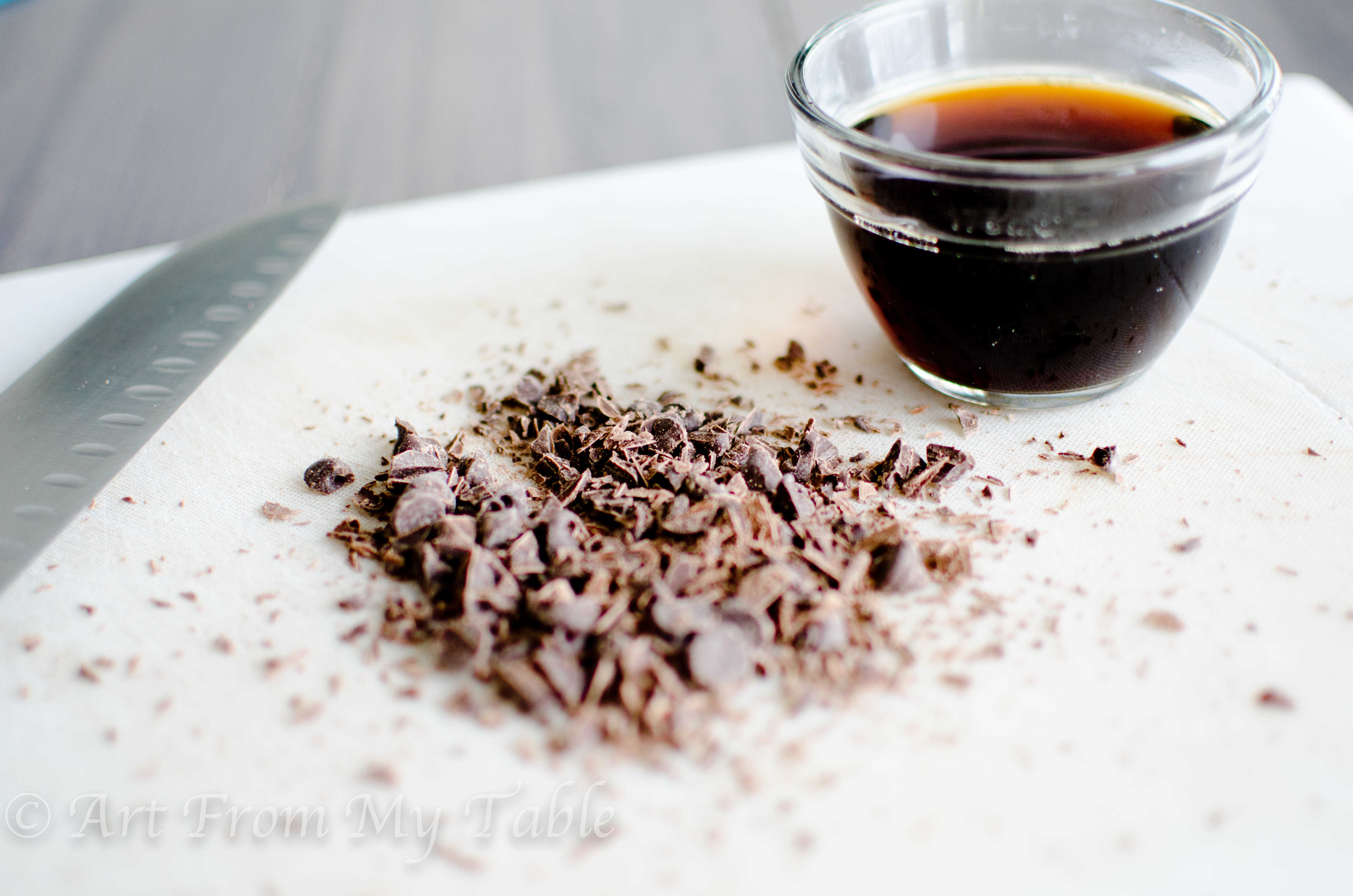 The first great thing about these chocolate cupcakes is that they have 2 of my most very favorite things. That's right, chocolate, AND coffee. Hello! Does it get any better? Actually, yeah, it does. It's called bittersweet glaze. I find dark chocolate to be really satisfying. If I'm craving something sweet, and have milk chocolate, I only want more. But, if I have dark chocolate, the craving is satisfied.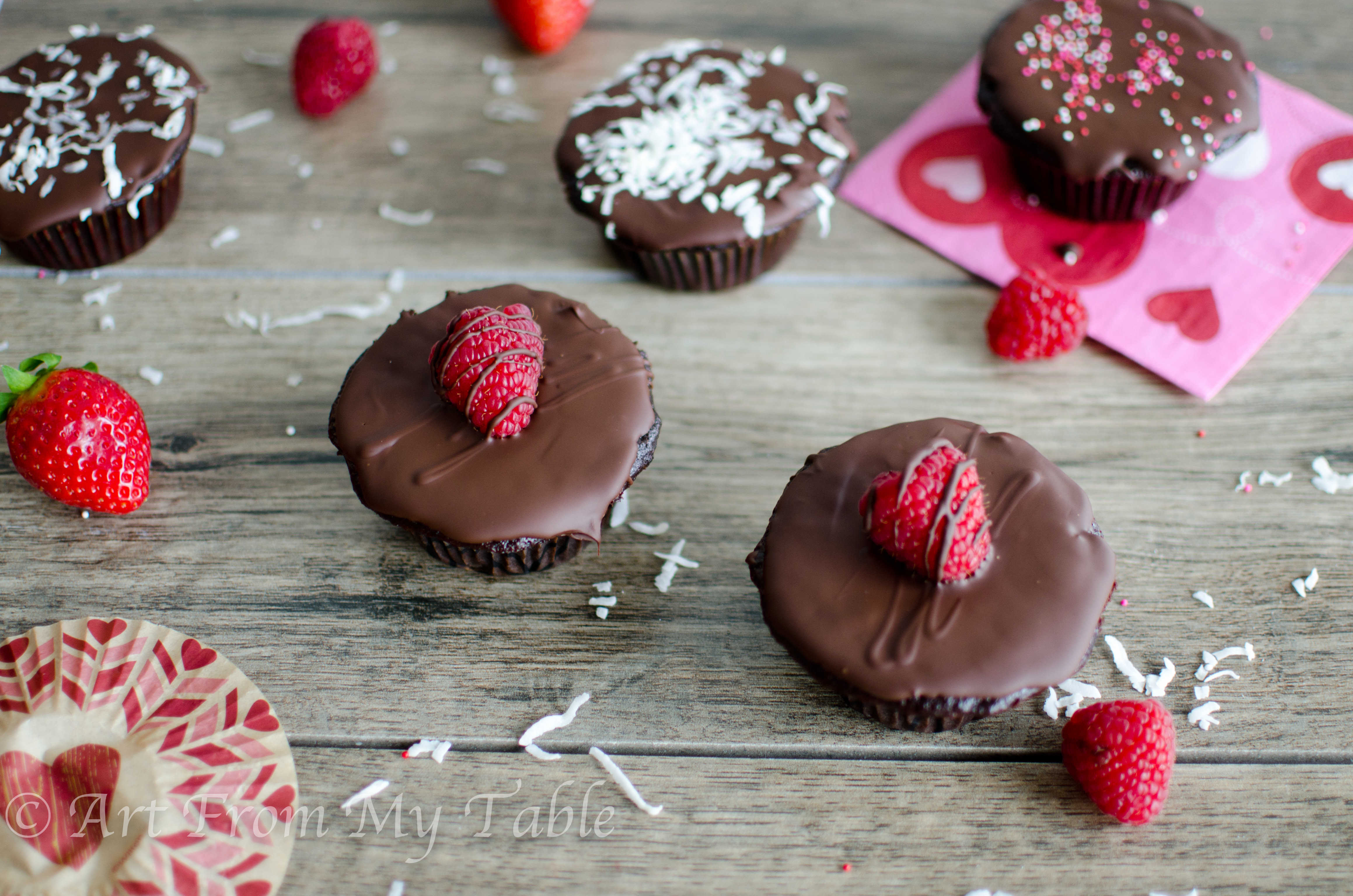 The next great thing about these is they are quite delicate. Yes, it's a rich chocolate, but it's not dense. It's light and tender. So, you feel satisfied, but not full. Maybe it's the yogurt. Yes! There's yogurt in these, they're almost healthy! Right? Yogurt=protein, cocoa=antioxidant.
Let's make some cupcakes!
A couple notes before the recipe…
These are not mile high rounded top cupcakes, they're actually more flat. Also, don't fill the cups too full, because it will then go over the top and bake into each other. They are really tender, so be careful when you remove them from the cupcake pan.
Once you're finished glazing them, set the luscious chocolate cupcakes aside at room temperature until ready to serve, at least an hour. The glaze will firm up and become matte. You can, of course serve them with the chocolate still warm and soft if you just can't possibly wait any longer!
Store in an airtight container at room temperature, these babies are even better the second day.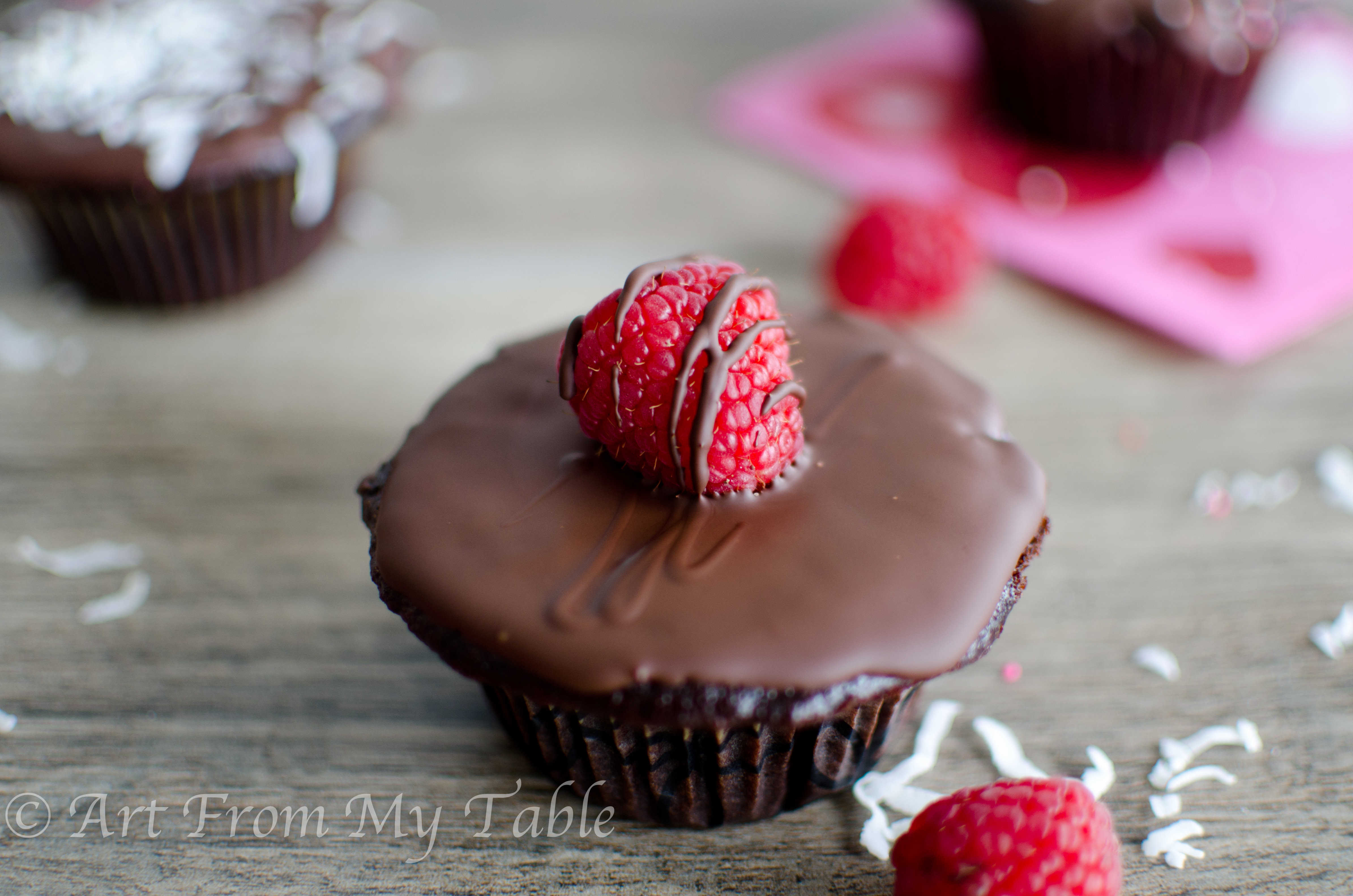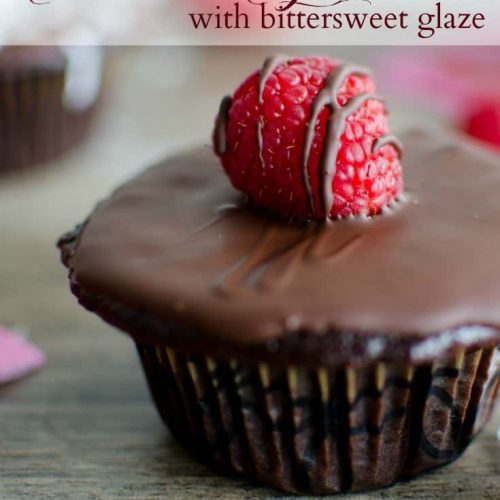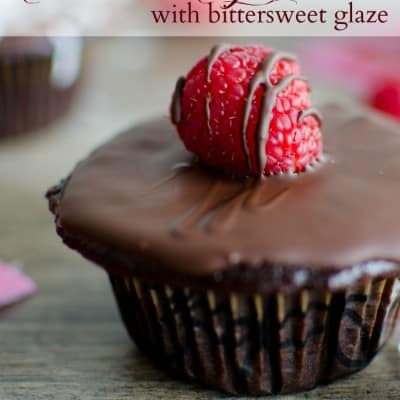 Chocolate cupcakes with bittersweet glaze
rich and decadent, these cupcakes are sure to impress your guests and satisfy that chocolate craving!
Print
Pin
Rate
Total Time:
1
hour
40
minutes
Equipment
standard muffin tin, or silicone muffin pan
Ingredients
1

oz

semisweet chocolate

finely chopped

1/2

cup

hot brewed coffee

1

cup

sugar

3/4

cup

plus 1 tbs unbleached all purpose flour

1/2

cup

unsweetened cocoa powder

sifted

1/2

tsp

baking soda

1/4

tsp

baking powder

1/4

tsp

salt

1

large egg

1/4

cup

canola oil

1/2

cup

well stirred plain whole-milk yogurt

not lowfat or nonfat

1/4

tsp

vanilla extract

8

oz

bittersweetchocolate

finely chopped
Instructions
Preheat the oven to 300.

Line the wells of a standard-sized muffin tin with paper liners.

Put the semisweet chocolate in a medium bowl with the hot coffee. Let stand, stirring occasionally, until the chocolate is melted and the mixture is smooth and opaque.

Meanwhile, in another medium bowl, whisk together the sugar, flour, cocoa powder, baking soda, baking powder and salt.

In the bowl of a stand mixer beat the egg on medium speed until it is pale yellow, about 1 minute. Add the oil, yogurt, and vanilla, beating well.

Gradually pour in the melted chocolate mixture, and beat to thoroughly combine.

Add the dry ingredients all at once, and beat on low speed until the batter is just combined.

Using a rubber spatula, scrape down the sides of the bowl and briefly stir to make sure that all the dry ingredients are absorbed.

Spoon the batter into the wells of the muffin tin, making sure that it is evenly distributed.

Bake for 20-25 minutes, or until a toothpick inserted in the center of one comes out clean.

Transfer the pan to a wire rack and cool for 20 minutes before---carefully, they're tender!--removing the cupcakes.

Allow them to cool completely before glazing.

To make the glaze, melt the bittersweet chocolate in a metal or glass bowl set over a pan of gently simmering water.

Stir frequently to prevent scorching.

When the chocolate is comletely smooth, it's ready.

Working with one cupcake at a time, spoon a heaping teaspoonful of melted chocolate on top. Tilt and rotate the cupcake to coax the chocolate out to the edge.

Alternatively, use a knife or icing spatula to spread the chocolate.

The top of the cupcake should be entirely covered with a thin layer of chocolate.

Spoon on more chocolate as needed.

Set the cupcakes aside at room temperature until ready to serve, at least an hour. The chocolateglaze will firm up a bit and become matte. You can, of course serve them with the chocolate still warm and soft if you just can't possibly wait any longer!
Notes
Use liners if using a standard muffin pan. Cool for 20 minutes before removing from the tray.
If you use a silicone muffin pan, make sure you put the pan on a baking sheet before filling them. After baking, let them cool completely before removing from the tray.
Nutrition
Calories:
277
kcal
|
Carbohydrates:
36
g
|
Protein:
4
g
|
Fat:
14
g
|
Saturated Fat:
6
g
|
Cholesterol:
16
mg
|
Sodium:
114
mg
|
Potassium:
220
mg
|
Fiber:
3
g
|
Sugar:
25
g
|
Vitamin A:
39
IU
|
Calcium:
38
mg
|
Iron:
2
mg
I dare you to serve these up to your valentine!
Get recipes delivered to your inbox (it's free)! Sign up and receive a FREE cookbook.