As an Amazon Associate I earn from qualifying purchases.


The French word "parfait" means "perfect", and that's exactly what you'll think about this French Style Coconut Parfait. This Frozen Parfait is absolutely divine. In America, we think of parfaits as a layered yogurt dessert. Well, you are in for a treat with this traditional parfait. Your spoon is waiting!
I'm honored to partner with Milk Means More to bring you this fabulous recipe. As always, all opinions are my own.
Frozen Parfait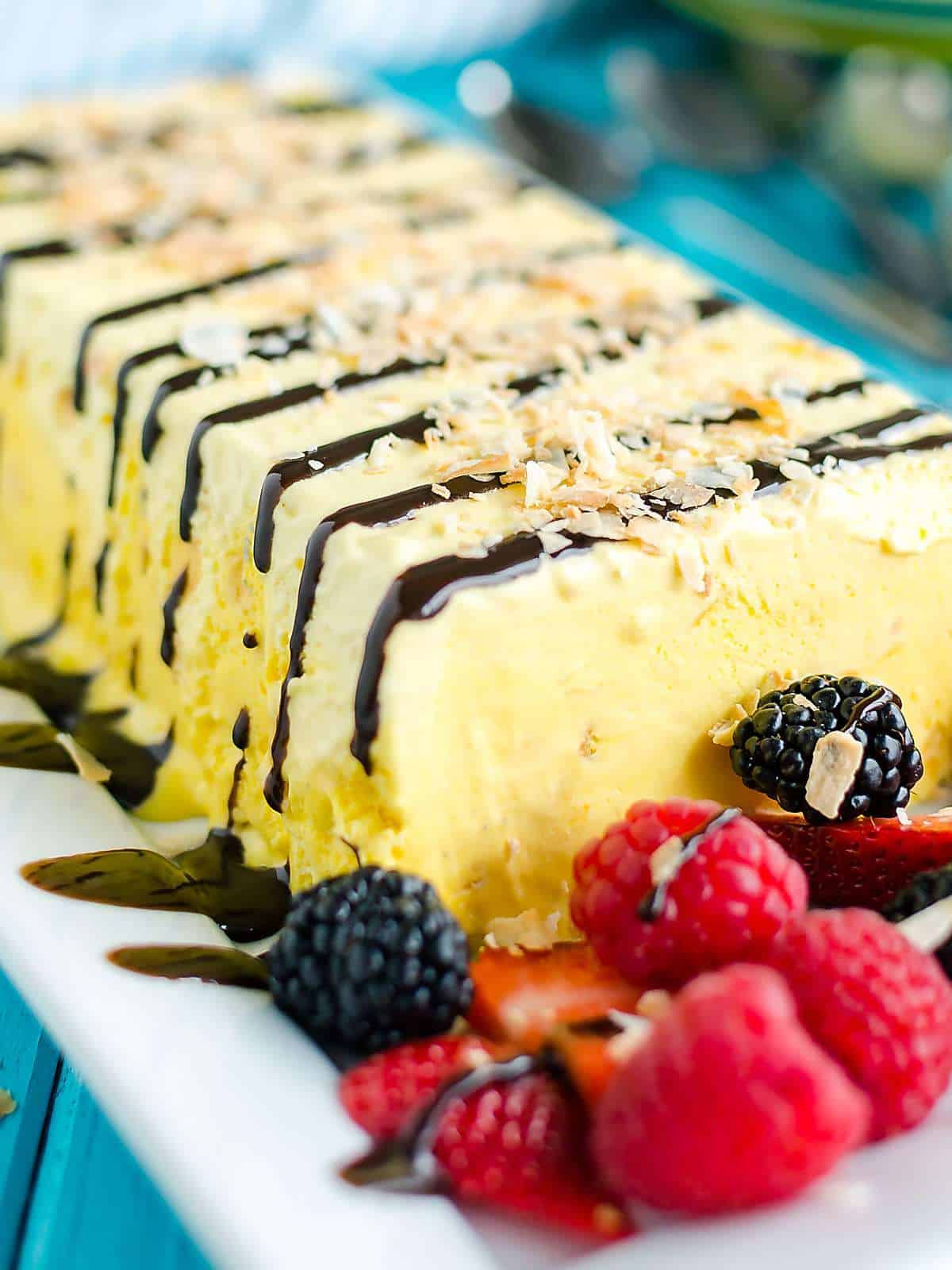 We absolutely love homemade ice cream at our house. We have one of those ice cream makers and mostly use it in the summer.
But this frozen parfait is not your typical ice cream. Oh don't get me wrong, I love almost all ice cream, but this? It's richer, creamier, like frozen custard. Bonus--you don't need an ice cream maker to make it!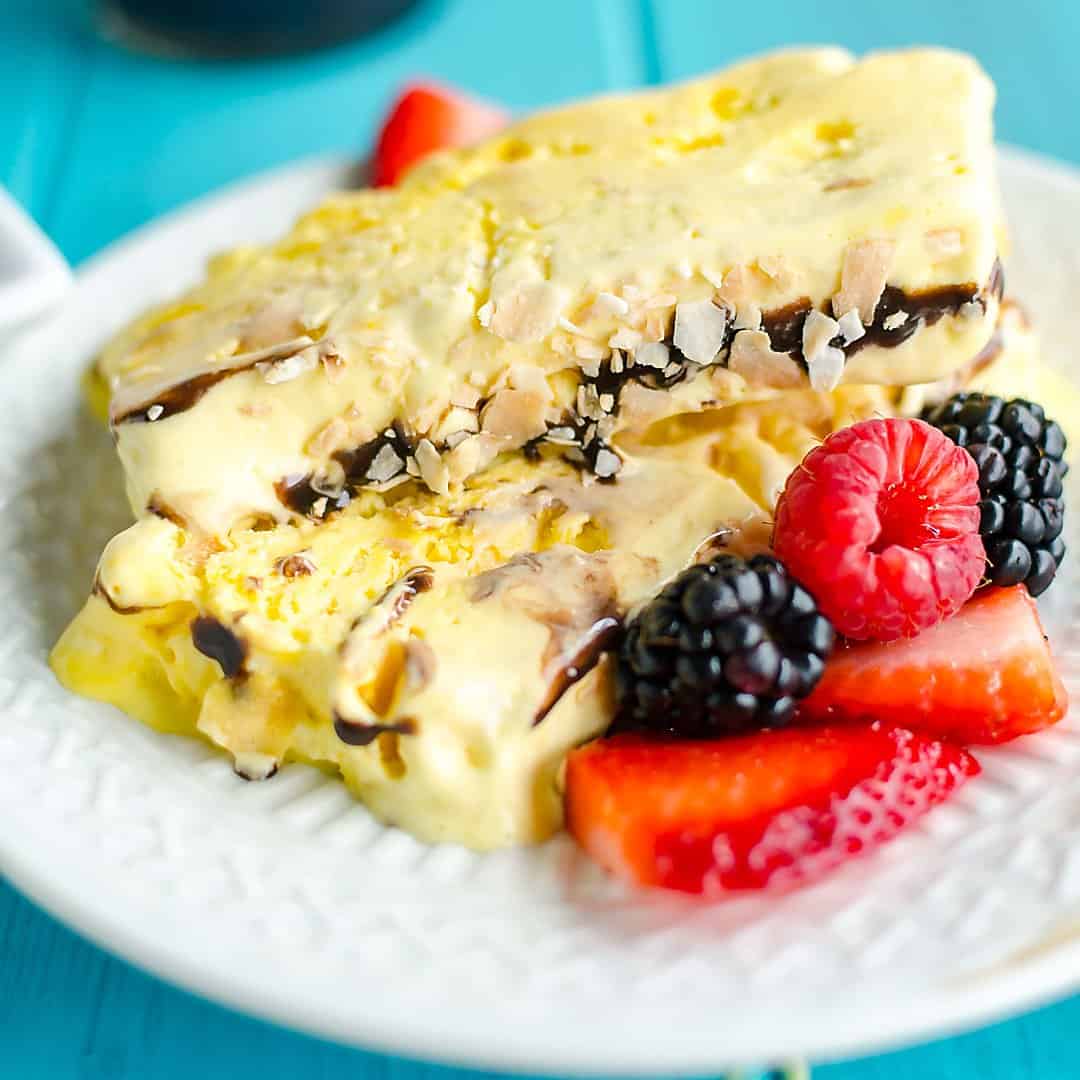 My goal is to have Ice-Cream Sundays every week in the summer. It's a fun way to gather with the family at the end of the weekend. We didn't do it quite that often last year, so I guess I'll have to work on that goal again! Have trouble getting your kids to the table? Just whip up a parfait! 😉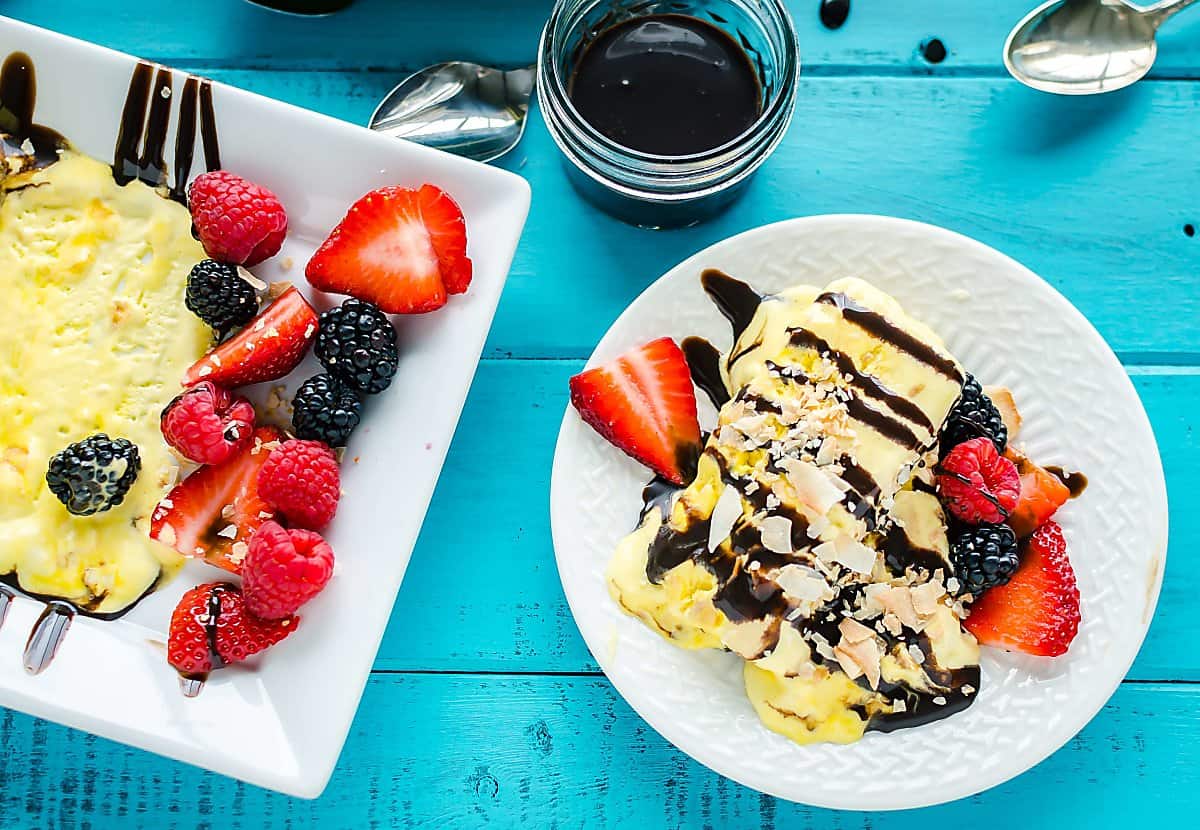 Okay, so there's really only a few steps to this recipe.
Toasting coconut
Making the whipped cream
beating the egg yolks
Making the syrup.
Tips for success~
Keep an eye on the coconut! It burns easily.
You need to beat the eggs for a really long time, both before and after you add the syrup. Before, you want a really pale yellow. After, you're looking for the mixture to 'bloom', it will double in size. Get lots of air in their for the ultimate texture.
Invest in a candy thermometer. It's a really handy tool, and it ensures recipe success (ask me how I know). I got mine at my local grocery for about $3.00.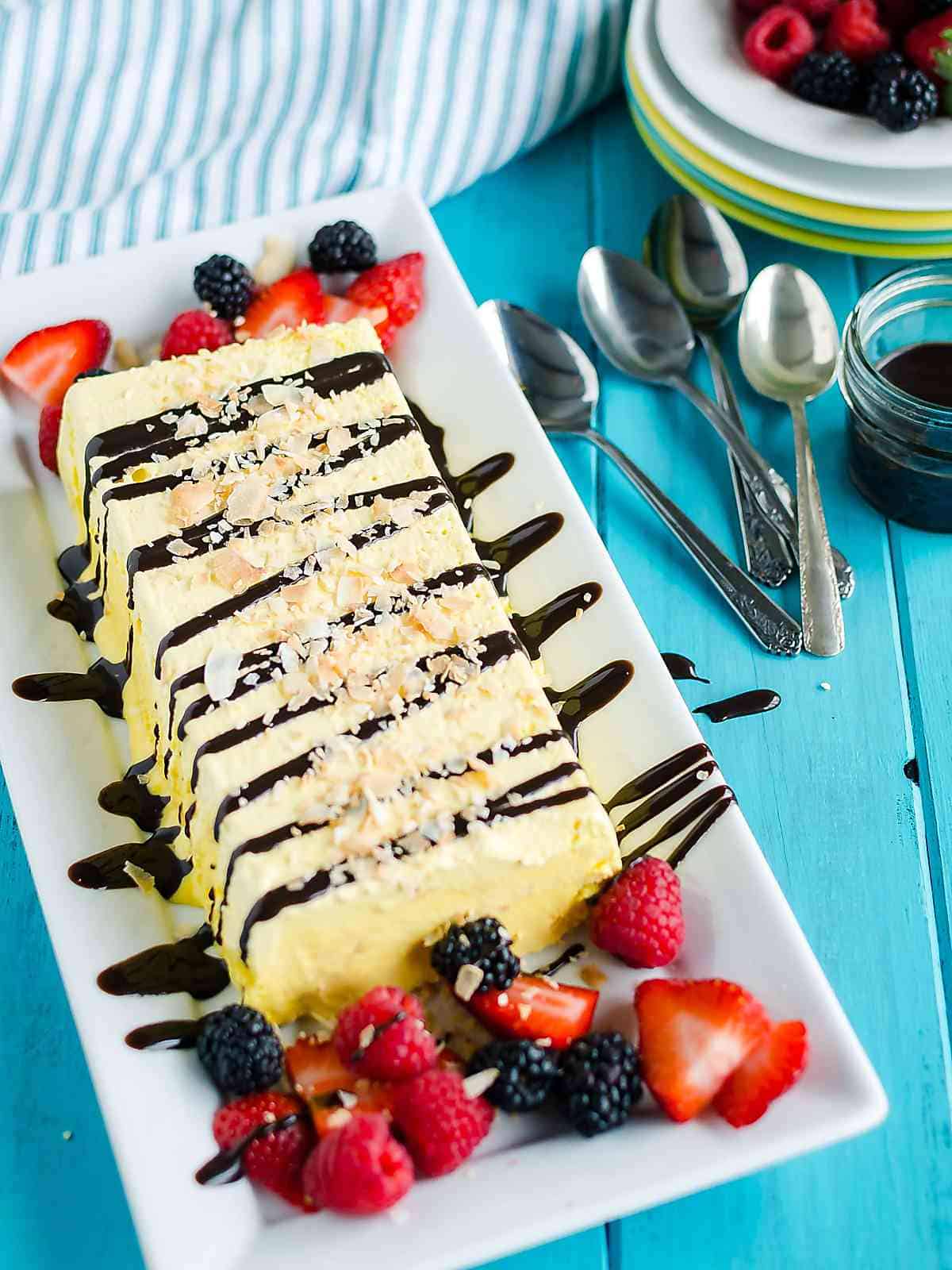 A couple notes~
My French Style Coconut Parfait may appear much more yellow in color than yours. This is because I used fresh eggs (meaning from my friend's chickens), and the yolks are typically much brighter in color than the store bought.
I also used pure cane sugar which is not pure white.
The recipe will blow your socks off no matter which eggs or sugar you use. 🙂
Are you ready to rock this recipe?
📋 Recipe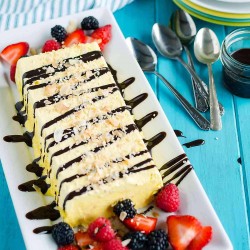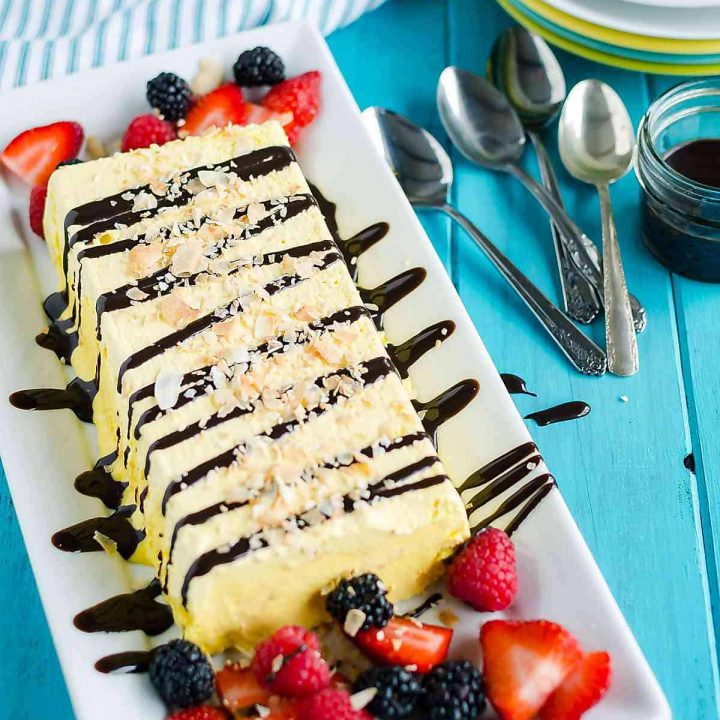 French Style Coconut Parfait
A creamy divine ice cream dessert
Print
Pin
Rate
Ingredients
½

cup

toasted coconut

plus more for garnishing

1

cup

heavy cream

2

tablespoon

sugar

8

egg yolks

⅔

cup

sugar

⅔ cup

water

1

teaspoon

coconut extract

chocolate syrup for serving

Fresh berries for serving
Instructions
Toast the coconut in a 300 degree oven for 2 minutes. Watch closely! Set aside

Whisk the heavy cream and 2 tablespoon of sugar on high until stiff peaks form. Place the bowl in the refrigerator to keep cold.

Beat the egg yolks in a stand mixer on high until pale yellow, about 5 minutes.

Meanwhile, heat the ⅔ cup of sugar and water in a small saucepan until it reaches 230 degrees, also known as 'soft ball'.

With the stand mixer still turned on, stream the syrup into the yolks and continue to beat for another 5-7 minutes. The mixture will volumize.

Pour into a loaf pan, or other container and freeze for at least 6 hours, but overnight is better.

Before serving, invert on a platter and slice. Serve with chocolate syrup, toasted coconut, and fresh berries if desired.
Notes
Success tip! Chill the bowl that you'll be making the whipped cream in. Keep it refrigerated until use.
Instead of freezing in a large container, you can freeze in ramekins, paper cups, or a muffin pan for individual servings.
Nutrition
Calories:
274
kcal
|
Carbohydrates:
22
g
|
Protein:
4
g
|
Fat:
19
g
|
Saturated Fat:
12
g
|
Cholesterol:
236
mg
|
Sodium:
22
mg
|
Potassium:
71
mg
|
Fiber:
1
g
|
Sugar:
20
g
|
Vitamin A:
695
IU
|
Vitamin C:
0.2
mg
|
Calcium:
44
mg
|
Iron:
0.7
mg
Do you know the benefits of dairy in your diet? Check out Milk Means More for nutrition information and tons of amazing recipes like this yogurt tart!
Stay up date on with Milk Means More on Facebook!