Ginger Lime Sparklers are refreshingly sweet, tart, and fizzy! Perfect for happy hour or an afternoon pick-me-up. Kid friendly too!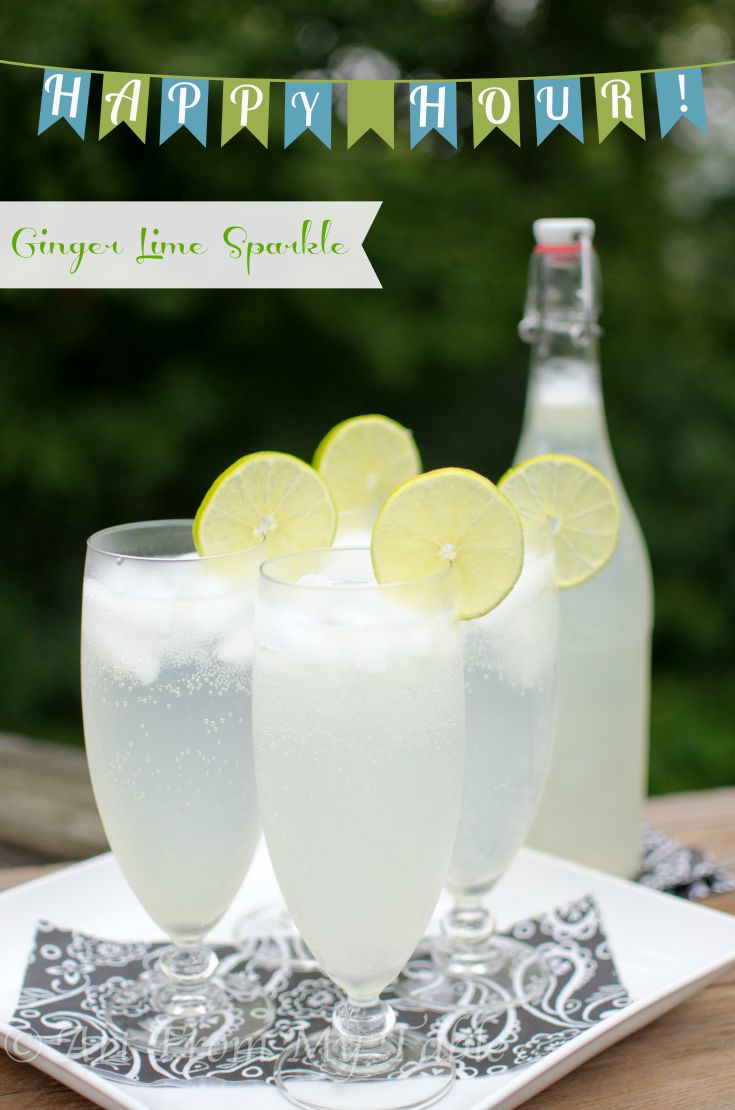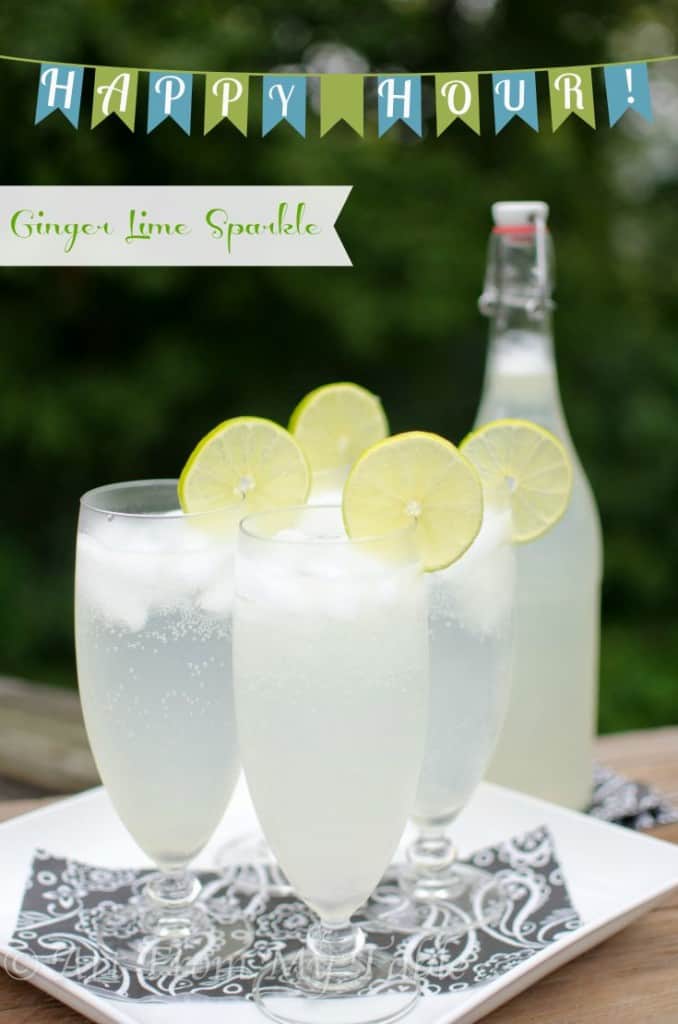 I am a fan of pop. Yup, me, who tries to always put good food in my body, the label reader, yes, that me, I love pop. Or soda if you're from the south. I know there's nothing nutritious about it, it's mostly harmful, okay, it's all the way harmful except for the water in it.
Diet coke used to be a staple in my family. I was actually raised on diet coke. Can you believe it? While our neighbors were drinking water or milk with their dinner, we were drinking coke! Well, obviously, I didn't know any better then. In my mid-twenties it was pretty much a staple in my house. At one point, I thought I might have an addiction to pop,  So, I gave it up for a month. I did well. After that time was up, I was so excited to have my first diet coke in a month and guess what happened? It didn't even taste good. Actually, it was pretty tasteless. Now, if you are a diet coke drinker, please don't take offense to this. We all have our thing.  Mine's chai tea now. Which does contain some sugar. And I don't go a day without it. And it's not like I never have pop. I actually crave it on a hot summer day. But I do NEVER have diet coke. Eww. I don't like it anymore. Now, I like Dr. Pepper or Barq's root beer. But even so, most of the time I am able to resist.
The thing is, I like the fizzy. I like the tingle spicy thing carbonation does to me. It's refreshing, and it just hits the spot.
That's where my inspiration for this mock-tail comes from. Lime is tart, ginger is spicy, and the carbonation is fizzy. Haha. It just hits the spot.
It's an easy recipe too. Here's what you need: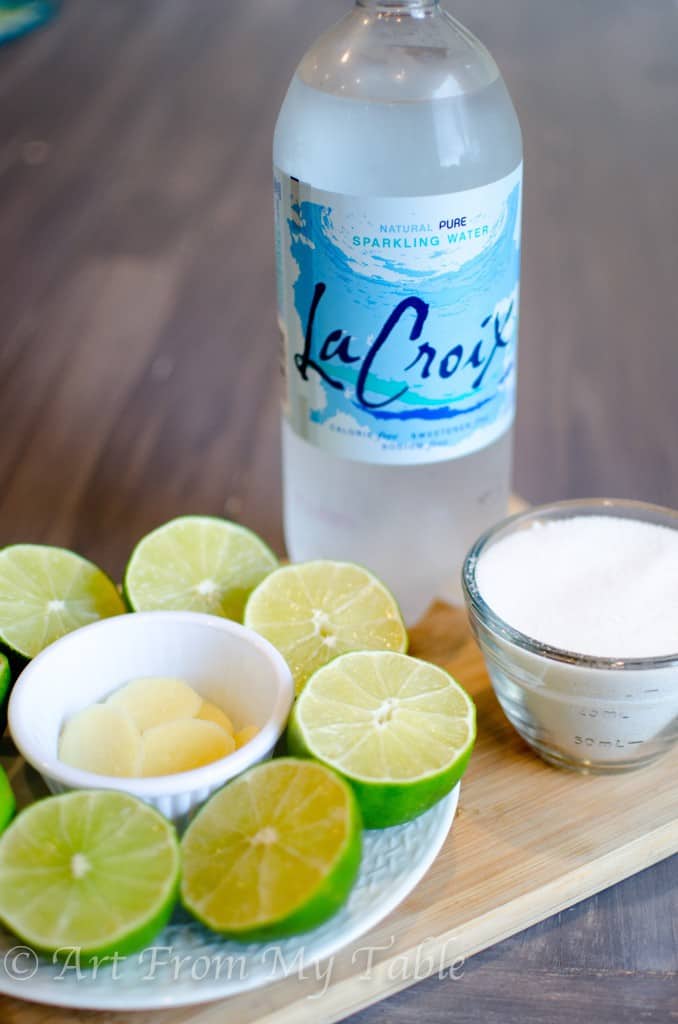 To start, you need to make a simple syrup. What's special about this one is it's ginger infused.
Place equal parts sugar and water in a small sauce pan and add 6-10 fresh slices of peeled ginger.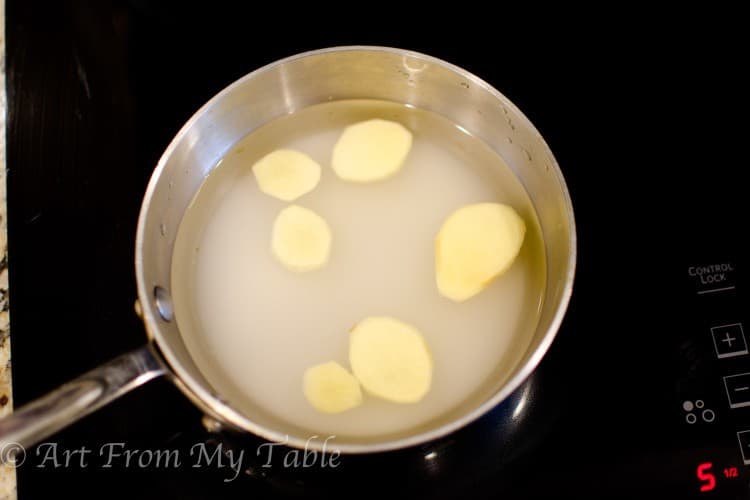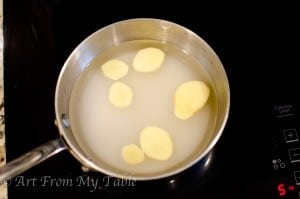 Warm this up until the sugar has dissolved. Then, cool it either at room temperature, or if you're not     patient, the fridge. Leave the ginger in their so it's flavor can infuse the syrup.
Warm this up until the sugar has dissolved. Then, cool it either at room temperature, or if you're not     patient, the fridge. Leave the ginger in their so it's flavor can infuse the syrup.
Squeeze the limes to make a cup of lime juice. Mix the lime juice and the syrup together and add 3 cups of cold water. You can adjust the water depending on how tart you want it, or how fizzy you want it. I wanted to taste the ginger-lime and you know I wanted it fizzy. So, I made the ginger-lime-aid more concentrated because the last part of this recipe is the sparkling water. You could make this with all sparkling water if you wanted to. I wasn't sure that we would drink it all in a day and I prefer my sparkler sparkly!
Once you've decided on that, fill a glass with ice, then fill it half way with your ginger lime-aid, and top it off with sparkling water. I actually had some perrier–I consider that brand to be the fancy sparkling water– but I forgot I had it and went with the St. Croix. Oh well, they taste the same. The perrier is just such a pretty bottle. 🙂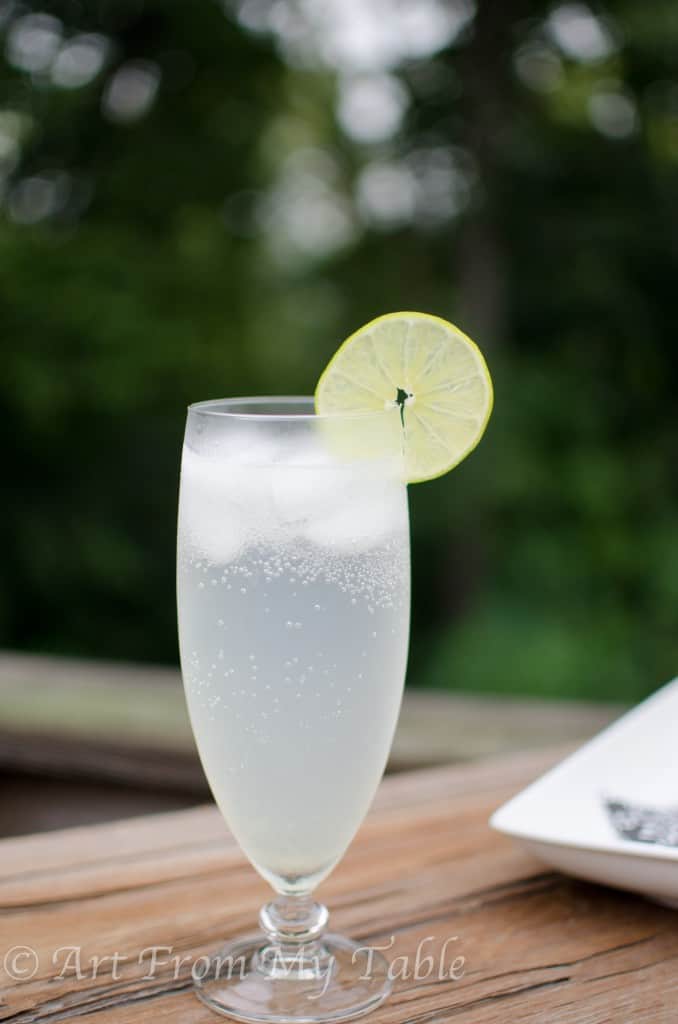 Garnish it with a slice of lime and enjoy!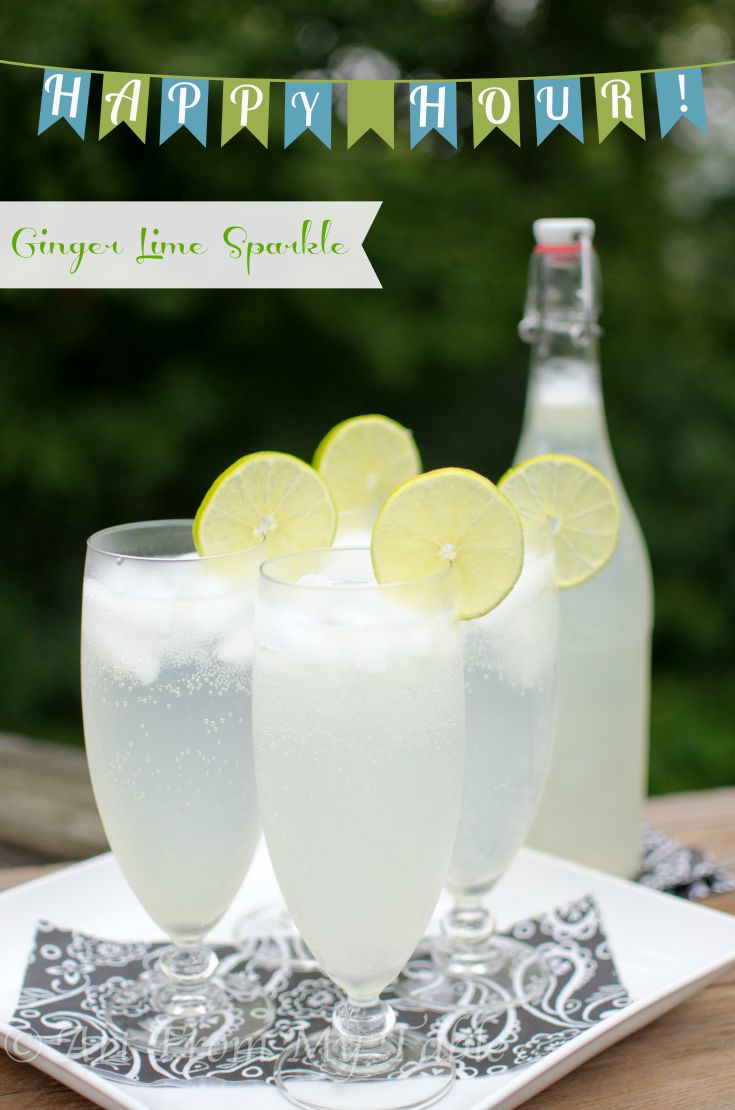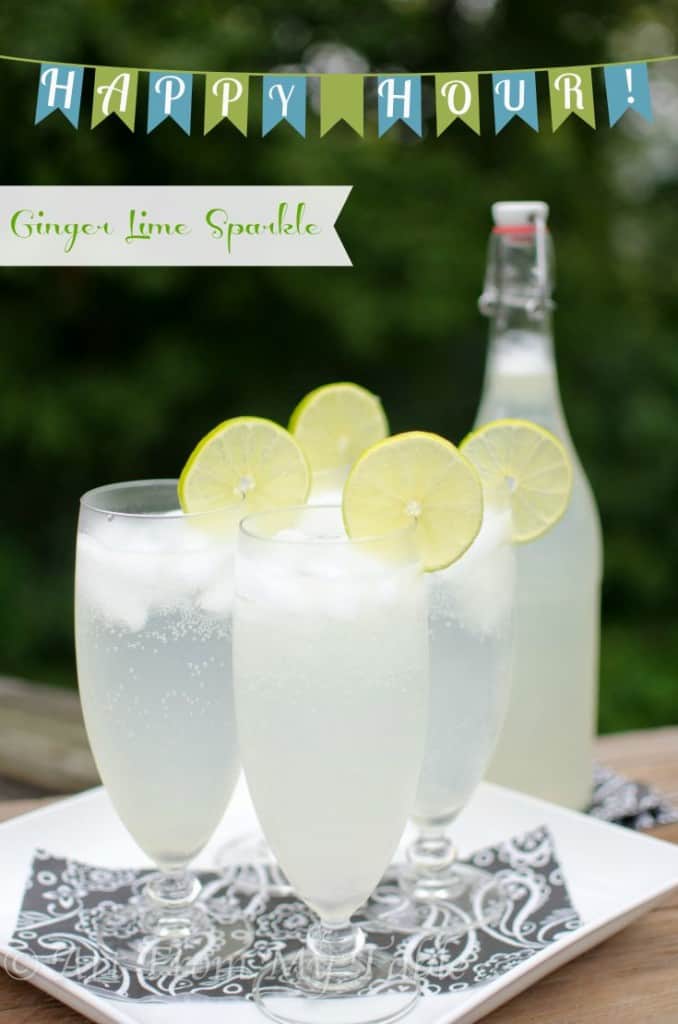 What about you? Do you have a one thing?  Please share with me in the comments!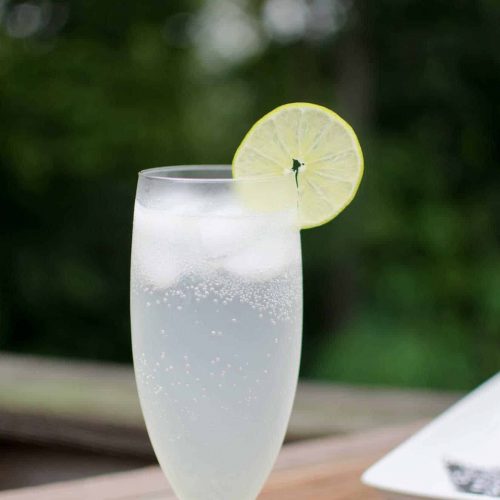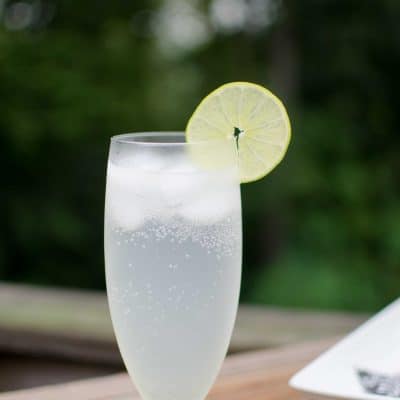 Ginger Lime Sparkler
Sparkling water mixed with fresh lime and spicy ginger for a refreshing beverage.
Print
Pin
Rate
Ingredients
1

cup

water

1

cup

sugar

6-8

slices

of fresh peeled ginger

1

cup

of freshly squeezed lime juice

6-8 limes

3

cups

water

Sparkling water
Instructions
Place 1 cup of water, sugar and ginger in a small saucepan and heat until sugar has dissolved.

Cool.

After the simple syrup has cooled, remove the ginger with a slotted spoon.

Combine the syrup, lime juice and 3 cups of water and stir well.

To serve, fill a glass with ice, fill it half way with ginger lime-aid and top off with sparkling water.
Nutrition
Calories:
211
kcal
|
Carbohydrates:
56
g
|
Protein:
1
g
|
Fat:
1
g
|
Saturated Fat:
1
g
|
Sodium:
15
mg
|
Potassium:
83
mg
|
Fiber:
1
g
|
Sugar:
51
g
|
Vitamin A:
30
IU
|
Vitamin C:
18
mg
|
Calcium:
14
mg
|
Iron:
1
mg