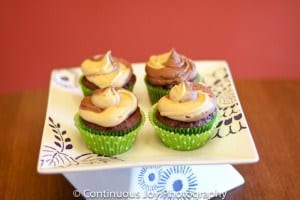 Don't these look amazing?! I assure you, they are. My friend Torie made these once last year for her smallgroup. I begged her to be in her smallgroup because I wanted a cupcake! Okay, so food motivates me. 🙂 Anyway, being the sweetheart she is, she brought me 4 of them. One for each person in my family, but she didn't blame me when I wanted them all to myself. heehee!
I told Torie she should guest post for me on my blog, but she wanted it to be a joint effort. So last week, I joined her in her kitchen to make these. Torie is an amazing cook, baker, sewer (or is the technical term seamstress?), photographer, home-schooling mom. I know there's more that she does, and I'm continually amazed at her talents. So, Here is my friend Torie:
Cake Recipe:
1(18.25 ounce) package devil's food cake mix
1 (5.9 ounce) package instant chocolate pudding mix
1 cup sour cream
1 cup vegetable oil
4 eggs
1/2 cup water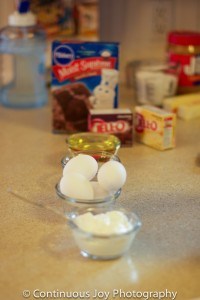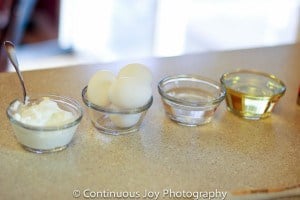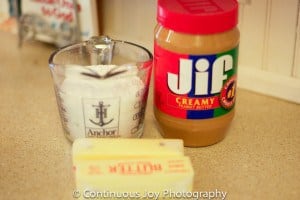 She's so organized…everything laid out for us.
Directions :
Preheat oven to 350 degrees.
In a large bowl, mix together the cake and pudding mix, sour cream, oil, beaten eggs and water and pour batter into 2 well greased 8 inch pans or evenly distribute between 12 and 24 cupcakes. One note: this batter is thick so don't be surprised by that.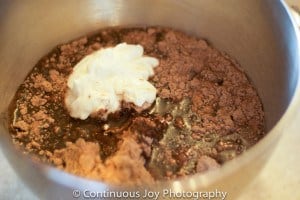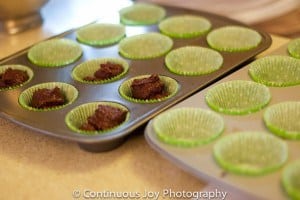 Bake for 15-20 minutes, until a toothpick comes out clean.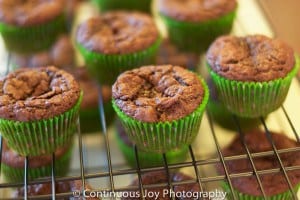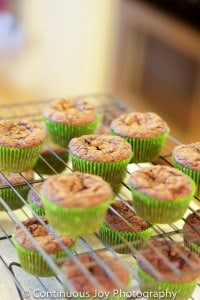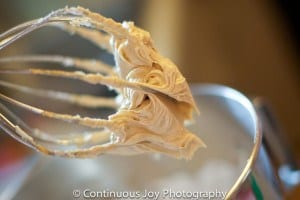 Peanut butter frosting:
1/2 cup butter (room temp)
1 1/4 cup creamy peanut butter
1 1/3 cups confectioners' sugar
1/3 cup cream
Cream Peanut butter and butter together. Add sugar and cream alternating until you have the desired consistency. What I did was slowly added the sugar 1/3 cup at a time with 1 Tbs cream. after I mixed it I tasted it and repeated. It tasted best to me at 1 and 1 1/3 cup sugar. It's VERY rich. I used ¼ cup of cocoa powder in half the frosting to do the swirl frosting. Depending on consistency, you may need to add a little more cream with the cocoa powder.
To swirl the frosting, place 1/2 the frosting in one bag, and the other 1/2 (with cocoa) in another bag. Then, put both bags in a larger bag and using a round tip frost away!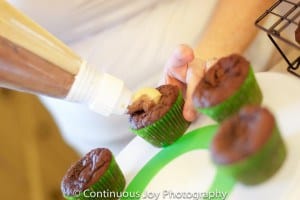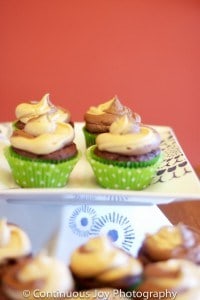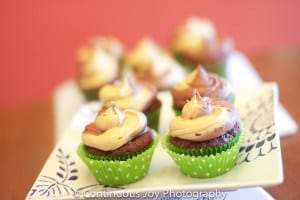 Mmmm mmm! I want to eat one NOW!
Torie, thanks so much for the experience and the post. Mostly thanks for the friendship. 🙂