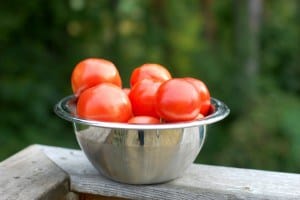 Anyone have an abundance of tomatoes? I love tomatoes and I always plant way too many. Did you know you can freeze them? It's the easiest thing to freeze.
Don't wash your tomatoes, place them in a freezer bag, and put them in the freezer! How easy is that? This is a great way to preserve them for a later use, like in chili, stews, soups, or sauces such as spaghetti and pizza sauce.
When you're ready to use them, take them out of the freezer and let them thaw. Then take the skins off, they will slide right off, no boiling required. Then they're ready to use.