This Korean beef and quinoa bowl is healthy, quick, and better than any takeout!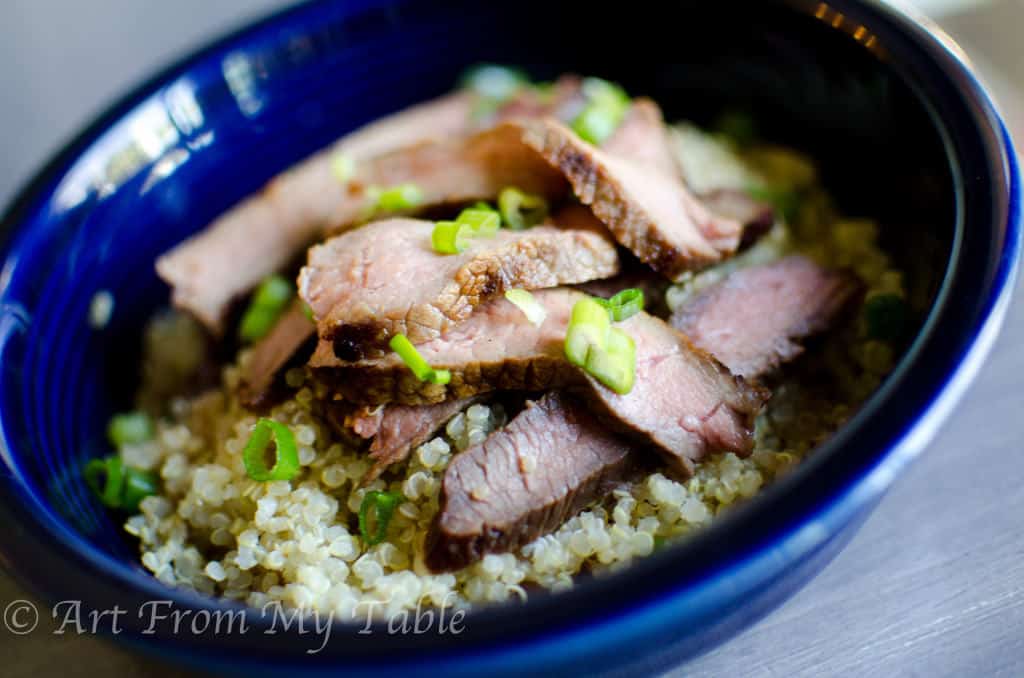 This recipe is inspired by my friend Amy. We were sitting at the Lake watching the kids play, soaking up the sun, talking about… what else? food! Shocking I know.
We were brainstorming the whole meal time thing and she said she found this 15 minute recipe for a korean beef bowl. It uses quinoa instead of rice, which more healthy, which we both liked. And, who doesn't want a 15 minute meal? But when I went to make it, I was thinking, ya know, I really would rather have steak than ground beef tonight. So, I'm sure it's delicious AND quicker to do it with ground beef, but I adapted it for my taste. So out came the steak.
I used sizzlers and a simple marinade made with soy sauce, garlic, sesame oil, honey and fresh ginger. You can use ground ginger, but I'm telling you–not the same. Get the fresh ginger. It is so worth it.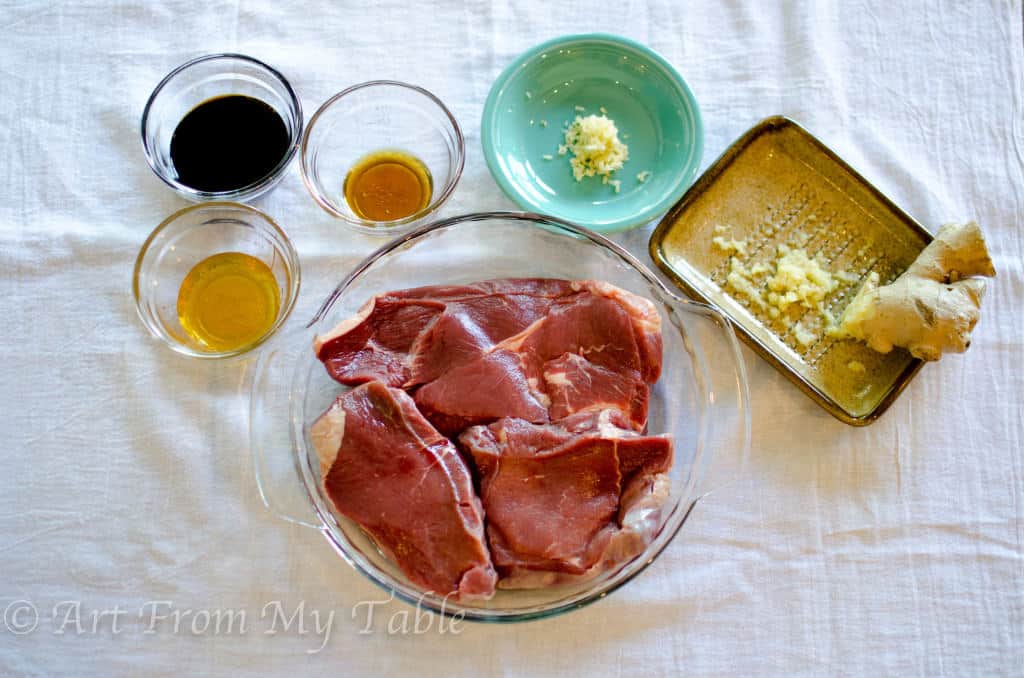 See my fancy ginger grater? LOVE that! Fun fact:  My husband actually went to high school in Japan. I did' meet him until we were well out of high school, but this is one of his 'contributions' to the marriage. It works great! Peel the ginger and rub away. Great news, you do not need to travel to Japan to get one. 🙂  You can fine one here.  Or, you can use one of  those grater things that have like 4 sides to them? There's a nice fine side to that one that does the same thing. I prefer this one, but it's not like you can't get the job done.
Combine the marinade ingredients together, and pour it over the meat in a shallow dish.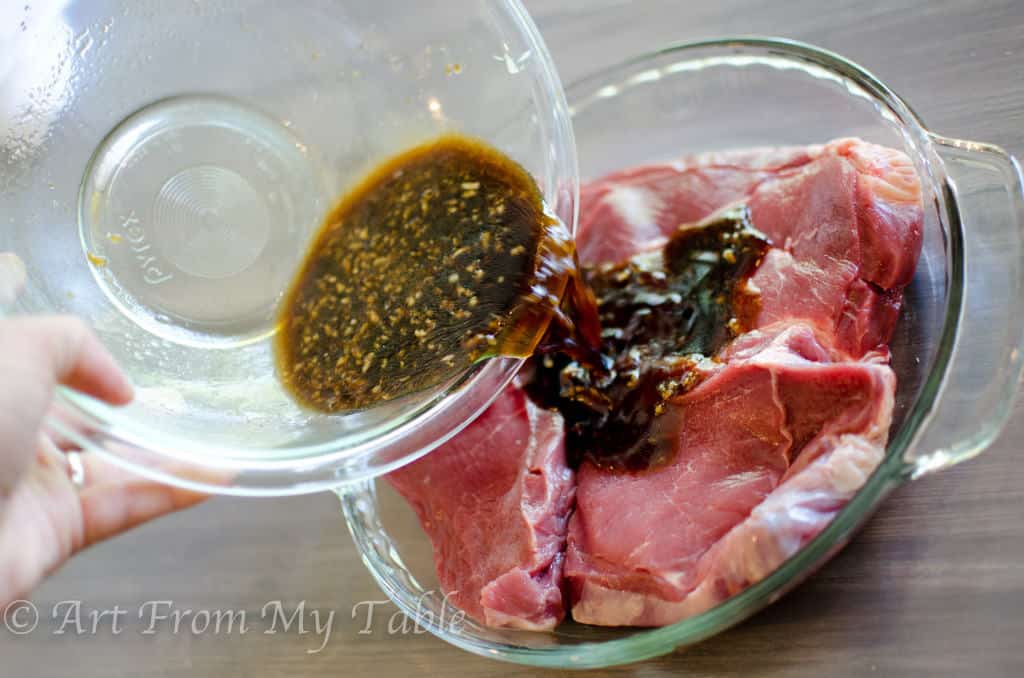 '
Then let it marinate for at least an hour, but if you can do it for a few, it's better. The longer you let it go the more tender the meat will be. Make sure you turn it occasionally so it is well covered.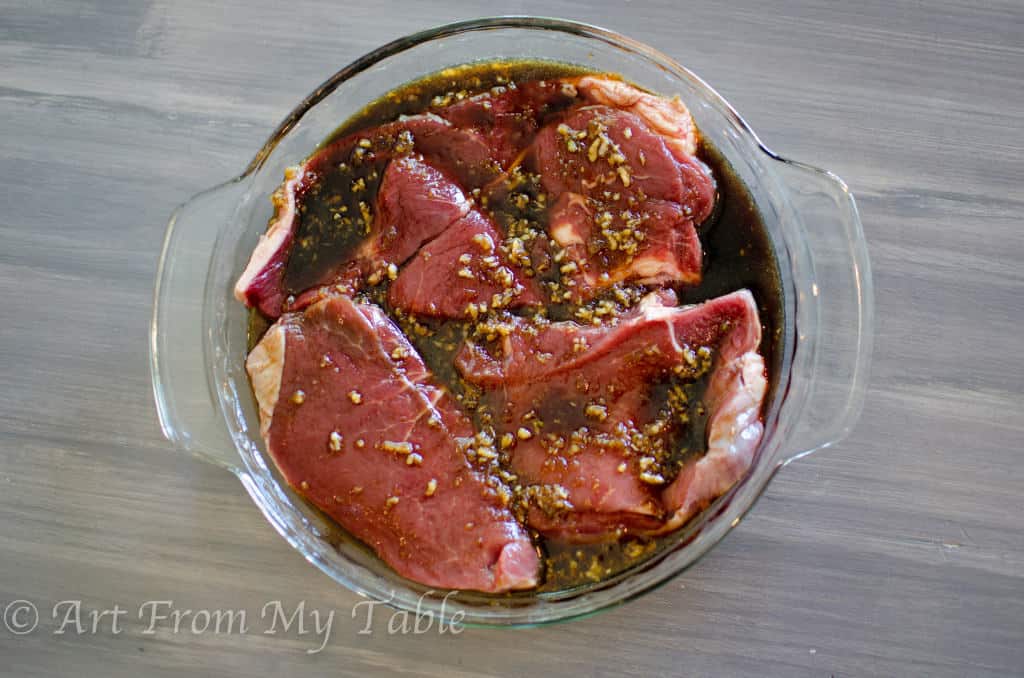 After you grill it, let it rest for about 10 minutes. Tent it with foil so they don't get cold. The biggest mistake people make with steaks is overcooking them. Unless of course you like your meat well done. We like ours medium rare to medium. But when you take it off the grill, it will continue to cook, so adjust your time accordingly. I think these were probably on for about 4 minutes per side. They're about 1/2 inch – 3/4 inch thick. I didn't measure, this is my best guess.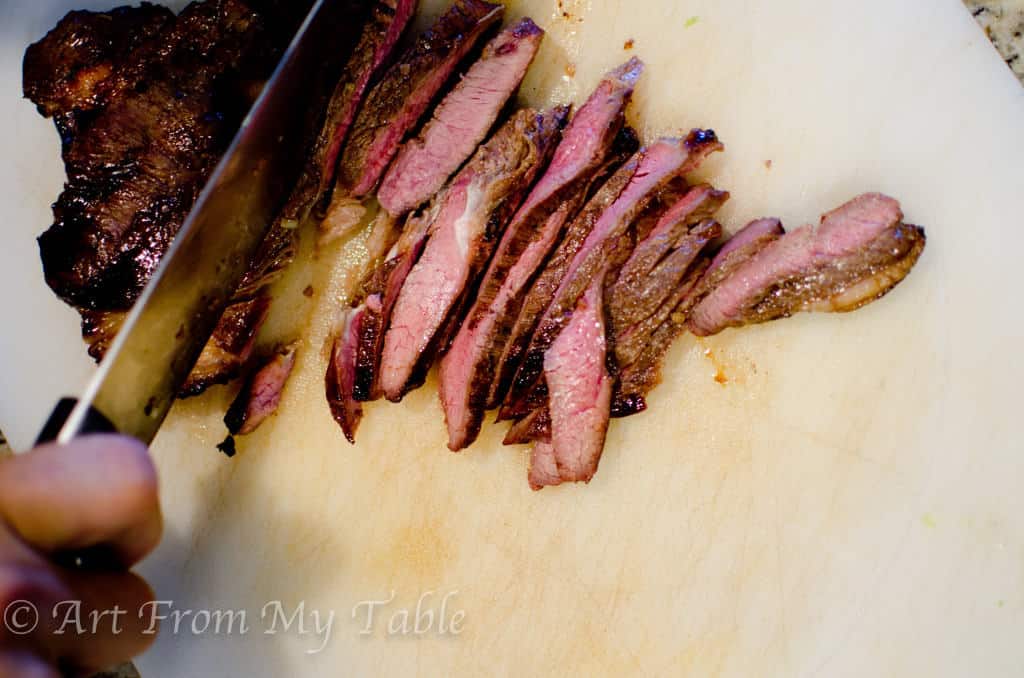 We served ours over quinoa, which is really easy to make. You could also serve it over rice if you prefer, or even noodles. YUM! It had great flavor. It might have taken like 20 minutes instead of 15, but it was really worth it. 🙂  Top it off with some green onions. Better than any take out!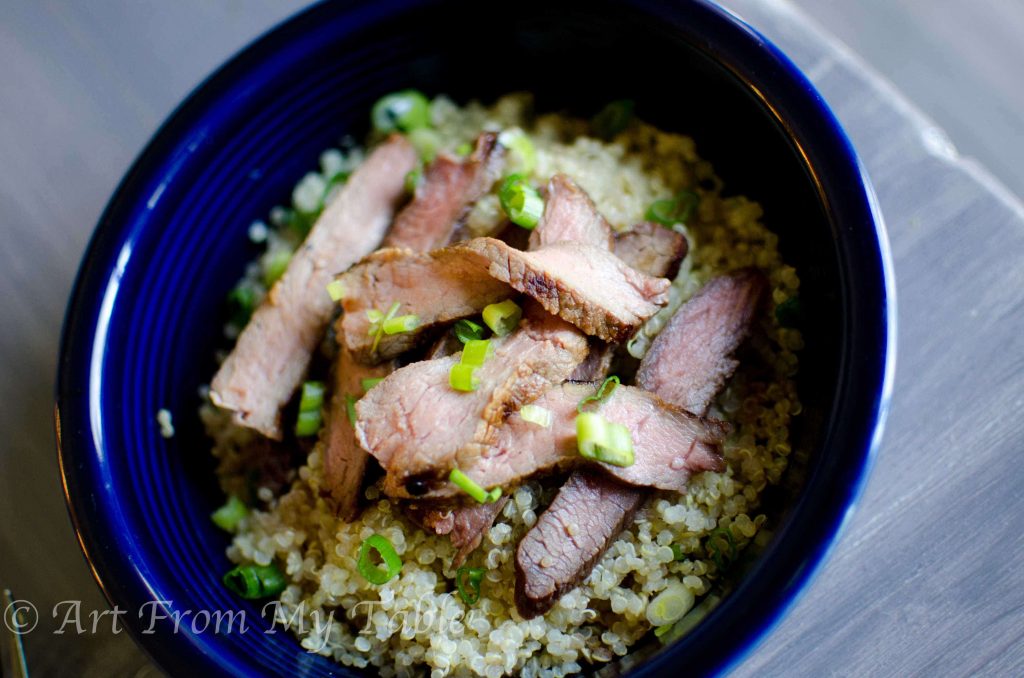 Thanks so much for reading my post today! I do love interacting with my readers, so feel free to leave me a comment! If you have a question, leave it there and I'll get back with you. Also, if you like what you see I'd love for you to share this with your friends.
Blessings to you!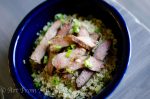 Korean Beef Bowl
This Korean beef and quinoa bowl is healthy, quick, and better than any takeout!
Ingredients
3

lbs

Sizzler Steaks

1/3

cup

soy sauce

2

tbsp

sesame oil

2

tbsp

honey

1

tbsp

fresh grated ginger

1

clove

garlic, minced or pressed

2

cups

quinoa, cooked
Instructions
Combine the soy sauce, oil, honey, ginger, and and garlic in a small bowl, whisk well.

Place the steaks in a shallow dish and pour the soy sauce mixture over top, toss to coat. Let stand 30 minutes or up to one day.

Heat the grill to 400-500 degrees. Place steaks on the grill, close the lid and cook 4-5 minutes per side or until desired done-ness.

Remove from the grill, loosely tent, and let rest 10 minutes.

Slice meat against the grain, and serve over quinoa.
Nutrition Facts
Korean Beef Bowl
Amount Per Serving
Calories 452
Calories from Fat 144
% Daily Value*
Total Fat 16g 25%
Cholesterol 138mg 46%
Sodium 854mg 36%
Potassium 909mg 26%
Total Carbohydrates 19g 6%
Protein 53g 106%
* Percent Daily Values are based on a 2000 calorie diet.
I'm linking up with Tasty Tuesdays, check out all the great food here!
Disclosure: this post may contain affiliate links, which means that I may get a commissions if you decide to purchase anything from Amazon. I only recommend products & systems that I use and love myself, so I know you'll be in good hands.