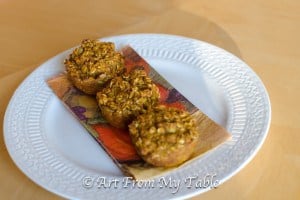 I love Fall, I love fall cooking, I love pumpkin! So, here's a fun and easy recipe I first saw on Pinterest.
They come from Green Lite Bites. I did add Pepita's (the little green pumpkin seeds) to it. This is a great breakfast, or snack. YUM!
1 15oz can of pumpkin (420g)
1/2 cup vanilla Almond milk (I used unsweetened)
2 eggs
1 tbsp Baking powder
3 cups (240g) Old Fashion or Rolled Oats
1 tbsp pumpin pie spice
1/3 cup of brown sugar or sugar in the raw
1/2 cup of pepitas.
Preheat oven to 375 degrees
Mix all ingredients together, and let sit while you prepare the muffin pans.
Spray a muffin pan and/or liners with with non-stick spray.
Divide batter into 15 muffin cups. They should be just about filled.
Bake 20-30 minutes, you'll see the edges just starting to brown and they will be firm to the touch.