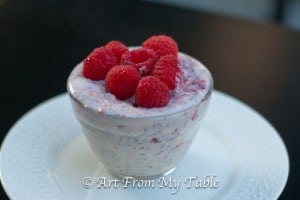 1/4 cup uncooked old fashioned rolled oats
1/3 cup skim milk
1/4 cup low-fat Greek yogurt
1-1/2 tsp dried chia seeds
1/4 tsp vanilla extract
1 tbs raspberry jam, preserves, or spread
1/4 to 1/3 cup raspberries or enough to fill jar
Directions
In a half pint (1 cup) jar or other container, add oats, milk, yogurt, chia seeds, and raspberry jam.
Put lid on jar and shake until well combined.
Remove lid, add raspberries and stir until mixed throughout.
Return lid to jar and refrigerate overnight or as long as 2-3 days. Eat chilled.