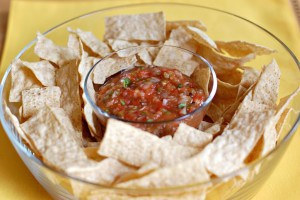 This is my new favorite salsa recipe. It's roasted so it has a nice smoky flavor to it, not overpowering, just right. Plus roasting the veggies really brings out the flavor. Since it's not quite yet tomato season I'm loving it!
5-6 tomatoes
1 onion
4-6 cloves garlic crushed
2 jalepenos
1 green pepper
1-2 tbs lime juice
handful of cilantro
3 Tbs white vinegar
2 tbs brown sugar
salt and pepper to taste
First, half or quarter the onion, tomatoes, and peppers, depending on the size. If you want milder salsa, remove the seeds and ribs of the jalepenos. If you want more heat, leave them in and even add a couple more. I usually go mild because I have little ones.
Place the veggies (except garlic) on a baking sheet.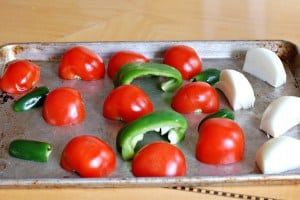 Then place them under the broiler until they begin to char. It could take anywhere from 7-13 minutes, just keep an eye on them.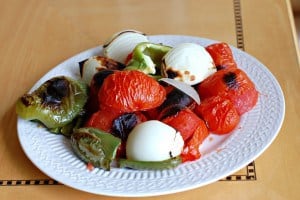 After they cool, place them in a food processor or blender along with the lime juice, vinegar, sugar, garlic and cilantro. Process until it looks like salsa. 🙂 It takes my food processor under a minute.
Add salt and pepper to taste, and enjoy! I think I'll add garlic next time too, but this was really delicious!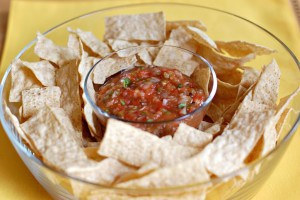 This would also be great on top of grilled chicken. I would love to hear from you on what you think? Do you have a favorite salsa recipe? Please share!