Need an easy weeknight meal with a dash of gourmet? This Rustic Harvest Vegetable Pizza will become your go-to! Better than take out and faster than delivery.  Change up the toppings for a new pizza every week!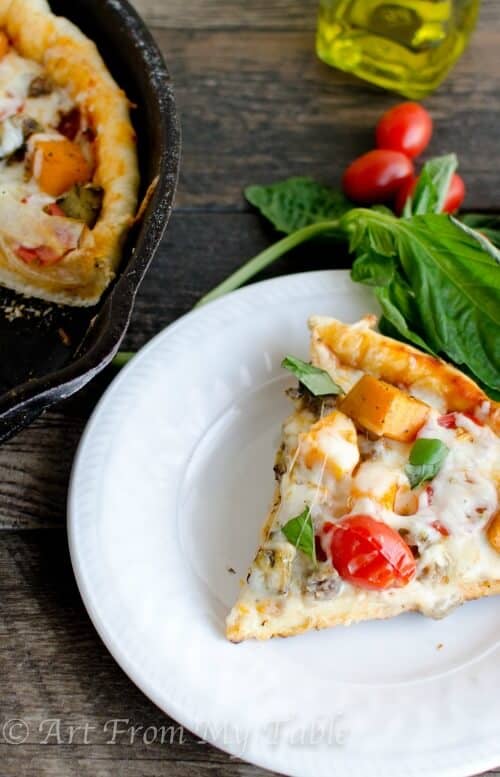 Rustic Harvest Vegetable Pizza Recipe
An easy weeknight meal with a dash of gourmet. Rustic Harvest Vegetable Pizza brings all the best fall flavors together in a deep dish pizza.
Ingredients
1 pound of mild Italian sausage, cooked and crumbled
1 eggplant, diced
1 butternut squash, peeled and diced
1 sweet potato, peeled and diced
1 onion, cut in wedges
8 cloves or garlic, peeled and left whole
2 tablespoons olive oil
1-2 teaspoons Italian seasoning
salt and pepper to taste
1 pound of pizza dough (homemade or store bought), rolled and stretched
1 jar Prego Farmers' Market® Tomato & Basil Sauce
2 cups mozzarella cheese, shredded
1 pint cherry tomatoes
Fresh basil leaves, torn
Instructions
Preheat oven to 400.
Toss the eggplant, squash, sweet potato, onion and garlic with olive oil in a large bowl.
Place on a rimmed baking sheet and sprinkle with Itallian seasoning, salt and pepper.
Roast for 30 minutes, or until tender, tossing half way through the cooking time.
Remove from the oven and let cool.
Preheat cast iron skillet on the stove on med-high heat.
Carefully place the dough in the pan.
When the crust starts to bubble, add the sauce, half the cheese, sausage, roasted vegetables, and tomatoes.
Place in the oven for 10-15 minutes, until cheese is melted.
Remove the pizza from the oven and add the torn basil leaves.
Enjoy!
Notes
You will have left over vegetables, so you can either plan on making two pizzas, or use them for another meal, or on a salad.
I would love to connect with you!  Let's keep in touch, follow me on Facebook, Twitter, Instagram and Pinterest.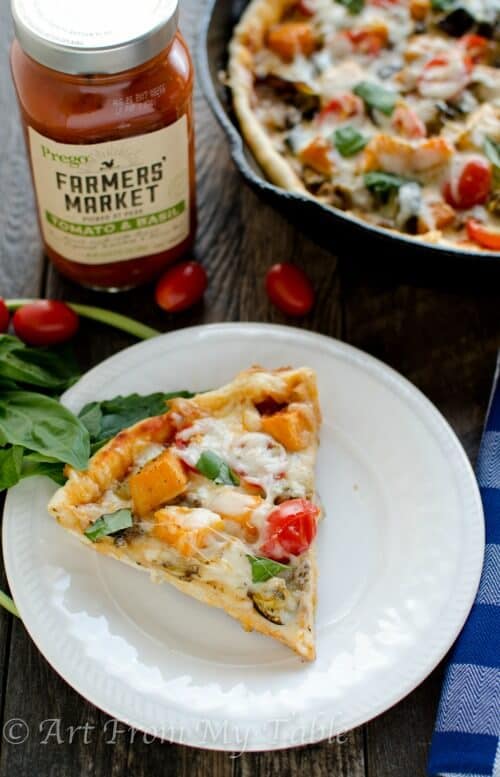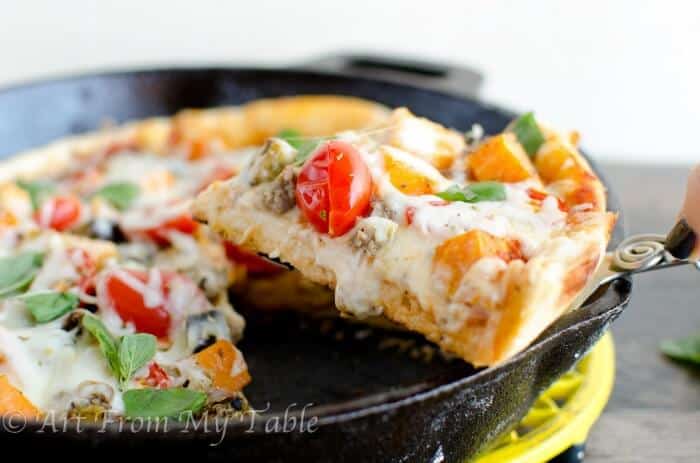 Don't want to miss a recipe?  Sign up for my weekly newsletter! It's FREE!  My subscribers receive a free copy of my "Family Favorites" cookbook as well as other perks!
[mc4wp_form id="2571″]
Looking for more great easy gourmet recipes?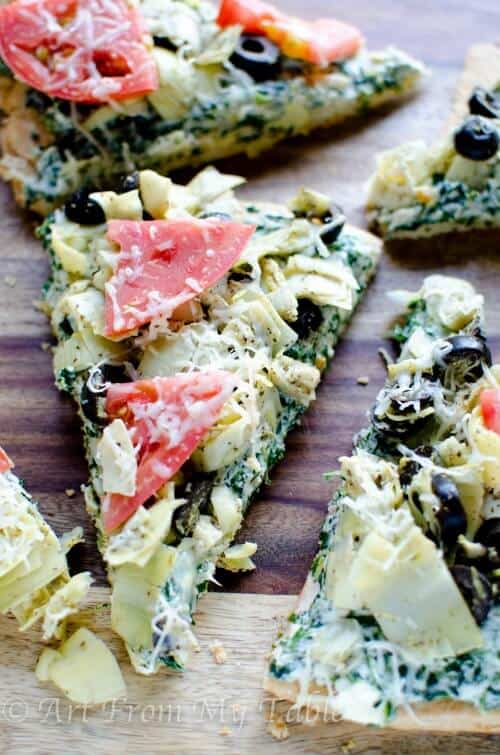 Greek Isle Pizza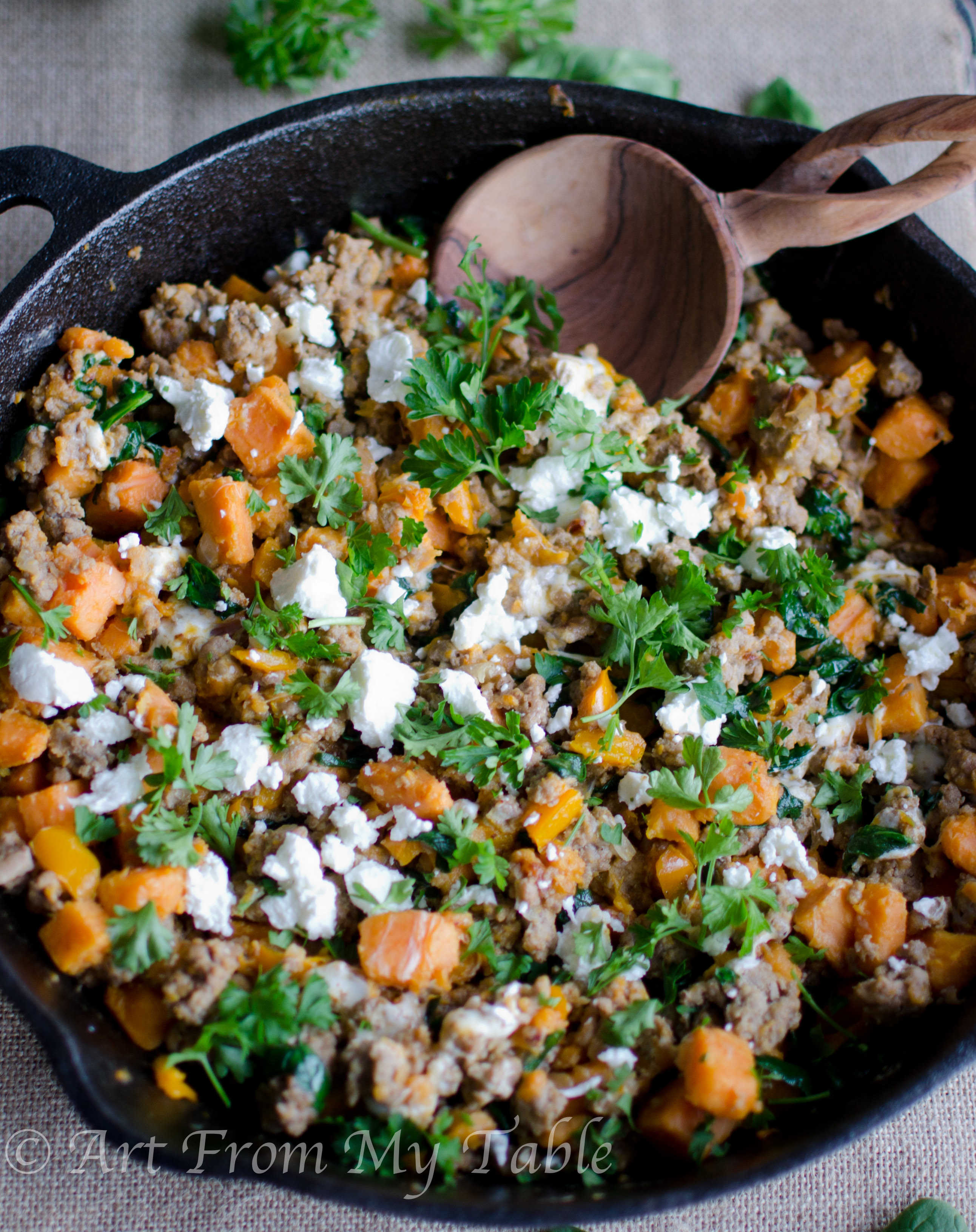 Turkey Skillet Dinner with Sweet Potatoes and Kale