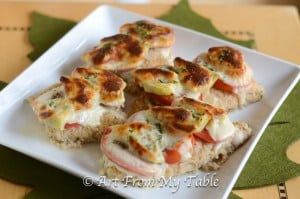 Hi! It's time for another Secret Recipe Club post! This month I had the honor of making something from Lynne's blog 365 days of baking. I felt an instant connection to Lynne when I read that her dream job was to me a mother. She and her family reside in the warmer area of the States, AZ. Lynne, can I come for a visit to get away from cold Michigan this winter? 🙂 Lynne has many talents and I am incredibly impressed that she would take on the challenge of baking something for 365 days in a row! That is amazing! I love to bake, but I think I would feel stressed! Kudo's to you Lynne! There is not a lack of choices on her blog. Some of the incredible things I considered were Home made cheese crackers (I've always wanted to try that for my kids), Banana Bread French Toast, Baked Apple Cider Doughnuts, and look at these babies, Fluffernutter Nutella Crescents! YUM! But after looking at all her beautiful recipes, I landed on this one. Artichoke Tomato Chicken. I loved the simplicity of this one, but it's so flavorful! It's healthy, which is good, I could serve it for dinner. The Fluffernutter Nutella Cresents, well, I'm afraid I would eat them all myself. But I will try those sometime when I have a crowd, or, maybe I will make them just for me. 🙂
Artichoke Tomato Chicken
4 boneless skinless chicken breasts
1 cup Italian style breadcrumbs
4 medium size artichoke hearts (from a can/jar) sliced into thirds
4 plum tomatoes, sliced
1 tablespoon fresh oregano, chopped (I used dried)
6 slices provolone cheese
1 cup chicken broth
*I dipped the chicken in egg first, which is different from the original recipe*
Preheat oven to 425ºF.
Prepare a 9 X 13″ baking dish by spraying it with cooking spray.
Place 1 egg, slightly beaten into 1 dish and the bread crumbs into another shallow dish.
I added a little milk to my egg just to stretch it a little bit.
Using one breast at a time, dip the chicken in the beaten egg, and then the bread crumbs and place in prepared baking dish.
Place tomatoes and then artichokes on each piece of chicken.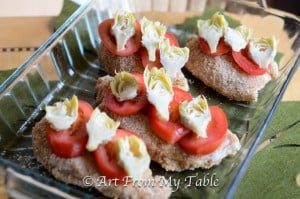 Sprinkle with oregano.
Slice provolone cheese and half and place over each chicken breast. Depending on the size of your chicken breast, you may need 2 or 3 slices on each breast.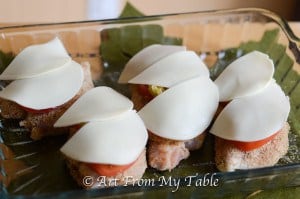 Gently pour chicken broth into dish.
Bake for 20 minutes.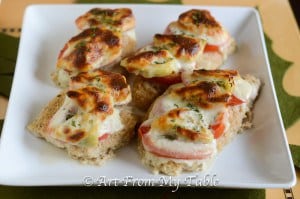 So, the verdict? Really, really good! Everyone loved it. Thanks Lynn for such a simple, easy and super flavorful recipe!
Make sure you stop by 365 days of baking and The Secret Recipe Club for more awesome recipes!
Thanks for stopping by!