It's my favorite time of the month again… The Secret Recipe Club Reveal Day! I just love browsing through my assigned blog each month, I'm always so inspired. There are so many talented people and amazing recipes to try. This month I had The Ginger Snap Girl. I was already in love when I saw the name of the blog, don't you just want to know about her by the name alone? Besides, I love ginger, and my beloved cat's name is Ginger as well. Gloria is the Ginger Snap Girl and she and her husband and their 3 cats live in Southern California. I really enjoyed reading her "About Me" page. She's a great writer, amazing in the kitchen, and takes some most beautiful pictures. She notes that in her family it's all about the food and whose bringing what. That's how I feel about our celebrations and gatherings too, we just might be soul sisters. 😀
Okay, on to the recipe…
I chose Avocado cup salad.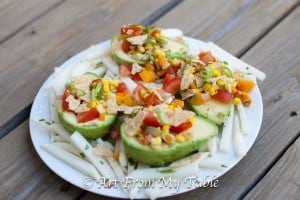 Don't they look amazing?! Well, Avocado's are one of my favorite things.
Here's what you'll need:
1 teaspoon olive oil
1 cup fresh or frozen sweet corn (I cut mine right off the cob)
1/2 red, yellow or orange pepper, diced
2 roma or plum tomatoes, cut in half, seeded and diced
1/4 cup red onion finely diced
1 teaspoon plus 1/4 teaspoon cilantro
1/2 anaheim green chile or jalapeno (if you like spicy), finely diced
2 limes
1 small jicama*, peeled and cut into matchstick size strips (about 2 cups)
2 small to medium sized ripe avocados, peeled, pitted and sliced in half lengthwise
2 green onions, thinly sliced at an angle
Tortilla chips, broken in pieces for garnish
Start by making the corn salsa. Heat a small non stick skillet on medium high heat and add the olive oil corn, red, yellow or orange pepper, and the chile. (I also added the red onion here since I prefer mine cooked a bit.) Saute stirring occasionally until the corn, pepper and chile begin to take on roasted appearance, about 10 minutes. Set aside to cool.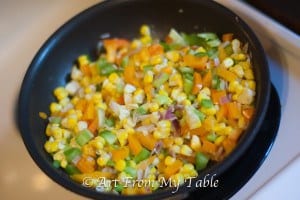 Once mixture is cool, add tomato, 1 teaspoon of cilantro, the roasted corn mixture to a medium bowl and stir together. Squeeze the juice of one lime on the salsa and season with salt and pepper if desired and stir.
Next make the jicama slaw by combining the jicama, juice of one lime and remaining 1/4 teaspoon of cilantro in a small bowl. Stir to combine.
Next assemble your ingredients. You could do individual plates for a main dish, or you could put it together on a serving platter like I did as we had it as a side. Put the jicama on the bottom, then top with your avocado halves. Then load them up with your corn salsa. Finish with a sprinkle of sliced green onion and crushed tortilla chips.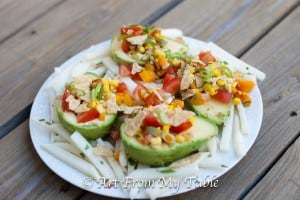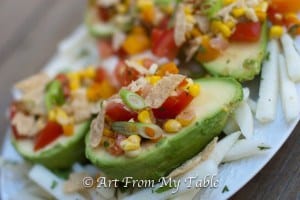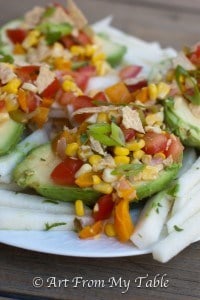 Enjoy!
*Jicama was a new ingredient for us. It's pronounced hik-uh-muh. I've had it before at a restaurant but I've never bought or prepared it. I'm always encouraging my kids to try something new, so this was a great opportunity. I do confess, if you are one of my local friends, I had to go to 3 stores to find it! But, I'm so glad I persevered. It just added a nice texture and flavor to the salad. It's kind of the texture of a crisp apple, but not as sweet as an apple.