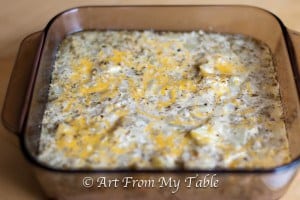 It's time for another Secret Recipe Club post! This month, I was assigned Josie's Kitchen. What I love about Josie's blog is it's Dominican Republic/Latin influence. I love trying recipe's that I know are authentic cuisine, not americanized. 🙂 She has lots of great food, but I landed on Cheesy & Gooey Eggplant Bake. We are big fans of eggplant, but I don't have too many ways I serve it. So I was excited to find a new recipe. It was really delicious!! I did make a couple of changes due to what I had on hand and I note those in the ingredient list.
Make sure you stop by her blog and show some love. Thanks Josie for a fantastic recipe and another way to serve eggplant! 🙂
Ingredients:
1 medium eggplant
1 garlic clove, crushed and diced
1 medium white onion, diced
1 1/2 cups heavy cream (I used whole milk)
1 tbs oregano
1 tsp nutmeg
3 tbs butter, seperated
salt and pepper to taste
shredded mozzarella and cheddar cheese (I also used a hunk of goat cheese)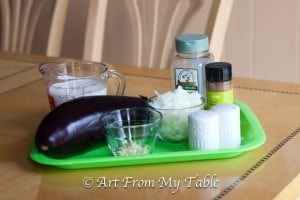 Preheat the oven to 300.
Peel and cut the eggplant into chunks. Season with salt and pepper. Melt 1 tbs of butter and cook the eggplant on medium heat, covered, for about 15 minutes, stirring occasionally. You may need to add some water if the eggplant is sticking (I did do this).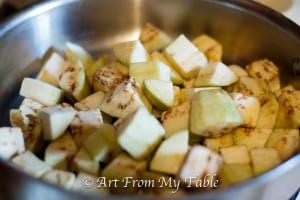 Meanwhile, melt another tablespoon of butter and cook the onion until soft and transparent. Add the garlic and cook until fragrant, about 1 minute. Then add the heavy cream and cook uncovered on low heat.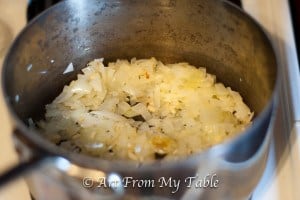 Grease a baking dish with the remaining butter, and add the eggplant. Add the oregano and the nutmeg to the cream. (this is where I added some goat cheese as well and let it melt.)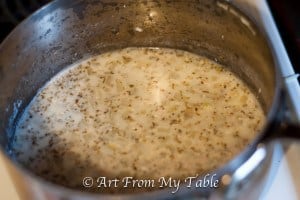 Sprinkle the eggplant with some cheese and then poor the cream over top. Add more cheese if you like. Bake in the oven for 20 minutes. Once it's finished baking, let it rest before serving.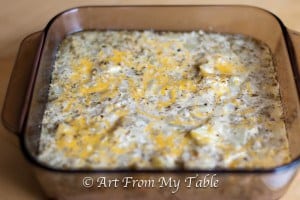 I used the left overs over pasta the next day. 2 Great dishes out of 1!!
Thanks for stopping by! Be sure to visit The Secret Recipe Club for more great recipes.
Blessings,
Chellie