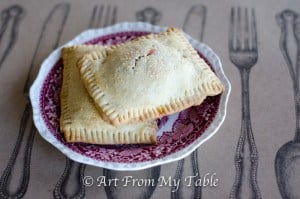 It's time for another Secret Recipe Club post! This month I had the most lovely blog… (insert drumroll here) Mele Cotte! Christina, or Chris, as she's often referred to grew up surrounded by a family of experienced Italian cooks (LUCKY!). She has also had some professional training. Chris says "Utilizing baking as a stress reliever, my most pleasurable activities that stemmed from culinary adventures was Mele Cotte, my personal blog…" You can read more about Chris HERE. Plus, I bet you're wondering what Mele Cotte means, I was too, but you'll have to go visit her to see. 🙂
Christina's pictures are beautiful, and make you want to dive right in! Her blog is easy to navigate and she has oh so many fabulous recipes! Check out these Chewy Granola Bars, and this Baked Avocado Salsa, and the Three Bean and Sweet Potato Chili. I told you she was fabulous!
Well, as you can see from the title of my post, I landed on the Cherry Pop Tarts. I've always wanted to try making my own pop tarts. As a kid, we ate these things all the time. But, as an adult, ugh, they don't even sound good. I've developed a taste for real, unprocessed food, so no offense to any pop tart lovers out there, but this beats the grocery store kind any day!
Christina made hers gluten free. I did not. Since I don't normally cook gluten free, I just don't have the ingredients on hand for that. Here's the scoop:
For the Filling:
1 cup fresh pitted cherries (I had some still in my freezer from last summer, so I just thawed them out)
2 Tbsp. water
¼ cup turbinado (raw) sugar, fine ground
1 Tbsp. arrowroot (or cornstarch)–I used cornstarch
For the Pastry Dough:
2 ¼ cups brown rice flour–I used all purpose flour
½ tsp salt
¾ cup cold butter, cut into pieces
¼ cup turbinado (raw) sugar, fine ground
1 egg, lightly beaten
4-6 Tbsp. cold water
Place flour, salt, butter and sugar in a food processor and pulse several times until butter is incorporated. Add the egg and pulse to incorporate. Gradually add cold water and pulse until the dough begins to form a ball. Remove from bowl and press into a square. (If dough is too dry, sprinkle water on top and knead it into the mixture.) Wrap and refrigerate for 20-30 minutes. (I only needed 4 Tbs. of water, and it was perfect–very easy to use!)
Preheat oven to 375 ° F. Lightly flour a clean surface. Using a rolling pin, roll the dough into a large rectangle. Be sure to shift the dough occasionally to prevent sticking.
Cut into twelve even rectangles. Place six on a parchment lined baking sheet. Carefully spoon 1 or 2 tablespoons of filling into the center of the rectangles (the amount of filling will depend on the size of your rectangles). Top with the remaining six dough rectangles. Smooth the dough over the filling and gently press the edges to seal.
Bake 12-14 minutes, or until very lightly golden brown. Let cool.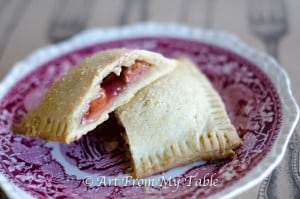 These were SO delicious! The taste of the cherries just brought me back to summer!
It was a pleasure to bake something from Christina's blog. Be sure to check out all her amazing recipes!
Blessings to you~