As an Amazon Associate I earn from qualifying purchases.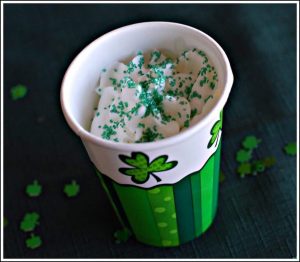 It's about a week away from St. Patricks day! I am not irish, but I love a reason to celebrate. 🙂 Last year we did a mystery dinner with the kids for Valentine's Day. They loved it so much they asked to do it again, so this year, we are doing it on St. Patrick's day.
I will post many more pictures after the event, but I will try to give you a good description here.
Here's our menu so far:
Shamrock Shake (this will be a green veggie salad in a jar w/dressing that they will shake to mix)
4-leaf clover (mini-pizza in a clover shape, I'll use a cookie cutter)
Leprechaun Pie (shepherds pie, recipe found here)
Pot of gold (lemon jello in a lime pot)
over the rainbow (fruit kebab in the colors of the rainbow. strawberry, cantelope, banana, kiwi, blueberry
grape)
emerald isle (green punch)
digging for gold (spoon)
Blarney Stone (fork)
St. Pat's sword (knife)
Irish kiss (napkin)
Dessert is yet to be determined, both what it is and what I'll call it. Although, I may just do it as it. There is alot of balance here, vegetables, starch, meat, fruit, etc. I will be making a menu with all the fun names, and a 1st, 2nd, and 3rd course. The kids will put the items they want in which course. You'll notice some of the items are utensils! It's always fun to see how it all ends up. I will definitely keep you posted as we get closer to the event!
Irish blessings to you all.