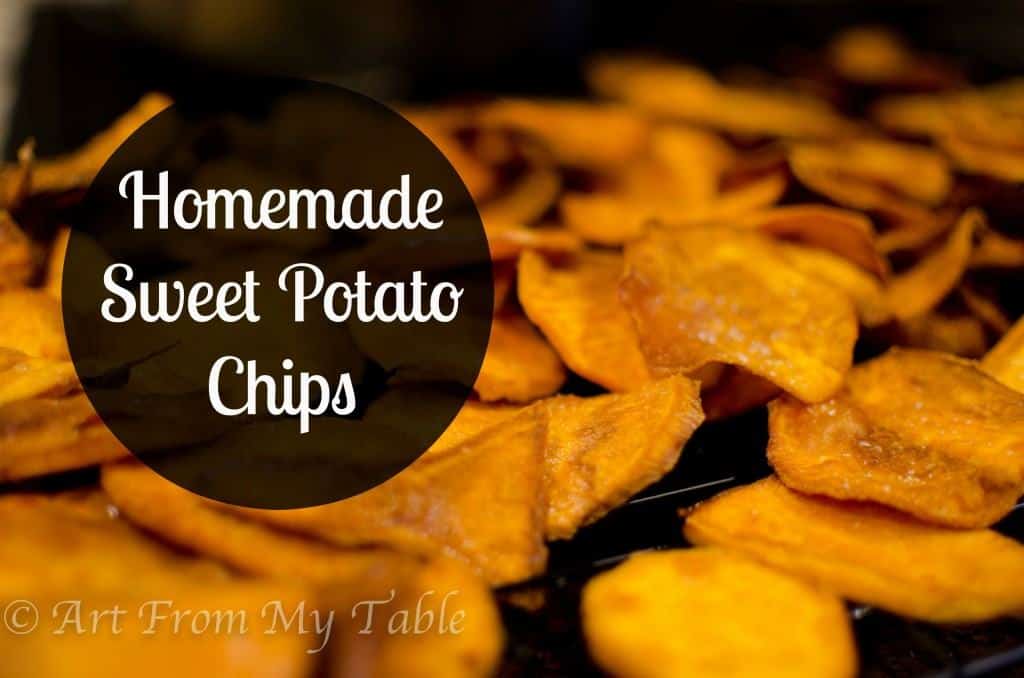 Sweet Potatoes are one of my favorite things. They are also really good for you! They have Vitamin A, Vitamin C, Vitamin D, Calcium, Iron and Vitamin B-6. They are also a good source of magnesium which is the relaxation and anti stress mineral. And they taste great! I love them baked with some cinnamon butter. Of course I love them fried… which maybe isn't the healthiest, but everything in moderation right? So it is with these fabulous home made sweet potato chips! Serve them with sandwiches and burgers or whatever else floats your boat!
I know you can just buy them already made into chips, but it can be pricey. So I like to do it myself. Whole sweet potatoes are typically really affordable.
All you need are sweet potatoes and vegetable oil. And of course some salt.

Make sure you use a vegetable oil, or an oil that can be heated at a high temperature. You should NOT use olive oil, or even coconut oil for this one. Those oils don't have a very high smoking point. You don't want that. Good old fashioned vegetable oil or canola oil is perfect.
First you want to peel and slice your sweet potatoes.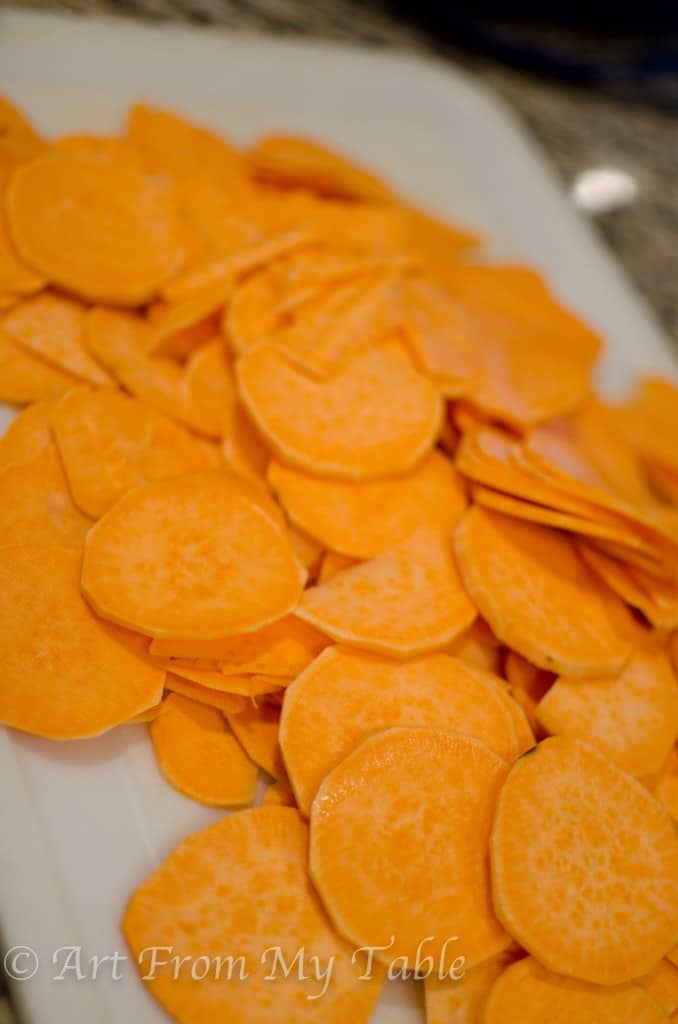 I like to use a Mandolin to slice my potatoes. Then they are all the exact same thickness. You want these to be pretty thin, maybe and 1/8 of an inch or so. You could probably go up to 3/8 of an inch. If they're a little thicker, no biggie, just takes a little longer in the oil. WARNING:  If you use a mandolin and you haven't before, PLEASE be careful! I have cut myself twice on that thing! One time I needed stitches. Yeah, ouchy. I probably didn't use it again for a good year, I was a bit afraid of my mandolin.
So, next you want to get your oil nice and hot, but not smoking. To see if it's ready, just put a drop of water in it. If it sizzles, you're ready to go. Make sure you have a few inches in your pan. Of course if you have a deep fryer you could just use that. But I don't.
Working in batches put some potato slices in the hot oil. See it sizzle? YUM!
Using a slotted spoon you can lift them out and place them on a rack. You'll want to have this set up beforehand, but you can line a rimmed baking sheet with a few paper towels and place a baking rack on top. Then the chips will stay lifted up and the oil can drip off. I didn't line mine with paper towel, but I wish I would have, it's a bit easier to clean up. Sprinkle it with some salt.
And there you have it. Yummy, crunchy, salty sweet potato chips.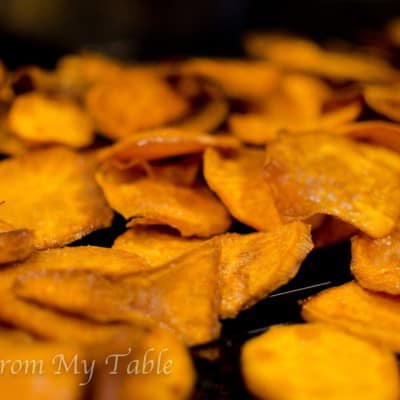 Sweet Potato Chips
a healthier option to potato chips, these sweet potato chips are perfectly seasoned and lightly fried.
Print
Pin
Rate
Ingredients
3-4

sweet potatoes

sliced

Vegetable oil for frying

Salt
Instructions
Heat the oil to hot. You can test it by putting a drop of water in it, if it sizzles it's ready.

Working in batches, put some potato slices in the oil

Cook until golden.

Remove with a slotted spoon and place on a rack.

Sprinkle with salt.
Nutrition
Calories:
84
kcal
|
Carbohydrates:
20
g
|
Protein:
2
g
|
Fat:
1
g
|
Saturated Fat:
1
g
|
Sodium:
54
mg
|
Potassium:
329
mg
|
Fiber:
3
g
|
Sugar:
4
g
|
Vitamin A:
13832
IU
|
Vitamin C:
2
mg
|
Calcium:
29
mg
|
Iron:
1
mg