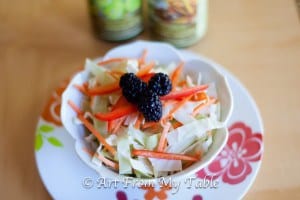 This wonderful salad was adapted from Fustini's Kitchen. Do you know Fustinis? Fustinis is an Oil and Vinegar shop. Yep, that's all they sell. You can taste everything and I didn't find one single one I didn't like! Some of these vinegars are amazing and smooth. You literally could drink it straight up. For my local friends, they have locations in Holland, Ann Arbor, Traverse City, and Petoskey MI. But if you're not local, you can order online. Of course you can't taste it first, but you will not be disappointed! There are so many different flavors and they really add something special to your dishes.
So here's a recipe that I adapted from them. As I was checking out, they gave me a couple recipe cards that went along with the selections I had purchased. (The customer service was fantastic!)
Ingredients:
1/2 head shredded cabbage
1 red bell pepper sliced
3 carrots julienned (or grated)
fresh blackberries
Persian Lime Oil
Coconut Balsamic
sea salt and ground pepper to taste
(makes about 6 side salads)
Mix cabbage and carrots together in a large bowl and toss with equal parts of oil and vinegar. Add salt and pepper to taste
Divide on to plates or serving bowls and top with sliced red peppers and fresh blackberries. Drizzle with more of the Persian lime/coconut dressing.