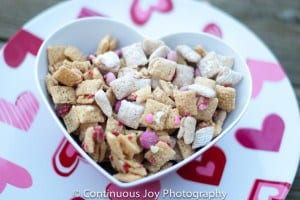 I have had a sick little girl the past couple days, so that has put a damper on all the fun valentine's recipe's I wanted to try. But, here's a quick and easy one from Betty Crocker.
4 1/2 cups Rice chex cereal
1/2 cup white vanilla baking chips
1/4 cup peanut butter
2 tbs butter
1/3 cup powdered sugar
1/4 cup red, white and pink candy-coated chocolate candies (I used m&m's)
2 tbs red or pink jimmies sprinkles (I used red jimmies and some heart shaped sprinkles)
Place cereal in a bowl. In a separate microwavable bowl, microwave vanilla chips, peanut butter and butter uncovered for 1 -1 1/2 minutes, stirring every 30 seconds, until melted and smooth. POur peanut butter mixture over cereal, stirring until evenly coated.
Place 1/2 of the cereal mixture in a 1 gallon food storage bag. Add powdered sugar. Seal bag and shake until well coated. Spread on waxed paper and cool about 15 minutes.
Meanwhile, stir candies and sprinkles into remaining cereal mixture. Spread on waxed paper and cool for 15 minutes.
In a serving bow, mix both cereal mixtures. Store in an airtight container.
How festive! For more valentine recipes, see the following post:
http://artfrommytable.blogspot.com/2012/02/valentines-day-recipes.html
I hope you'll share with me your valentine's day ideas too.