Another way to enjoy Brussels Sprouts! This warm Chopped Brussels Sprouts Salad is packed with flavor, kind of a savory sweet, and the grapefruit adds a lovely bright citrus note.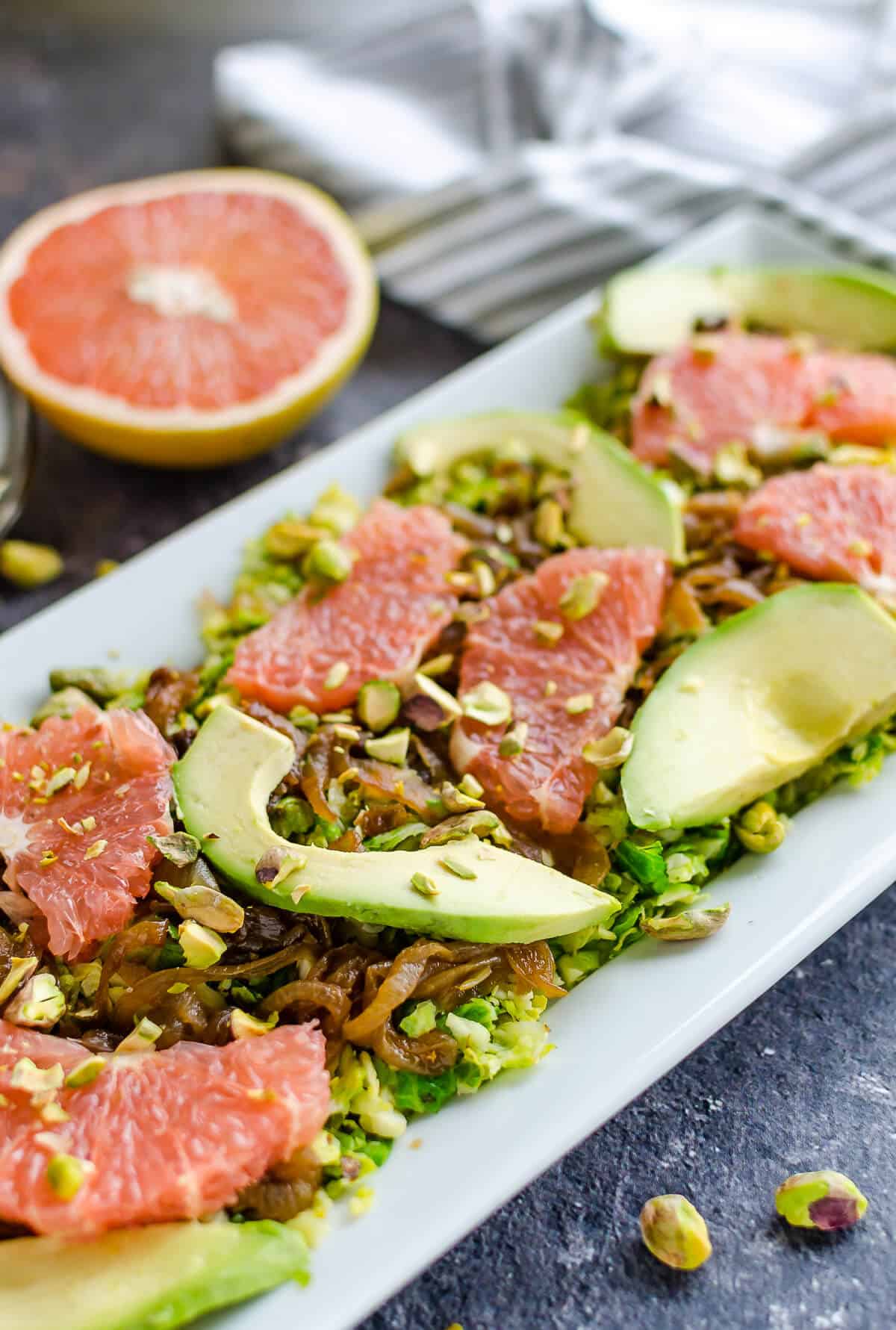 Who loves brussels sprouts? ✋???? Who hate's them? ????????
Well brussels lovers, this is for you! Another way to enjoy those sprouts. If you don't like brussels sprouts, don't check out just yet.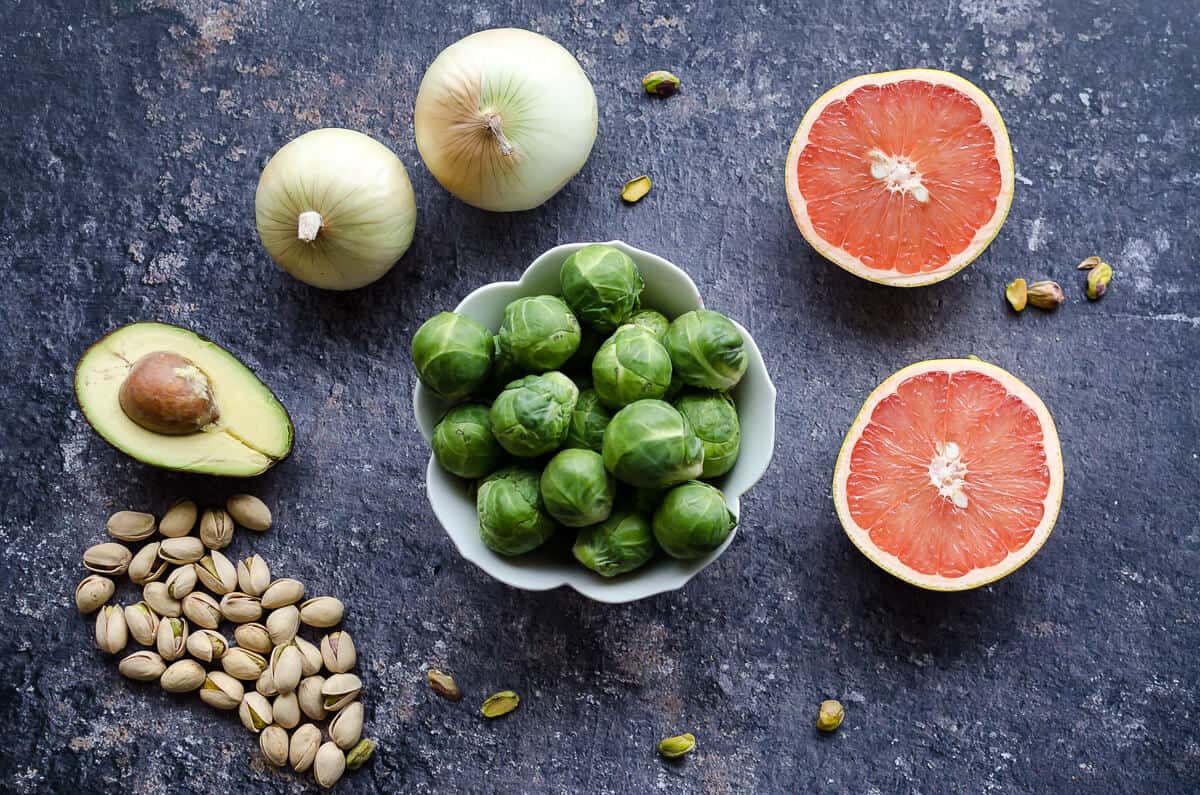 Roasted brussels sprouts was THE transformation recipe for me personally. I really wasn't a fan of brussels sprouts. But, I can happily say they have grown on me. And I used to only eat them roasted, but now, I enjoy them lots of ways.

So, I encourage you to keep trying if they're not your favorite thing. I've been trying them out different ways, and this chopped brussels sprouts salad is my latest favorite.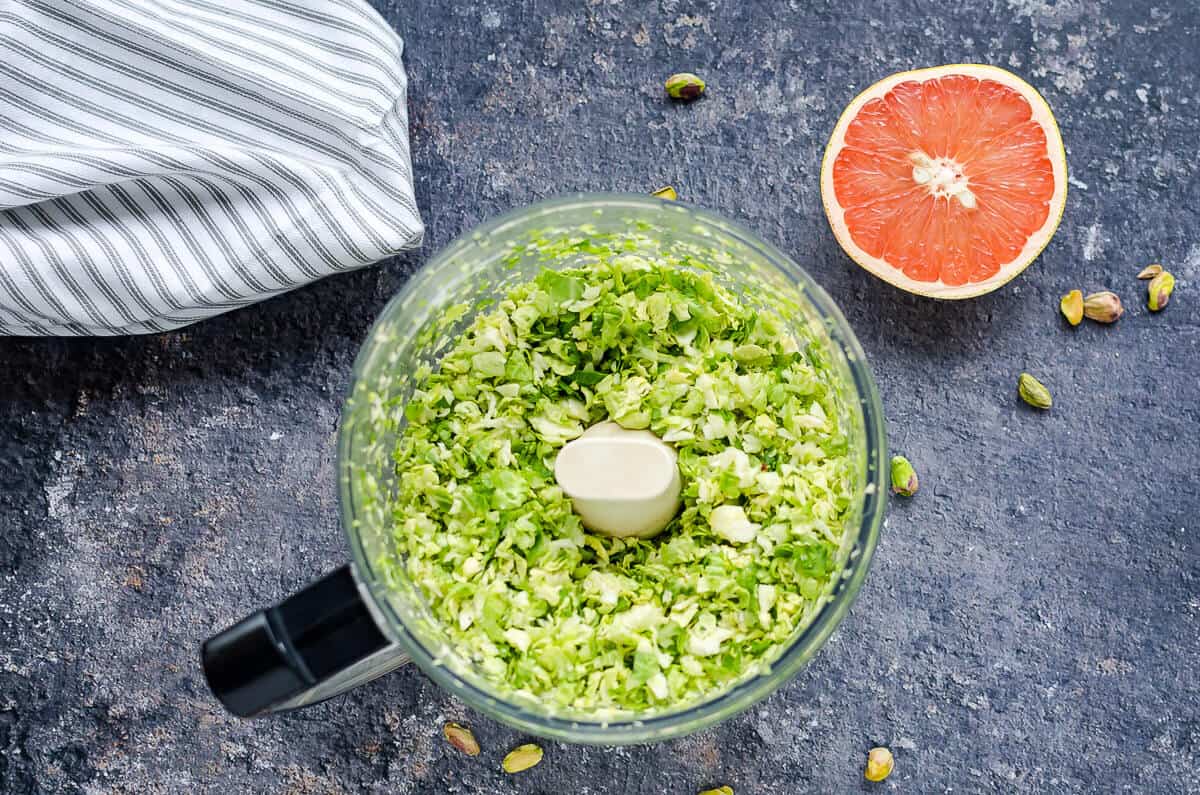 At my Christmas open house, I made a brussels sprouts galette. It had sauteed brussels sprouts, caramelized onions and cheese in it.
One of my friends took some, not really knowing what it was. She raved about it and said how good it was, and asked what was in it.
Well, imagine her surprise to find that it had brussels sprouts, and– she hates them! Ha! I love when that happens! That's why you just have to keep trying. ????
Chopped Brussels Sprouts Salad
It's easy, it's healthy, and it compliments just about anything. Sometimes I just want some variety in my salads, so this was perfect.
Plus, I really crave citrus this time of year. ???? Anyone else?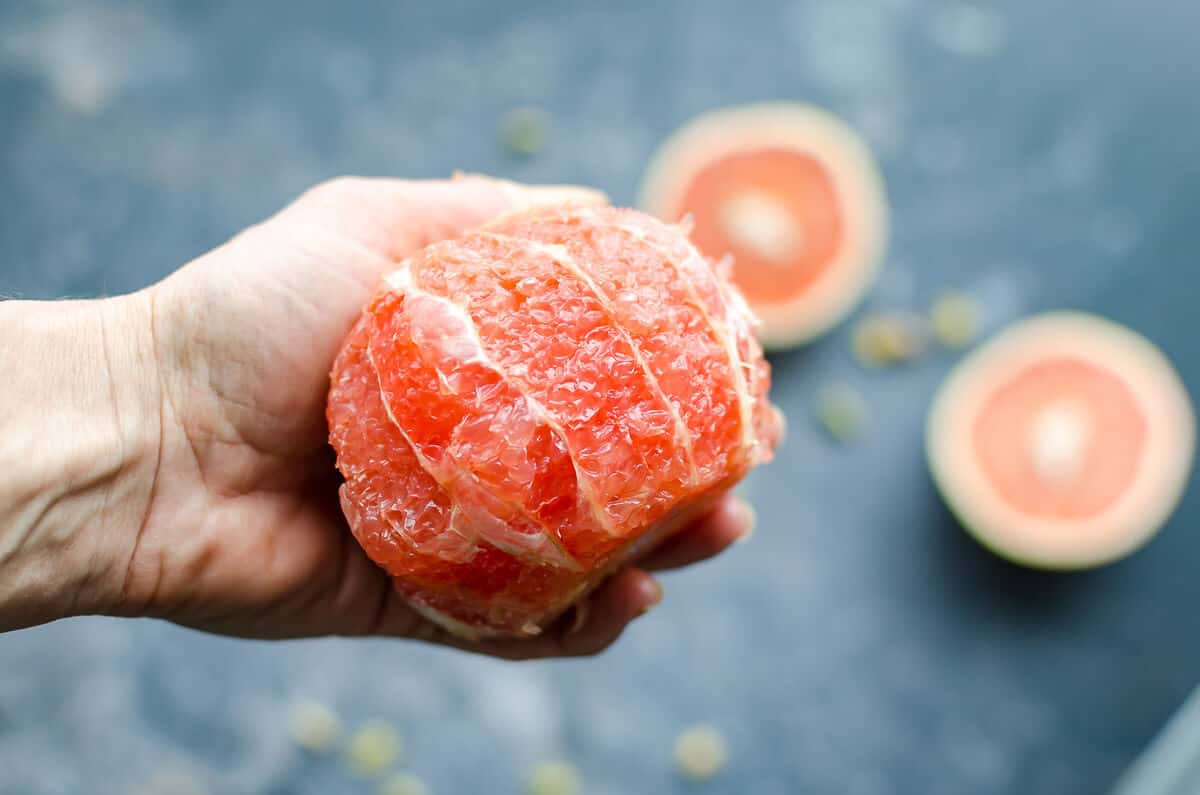 I know most of you are looking for recipes that are quick, easy and healthy, with just 5 ingredients this fits the bill.
Pro Tips for Chopped Brussels Sprouts Salad ~
Make time the day before (or even several) to cook the onions.
Peel your grapefruit beforehand and store in the fridge.
buy shelled pistachios, much faster than shelling them yourself.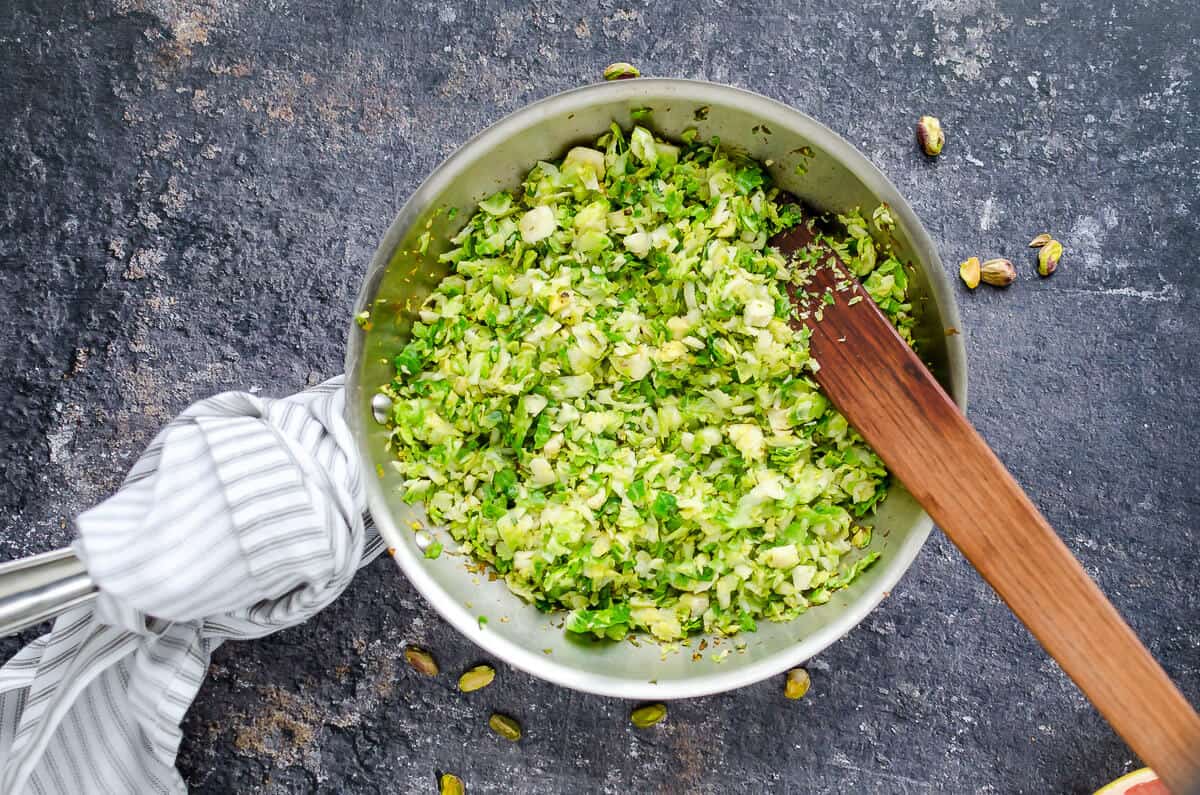 If you want truly caramelized onions, the best thing to do is give them the time they need. This can take 30-60 minutes.
Low and slow and occasionally stirring them. If they brown too quickly, add a tablespoon of water. And keep doing so until you don't need to.
I like to make a big batch of caramelized onions and use them in several recipes.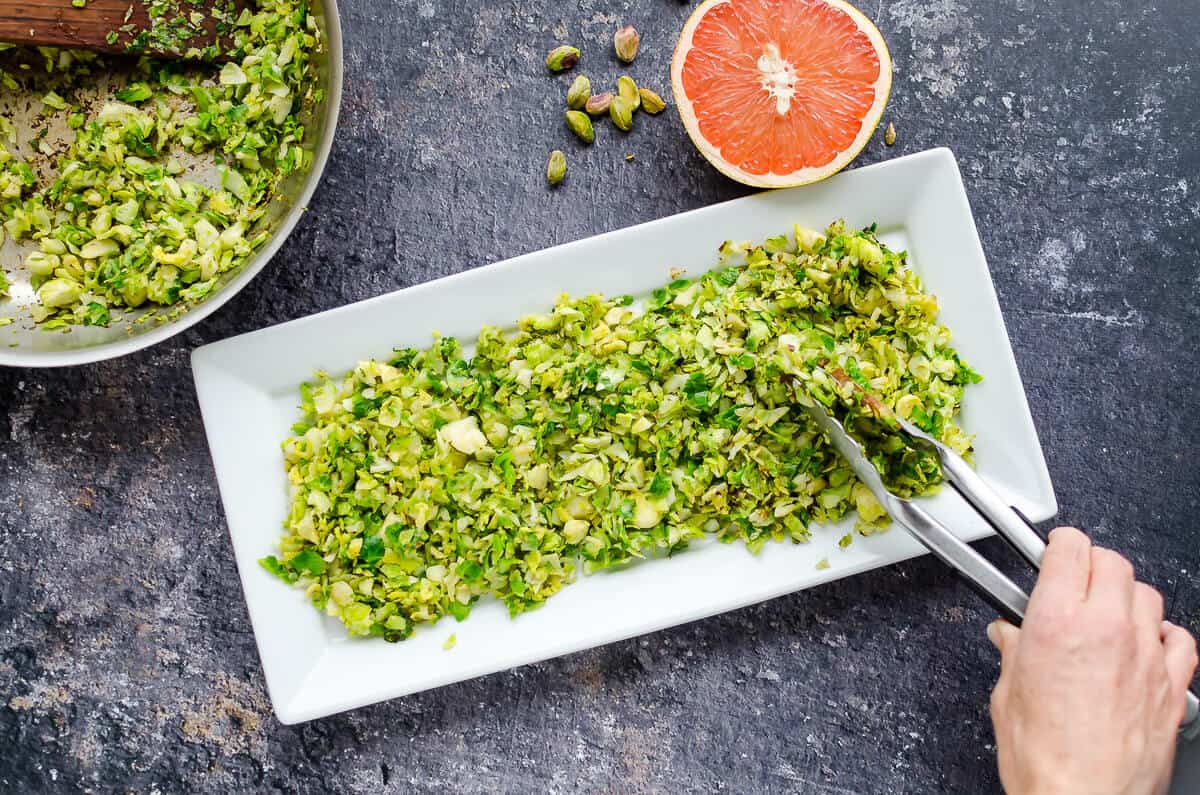 They're fantastic in omelettes, salads, on top of sweet potatoes (or white), add some to your vegetables, make French Onion Soup, or this Apple and Onion Tart.
Short Cuts for Chopped Brussels Sprouts Salad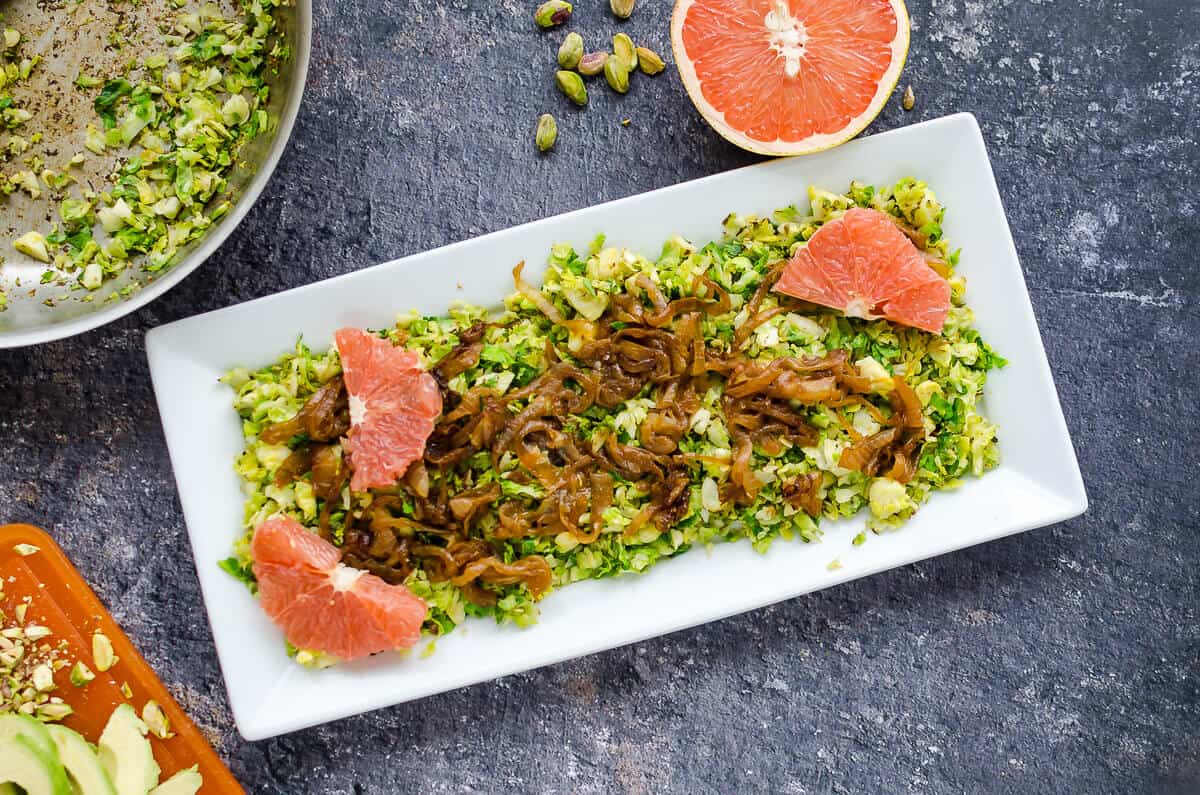 Okay, so if you're short on time and are thinking, I'd never make this because caramelized onions– then here's some options:
just sauté' the onions until they are tender and translucent with a little char. Over a medium heat as opposed to low. They'll still have great flavor, just not as sweet.
You could skip out on sautéing the sprouts as well, you will have a different flavor as cooking brings out different elements. But it will still be good.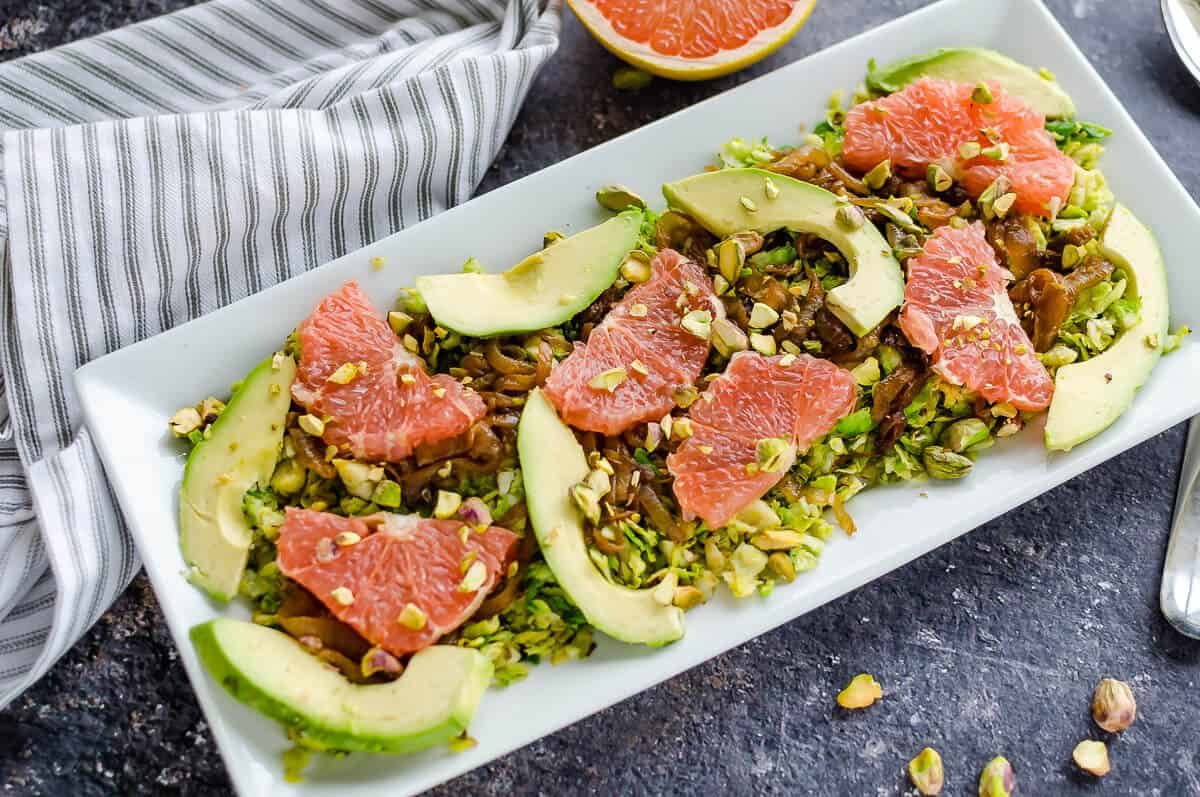 Variations for Chopped Brussels Sprouts Salad
There are so many ways to change up Chopped Brussels Sprouts Salad. Here's a few other combinations that work well.
use oranges instead of grapefruit
replace the grapefruit with pomegranate arils
add dried cranberries or cherries
add cheese! I like strong cheeses such as blue, goat, cheddar, but pick your fav.
add some fresh herbs such as basil or thyme
add bacon or pancetta
use almonds instead of pistachios
As you can see, the options are endless. Let me know how you make it your own.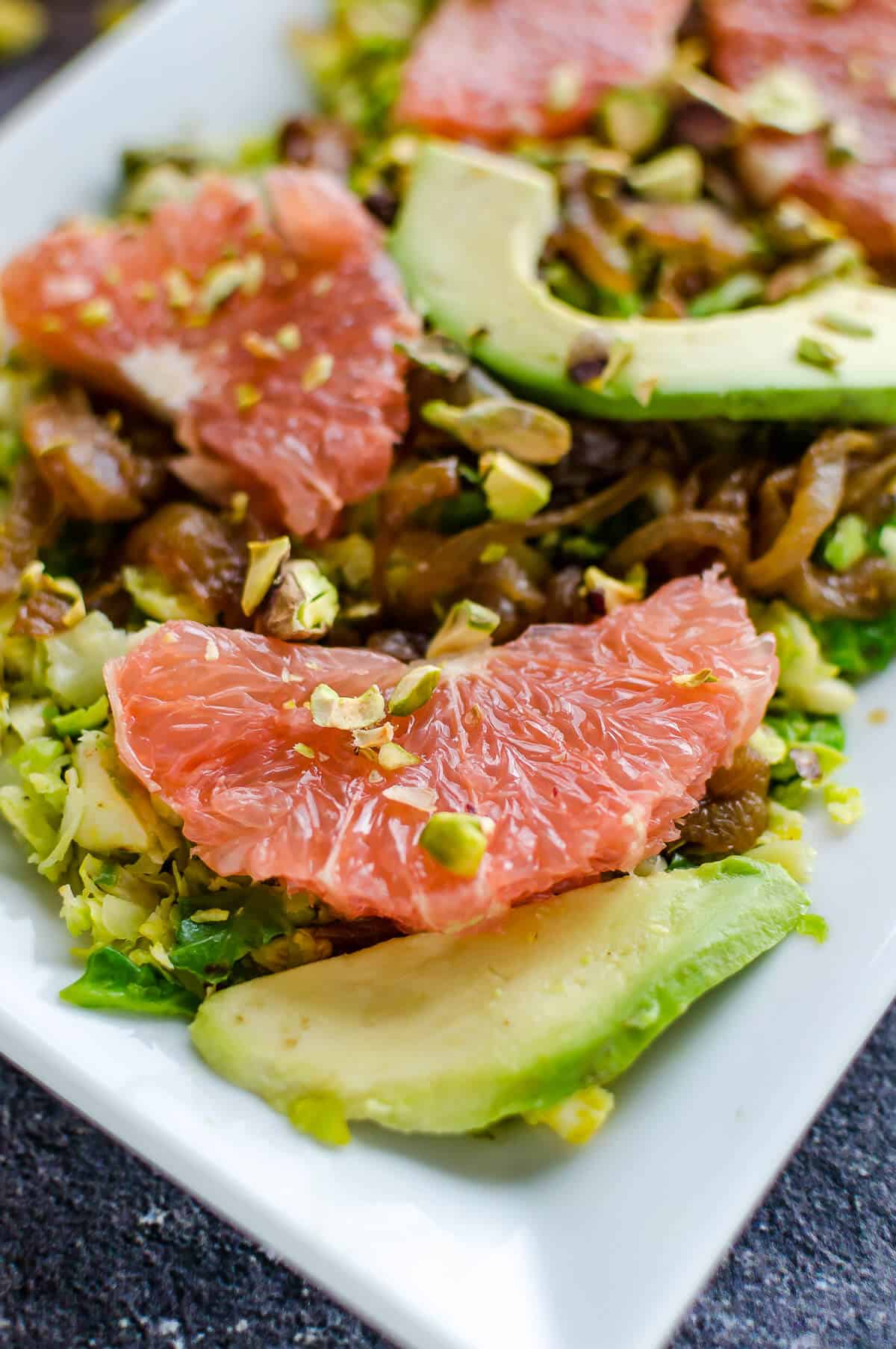 Where's the dressing?
You might be wondering, what do I dress this salad with? Well, I know this sounds odd, but it was already so juicy with flavor, we just enjoyed it as is.
That's completely not normal for me, but it doesn't really need anything else.
That being said, if I were to make a dressing, I'd pair it with either a balsamic vinaigrette, or I'd simply use a balsamic reduction.
I think a honey mustard dressing would be nice too.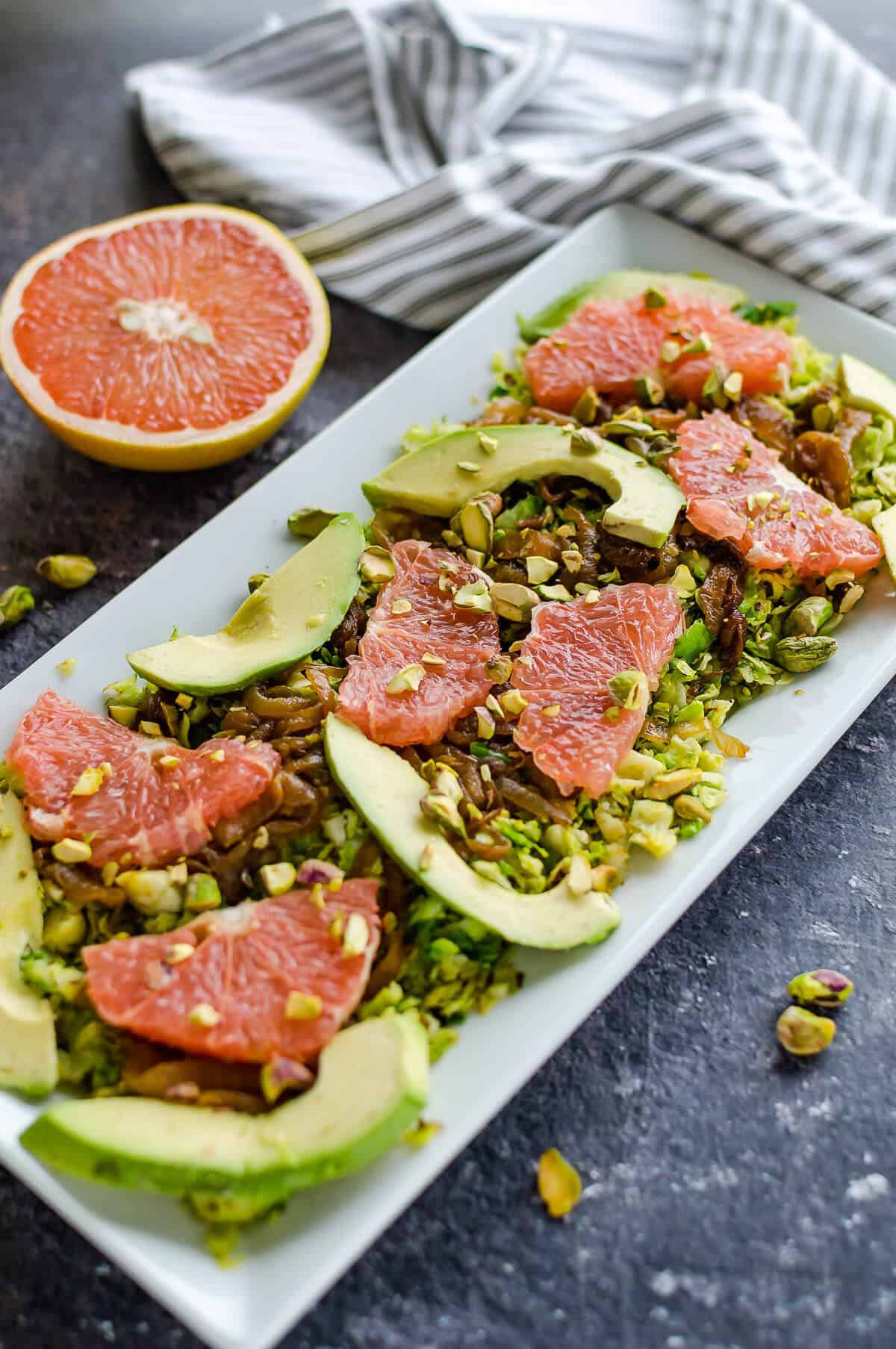 Have questions or comments? email me or leave me a comment.
P.S. I would love to connect with you! Leave me a comment and follow me on Facebook, Twitter, Instagram and Pinterest.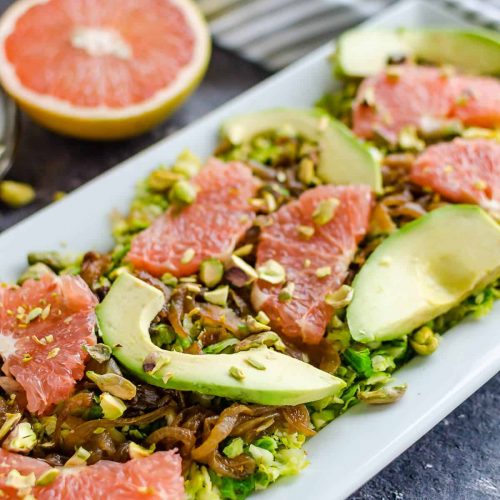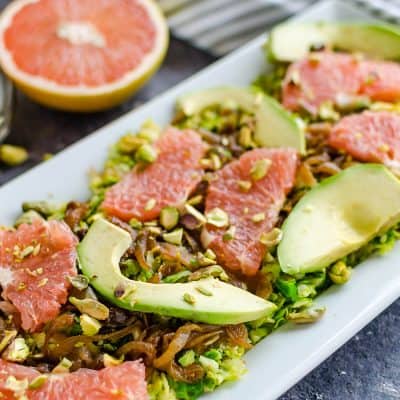 Warm Brussels Sprouts Salad
Another way to enjoy Brussels Sprouts! This warm chopped brussels sprouts salad is packed with flavor, kind of a savory sweet, and the grapefruit adds a lovely bright citrus note.
Print
Pin
Rate
Ingredients
1

tbsp

olive oil

1

pound

brussels sprouts

salt and pepper to taste

1/2

cup

caramelized onions

1

grapefruit

peeled and sliced

1

avocado

sliced

1/2

cup

pistachios

shelled and chopped
Instructions
Trim root end of brussels sprouts. Place them in a food processor and pulse until chopped.

Add oil to a medium skillet over medium heat. Add chopped brussels sprouts and saute' until slightly wilted, bright and a bit charred (5-10 minutes). Season with salt and pepper

Peel grapefruit and cut in slices, then cut the slices in half.

Cut the avocado into slices. Chop the pistachios

Place the sautéed sprouts on a platter. Then layer with caramelized onions, grapefruit slices, avocado slices and pistachios. Serve immediately.
Notes
This is a 'loose' recipe. Feel free to add more or less of any ingredient to your liking. These measurements don't need to be exact. 
To caramelize onions: Add a tablespoon of olive oil or butter to a skillet. Heat to medium low. Add sliced onions and let them cook, stirring occasionally. This can take 30-60 minutes to get a nice brown caramelized onion. If they are browning too quickly, or you feel the pan is burning, add 1 tablespoon of water, as needed, and continue to stir and cook. 
Nutrition
Calories:
189
kcal
|
Carbohydrates:
18
g
|
Protein:
5
g
|
Fat:
12
g
|
Saturated Fat:
1
g
|
Sodium:
22
mg
|
Potassium:
645
mg
|
Fiber:
7
g
|
Sugar:
6
g
|
Vitamin A:
1135
IU
|
Vitamin C:
82.4
mg
|
Calcium:
60
mg
|
Iron:
1.7
mg