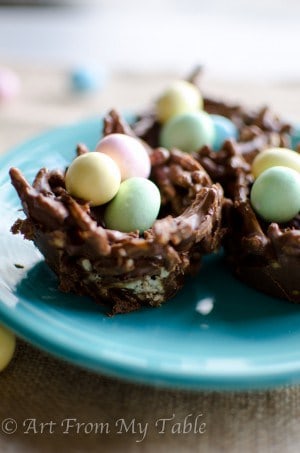 Print
Bird's Nest Easter Treats {No Bake}
Melted chocolate and butterscotch chips mixed with peanut butter and chow mein noodles in the shape of a bird's nest.
cooking spray or butter for greasing the muffin tin

6

oz

semi-sweet chocolate chips

6

oz

butterscotch chips

1

cup

creamy all natural peanut butter

5

oz

chow mien noodles

1

package of Hershey's milk chocolate mini eggs
Grease the muffin tin.

Melt the chocolate chips and butterscotch chips over a double boiler, or in a glass bowl over a sauce pan with simmering water. Alternatively, you can use the microwave, using 20 second increments, stirring in between.

Add the peanut butter and combine well.

Fold in the chow mien noodles and gently stir to coat.

Fill each of the muffin cups with the mixture, making a well in the center.

Cool in the refrigerator until hardened, about 1 hour.

Fill each 'nest' with a few mini eggs.