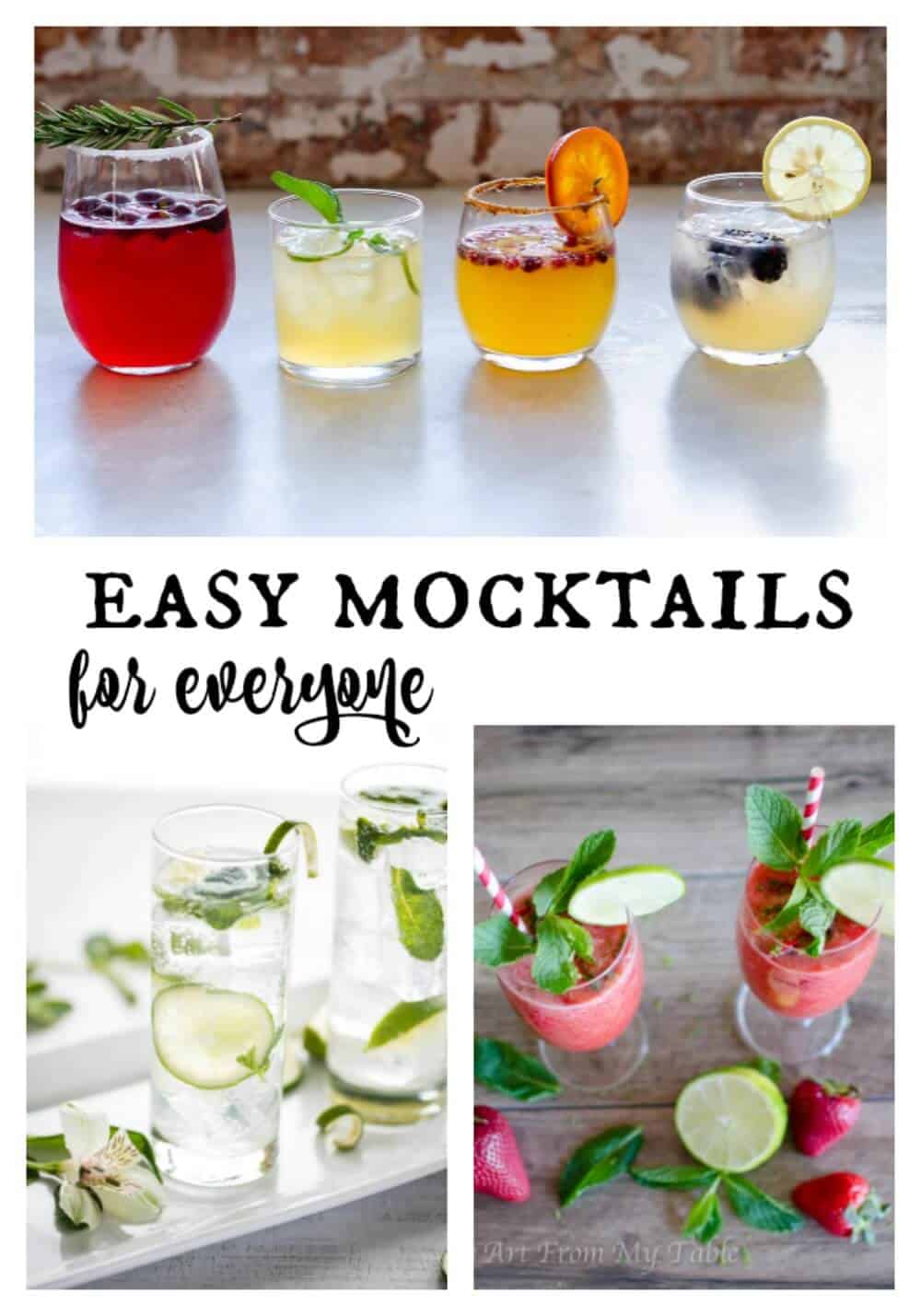 Whether you want a fun faux-cocktail for the family, or you don't drink, or you're the designated driver, here you'll find Popular and Easy Mocktail Recipes for Everyone!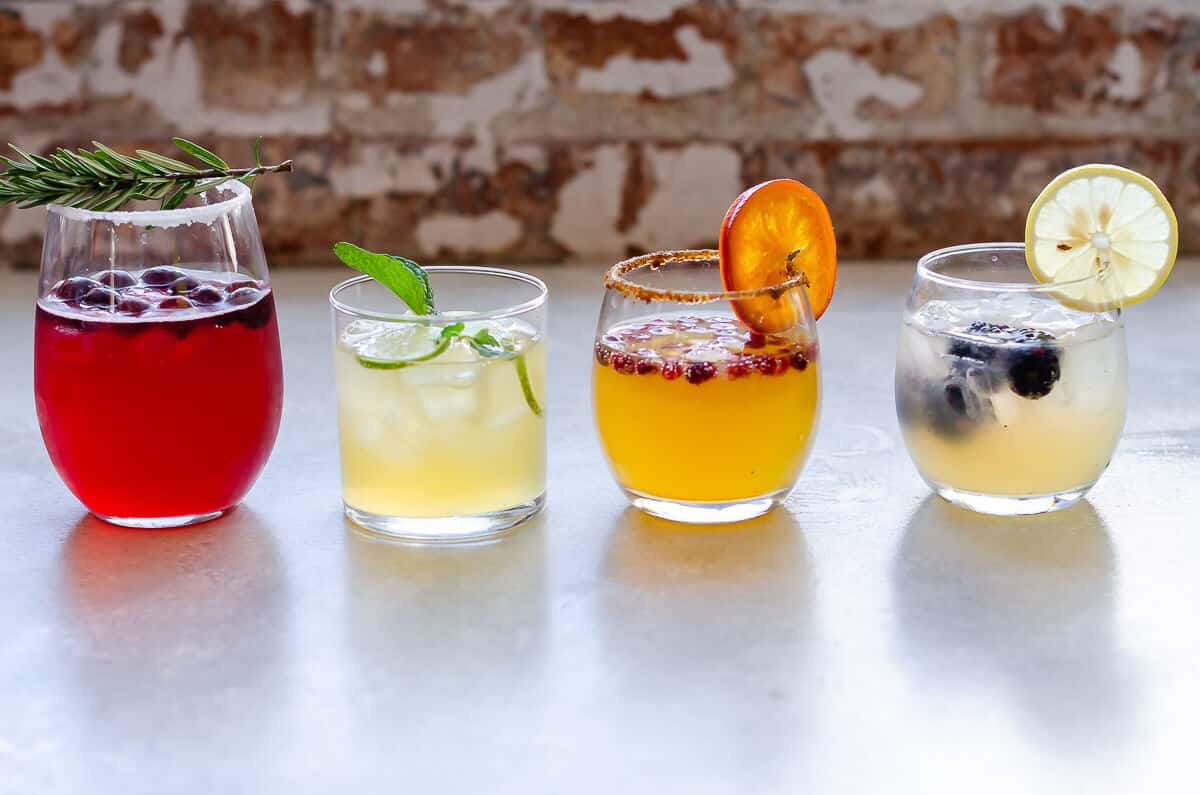 Need a fancy drink for poolside? Check. Need a warm toasty toddy by the fire? Check. What about a refreshing beverage for the patio or deck? Check. No matter the season, we've got you covered with all the Mocktail Recipes!
What is a Mocktail?
A Mocktail is best described as a cocktail without the alcohol. It contains other delicious flavors such as fruit juice, tea, kombucha, sodas, or infused waters. Basically a delicious blend of flavors that won't get you tipsy, but still feel very celebratory and festive.
They can be shaken, stirred, blended, frozen, iced, or hot.
Why Mocktails?
Drinking a beverage, whether by yourself, or with loved ones, is more than what's in the glass. Yes, what's in the glass counts, but really, it's about the whole experience.
The type of glass your holding (stemmed, mug, bold, dainty) the atmosphere, the smells, the feel of an icy cool beverage, or the warm flavors in a hot drink. Creamy vs. crisp. You get the idea.
If you don't drink, or are just having a family friendly occasion, there isn't any reason why you can't share in the experience! So, why Mocktails? Because they're fun, tasty, and meant to be shared.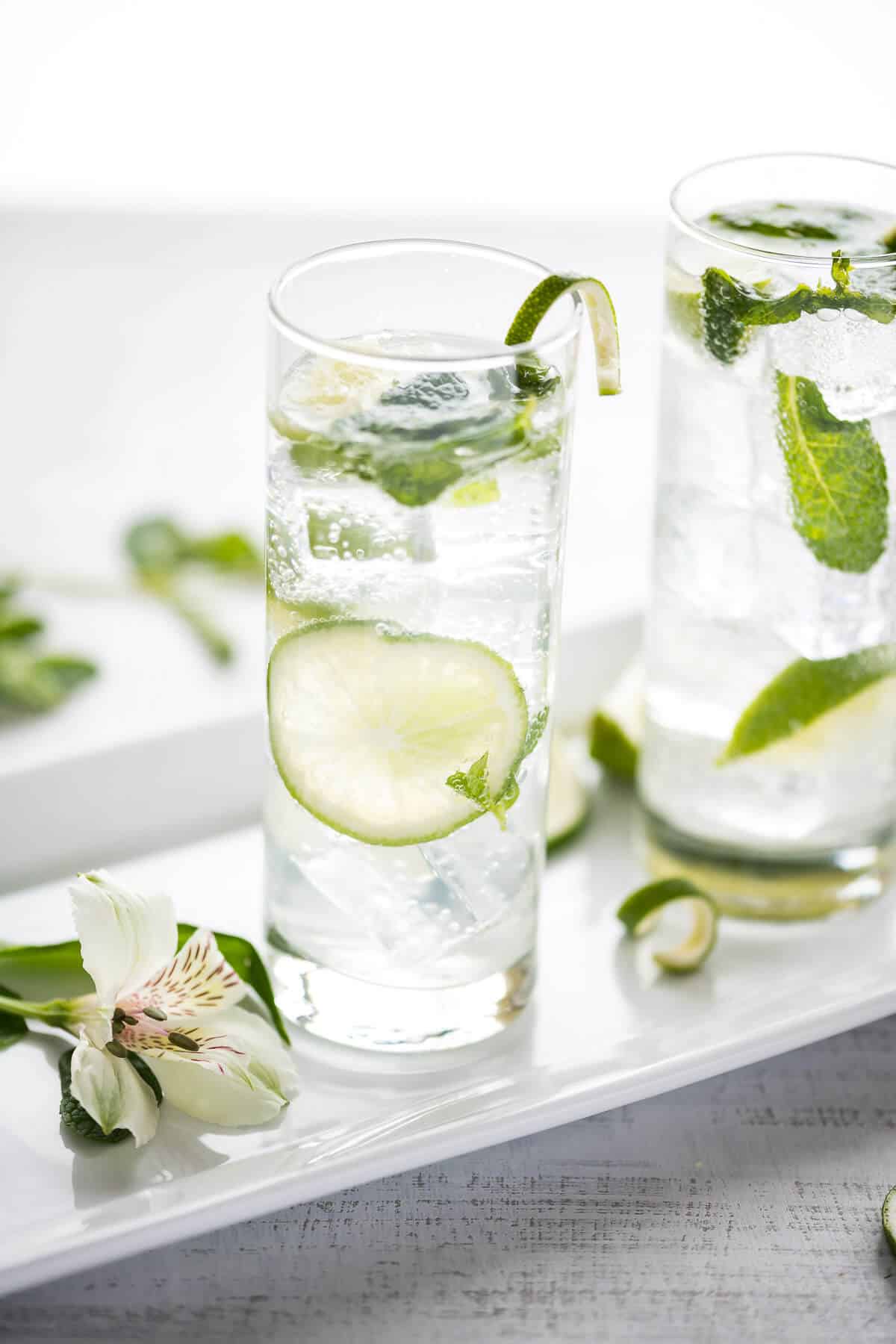 How to Make Mocktails at home
Just like a cocktail, there are basic components to mocktails. But the creativity is endless! Often when making a cocktail, you're building layers, such as a daiquiri--you can taste the rum, lime, and sugar. So just think of it as layering flavors.
A general formula for making simple mocktails is four parts base, one part sour, one half part sweet, and a garnish.
Ideas for base:
tea
coconut water, sparkling water (flavored or unflavored)
fruit juice
ginger ale, or other soda
dealcoholized wine (Sutter Homes Fre is a good one)
Ideas for sour:
Apple Cider Vinegar
lime juice
lemon juice
grapefruit juice
pomegranate juice
tart cherry juice
cranberry juice
Ideas for sweet:
apple juice
pineapple juice
maple syrup
honey
ginger beer
simple syrups (these are SO easy to make at home. Just combine equal parts sugar (or honey) and water and warm it until the sugar melts. To infuse add any flavors and let it stand for 10-5-15 minutes. Cool, and store in the fridge for 2 weeks).
Lastly, you'll want to garnish your mocktail, that's what makes it fancy, right?!
Ideas for garnish:
fruit slices that compliment your mocktail
muddled fruit
lemon or lime twist
mint leaves
basil leaves
thyme
rosemary
cranberries
fresh or frozen fruit such as strawberries, cherries, raspberries or blackberries
pomegranate arils
crystalized ginger
And there's so much more you could add to these lists. Don't get too hung up on the formula, but it is a good place to start. Some of these follow that formula and some don't. Either way, just have fun!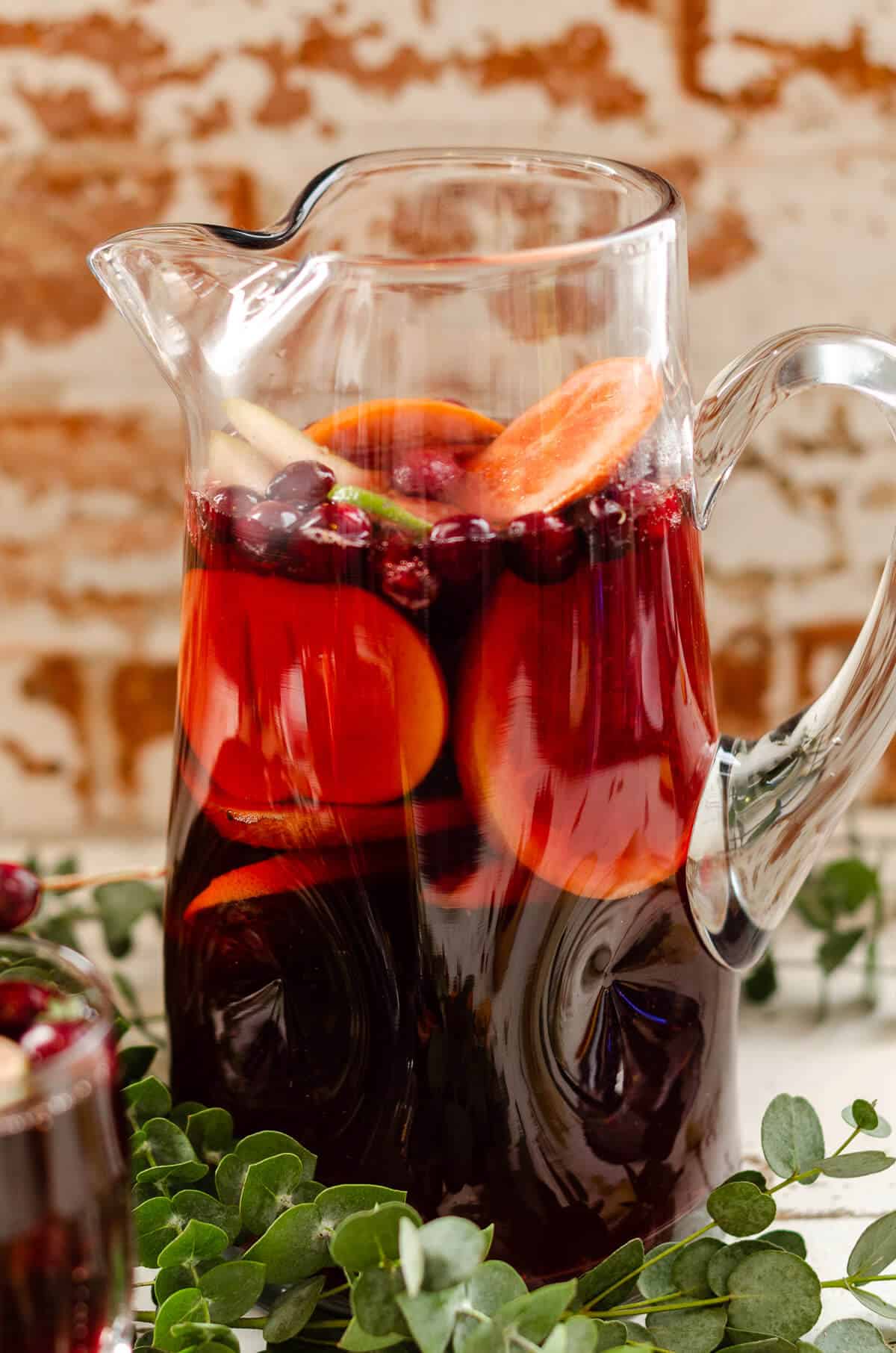 popular and easy mocktail recipes for everyone
If you're not up for making your own, here's a couple of alternatives that you can just buy:
Seedlip non-alcoholic spirits
Did you make one of our recipes? I love to see what's on your table, so tag me on Instagram @artfrommytable or #artfrommytable. when you make one of our recipes!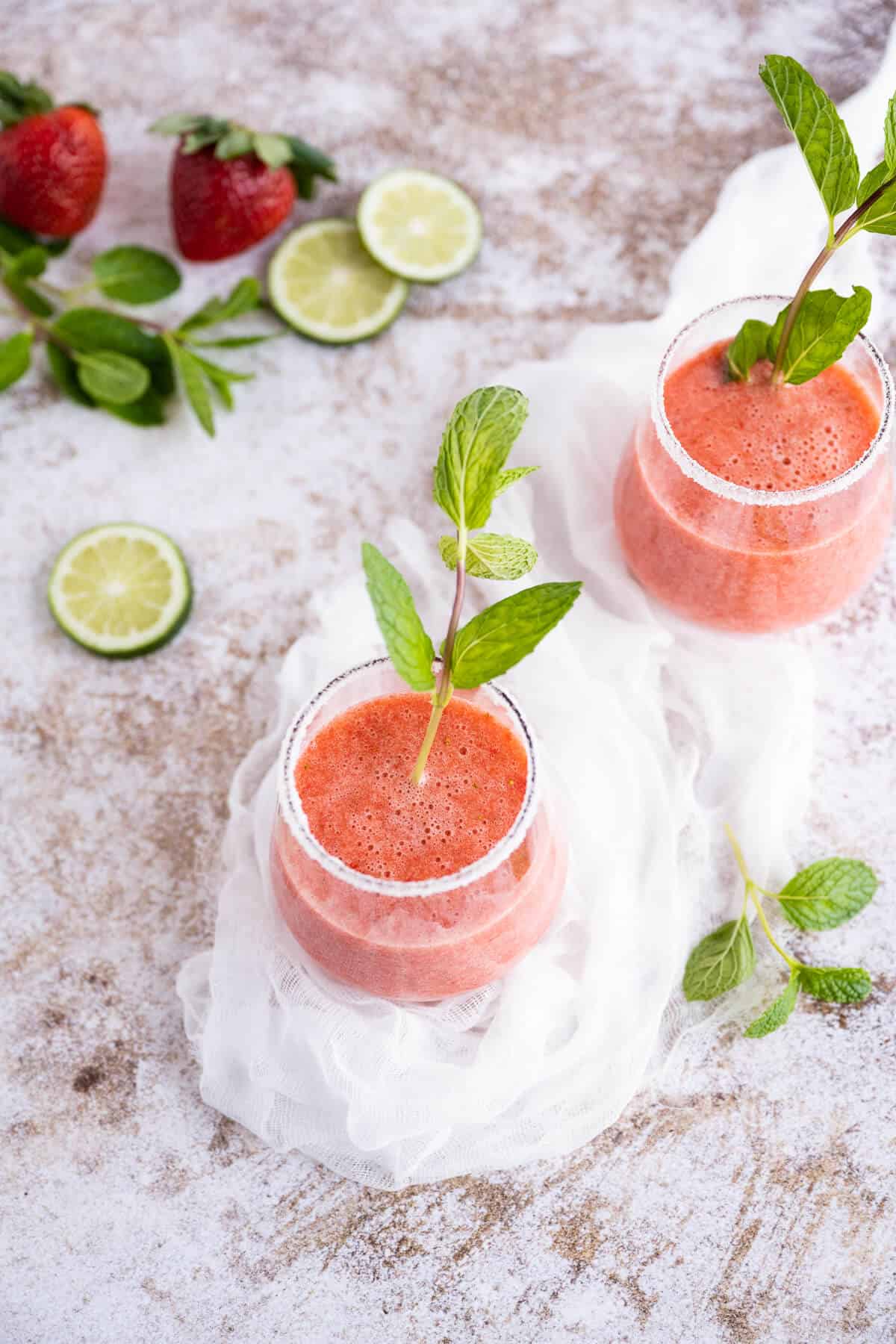 Recommended Mocktail Accessories