Need an easy weeknight meal?  I've got another one for you! These Asian Style Chicken Bell Peppers Recipe is oh so yummy and easy to make!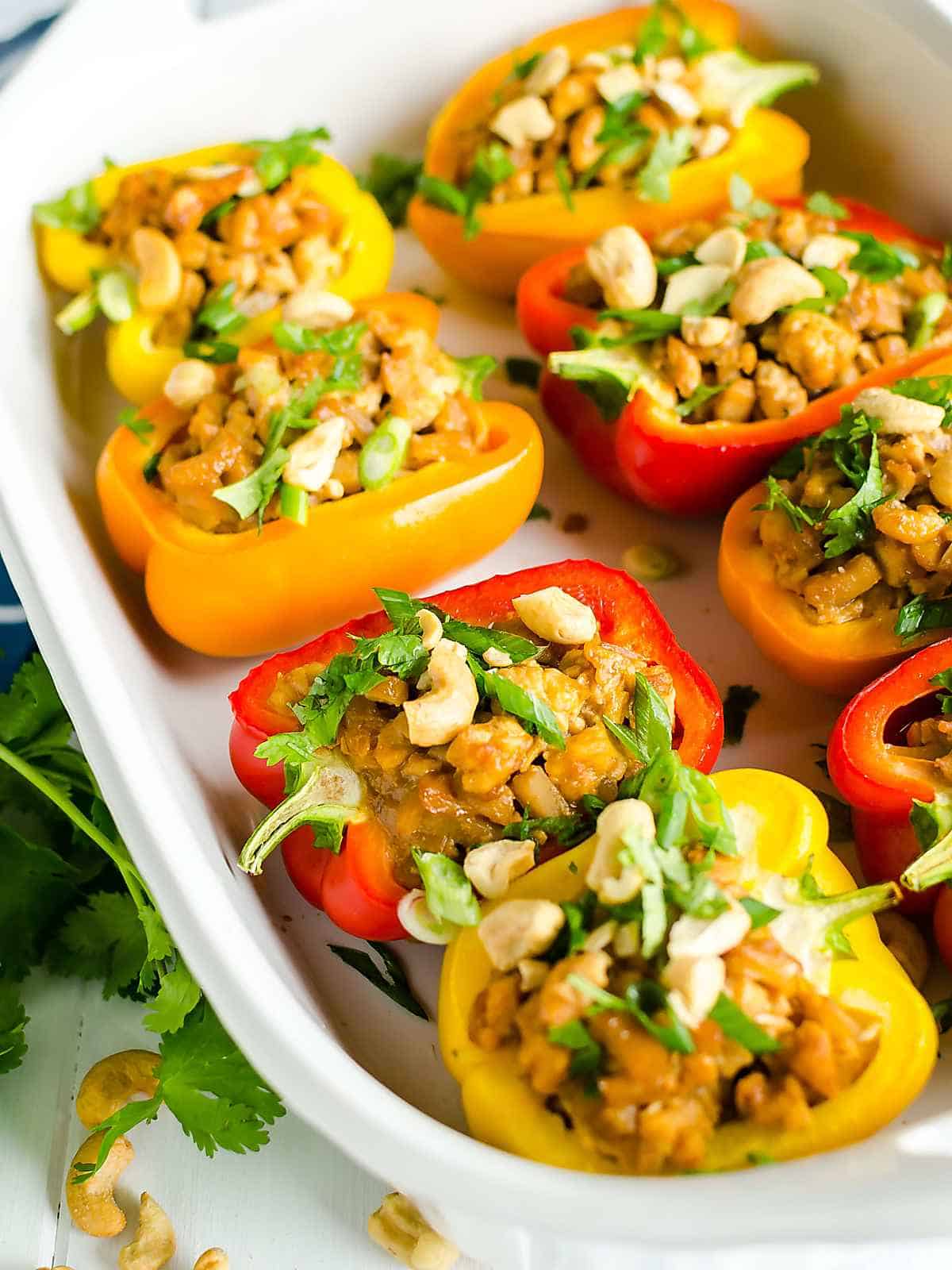 I just love colorful food, don't you?  Most stuffed bell pepper recipes I see around have a Mexican or Italian flare to them, and are made with ground beef.  Those are delicious too!  But, since we enjoy Asian food so much, I wanted to create this flavor, and keep it healthy. Who am I kidding, let me re-phrase that:
"Since we enjoy food so much… "   🙂
Asian Chicken Bell Peppers Recipe
So, I'm curious, have you made stuffed peppers before? I have an awesome tip for keeping the peppers standing up.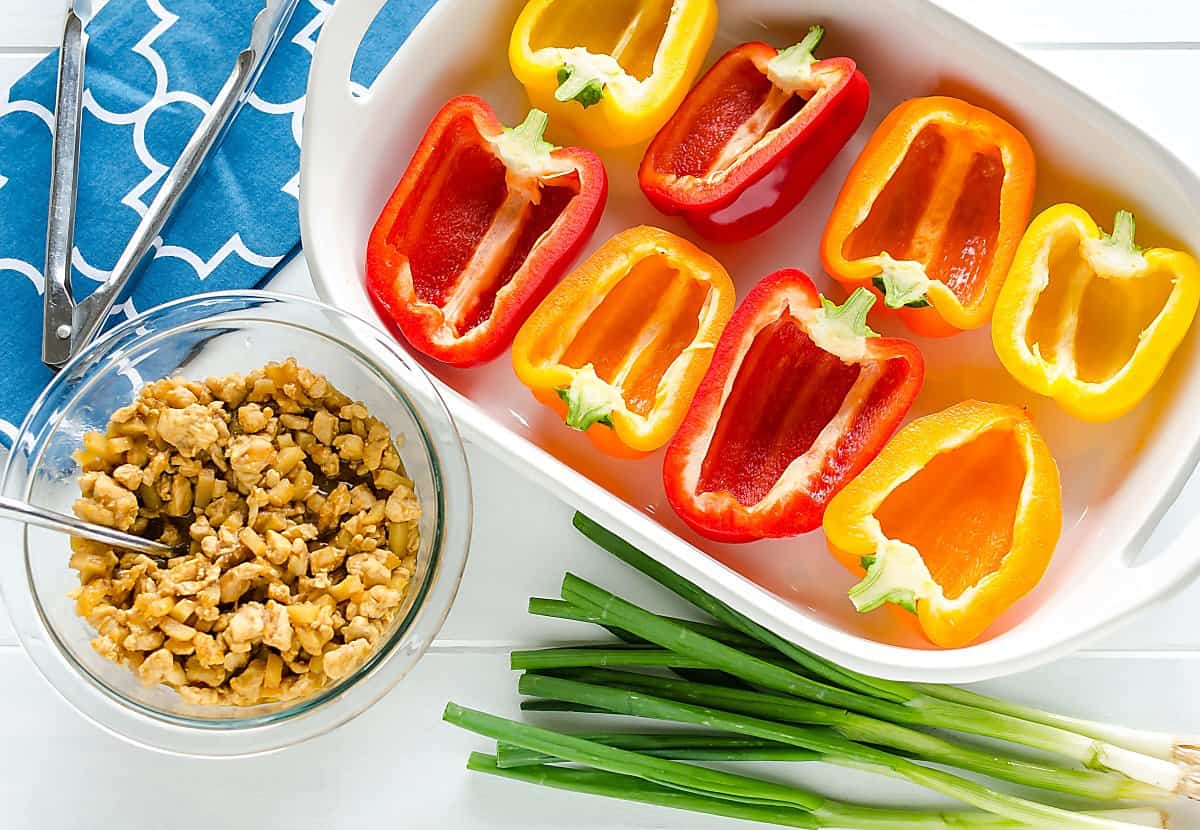 You just lay them down!  Okay, does that even make sense?  I've had trouble in the past with my peppers falling over, and, they're kind of deep, so my kids are reaching down in there and the pepper is flopping all over the place.
Cutting them in half lengthwise instead of just cutting the tops off works wonderfully!  Plus they're much easier to cut and eat.  You can enjoy the pepper and the filling in the same bite! Mmmm.  I think they bake up nicer too.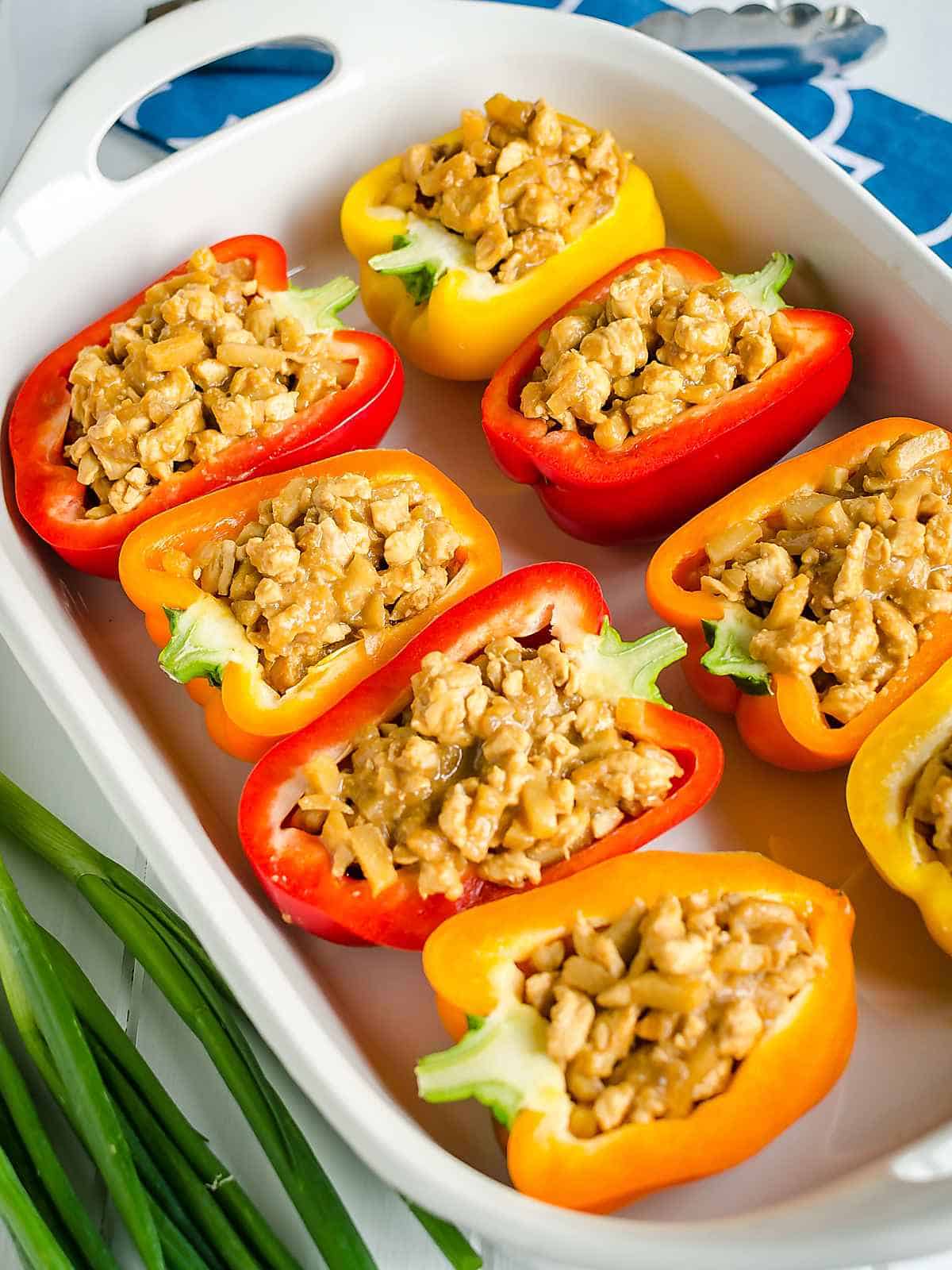 Or, just skip the silverware and pick them up. Ha!  You know that's happened!  Family dinner time is the perfect place to teach the kids some skills. Like how to cut your food. These will bake up nice and tender so you can cut them with a butter knife.
Did you know that teenagers are less likely to try drugs, alcohol and smoking if they eat dinner with their families 5 times a week?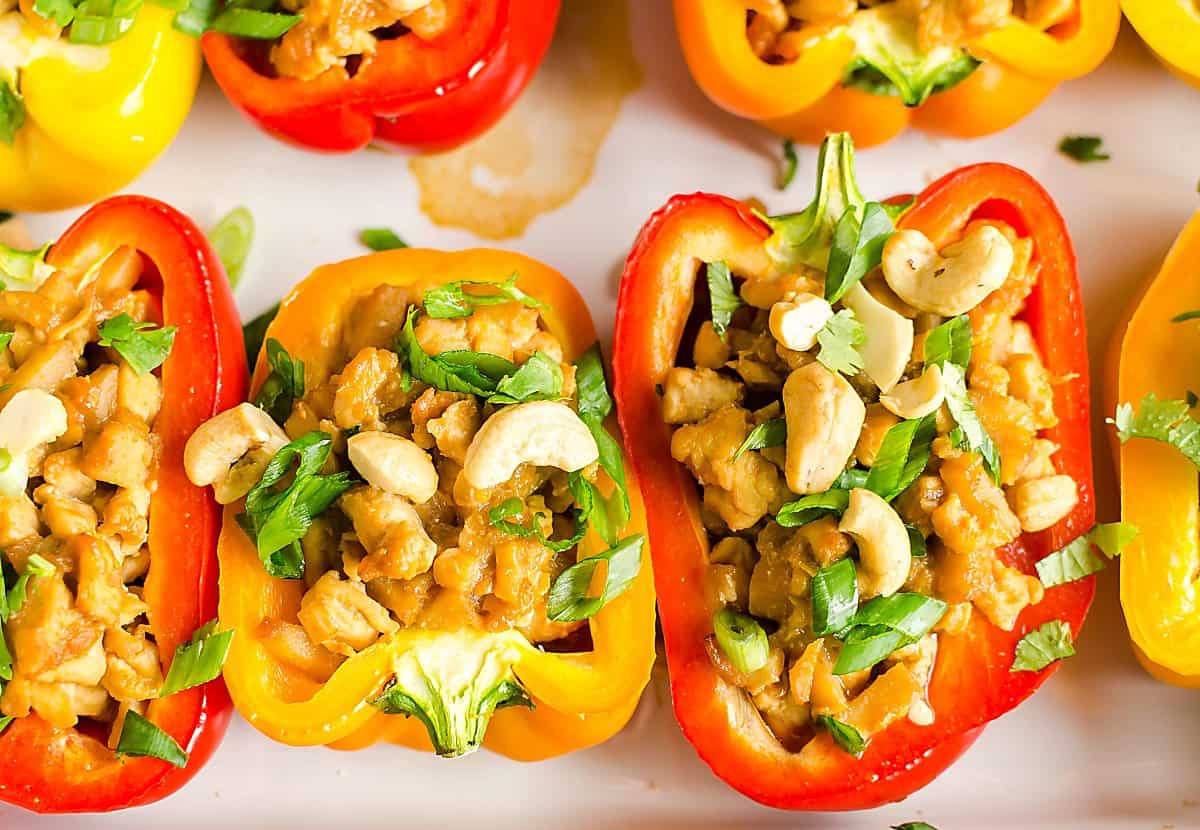 My passion with the family dinner isn't just about the recipes, although that's fun for me.  It's about bringing the family to the table. It's not even so much about the food, it's about the connection. You are creating an environment for your kids to talk to you. (But, it doesn't hurt to draw them in with the food, and I'm thinking a chicken bell peppers recipe will do just that)
My kids love to think of a question of the day. It's usually something silly, but we all answer.  It's fun to see what answers they come up with, and we've definitely found some comedy relief! Who doesn't need more laughter in their life?
Go make this chicken bell pepper recipe and some laughter!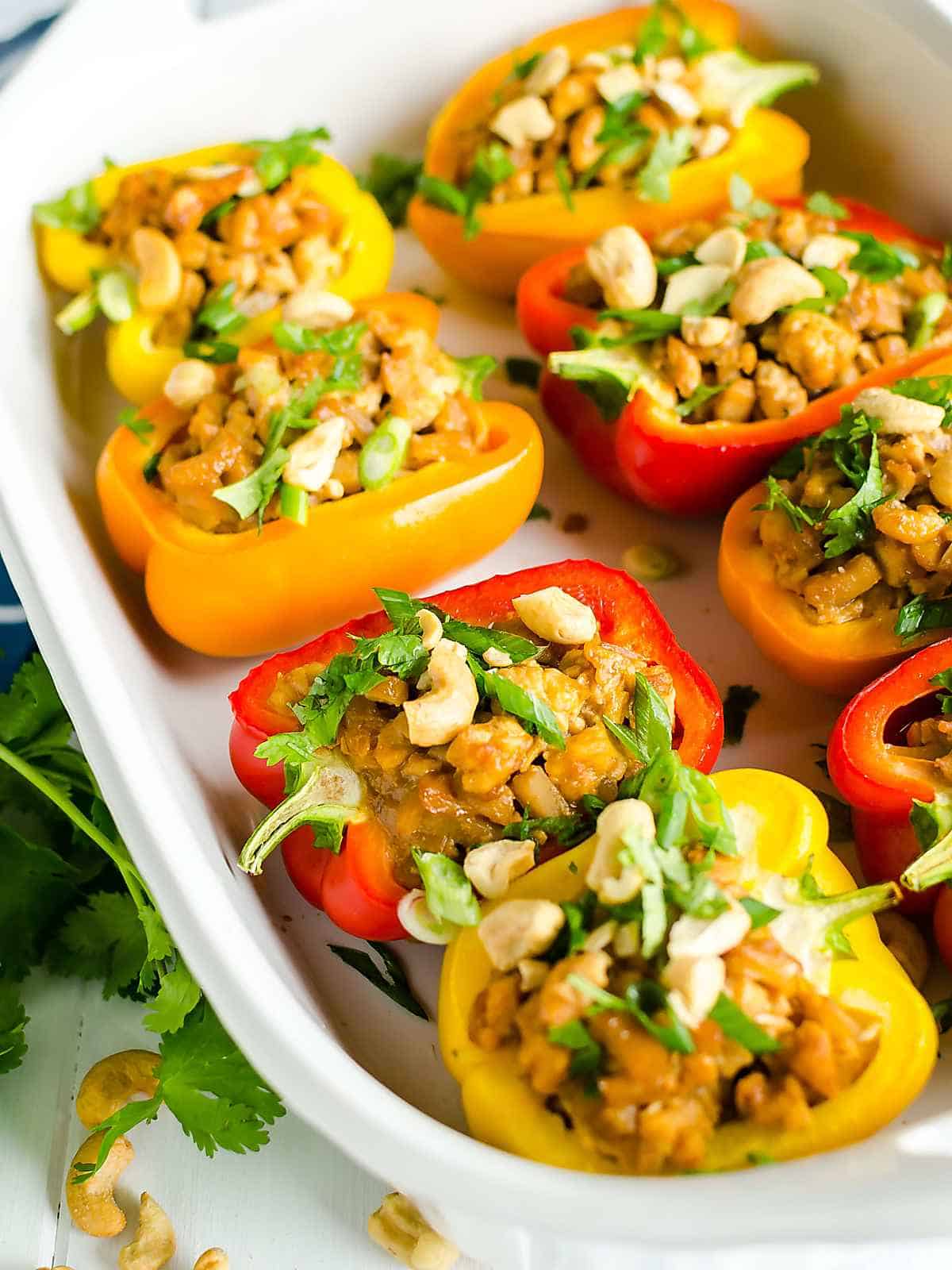 Have you checked out my Easy Dinner Recipes board on Pinterest? Lots of inspiration there!
For more recipe inspiration, follow me on Pinterest and Facebook!
For more Asian inspired meals, try these: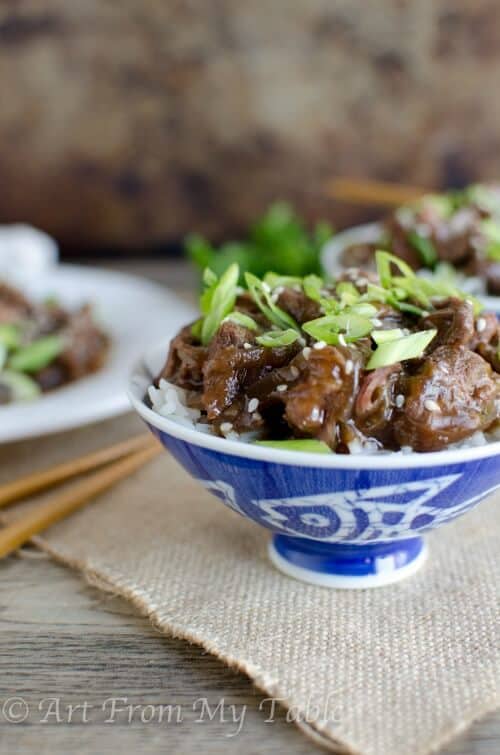 Slow Cooker Mongolian Beef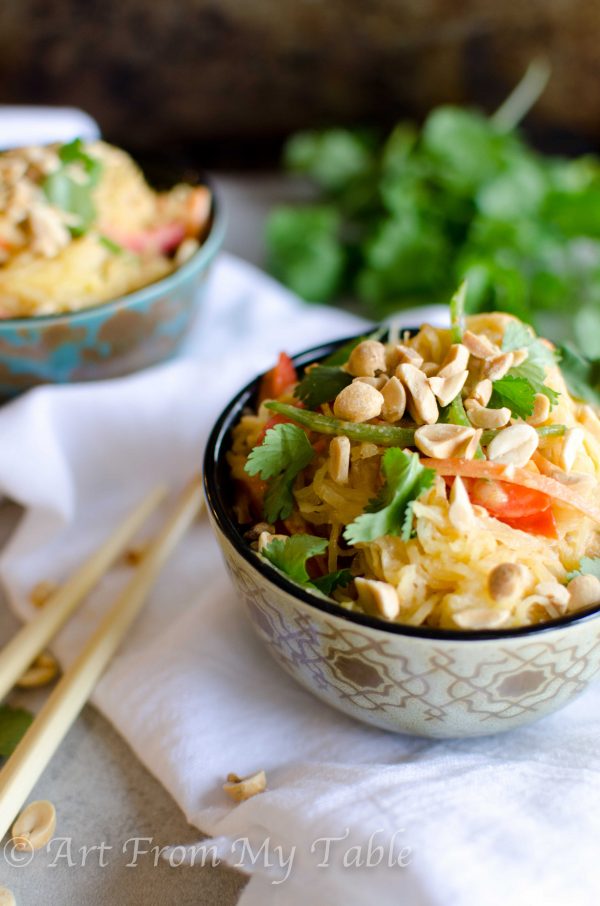 Thai Style Spaghetti Squash