As an Amazon Associate I earn from qualifying purchases.


We've been making kombucha for quite some time now. I've been wanting to post about it for awhile, and I'm finally getting to it. What's that you say? What's Kombucha?
I'm so glad you asked! It's a lightly effervescent fermented drink of sweetened black or green tea. It is produced by fermenting the tea using a symbiotic colony of bacteria and yeast (SCOBY). I know... yum, right?
You can purchase kombucha at your local health food store, or even some grocery stores, but it's actually really easy to make, not to mention more economic. Why drink Kombucha? Does it taste good? Well, booch (as we like to call it around our house) has tremendous health benefits, such as: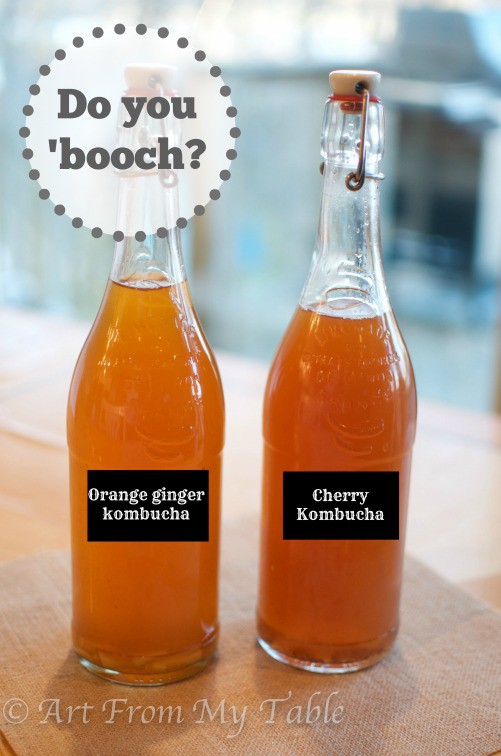 It alkalinizes the blood
It's probiotic
It detoxifies the liver
It increases your metabolism
It improves digestion
It rebuilds connective tissue – helps with arthritis, gout, asthma, rheumatism
It considered a cancer prevention
It alleviates constipation
It increases your energy
Improves your mood
Kills Candida (yeast)
It helps nutrient assimilation
Aids in weight loss
And, yes, it tastes good. There are ways to adjust the flavor to your own personal taste. I know a lot of people that drink a couple tablespoons of Apple Cider Vinegar a day just to stay healthy. I'm not saying that's bad, as a matter of fact, I was in that habit for a long time. And, if I feel a bug coming on, I will turn to ACV immediately. But, I will say, kombucha tastes waaaayyy better. I also really enjoy the effervescence of it. I love pop, or soda if your from the south, and obviously that is so bad for you. So booch is loaded with health benefits and it gives me that little fizzy craving I get.
So, how do you brew it? First, you'll need a few things. Starter tea (from your previous batch or the store, if you don't have either of those, distilled white vinegar works), black tea bags, sugar and a SCOBY. You can get a SCOBY online, but usually if you have any friends or family members that are into this, you can find one from them. Really, put it on Facebook, I bet you'll get a response. If you're local, I'm happy to share mine with you.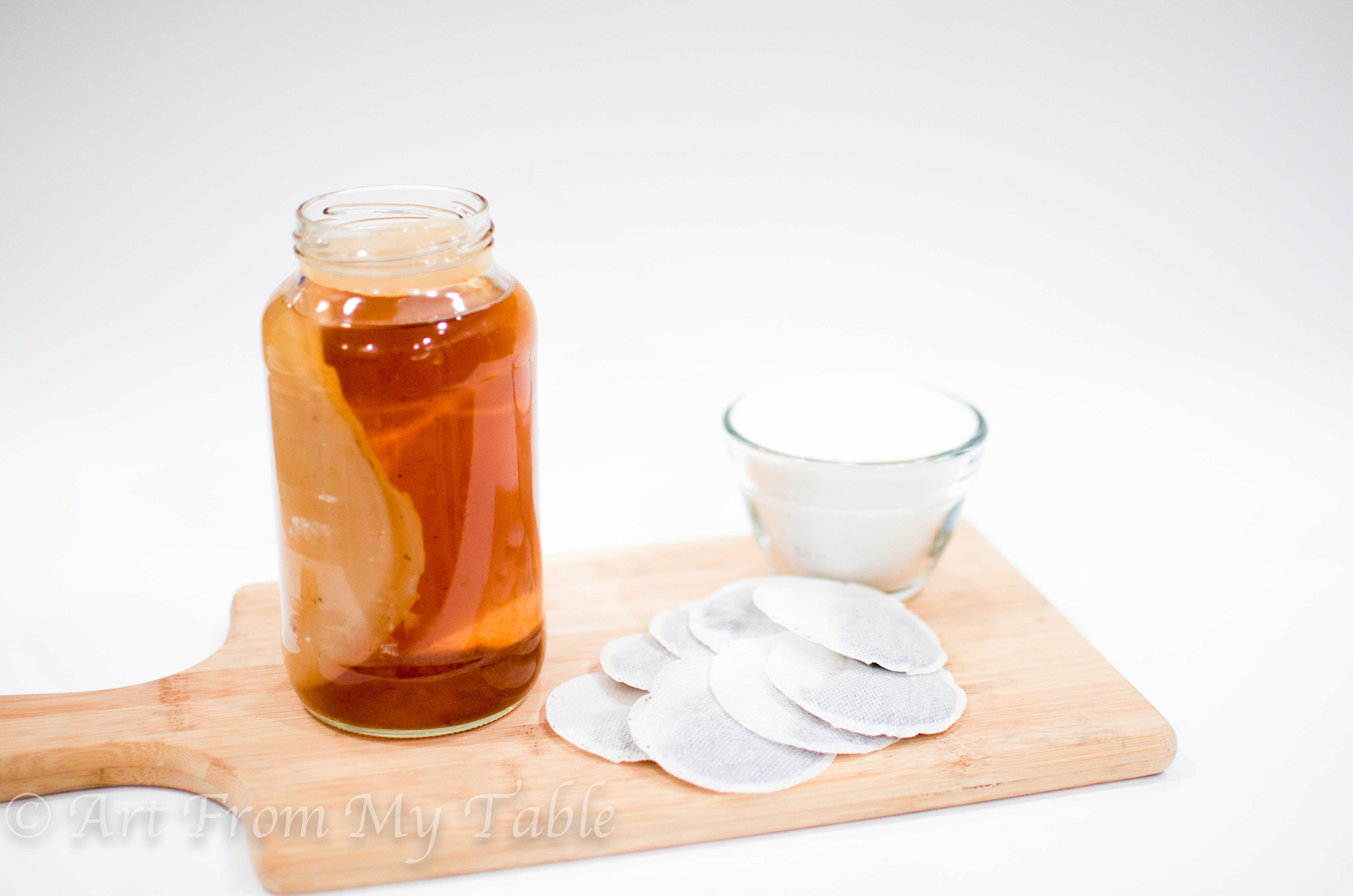 See on the left side of the jar that gel-ish looking thing? That's a SCOBY.
Start with a quart of water. Heat it up in a pan and add your 5 tea bags. You can use more or less depending on how strong you like it.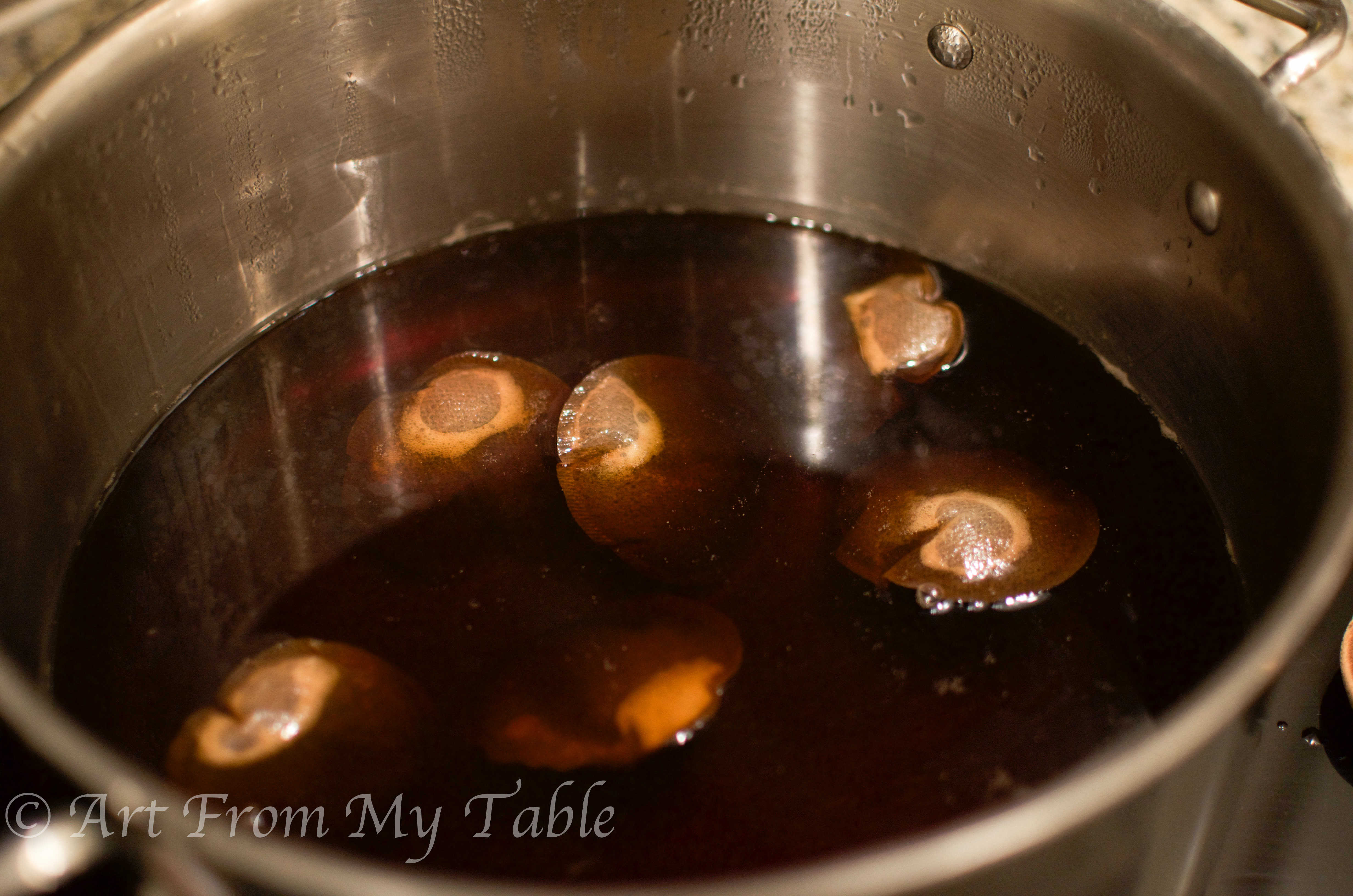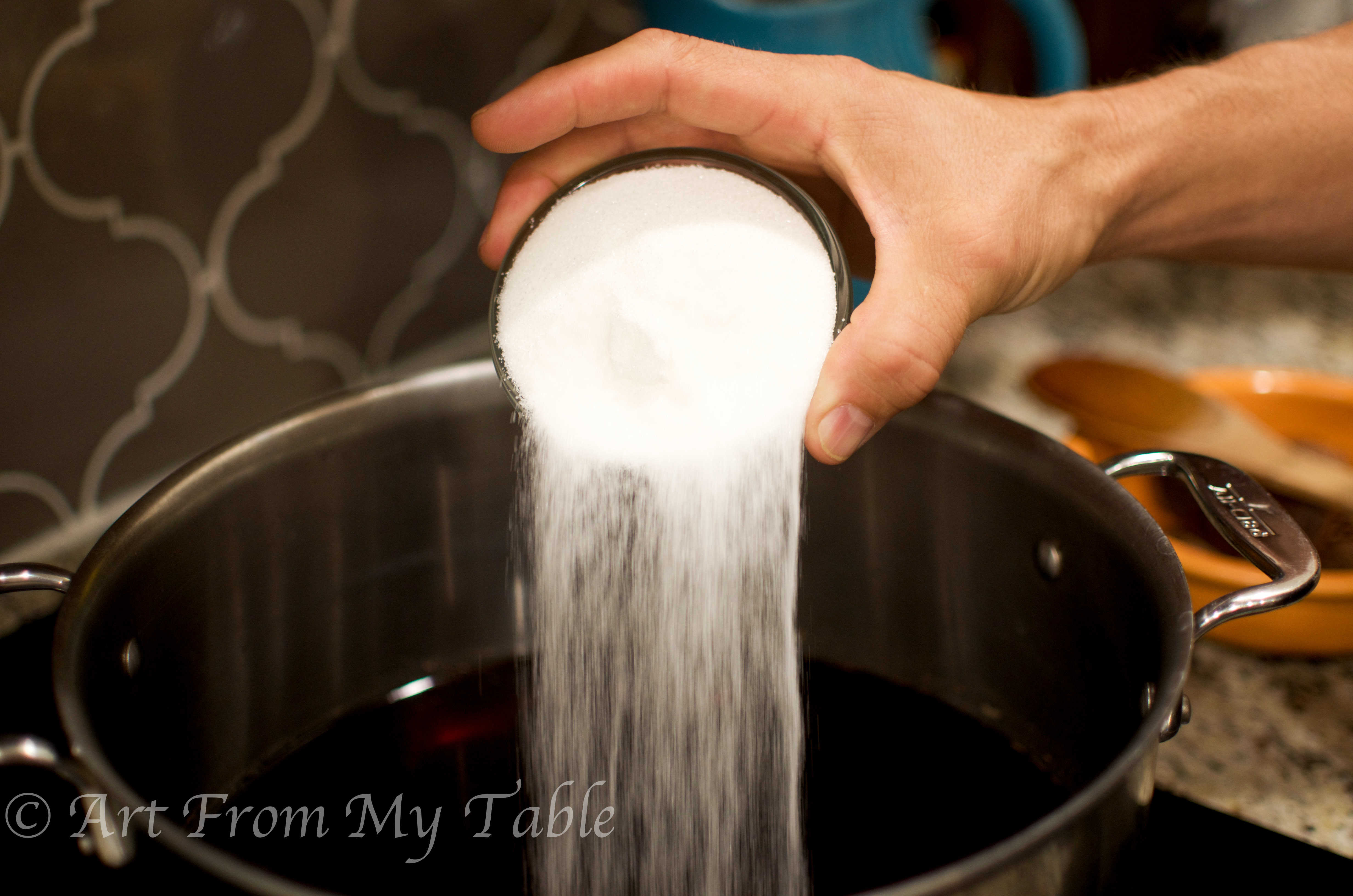 Let that sit for about 15 minutes or so. Remove the tea bags, and add a cup of sugar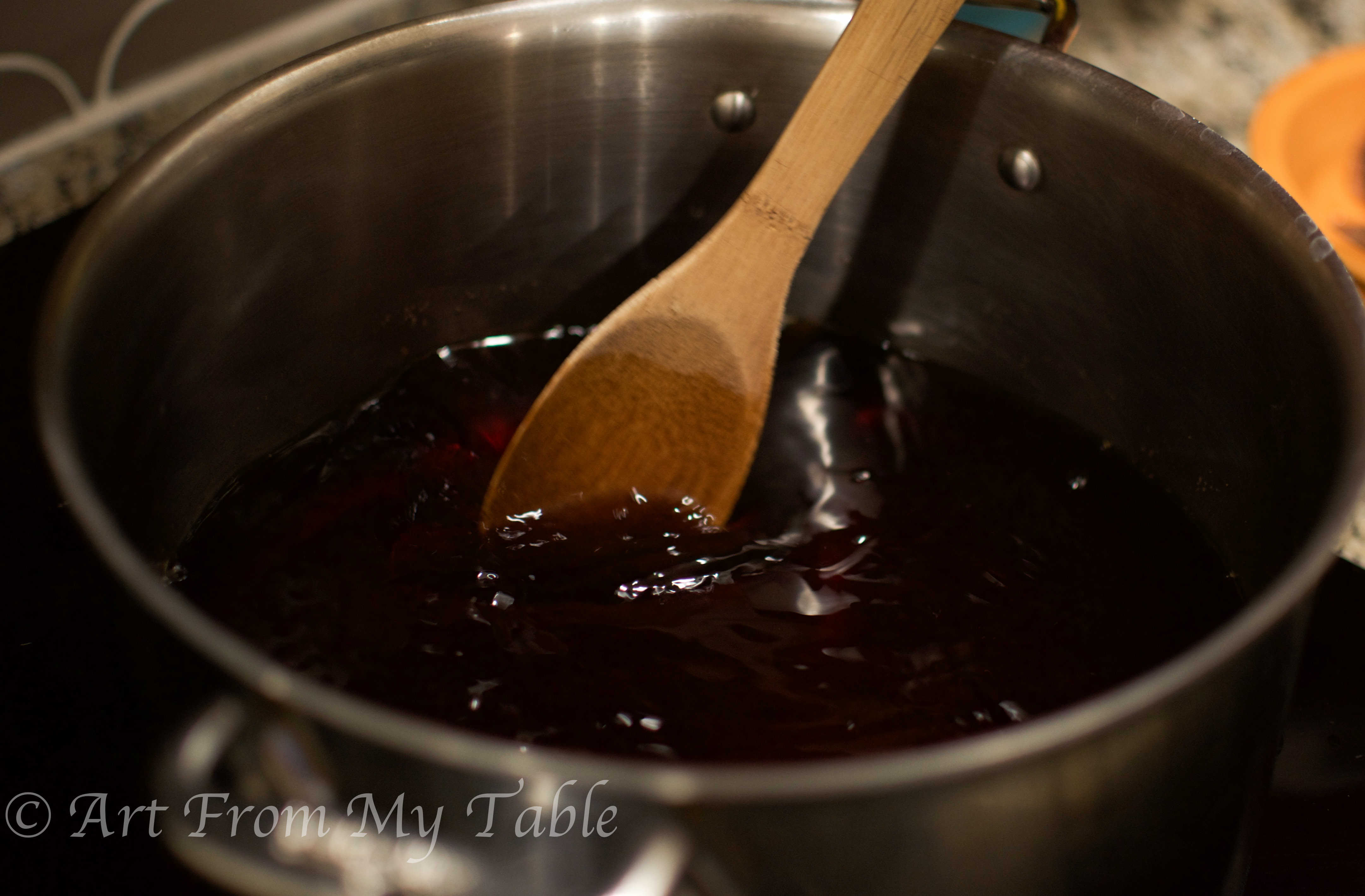 Stir that around until the sugar dissolves

Now you need to get this to room temperature. We add a couple cups of ice and some cold water. Add enough water so it's almost a gallon. So, maybe 2 ½ quarts or so.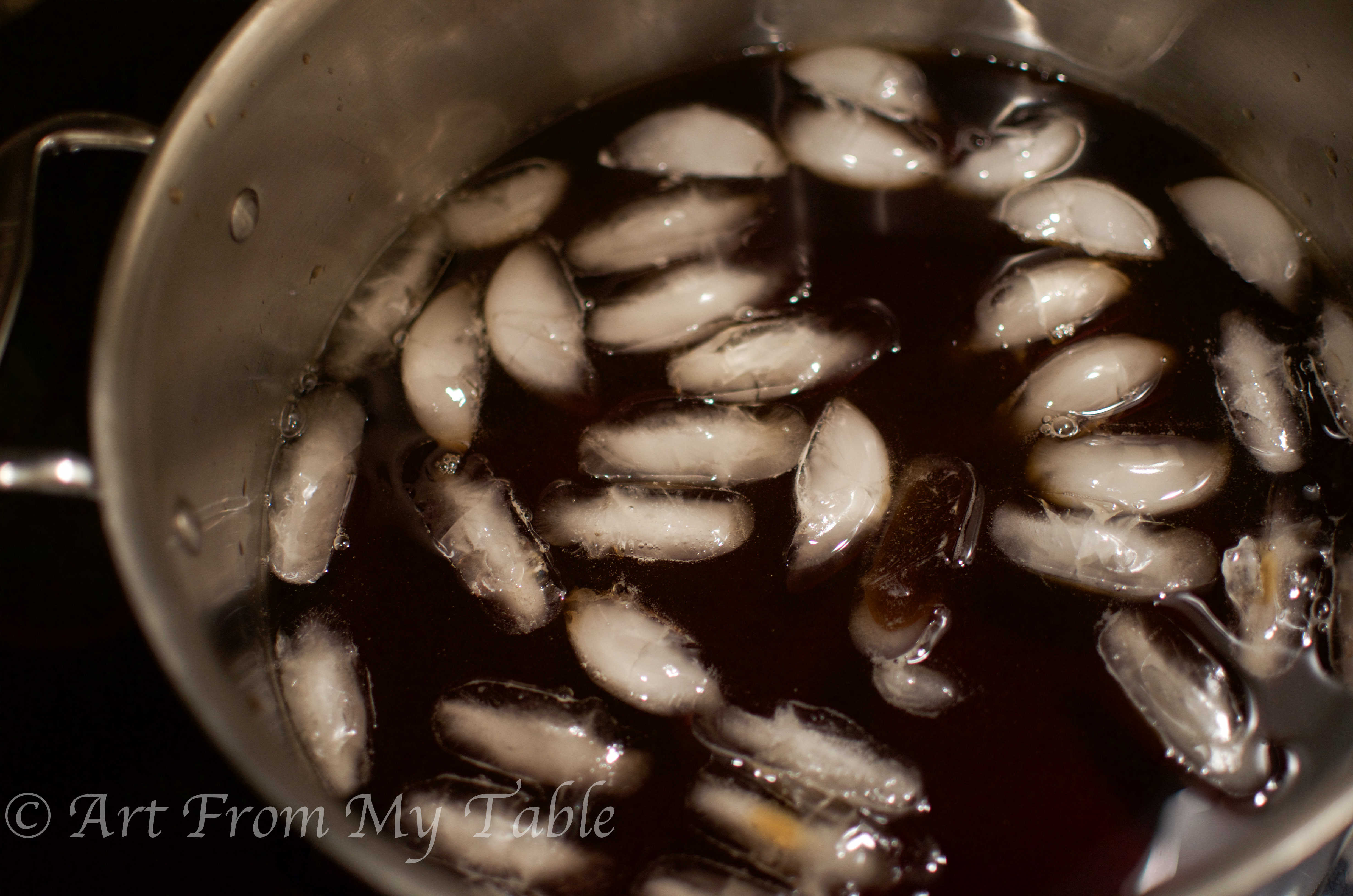 Once it reaches room temperature, place it in a one gallon glass jar, add starter and a SCOBY.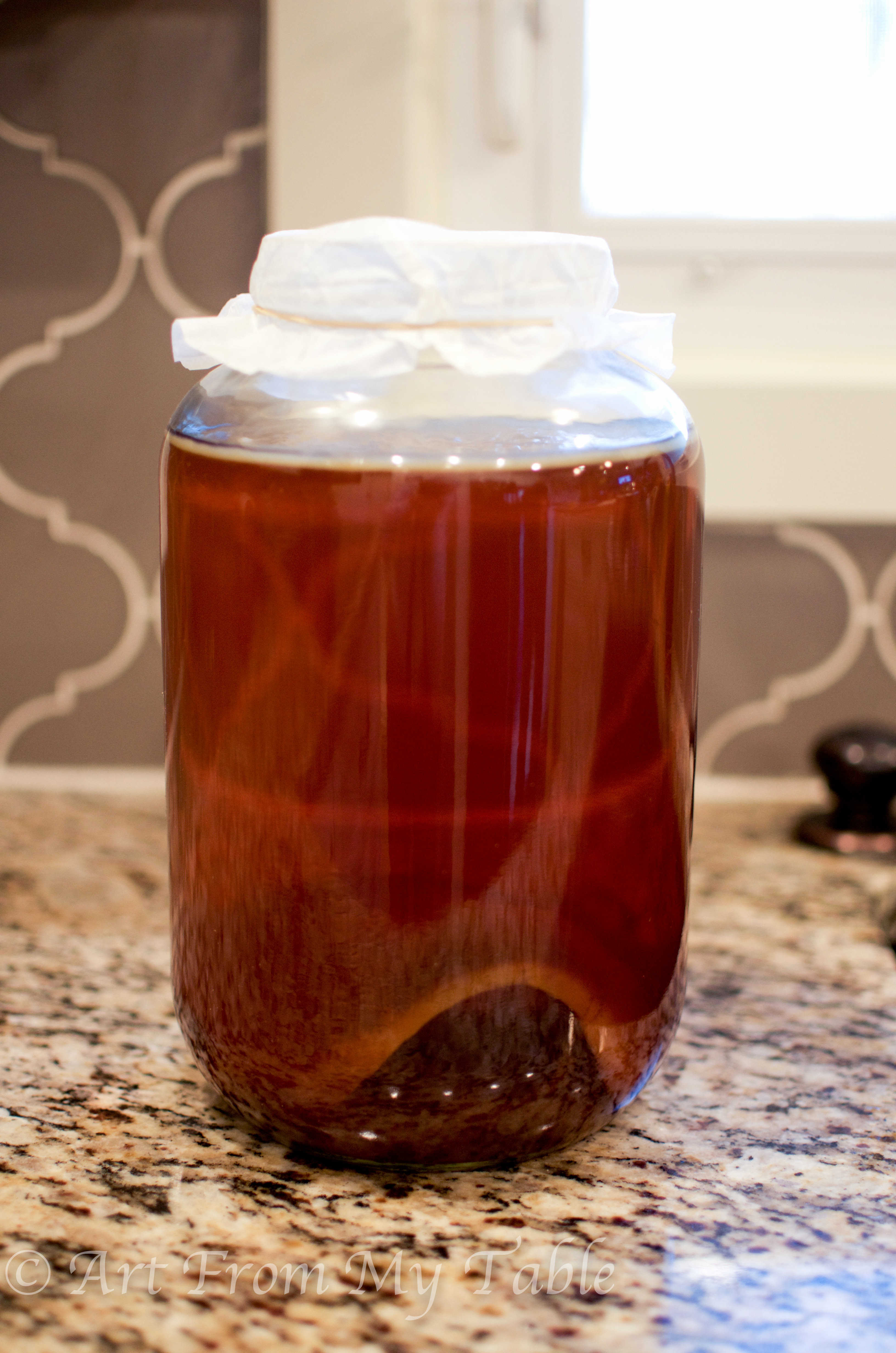 This needs to stay on your counter for 5-7 days undisturbed. You do need to cover it, but it still needs to breathe so the SCOBY can work it's magic. We use a coffee filter and a rubber band to cover ours. A piece of tightly woven cotton works well too.
After the week is up, you can either bottle it, with or without flavor, for a second fermentation, or you can start drinking it right away. You can also taste test it at this point. If it tastes too sweet to you, let it go a couple more days. We like to do the second fermentation because again, we like the effervescence. That is a fun word to say, try it "effervescence".
We also like to flavor ours.
Today's flavors: cherry, blueberry, and orange ginger.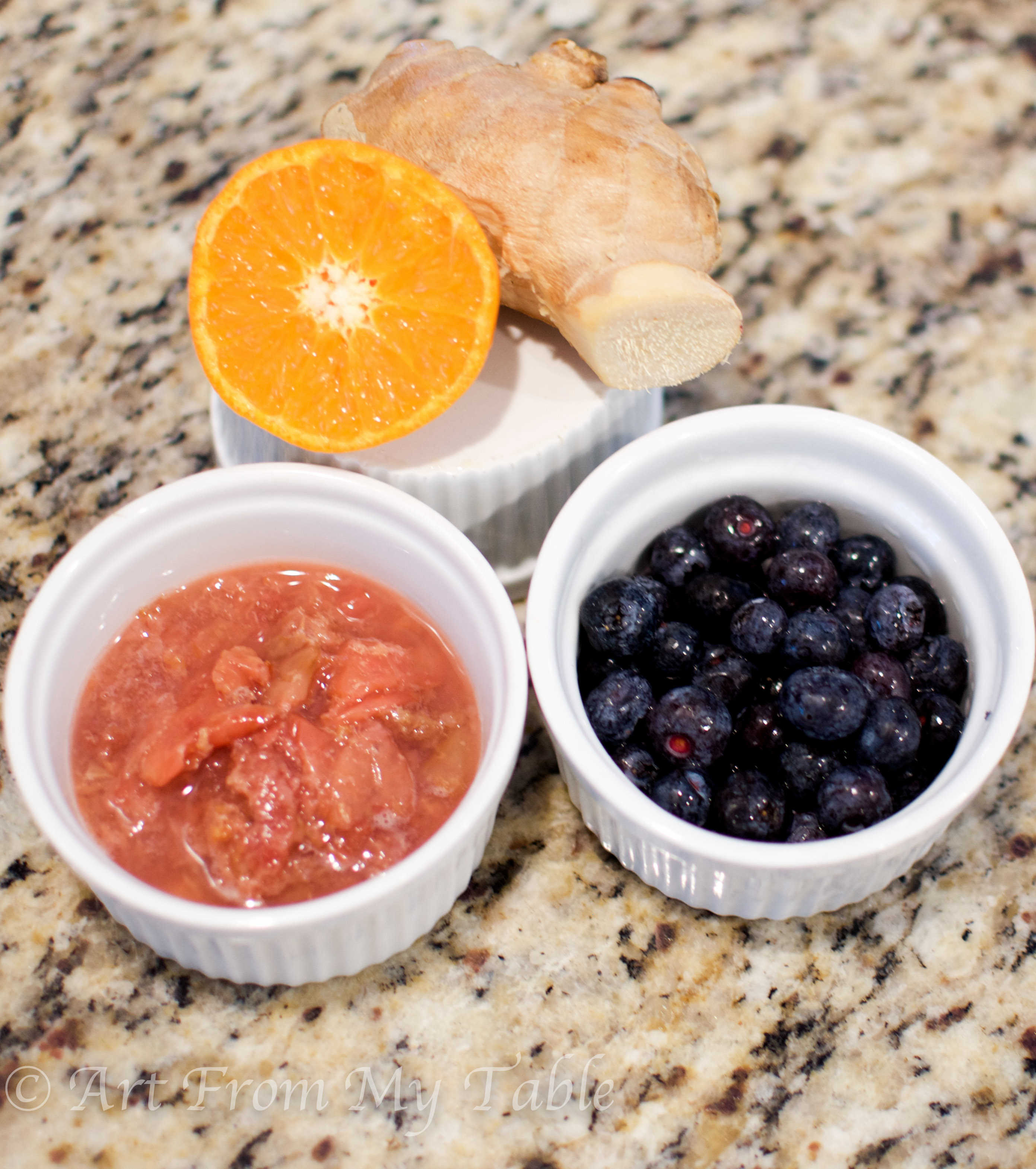 Found some tart cherries in the freezer as we were re-arranging things. Love it when that happens, bonus! I know they don't look super appetizing here, but that's what happens when you pick your own and freeze them. But, I assure you, they taste great. So... for the flavoring and second fermentation of the kombucha:
Put your flavorings in the jars.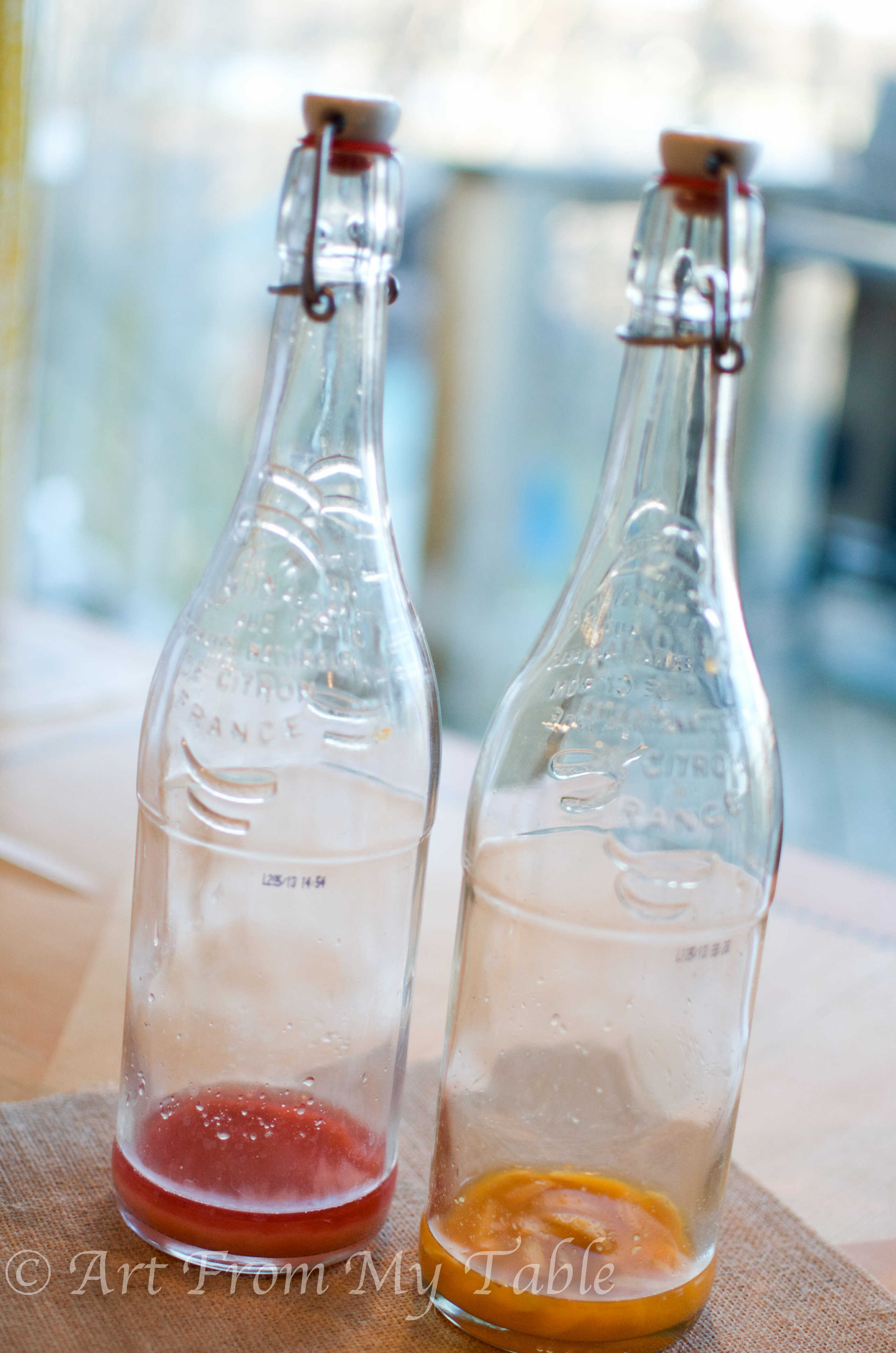 I love these bottles, so pretty! I found them full of all natural lemonade for my daughters birthday party last year. I bought them because of the bottles. I immediately thought... Kombucha bottles! It's important that you do not use metal tops to seal the bottles, so these work especially well.
Next you need to get the brew in your bottles. Don't let our fancy contraption discourage you. You can actually just use a funnel to get this into your jars. But, I do agree with my husband, using a siphon is much easier. This is his idea, because he's the one that makes the booch at our house. 🙂 We got our siphon at a beer supply store.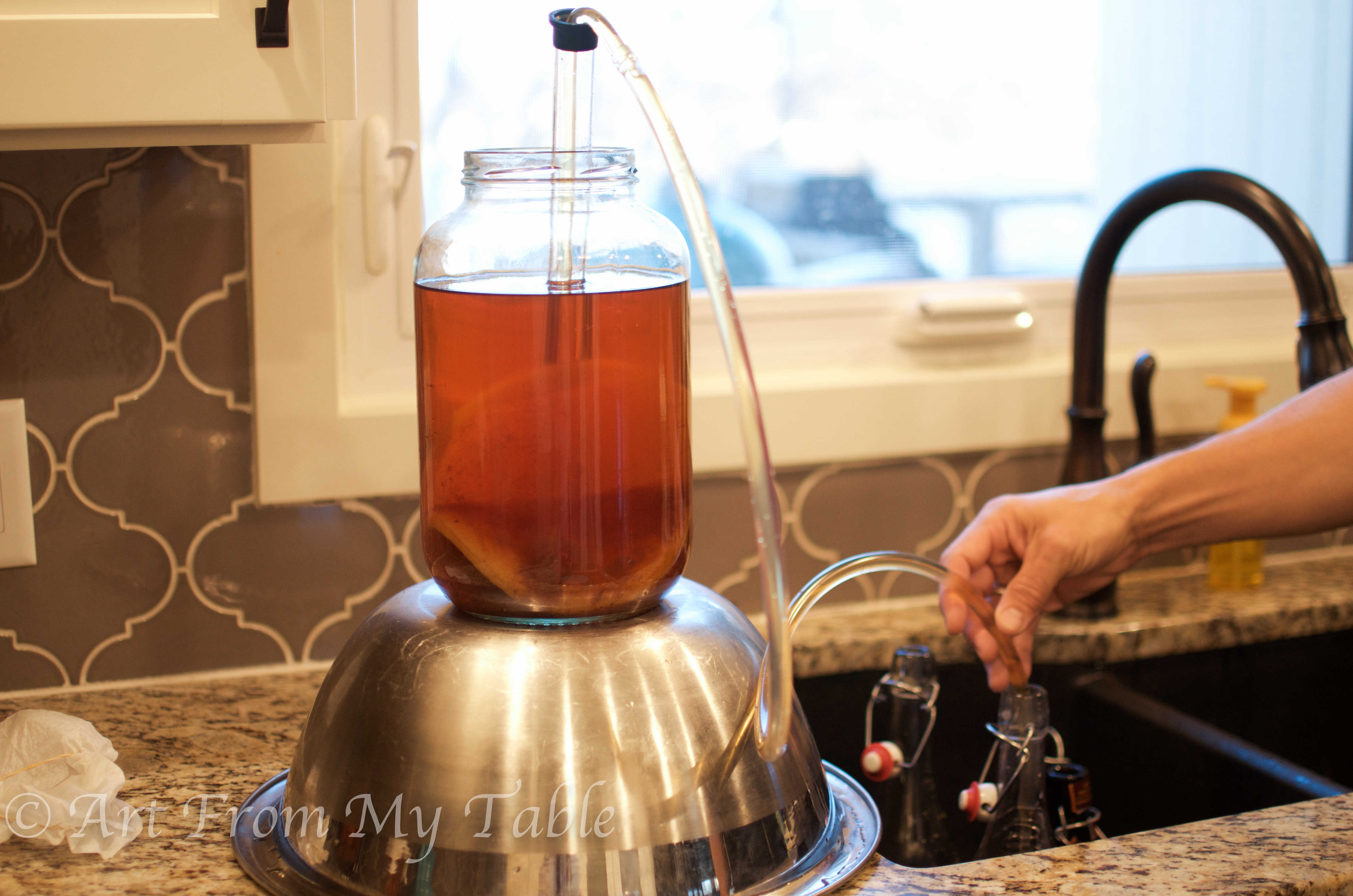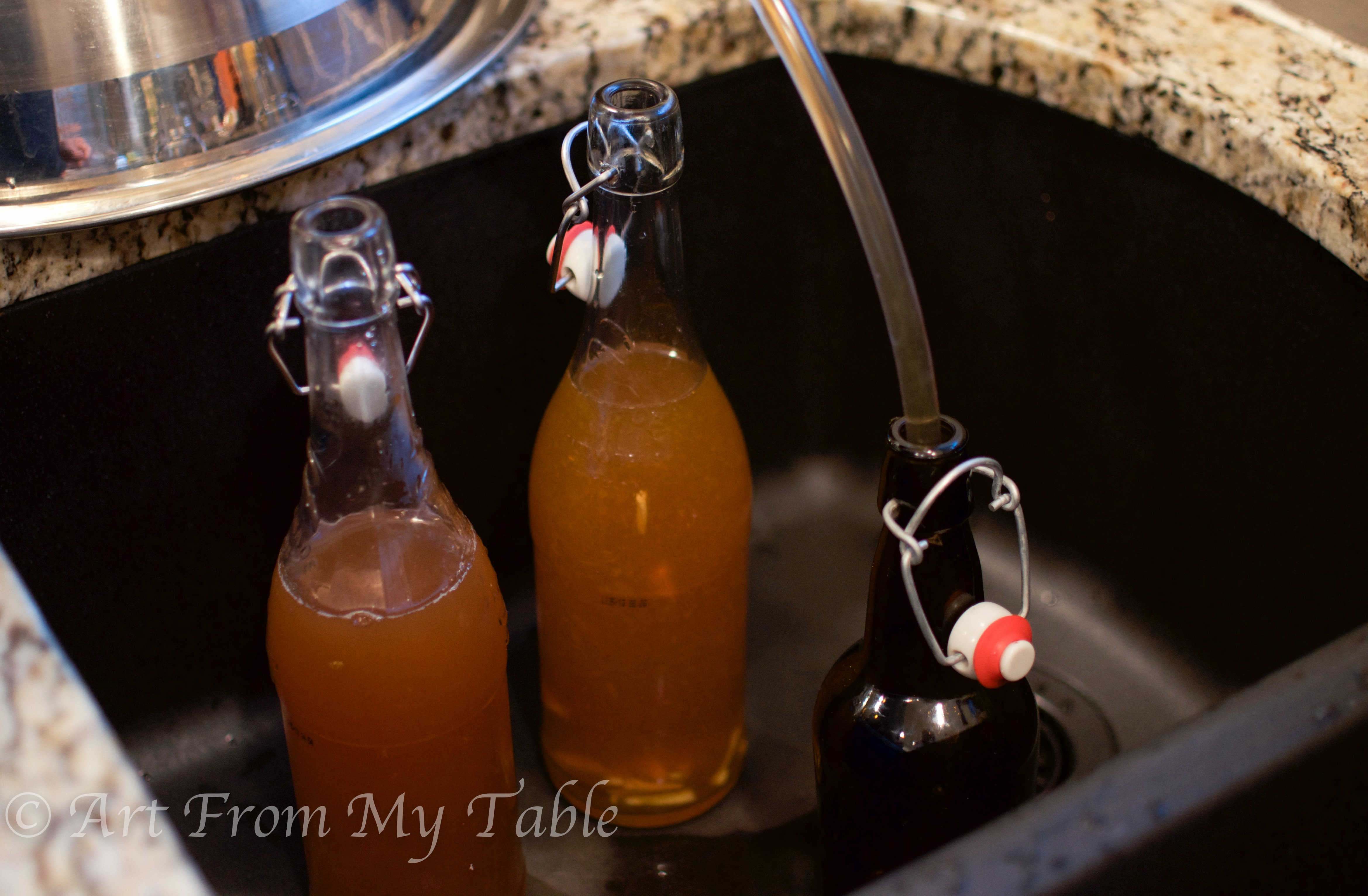 Once you have it bottled, it can sit for another 5-7 days. Then you can put it in the fridge to chill. Chilling is not necessary, but we like it cold.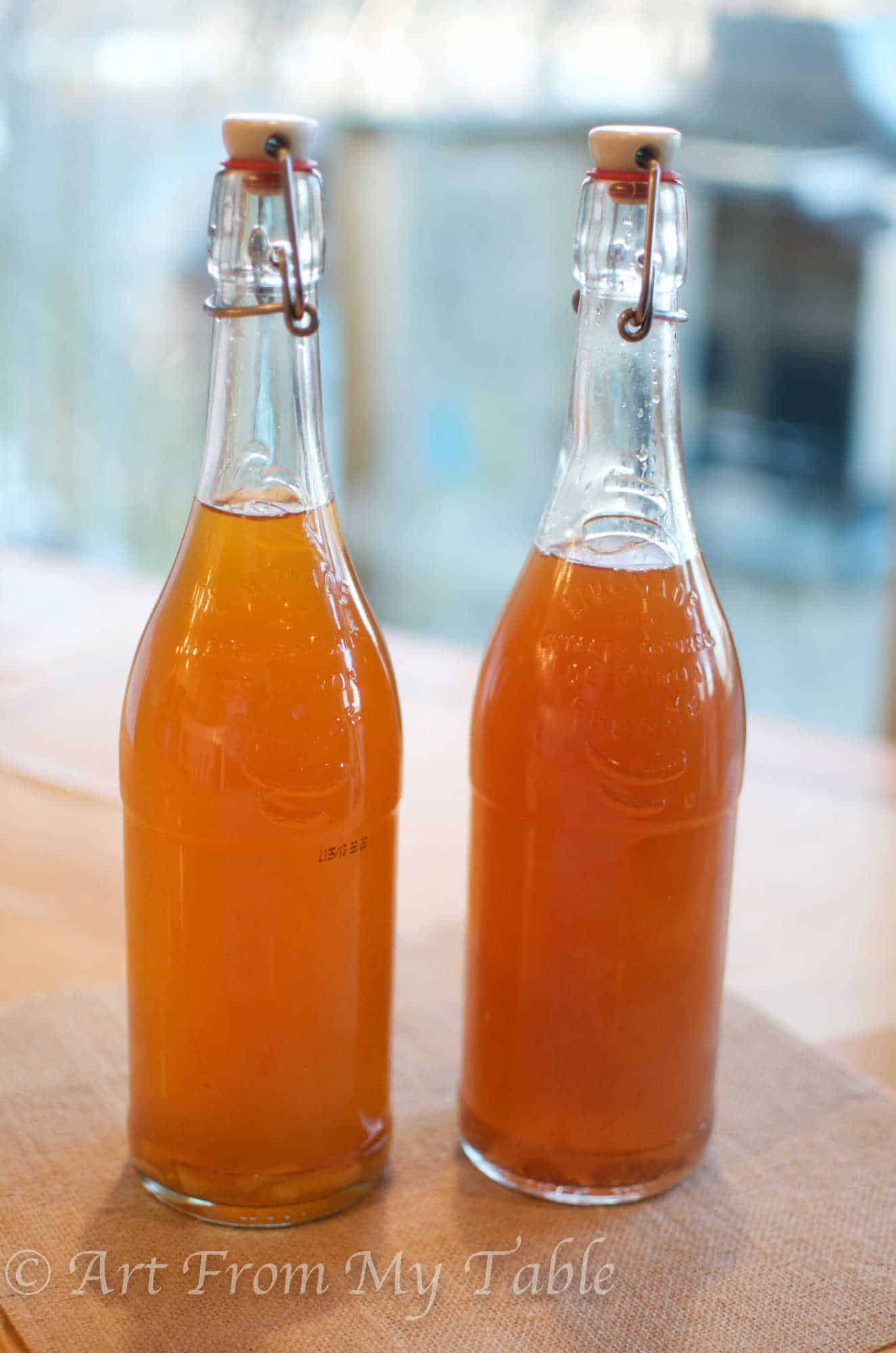 The longer you let it set for the second fermentation the more fizz there will be. In addition, letting it sit longer will make it less sweet and more tart.
If you've never made kombucha before, and you try this recipe, let me know how it turns out! If you do make it, do you have anything to add to this recipe? What's your favorite flavor? Do you do a second fermentation? I would love your feedback in the comments!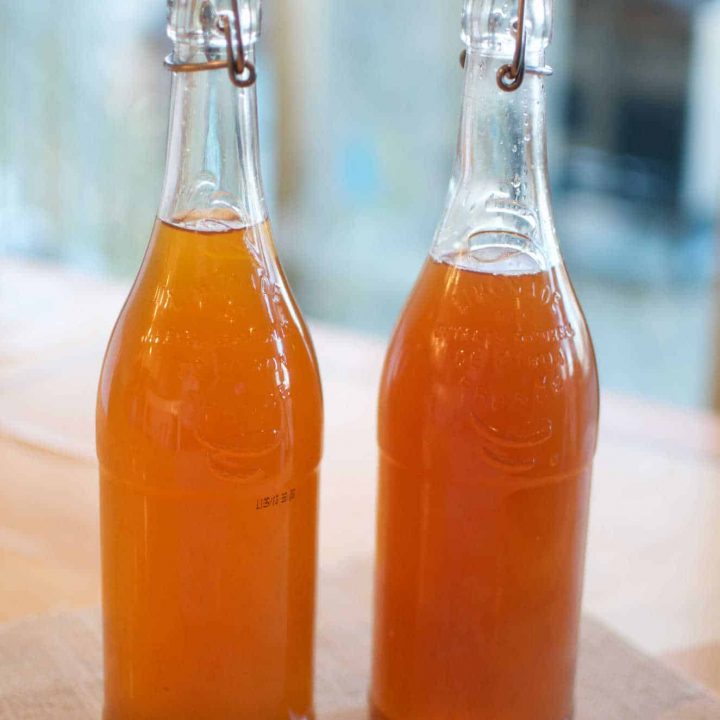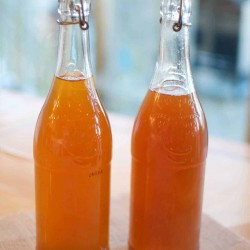 Kombucha
healthy fermented kombucha tea. Great booster for the immune system.
Print
Pin
Rate
Ingredients
starter tea

8

tea bags

1

cup

sugar

4

quarts

water

1

SCOBY
Instructions
Heat 1 quart water

Add tea bags and let sit for 15 minutes

Remove tea bags

Add sugar and stir until dissolved.

Add 2 cups of ice and 2 ½ quarts of cold water to bring the tea to room temp.

Place in a gallon jar with starter and SCOBY.

Cover with a coffee filter or a tightly woven cotton kitchen towel secured with a rubber band.

pour tea into bottles and store in the refrigerator.
Optional Second Fermentation
If flavoring, add fruit, fruit juice, or herbs (depending on how you want to flavor it) to bottles and pour tea in.

Let sit another week.

Chill and serve
Notes
After the first fermentation, taste it. If it tastes too sweet, then let it ferment a couple more days.
The second fermentation is optional. The longer time will give you more fizz or bubbles in your end result.
If you like flavored kombucha then a second fermention is the time to add the flavor.
Nutrition
Calories:
48
kcal
|
Carbohydrates:
12
g
|
Sodium:
12
mg
|
Sugar:
12
g
|
Calcium:
7
mg