As an Amazon Associate I earn from qualifying purchases.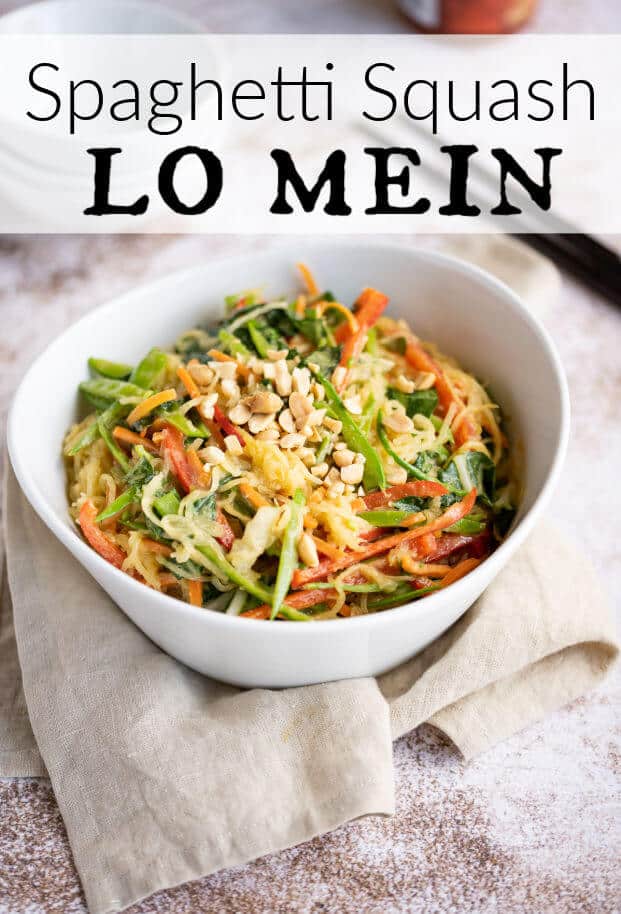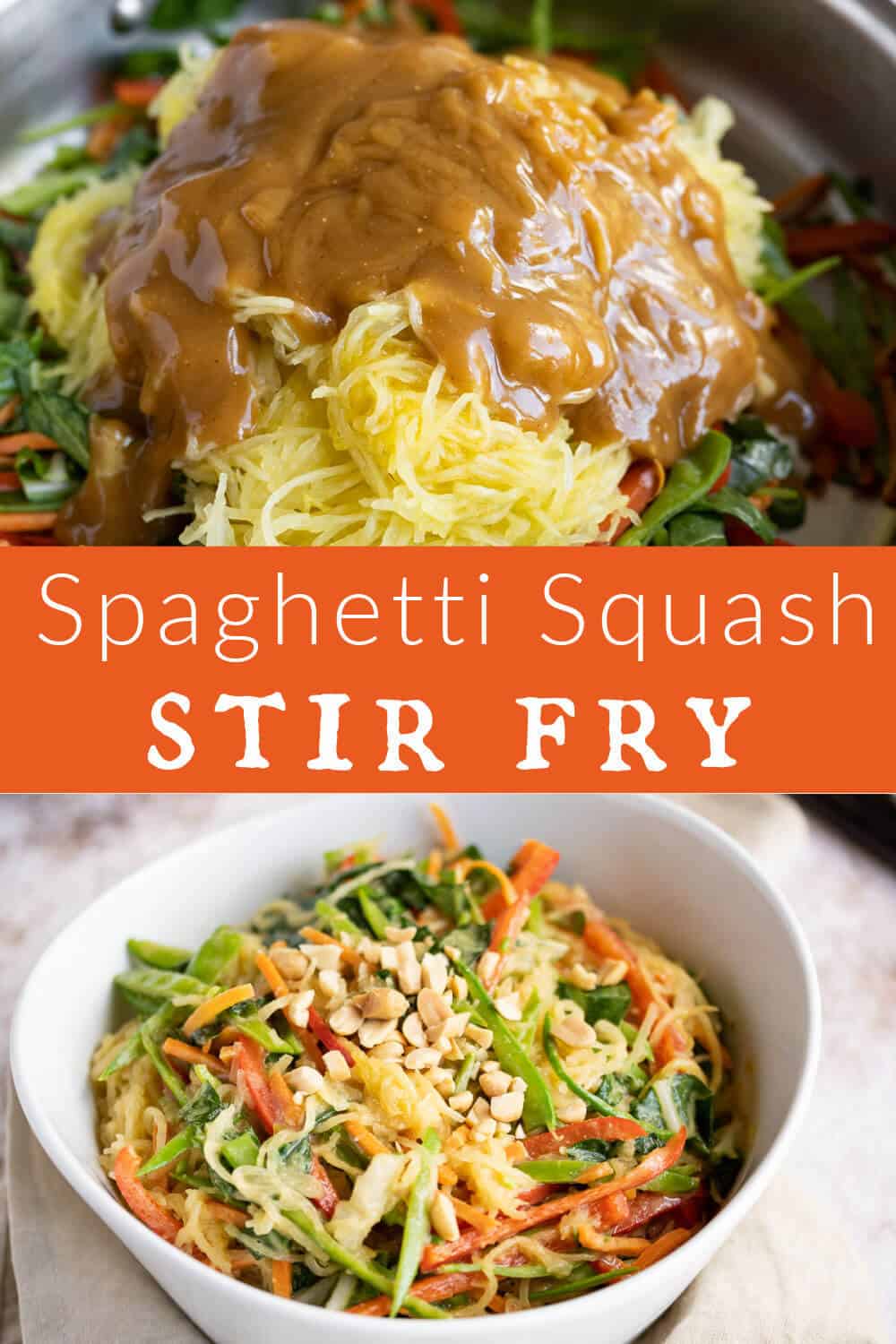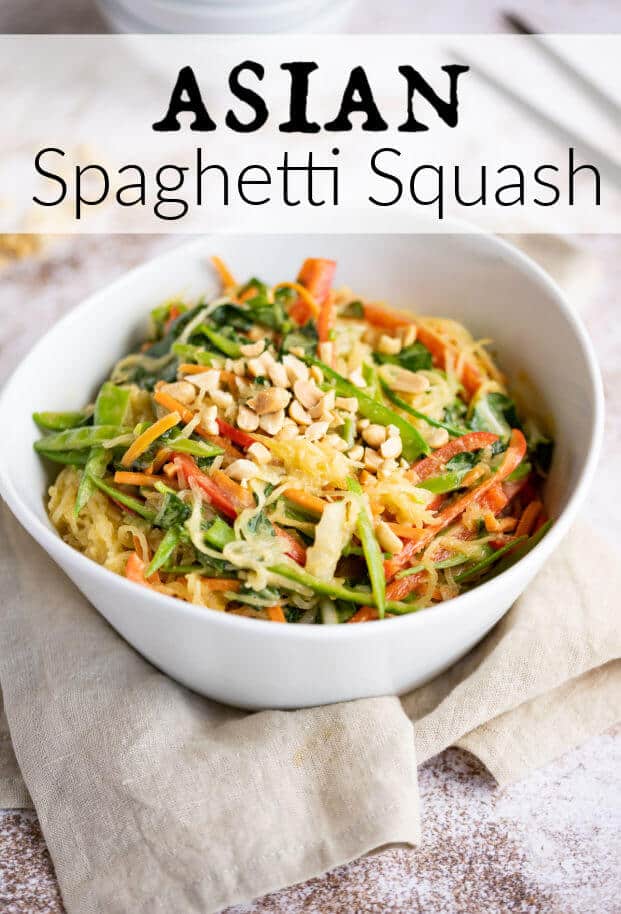 Our Asian spaghetti squash recipe fuses ethnic flavor with a fall veggie staple for a healthy weeknight meal. If you want a unique, nutrient-dense dish that's easy to put together, this is sure to be a hit!
One of my favorite take-out dishes is chicken lo mein. Those chewy flavorful noodles mixed with the crunch of the cabbage, fused with Asain flavors--YUM!
Since it's not practical (or healthy) for us to eat take-out all the time, I wanted to create something with a similar flavor, but much more nutritious that we could enjoy more often.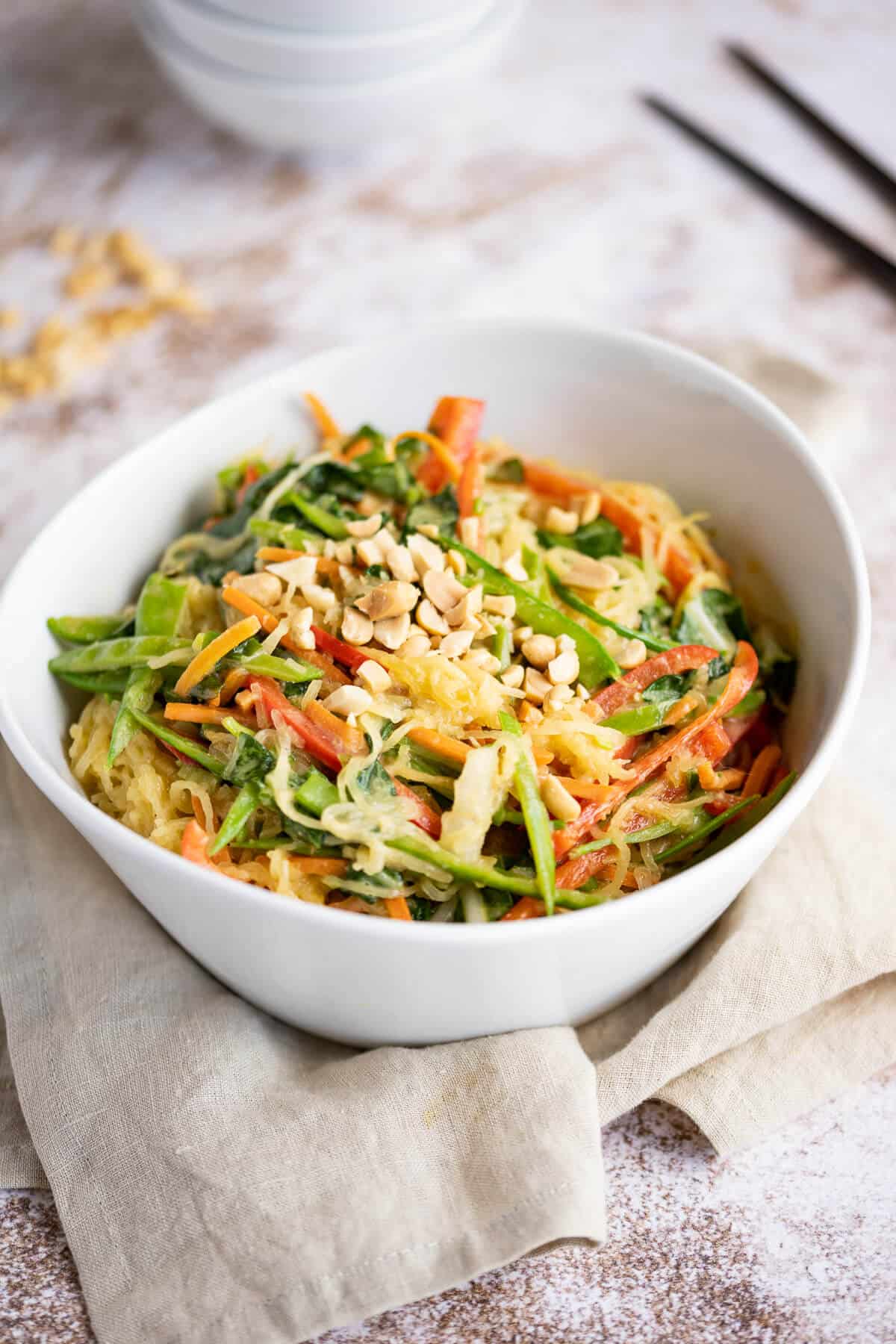 Jump to:
Spaghetti squash to the rescue! Fortunately, this tasty gourd is a great alternative to traditional noodles and can still serve as a hearty base for an easy dinner.
If you love lo mein but need to nix the noodles, or would just like to try a new dish, you'll really enjoy this spaghetti squash lo mein!
Why you'll love this recipe
Easy to find fresh ingredients
Unique and flavorful
Nothing processed
Key Ingredients and Substitutions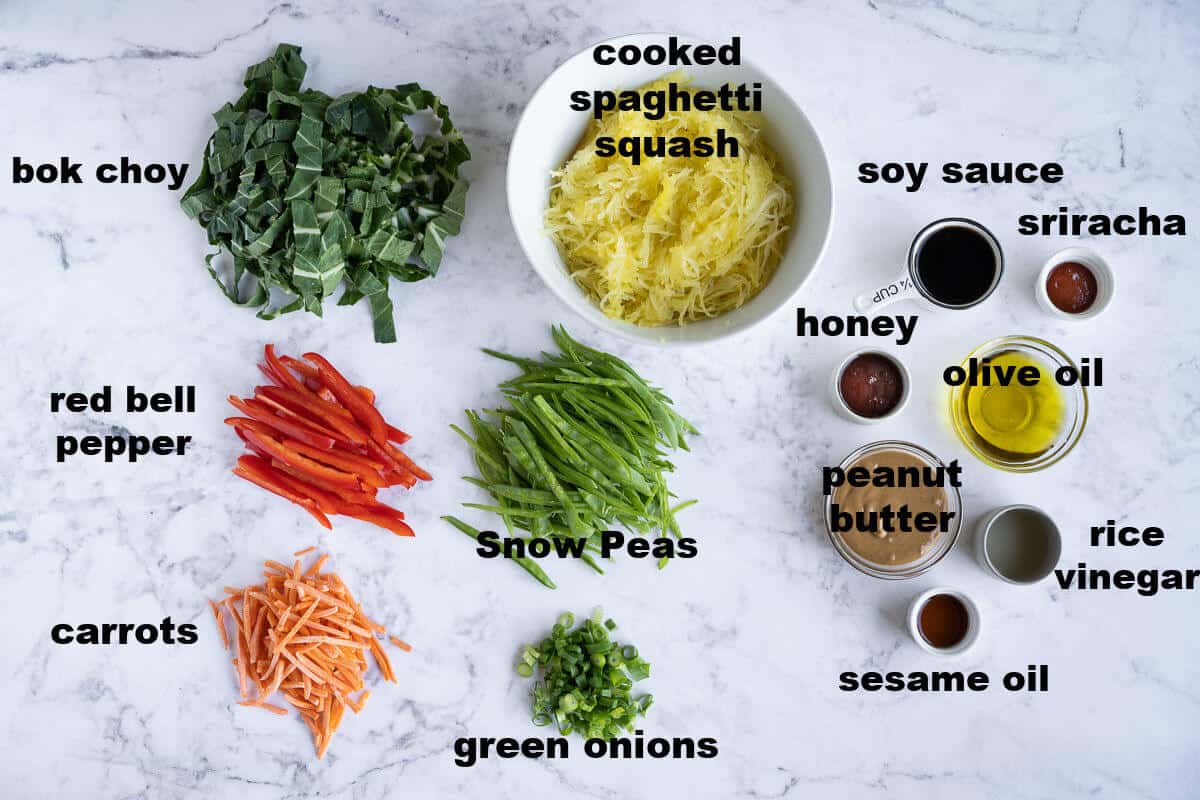 Spaghetti squash - This squash is abundant in the fall, and is available year round. Their unique structure causes them to become stringy when baked, which makes for great noodles! Zucchini is also a low-carb option for a noodle base that doesn't require baking.

Healthy veggies - Red bell peppers, snow peas, and carrots give a healthy crunch to this dish. The bok choy adds a nice leafy green. You can also switch it up by using red cabbage, shiitake mushrooms, or chopped broccoli

Peanut butter - Packed with protein and healthy fats, peanut butter adds nutrition and flavor. Use an organic or natural variety with no sugar to keep it extra clean.

Tasty sauce ingredients - A fusion of eastern and western ingredients come together to make your sauce simple and scrumptious! Spicy sriracha and a touch of honey bring complexity and balance to the flavor. For a truly gluten-free meal, use tamari instead of soy sauce.
This Asian-style spaghetti squash is an exotic addition to your menu that will become a fast favorite.
With healthy vegetables, far lower carbs than noodles, and no gluten, you'll know you're fueling your body with nutrition.
It's worth mentioning that these noodles have a different texture than regular pasta, so be prepared for a unique, flavorful healthy alternative.
Cooking the squash
There are several ways to prepare spaghetti squash. I use different methods depending on the results I'm looking for. I've noted those below.
Instant Pot -

my preferred method for the least amount of time and effort

. Here's how to make spaghetti squash in an Instant Pot.
Slow Cooker - Cook on high 3-4 hours, or on low 5-6 hours. This method gives you a softer texture.
Oven Roasting - Roasting causes some caramelization which produces a sweeter, nuttier taste and fuller flavor. I tend to use this method when I'm serving it with a milder sauce, or plain.

Slice in half lengthwise, remove the seeds, roast cut side down at 375 for 50 minutes.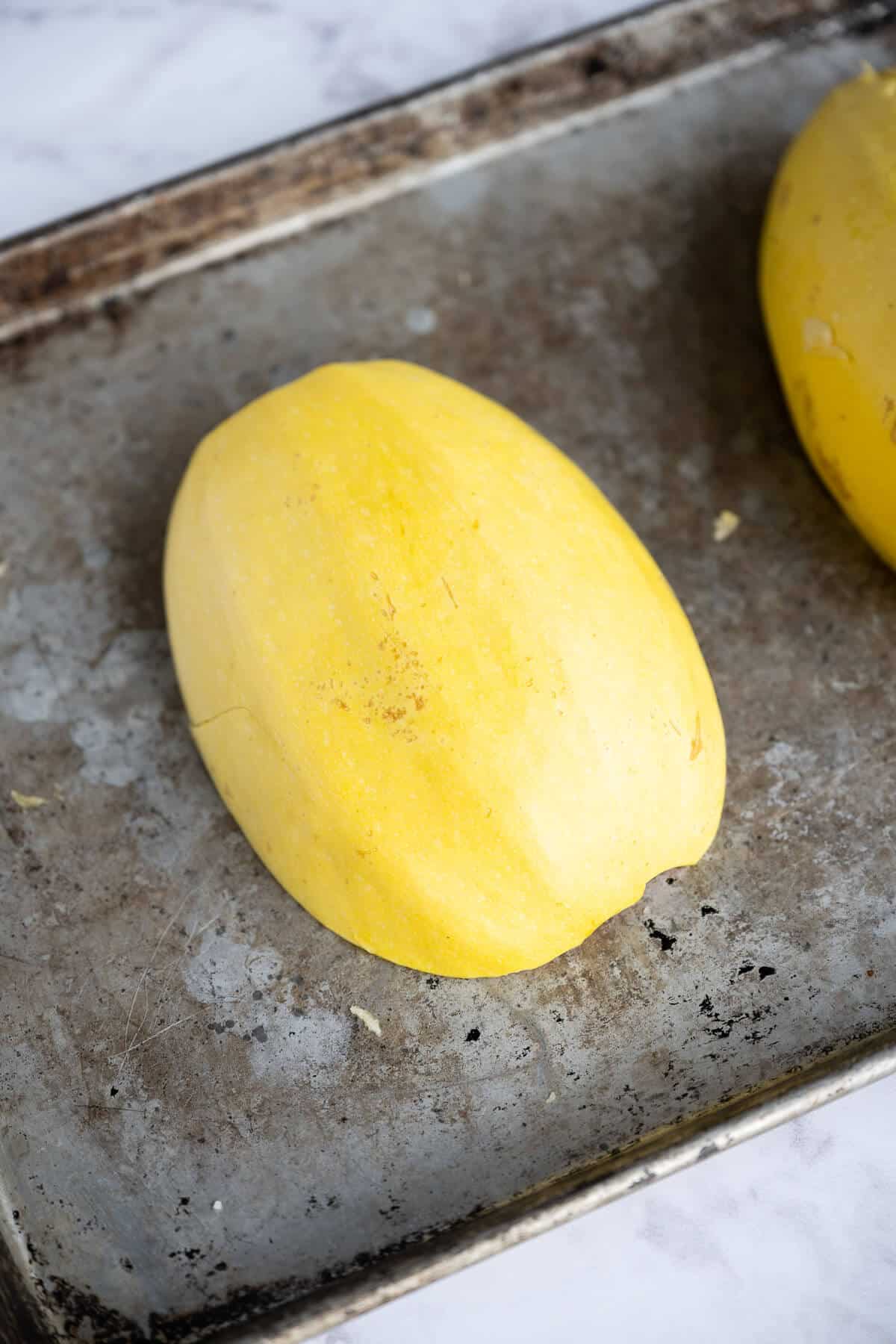 Microwave - While it's possible to steam in the microwave, this isn't recommended because it tends to dull the flavor.
Instructions
STEP ONE | COOK THE SQUASH
Using your preferred method cook the squash. (see above and/or recipe notes)
When cool enough to handle, remove the noodles and set aside.
STEP TWO | PREP VEGGIES & SAUCE
While your squash cooks, slice up the vegetables.
Combine all the sauce ingredients in a bowl, and mix well.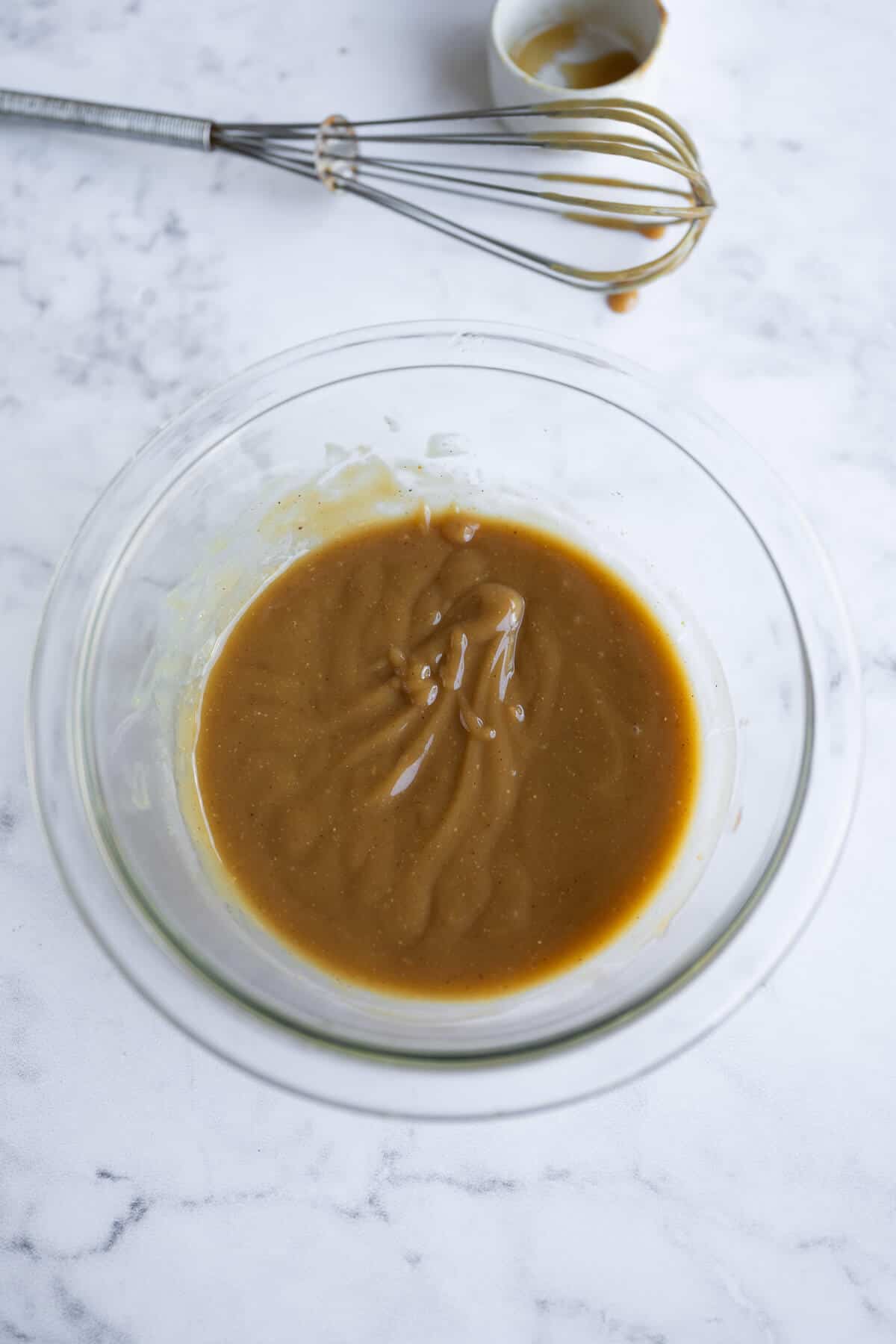 STEP THREE | SAUTE'
Heat olive oil on medium heat in a large skillet.
Add the veggies and cook for about 5 minutes, they should be crisp-tender.
Add the spaghetti squash noodles to the skillet followed by the sauce and toss until everything is mixed well and the sauce coats everything.
Garnish with additional sliced green onions, Sriracha sauce, and chopped peanuts if desired.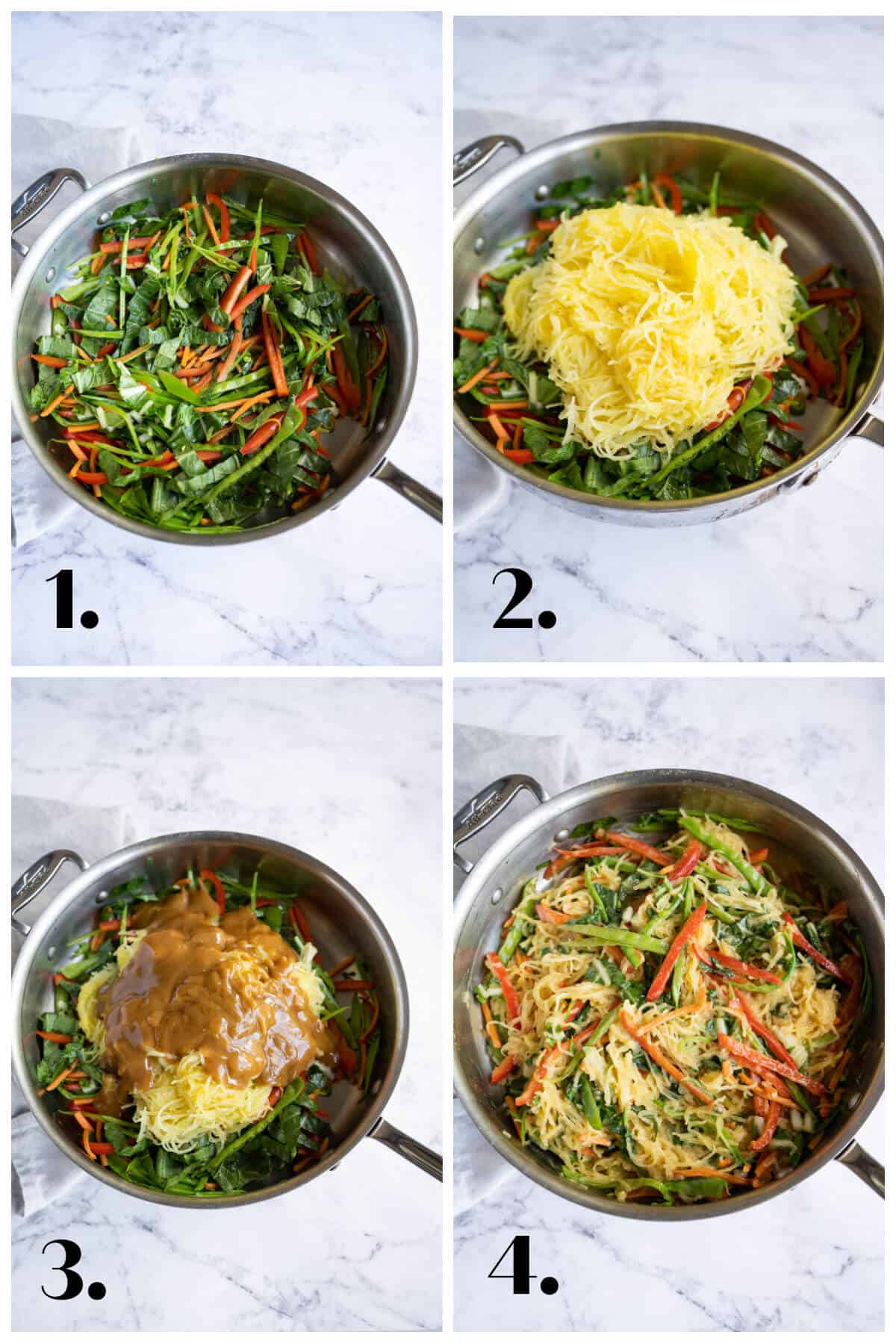 Healthy meals don't have to be boring! This noodle alternative is a great conduit for rich flavor and matches perfectly with the savory, spicy, and slightly sweet elements in the sauce.
You'll be surprised how tasty this can be with such simple ingredients and easy steps.
Chef's Tips and Variations
Please keep in mind that Spaghetti squash doesn't have the same texture as noodles. This recipe is a low carb healthy alternative, not a copycat.
You can cut down on time by cooking the squash, slicing the vegetables and mixing up the sauce up to 24 hours beforehand. This will make your actual cook time under 15 minutes!
Another short cut is to use shredded carrots that you can find in the produce section instead of cutting it yourself. Use about one half cup.
The veggies in this dish are sliced thin and uniform in size, this helps everything cook evenly.
Don't overcook. The veggies are meant to be sauteed until crisp tender. This gives the dish a crunchy, lighter element.
Common FAQ's
How many calories are in spaghetti squash?
When cooked, one cup of this vibrant veggie provides 42 calories and a boatload of nutrients like fiber, vitamin C, and manganese.

Is it really a low-carb meal?
The same cup will give you 10 grams of carbohydrates and 2.2 grams of fiber. This means your net carbs will be 7.8 carbs per small serving. Compare this with traditional spaghetti pasta, which heaps on 41 net carbs per cup!
Keep in mind, carbs aren't bad, they give you energy. But there are different types of carbs that have different effects on your body. This dish is full of non-starchy carbs and will leave you feeling well and satisfied.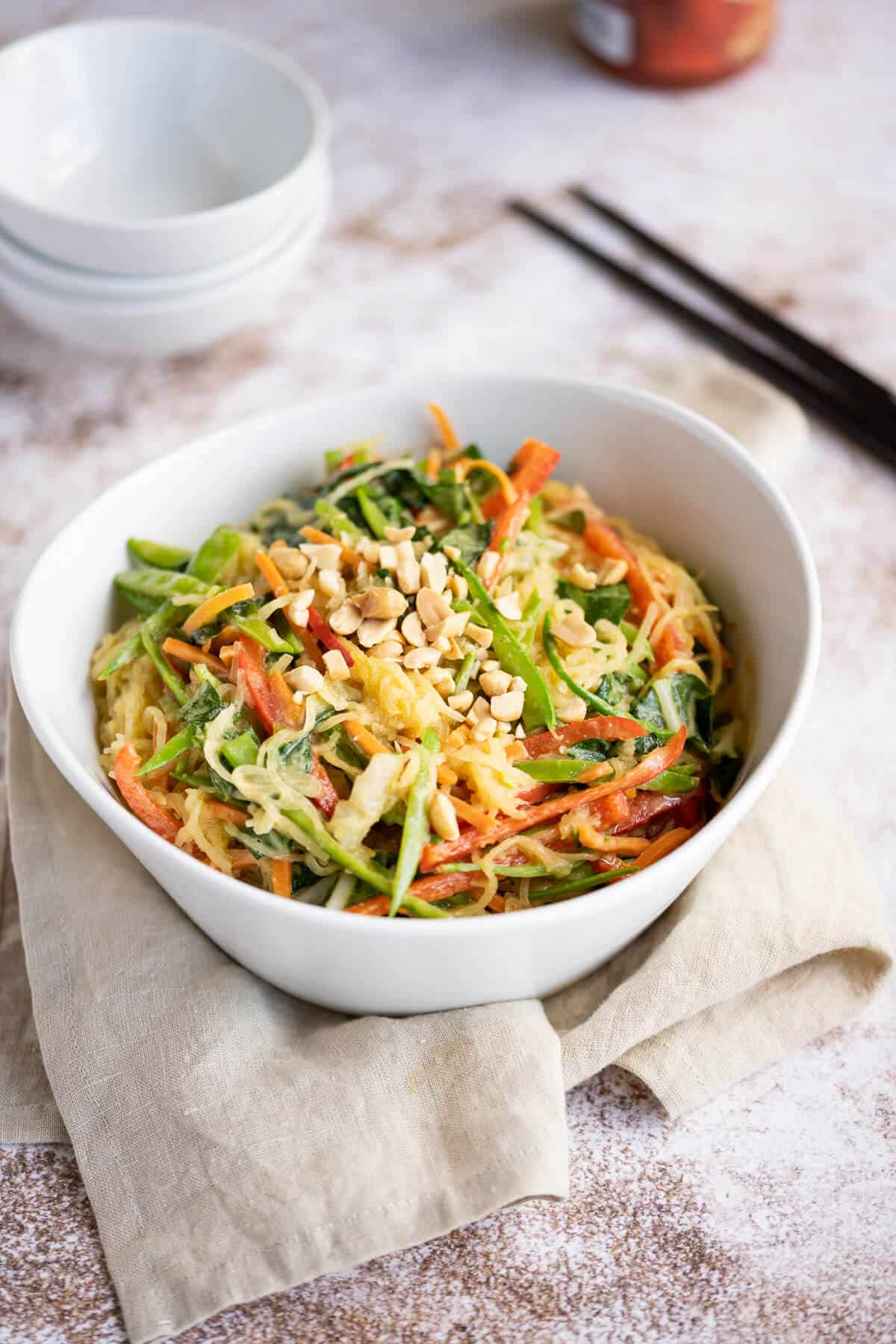 Serving Suggestions
Storing the Leftovers
If you have any left, it can be covered and put in the fridge for a day or two. The sauce and noodles can be reheated nicely in a skillet or frying pan.
The sliced vegetables won't have the same crunch as the first time around, but are still just as tasty!
While it's possible to freeze leftovers for later, this dish is best eaten fresh. After being frozen and thawed, the vegetables tend to be too mushy and watery.
HUNGRY FOR MORE? Subscribe to my newsletter to have recipes delivered to your inbox and to stay up to date on the latest!
Please share
Your shares are how this site grows, and I appreciate each one. Do you know someone who would enjoy this recipe?

I'd love it if you shared it on your favorite Pinterest board or Facebook! AND…if you like this recipe, please do me a favor and give it a ⭐️ ⭐️ ⭐️ ⭐️ ⭐️ rating! TIA 🥰

You can also follow along on YouTube and Instagram!
📋 Recipe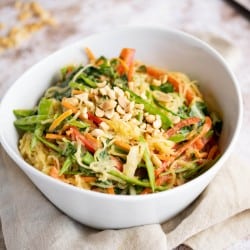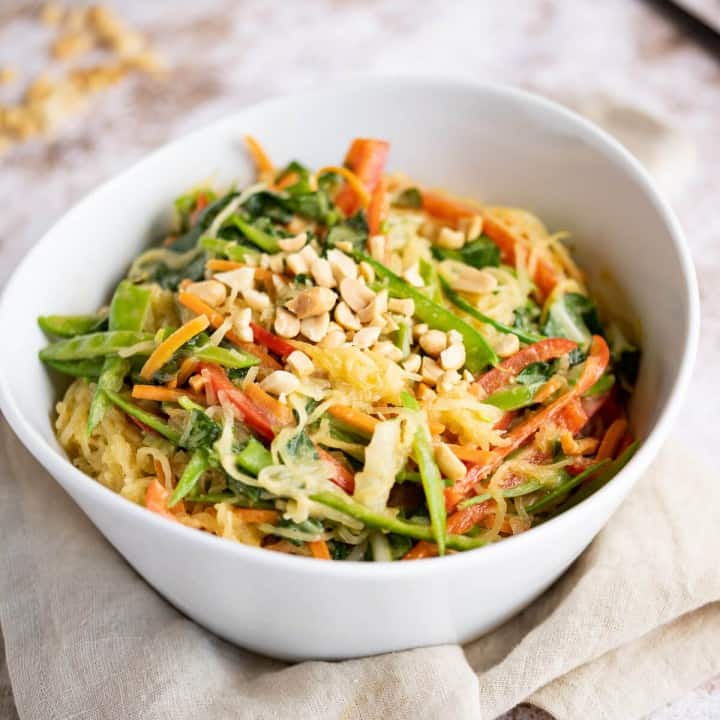 Spaghetti Squash Thai Style
Spaghetti Squash and fresh vegetables with a thai-peanut sauce. A lovely low carb option
Print
Pin
Rate
Ingredients
1

medium spaghetti squash

1

red bell pepper

sliced thin lengthwise

5

ounces

snap peas

sliced thin, lengthwise. If you don't have a scale, measure about 1 cup after slicing.

1

carrot

sliced thin. can substitute shredded carrots, about ½ cup

¼

cup

green onions

sliced

1

tablespoon

sesame oil

chopped peanuts

optional garnish
sauce
¼

cup

soy sauce

I use low sodium

3

tablespoons

extra virgin olive oil

plus more for sauteeing.

2

teaspoon

rice vinegar

¼

cup

creamy peanut butter

2

Tablespoons

honey

¼

teaspoons

siracha sauce

This will be mild, add more if you like it spicy
Instructions
Cut the stem off the squash, slice in half lengthwise, remove the seeds. Drizzle the inside with olive oil, sprinkle with salt and place cut side down on a rimmed baking sheet. Bake for 50 minutes until fork tender. When cool enough to handle, use a fork or tongs to pull the "noodles" out. Put in a bowl and set aside. See recipe notes for other cooking methods.

Slice the vegetables thinly. This will help everything to cook evenly.

Combine soy sauce, sesame oil, olive oil, rice vinegar, peanut butter, honey, garlic and siracha in a bowl. Mix well. Set aside

Heat 1 tablespoon olive oil in a large skillet over medium heat. Add vegetables and saute' until crisp tender, about 5 minutes.

Add the spaghetti squash, and the sauce, toss to coat. Serve.
Notes
The nutrition calculator for this recipe doesn't accurately calculate the net carbs. It should be around 10g for 1 cup. Let's not get caught up in the numbers.
If you don't want to roast the squash, you can use one of these methods:

Instant Pot- pierce the squash with a pairing knife, cook on high pressure for 20 minutes, let stand 10 minutes. More details here.
Slow Cooke

r - Cook on high 3-4 hours, or on low 5-6 hours.

Microwave- not recommended, dulls the flavor

Please keep in mind that Spaghetti squash doesn't have the same texture as noodles. This recipe is a low-carb healthy alternative.

cut down on time by cooking the squash, slicing the vegetables and mixing up the sauce up to 24 hours beforehand.

The veggies in this dish are sliced thin and uniform in size, this helps everything cook evenly.
Nutrition
Calories:
245
kcal
|
Carbohydrates:
24
g
|
Protein:
6
g
|
Fat:
16
g
|
Saturated Fat:
3
g
|
Polyunsaturated Fat:
4
g
|
Monounsaturated Fat:
9
g
|
Sodium:
631
mg
|
Potassium:
401
mg
|
Fiber:
5
g
|
Sugar:
14
g
|
Vitamin A:
2811
IU
|
Vitamin C:
44
mg
|
Calcium:
62
mg
|
Iron:
2
mg
Update Notes: This post was originally published in March of 2018. In September of 2021, I tweaked the recipe, added step-by-step instructions, new photos, and updated cooking methods.