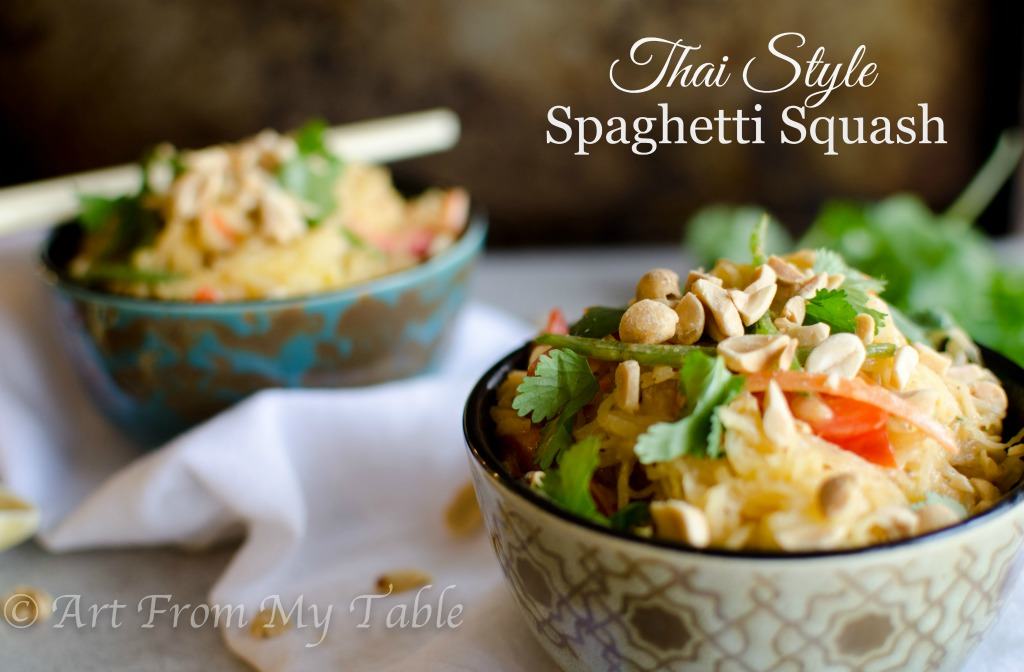 Living a low carb life?  Try this Thai peanut spaghetti squash recipe!  It's a delicious alternative to pasta any day! 
Are you looking for a lower carb option to pasta?  If so, I've got a recipe for you!
Since about the first of the year, my husband has been cutting back on his carbs and sugar.  Now, we eat pretty healthy regardless, but we still eat a pretty good share of carbs. Typically, we'll have pasta once a week.  The kids just love pasta!  In order to make meals friendly for everyone involved, I've been trying to get a little more creative in the kitchen.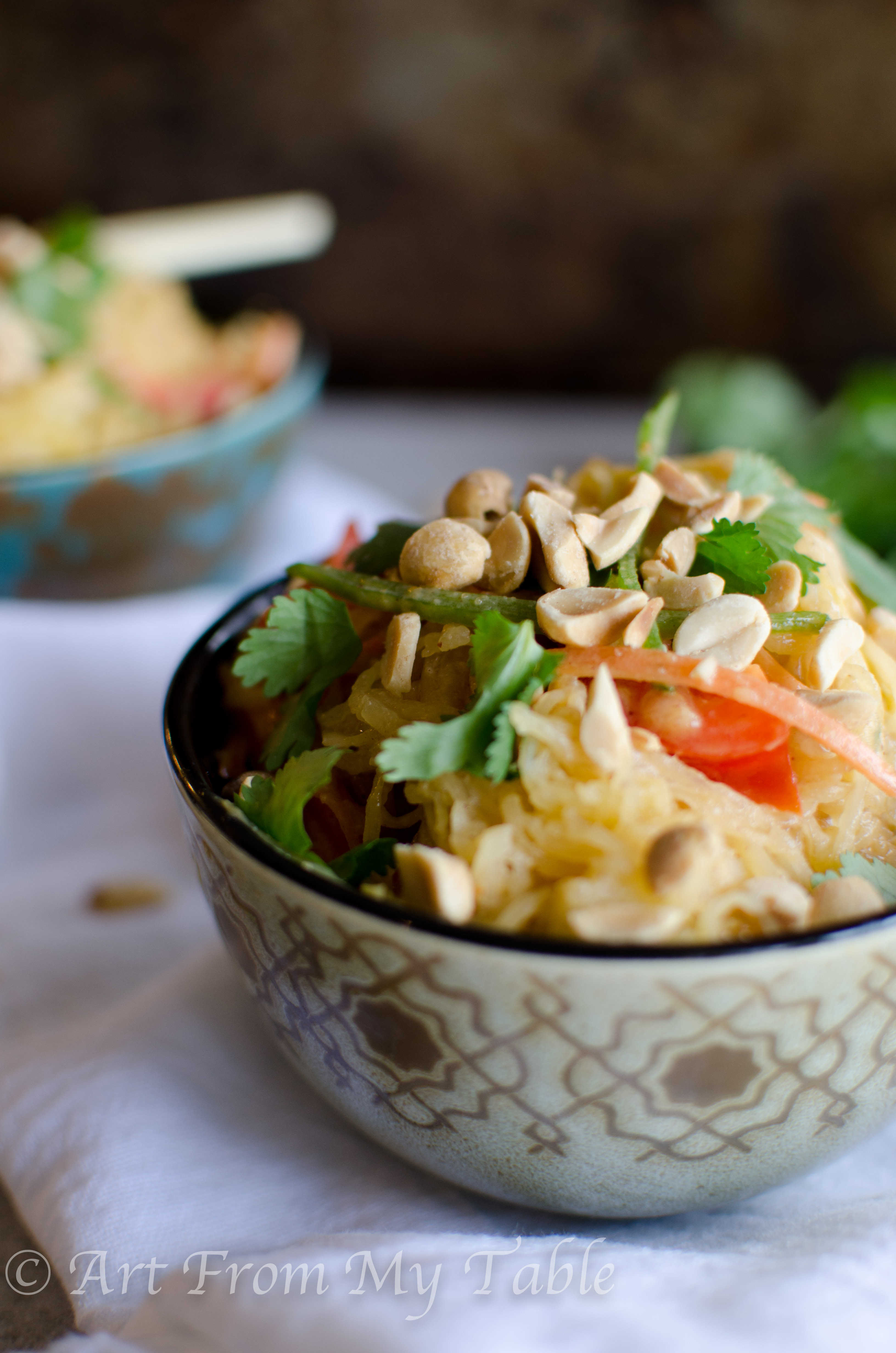 I want to have a great meal for my husband, I feel like that's part of my purpose, right?  To feed my man!  He's super flexible and has totally said he'll fend for himself, but, again, this is what I do… feed my man.  🙂
That's where the inspiration came from for this spaghetti squash recipe. We also really like Asian food. My husband actually lived in Japan for awhile.
Low carb + Asian flavors = delicious!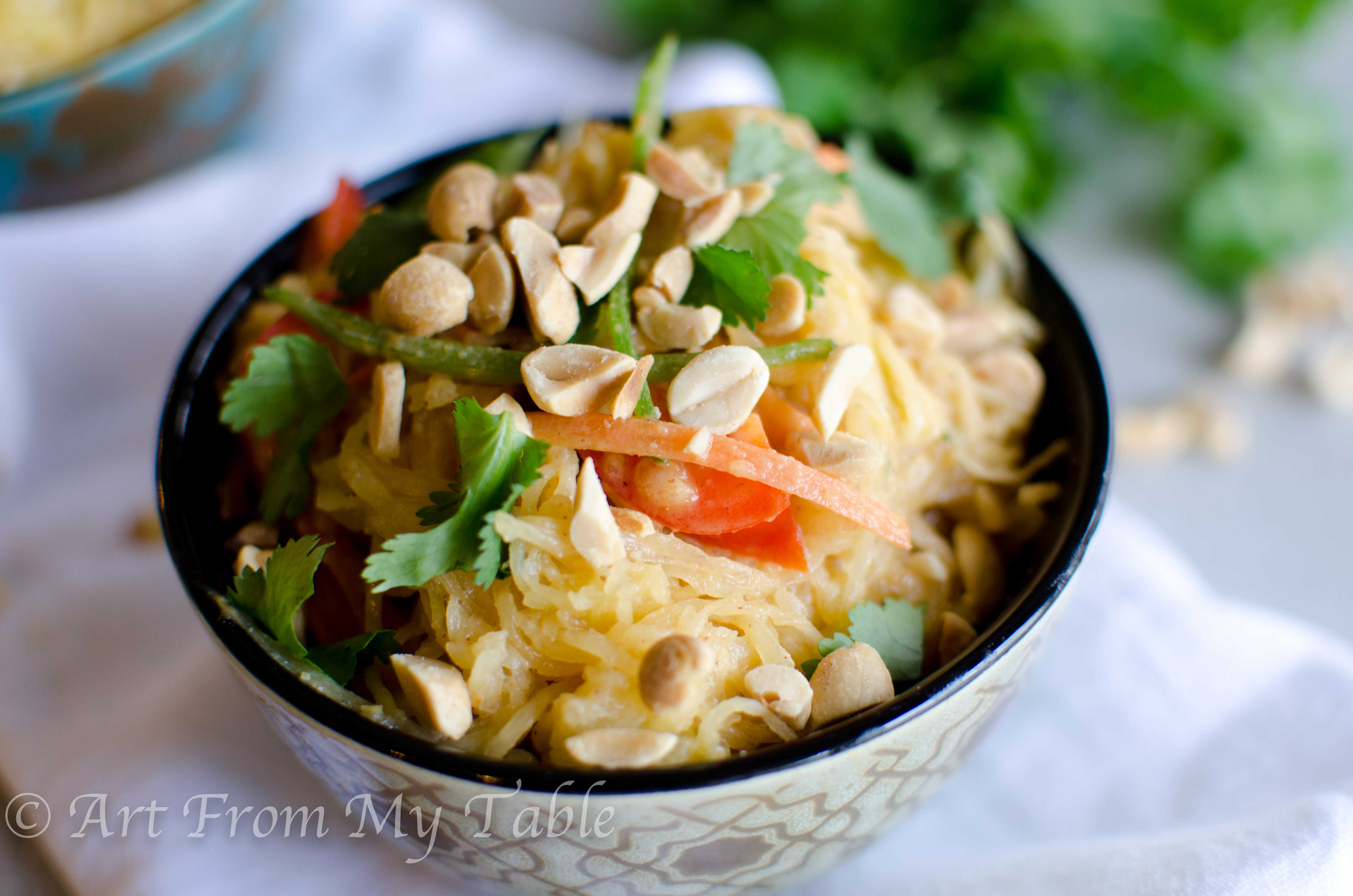 Not only is it delicious, but bonus~ it's good for you!  Sometimes we can cut things out of our diet in an attempt to be healthier, but if you're not putting good things into your diet as well, you're not going to make much progress.  This is packed with vegetables which as you know are nutritious. It's a win win all the way around.
Tips & Tricks
Slice the squash into rounds in order to get longer 'noodles'.  Like this: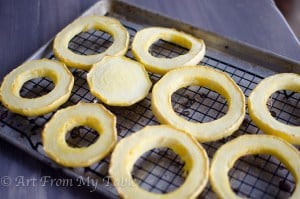 Salt the squash on both sides and let it sit for about 20-30 minutes before baking This extracts some of the water, then blot it off.
Slice vegetables ahead of time to make dinner come together in a snap.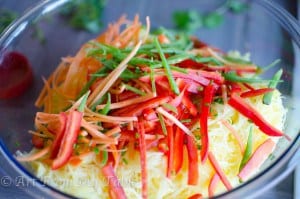 Spaghetti Squash Recipe
This comes together in three easy steps
Bake the squash and pull it apart.
Prepare the sauce by whisking all the ingredients together, and slice and dice the veggies.
Combine it all together!  Detailed instructions are below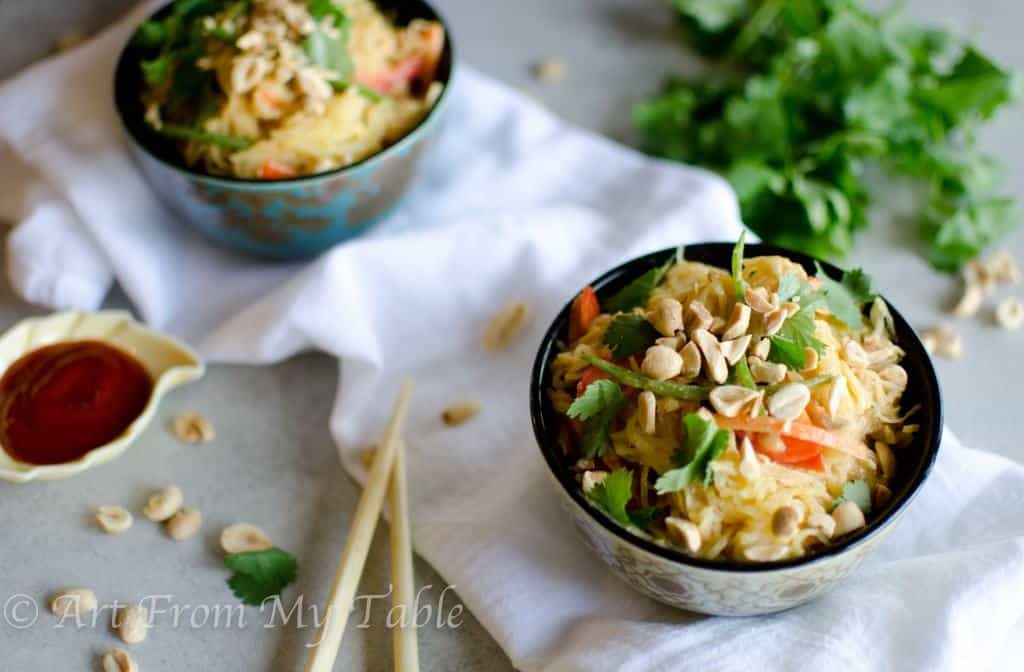 Spaghetti Squash Recipe~Thai Style
Spaghetti Squash and fresh vegetables with a thai-peanut sauce. A lovely low carb option
Ingredients
2 medium spaghetti squash
1 red bell pepper, sliced thin lengthwise
½ lb snap peas, sliced thin, lengthwise
1 carrot, sliced thin
¼ cup chives, finely chopped
For the sauce: ¼ cup soy sauce
1 tsp sesame oil
¼ cup extra virgin olive oil
2 tsp rice vinegar
¼ cup creamy peanut butter
2 Tbs honey
¼ tsp siracha sauce (more if desired)
Instructions
Slice the squash into rounds.
Salt both sides and place on a baking rack for about 20 minutes. Blot with paper towels. (this step can be eliminated if desired)
Bake at 375 for 40-50 minutes, or until squash is fork tender.
When cool enough to handle, remove skin and pull squash apart into 'noodles'
While the squash is baking, slice vegetables and prepare sauce.
Combine soy sauce, sesame oil, olive oil, rice vinegar, peanut butter, honey, garlic and siracha in a bowl. Mix well.
Place 'noodles' in a large pan over medium-low heat. Add sliced vegetables and sauce. Stir to combine.
Serve warm.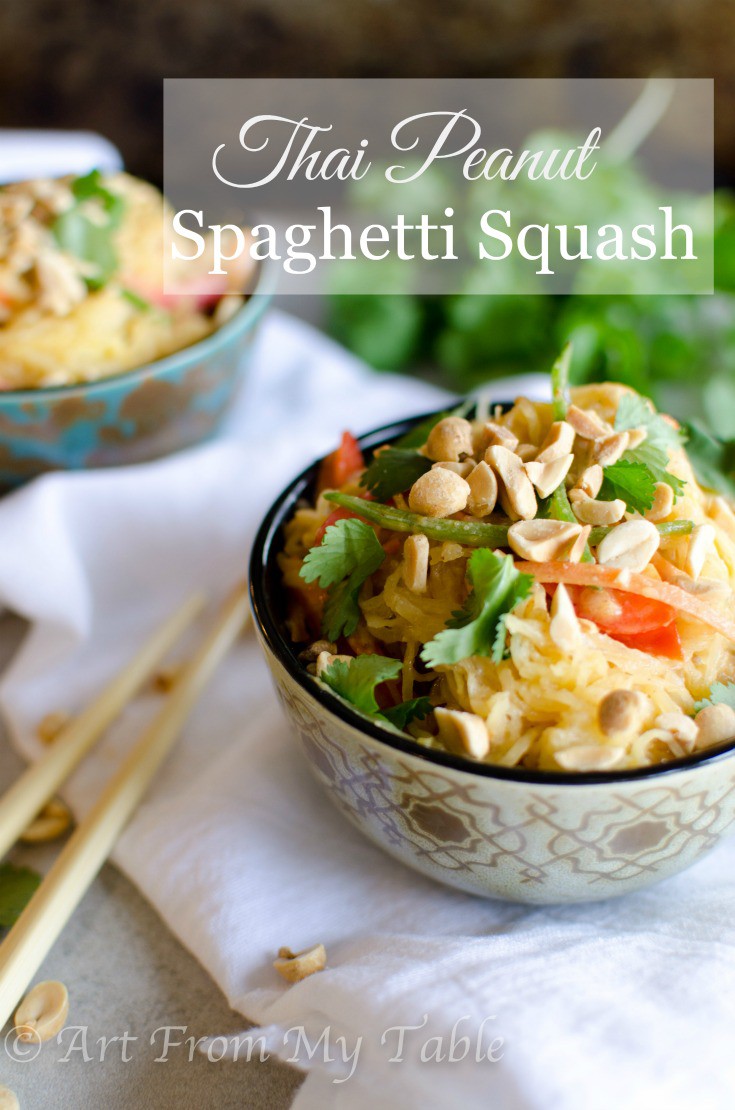 Enjoy your easy to make, delicious low carb "spaghetti".
Looking for more?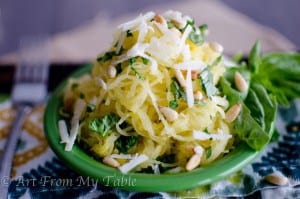 Garlic Herb Spaghetti Squash
Don't want to miss a single recipe?  Sign up to receive new recipes delivered straight to your inbox!  Plus you'll receive a free cookbook. Click on the picture to sign up!