As an Amazon Associate I earn from qualifying purchases.


Spaghetti Squash flavored with garlic, fresh basil and parsley, topped off with shredded parmesan cheese and toasted pine nuts. This is a perfect low-carb option to pasta.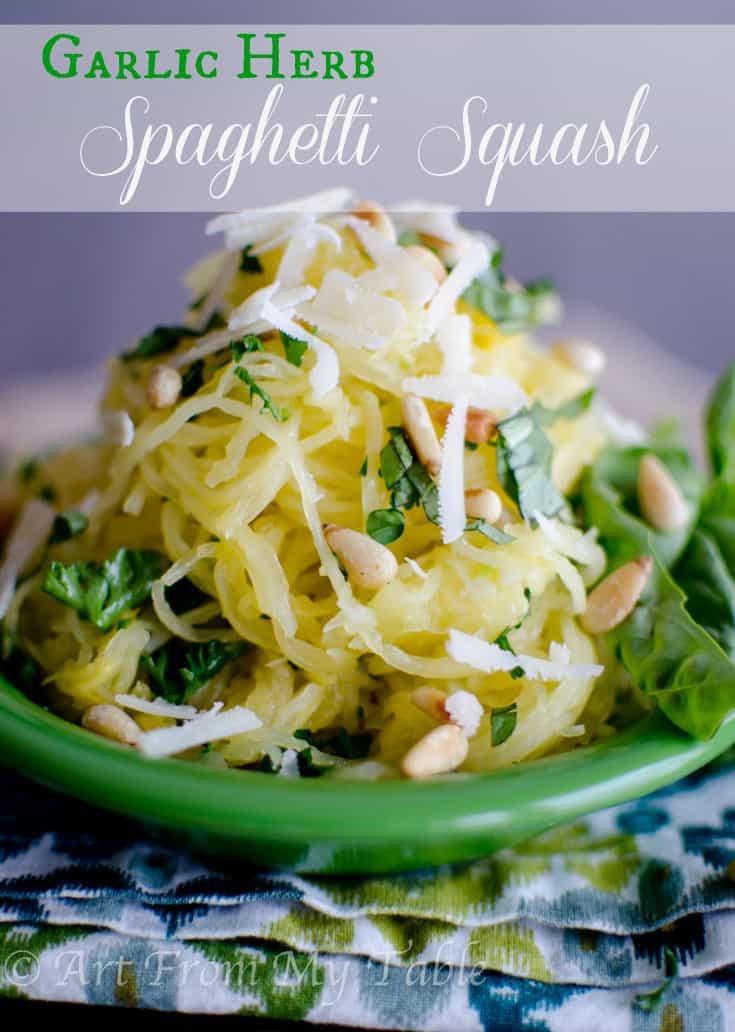 This post may contain affiliate links.
Spaghetti Squash
Looking for a healthy and low carb alternative to pasta? Look no further! The whole family loved this spaghetti squash option. Flavored with butter, garlic, fresh herbs, and some pine nuts for a little crunch, it was scrumptious!
Eating Low Carb
My husband is always reading a book about running and eating, and how to eat to be a better runner, or more effective runner. He's done several different styles of eating. He was even a vegan for awhile.
Talk about a challenge in the kitchen when you have a meat loving family! We made do. It worked for him for a long time. But as he trained for a marathon, his body was again needing the meat. That was a number of years ago. Currently, he is eating a low carb, no sugar diet.
If you'd like to explore eating more low carb yourself without feeling like your missing out, I would recommend Trim Healthy Mama. I followed this eating plan myself and I have several friends that eat this way and have had amazing results! I tell you all this, because this is where the inspiration for the Spaghetti Squash dish came from.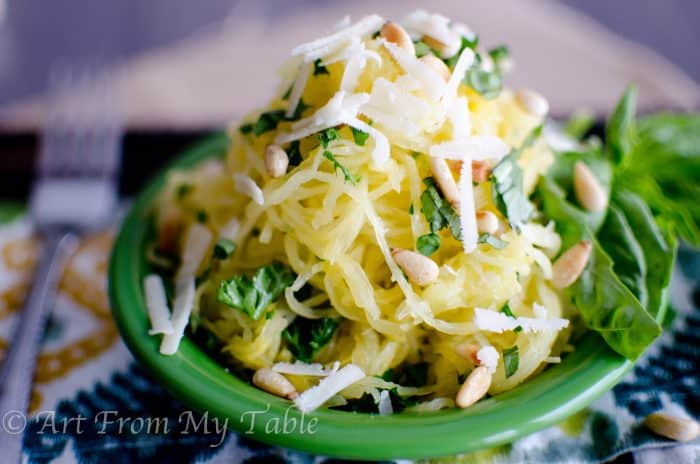 Spaghetti Squash is a great alternative to pasta. The texture is not exactly the same for sure, but done right, I don't think you'll miss the pasta.
My husband is really laid back, and has no expectation for me to change the dinner around to meet his dietary needs. He always says not to worry about it, that he'll cook something for himself. What a great guy right? At the same time, my heart wants to give him a delicious hot meal when he comes home from work! So, there's a balance there. I do try to adapt things for him, but sometimes, we just eat pasta!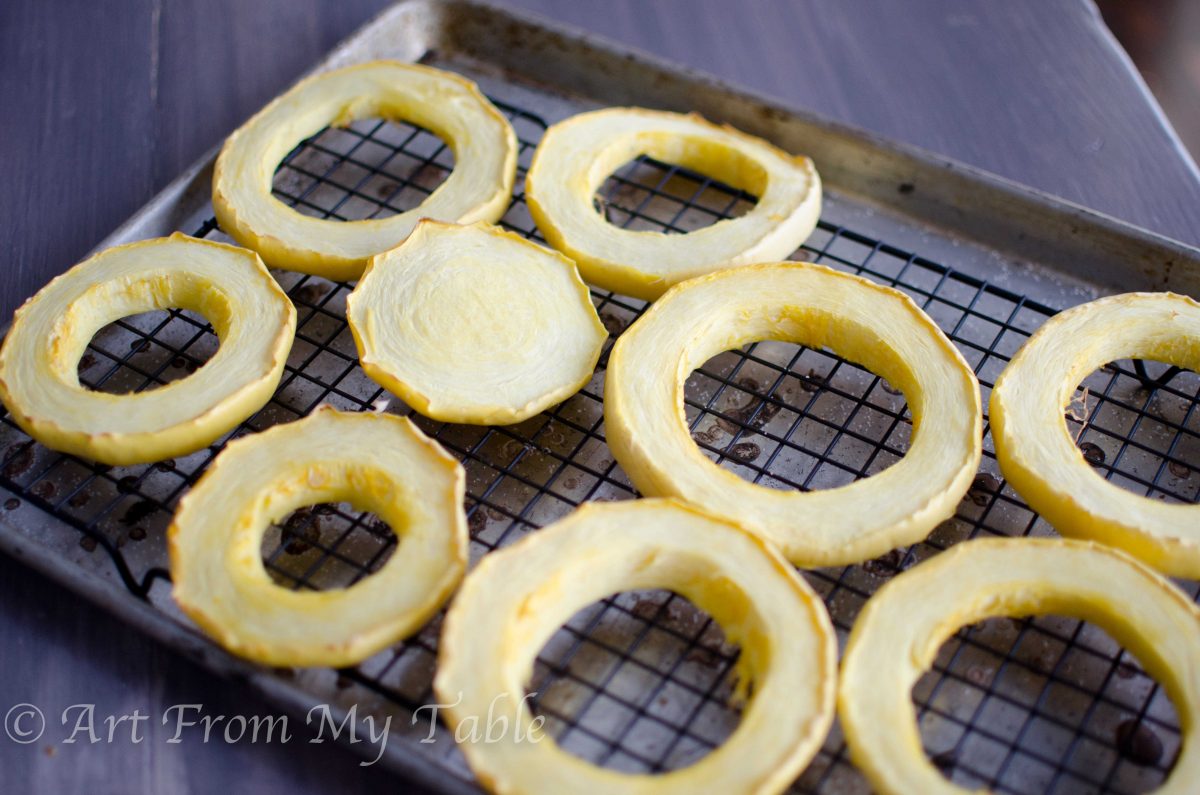 UPDATE:I f you like long noodles, you can cut your squash into rounds and bake it that way. This is how I used to prepare it. However, since having an electric pressure cooker, I always cook it in the Instant Pot. It cuts down on time, and it's incredibly easy to cut!
The other fabulous part of this recipe? It's so easy!! To get started you just slice your spaghetti squash into slices and place them on a rack, on a rimmed baking sheet. To extract some of the natural occurring water in spaghetti squash, sprinkle it with salt, on both sides, and give it about 20 minutes. Then blot both sides well with a paper towel. This will help with the texture of your final dish, but if you're crunched for time, it's a step that's not totally necessary.
Bake it for 30-40 minutes, until fork tender. Then as soon as you can handle it, remove the skin and pull the 'noodles' apart.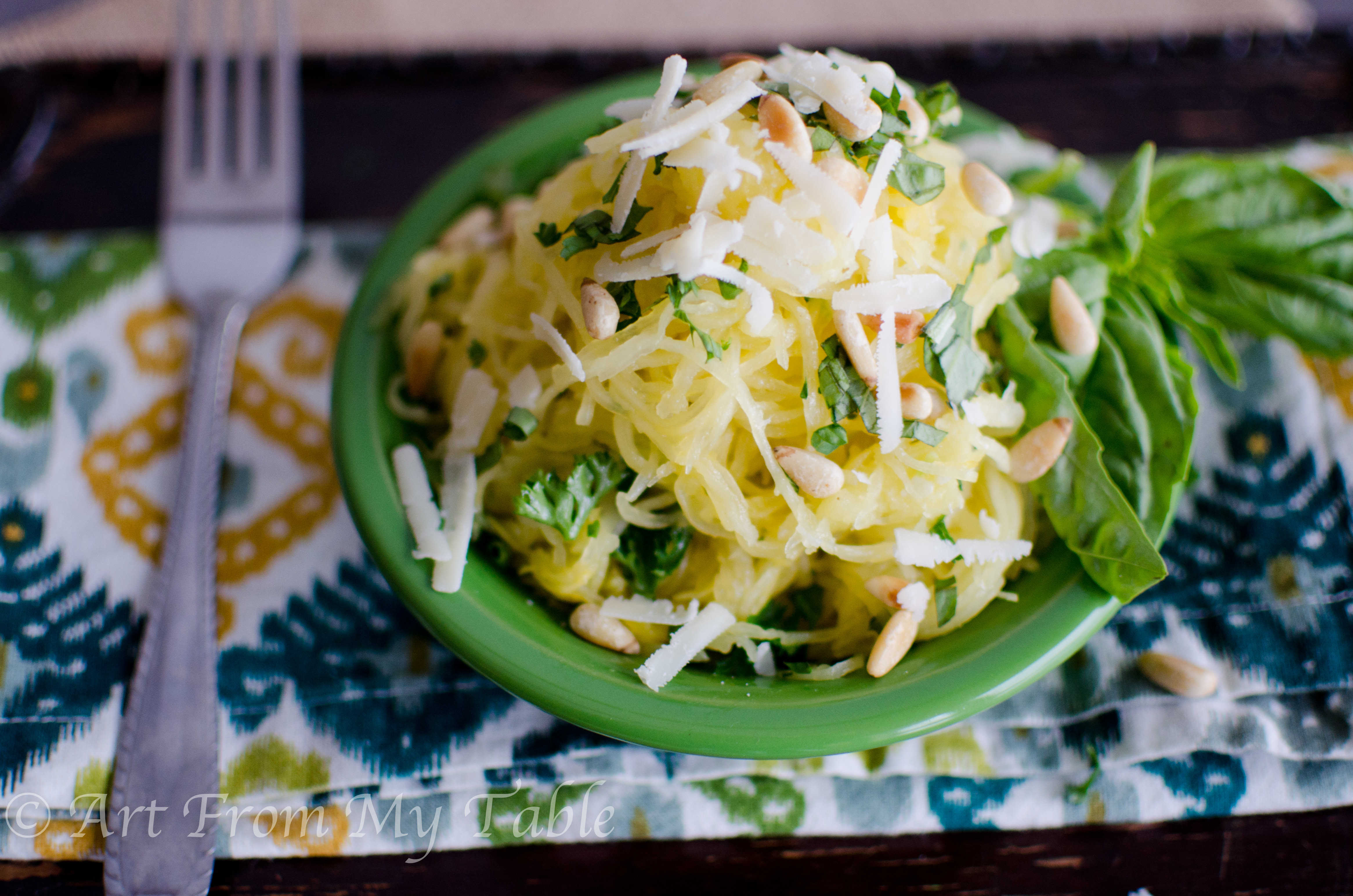 While the squash is baking, toast the pine nuts. You can do this right on the stove in a non-stick pan over medium heat. Give them a shake or stir every so often until they are golden. This should only take 5-10 minutes
Dinner in a snap
Baking the squash is mostly hands off. Once you have your 'noodles', this comes together in about 15 minutes.
Melt some butter and olive oil in a large skillet type pan. Add pressed garlic and saute' just until fragrant, about 30 seconds. Add the spaghetti squash and toss. Remove from heat and add in fresh basil, parsley and pine nuts. Top with cheese and more pine nuts. See? Isn't that easy?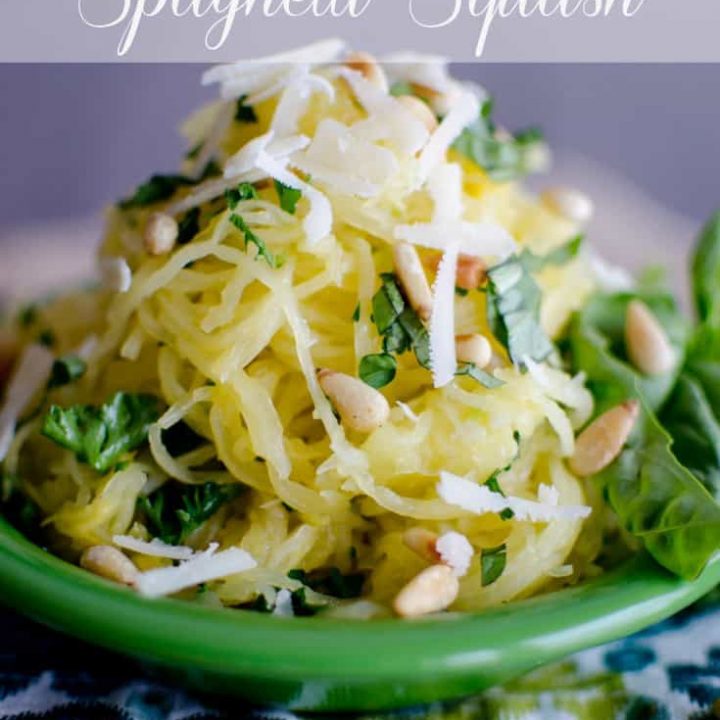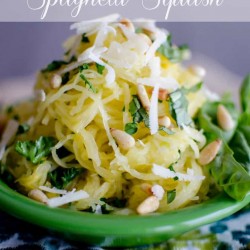 Spaghetti Squash with Garlic and Herb
Spaghetti Squash 'noodles' in a butter garlic sauce with fresh herbs, cheese and toasted pine nuts.
Print
Pin
Rate
Ingredients
2

medium size spaghetti squash

2

Tbs

olive oil

2

Tbs

butter

4

garlic cloves

pressed or minced

½

cup

pine nuts

toasted

½

cup

fresh basil leaves

torn or chiffonade

½

cup

fresh parsley chopped

½

parmesan cheese

thickly shredded
Instructions
Preheat oven to 350.

Slice squash into 'rings' and place on a baking rack on top of a rimmed baking sheet.

Sprinkle both sides of squash with salt and let sit 20 minutes.

Blot squash well with paper towel.

Bake for about 30-40 minutes, until fork tender.

After squash is cool enough to handle, remove skin and pull apart 'noodles'.

Melt butter and olive oil in a skillet.

Add garlic and saute until fragrant, about 30 seconds.

Add squash noodles and toss.

Remove from heat and add basil, parsley and toasted pine nuts.

Serve topped with cheese and additional toasted pine nuts.
Nutrition
Calories:
135
kcal
|
Carbohydrates:
17
g
|
Protein:
2
g
|
Fat:
8
g
|
Saturated Fat:
3
g
|
Cholesterol:
8
mg
|
Sodium:
70
mg
|
Potassium:
292
mg
|
Fiber:
4
g
|
Sugar:
7
g
|
Vitamin A:
773
IU
|
Vitamin C:
11
mg
|
Calcium:
66
mg
|
Iron:
1
mg