This post may contain affiliate links.
This rich homemade chicken broth is not only flavorful, but nourishing as well.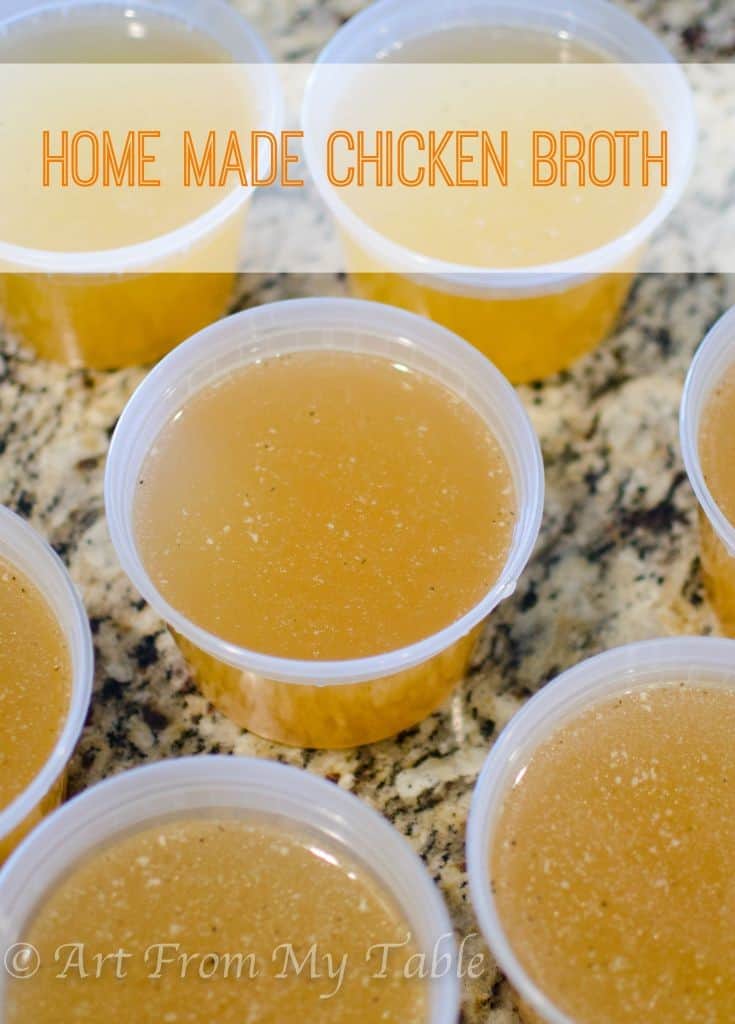 "Why is chicken soup superior to all the things we have, even more relaxing that "Tylenol?" It is because chickened soup has a natural ingredient which feeds, repairs and calms the mucous lining in the small intestine. This inner lining is the beginning or ending of the nervous system. It is easily pulled away from test intestine through too many laxatives, too many food additives…and parasites. Chicken soup…heals the nerves, improves digestion, reduces allergies, relaxes and ives strength." ~Hanna Kroeger Ageless Remedies from Mother's kitchen
Chicken soup is healing. I remember as a little girl, my grandmother would offer me some chicken broth if I wasn't feeling well. It seemed to be the go-to way back when. Today I'm sharing the recipe I use to make chicken broth, more specifically bone broth. I am a 'from scratch' cook. I enjoy taking some of those staples we have in our pantry and making them myself. It saves money, which I like, but it  tastes better too. In this recipe, I like that I've gotten more purpose out of our meal. We eat the chicken for dinner, and then I use the bones and the carcass to make 3 1/2 quarts of chicken broth! I've been making home made chicken broth for a long time. I make big batches and then I freeze it. It only takes a few minutes in the microwave to thaw it out.
So what's so special about this recipe? It's the time you cook the broth. The process is often referred to as bone broth. In  her book Nourishing Traditions, Sally Fallon says this:
"Properly prepared, meat stocks are extremely nutritious,
containing the minerals of bone, cartilage, marrow and vegetables as electrolytes,
a form that is easy to assimilate.
Acidic wine or vinegar added during cooking helps to draw minerals,
particularly calcium, magnesium and potassium, into the broth".
Once I learned about the benefits of this bone broth, it is all I make. I use it in any recipe that calls for chicken broth. I've also given it to my kids just as plain broth when they've been under the weather. Because it is incredibly nourishing.
You can make this broth with the whole chicken and not just the carcass. I've done it both ways. For me, it depends what recipe I'm cooking. If I'm making something that calls for shredded chicken, I can just cook the whole chicken and use the meat for recipes such as enchiladas, salads, and sandwiches. If we're actually eating chicken for dinner, then I'll just use the bones. One thing I have noticed, when I cook the whole chicken, if I let it go the entire time, the meat is very very soft, almost mushy. So if that's an issue for you, you may want to remove the meat after a few hours, then continue cooking the bones.
NOTE:  The recipe calls for organic chicken. This is important. I have made this recipe with both organic and not organic, and it was different. Just sayin'. If you can't do an organic chicken, your next best option is to see if you can buy something local. We have a meat store that processes meat and what they sell is all from local farms. I happen to know someone that raises meat chickens, so I buy a bunch every summer from her and throw them in my freezer. You could probably find a local source too if you just look into it.
This recipe is adapted from Sally Fallon's book Nourishing Traditions.
Start with putting the bones and carcass of the chicken into a large stockpot. If you have gizzards, the neck, or feet (I know, gross) then add them in too. Jewish folklore considers the addition of chicken feet the secret to successful broth. I've never added chicken feet because I don't have them. Maybe I'll ask my friend next year when she butchers. Mmmm, maybe I won't, I don't know if I could do chicken feet. Anyway, I'll add any of the juices in the bottom of the pan that I cooked the chicken in too.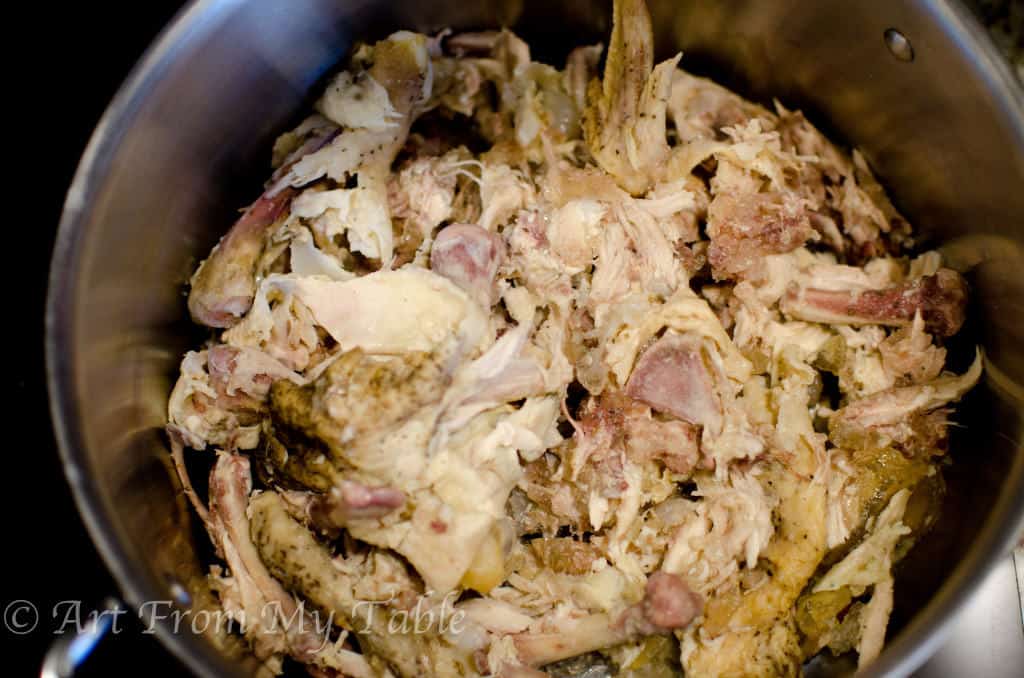 Add water to cover the chicken pieces. Depending on how big your stock pot is determines the amount of water. The book suggests 4 quarts, but I can't fit quite that much in my stock pot. Add in some carrots, celery, onion and garlic. Then add a couple tablespoons of vinegar and let it stand for 30 minutes to 1 hour.
Bring it to a boil and remove the scum (foamy stuff that floats to the top). Reduce the heat, cover and simmer for 6-24 hours.
 Here's what it looks like after it's been cooking for a while: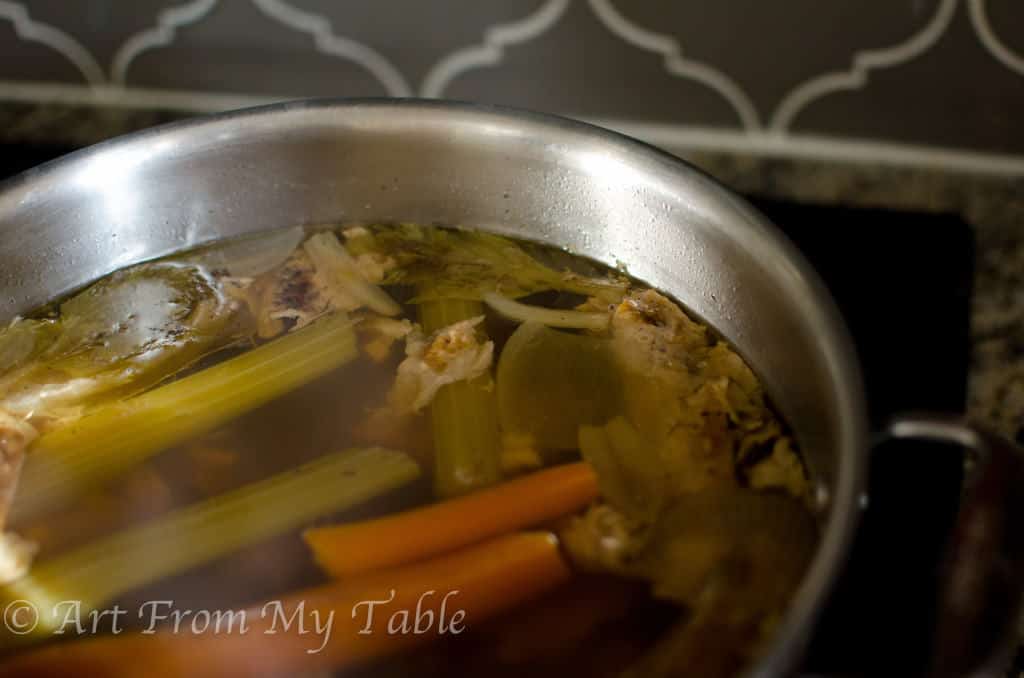 The longer you cook the stock the richer and more flavorful it will be. I usually let it go the full 24 hours. It just depends on what my day is like when I'm cooking it.
The last 10 minutes of cooking time, add in parsley. This will impart additional mineral ions to the broth.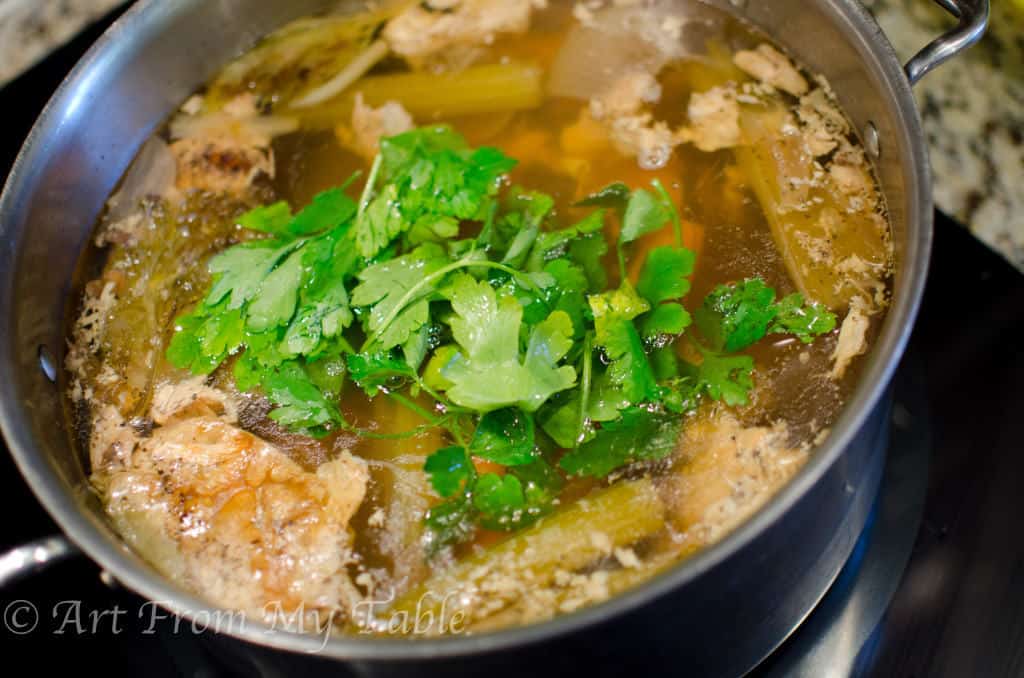 Once it's finished cooking, strain out the veggies and bones etc with a slotted spoon.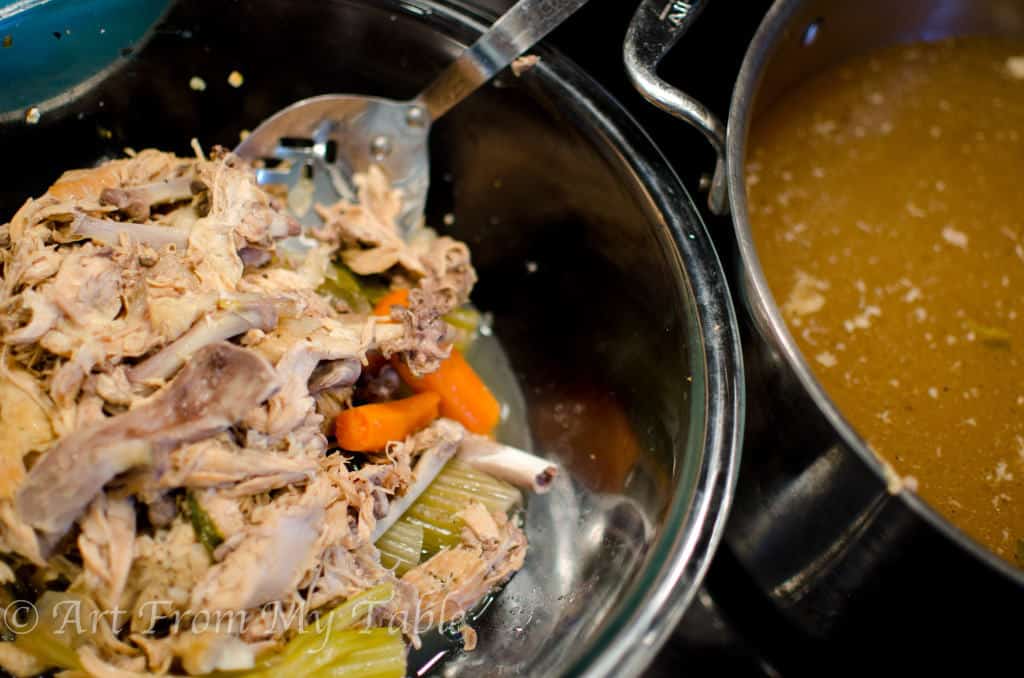 Then you can pour it though a strainer into a large bowl and let it cool. You can cool it in the refrigerator and skim off the fat, but I typically let it cool enough to handle, and pour it into smaller containers and freeze it.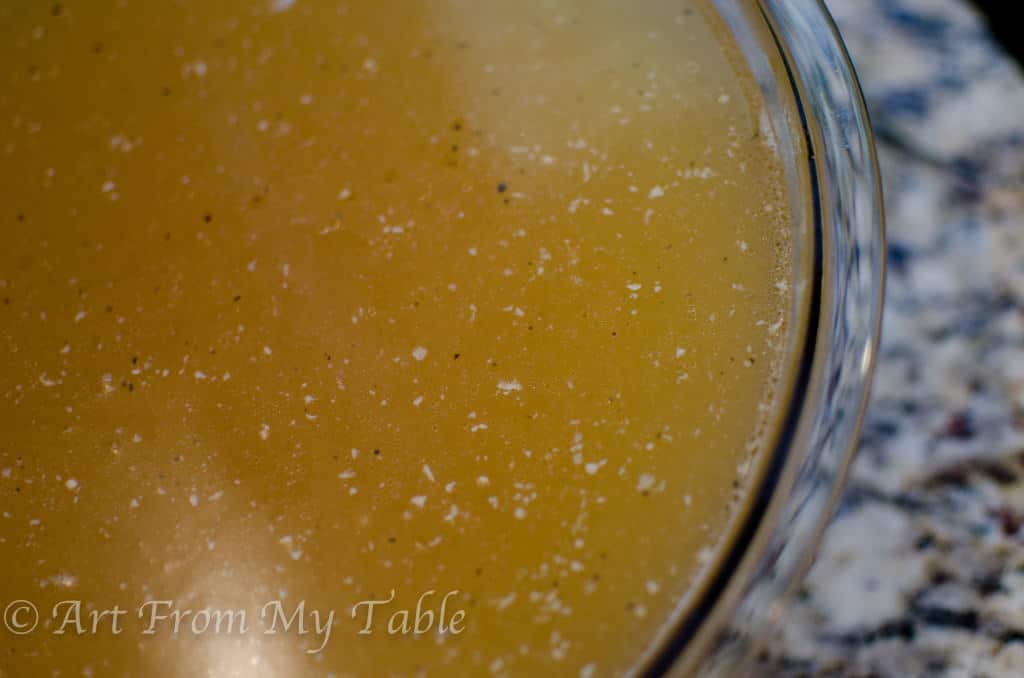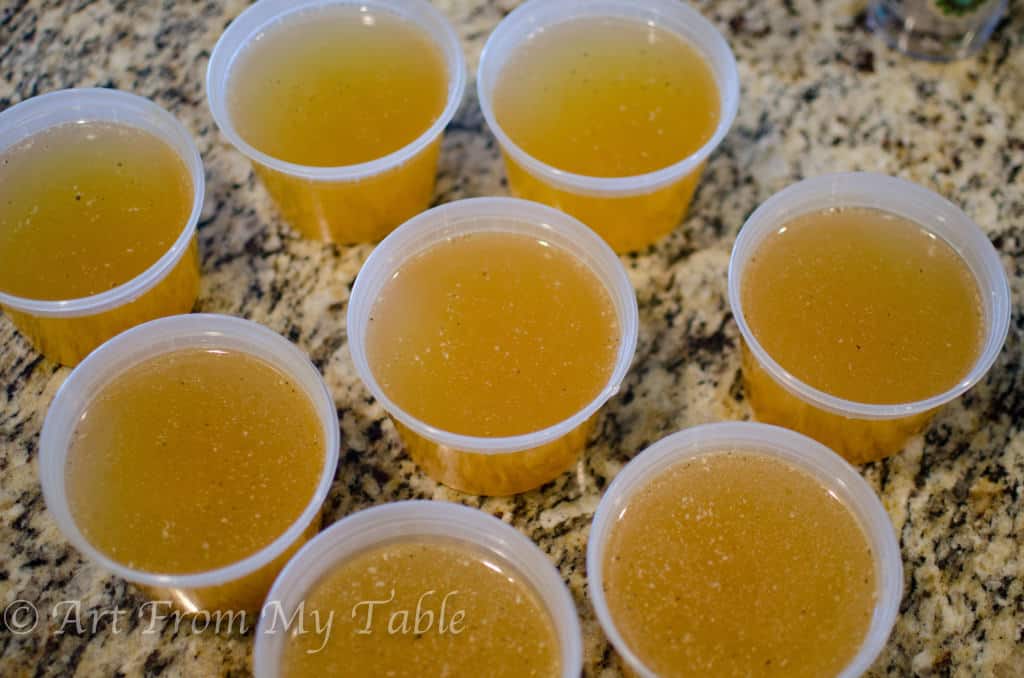 See how rich in color it is? It is rich in flavor too. I believe this is the best chicken broth you'll ever eat! 🙂
If you decide to cook the whole chicken, here's a few recipes that work well with shredded chicken:
Chicken Pot Pie
White Chicken Chili
Chicken Enchiladas
Tex Mex Lasagna
Do you make your own broth? I'm curious, leave me a comment!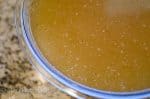 Bone Broth
Rich, home made chicken stock bone broth is flavorful and nourishing.
Servings
3
1/2 quarts chicken broth
Ingredients
1

whole organic chicken or 2-3 pounds of bony chicken parts

neck, back, breastbone, wings

4

quarts

cold water

2

Tbs

vinegar

1

large onion

coarsely chopped

2

carrots

peeled and coarsely chopped

3

celery sticks

coarsely chopped

1

bunch parsley
Instructions
Place chicken and/or bones into a large stockpot.

Add water, vinegar, onion, carrots and celery.

Let stand 30-60 minutes.

Bring to a boil and remove the scum that floats to the top. reduce heat, cover and simmer for 6 to 24 hours.

Remove bones and vegetables with a slotted spoon.

Strain broth through a fine mesh sieve.

Cool, and store in the freezer.
Nutrition Facts
Bone Broth
Amount Per Serving
Calories 40
% Daily Value*
Sodium 125mg 5%
Potassium 287mg 8%
Total Carbohydrates 8g 3%
Protein 1g 2%
* Percent Daily Values are based on a 2000 calorie diet.