As an Amazon Associate I earn from qualifying purchases.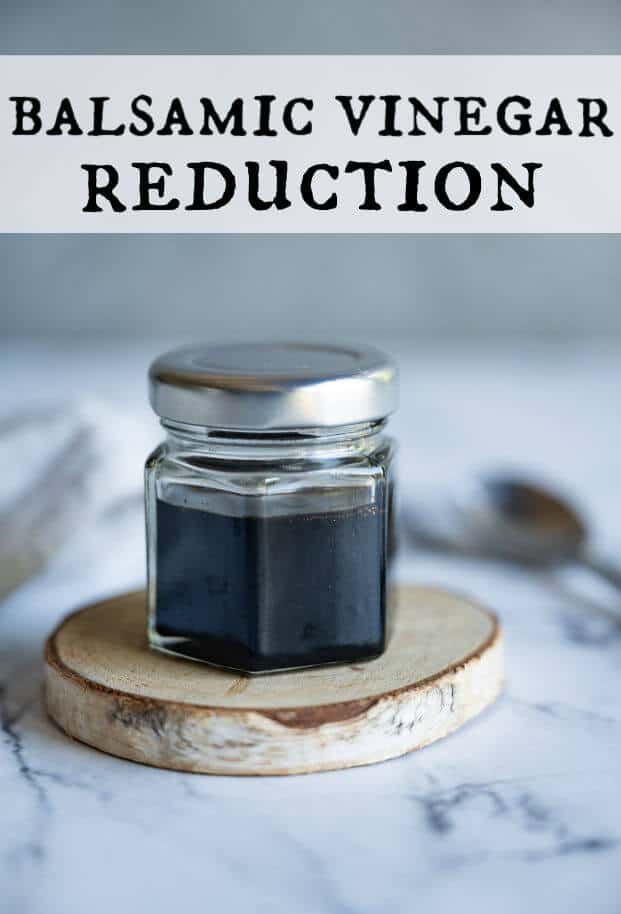 This balsamic reduction recipe takes one ingredient and just 15 minutes. Once it simmers down, it creates a sauce that loses the harshness of the vinegar, becoming deliciously tangy and sweet.
All you need is a drizzle over grilled veggies or meat to take your favorite dishes to a whole new level!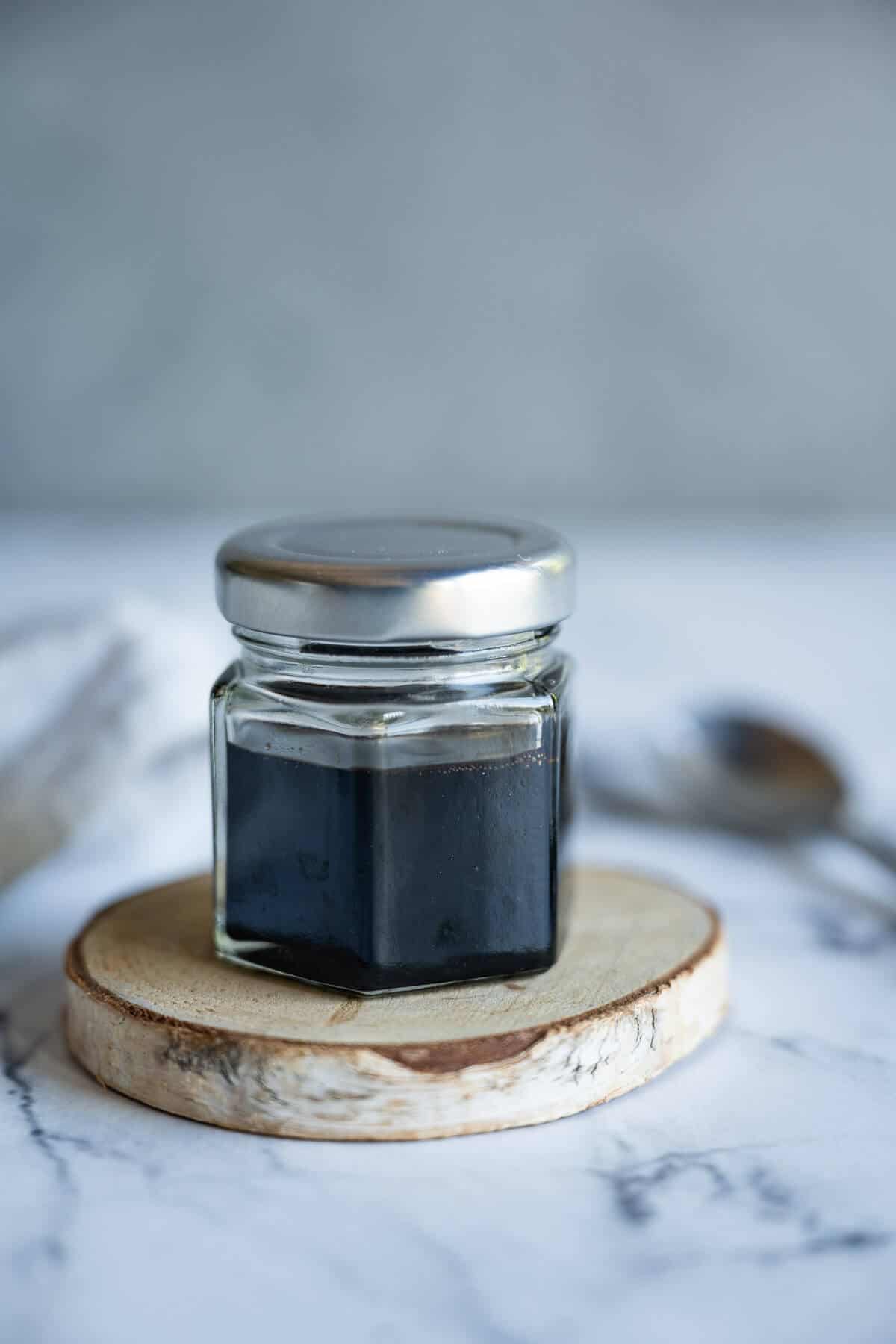 Jump to:
I love being able to make sauces and condiments in my own kitchen. Everything from Barbeque sauce to Pumpkin Puree to Blueberry Balsamic Dressing.
Making your own balsamic reduction is so easy, there's just no point in running out to the store for it instead.
Reducing the vinegar brings out its sweetness and intensifies the flavor.
Using any balsamic vinegar you have on hand, you can create a rich, flavorful glaze to use in any number of dishes.
If you love Mediterranean food, then this recipe is a can't-miss! Plus, it lasts for months in the fridge.
Learn how to make a balsamic reduction right at home with this recipe that's almost too easy!
Key Ingredients
Balsamic Vinegar - Dark in color and strong in taste, this Italian vinegar is a staple of Mediterranean cooking. It's sweet and aromatic, and has a fruitiness that differs per brand.

Optional Sweetener - If you want a touch more sweetness, you can add this. See the Expert Tips for options and measurements.
How to Make Balsamic Reduction
This is an overview of the instructions, be sure to see the recipe card for all the details.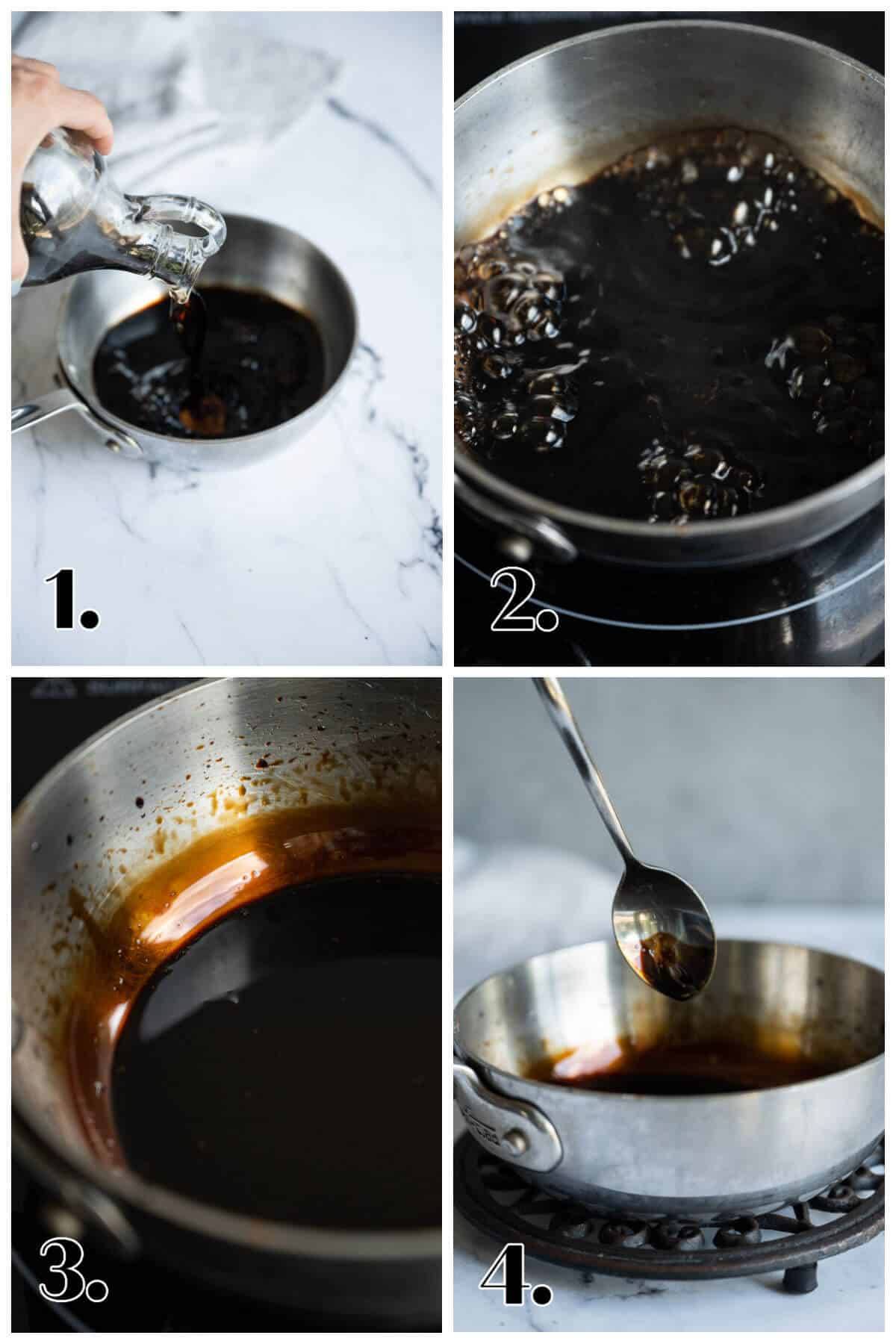 Add vinegar

to a small sauce pan.

Over medium heat,

bring to a boil

.

Reduce the heat slightly and allow the vinegar to

simmer until it's reduced by half

. In the image above, you can see the original marking line of where it started and how it's reduced.

It's finished when it's reduced by half and the

glaze will coat a spoon.
Expert Tips
The sauce will thicken as it cools. If it hardens too much after cooling, re-warm it to your desired consistency. You can do that on the stove or a few seconds in the microwave. Add a tablespoon of water if it's still too thick.

You get what you pay for- typically a higher quality vinegar tastes better. That being said, I've done this with Aldi brand vinegars and higher end ones and it has always tasted great.

Sweeten the glaze - For a sweeter glaze, add honey, brown sugar, maple syrup, or white sugar. You can also opt for a Stevia-based sweetener, such as Swerve or Truvia. Add at the same time as the vinegar.

Flavor the glaze- You can add fruit juice or extracts for optional flavors. I use a Pomagranate balsamic reduction in my Brussels Sprouts Recipe and it's amazing!

Sweetener Measurements
Everyone's tastes are different, so it depends on how sweet you like it. If using sugar, or any other natural sugars, start with a tablespoon.
If you're using a stevia-based sweetener, check a conversion chart. There are so many out there that have different levels of sweet it's hard to tell you how much to use. If you're using a straight stevia powder, start with 1/32 of a teaspoon.
Truvia is typically twice as sweet as sugar. Swerve sweeteners are equal amounts to sugar. Straight-up stevia is in its own category. Don't be afraid to just experiment. I love the Trim Healthy Mama Stevia powder because there is no bitter aftertaste.
Why This Recipe Works
Quick & easy-only 1 ingredient and 15 minutes.
Incredibly versatile- perfect on meat, veggies, even ice cream! Loads of flavor options if you want to get creative.
Keeps well for months.
Frequently Asked Questions
What do you use a balsamic reduction for?
Almost anything you can think of. Commonly, it is used in sauces or as a glaze for vegetables. It's also delicious to simply drizzle over proteins, veggies, and fruit. It is particularly prevalent in Mediterranean dishes.

Is balsamic vinegar the same as balsamic reduction?

No. While the reduction is made from vinegar, they have a different taste and texture. Reducing the vinegar intensifies the flavor and thickens the consistency, making it a lovely glaze for protein, vegetables, fruit and more.
Why won't my balsamic vinegar reduce?
The vinegar won't thicken immediately! Reduce to ½ or ⅓ cup and then allow to cool. It will continue to thicken as it cools.

Don't cook for too long because you're worried that it isn't reducing. Let it cool after 15 minutes as per the recipe — you can always cook it down a bit further if you're unhappy with the thickness.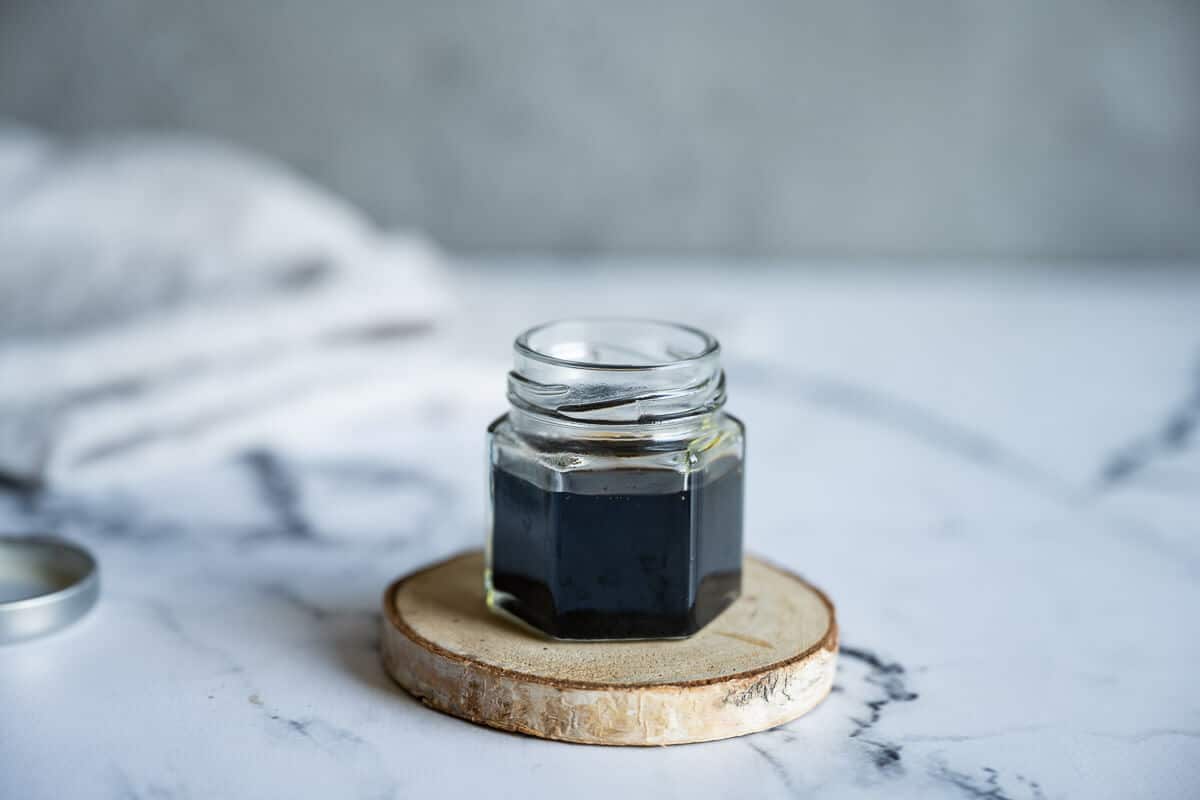 Ways to use Balsamic Glaze
I've already mentioned that this is good on practically everything, but here are a few recipes I use it on, or it would be a nice addition to:
Storing and Freezing
Stored in an airtight container, homemade balsamic reduction should keep in the refrigerator for up to 3 months. It's great to prepare in large quantities! Unlike store-bought versions, this one definitely needs to remain refrigerated until used.

Frozen, it will last for several months. When you're ready to use it, transfer to the refrigerator to thaw.

If you have one handy, it can be incredibly useful to store in a squeeze bottle. As someone who makes a ton of homemade condiments, this is a game changer for me.
You May Also Like
Please share
Your shares are how this site grows, and I appreciate each one. Do you know someone who would enjoy this recipe?

I'd love it if you shared it on your favorite Pinterest board or Facebook! AND…if you like this recipe, please do me a favor and give it a ⭐️ ⭐️ ⭐️ ⭐️ ⭐️ rating! TIA 🥰

You can also follow along on YouTube and Instagram!
📋 Recipe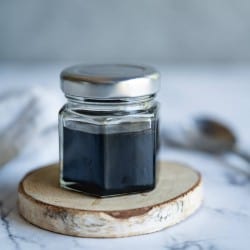 Balsamic Reduction Recipe
This balsamic reduction recipe takes one ingredient and just 15 minutes. Once it simmers down, it creates a sauce that loses the harshness of the vinegar, becoming deliciously tangy and sweet. All you need is a drizzle over grilled veggies or meat to take your favorite dishes to a whole new level!
Print
Pin
Rate
Instructions
In a small saucepan over medium high heat, bring the vinegar to a boil.

Reduce the heat to a simmer. Allow the vinegar to simmer until reduced by half (about 10-15 minutes).
Notes
High-quality vinegar is not necessary! Use your favorite brand.
Reduce to either ½ cup or ⅓ cup, depending on how thick you like it.
The glaze will thicken upon cooling.
Sweetener is optional.
If your reduction hardens too much after cooling, gently reheat it over low heat with a little bit of water.
Nutrition
HUNGRY FOR MORE? Subscribe to my newsletter to have recipes delivered to your inbox and to stay up to date on the latest!