As an Amazon Associate I earn from qualifying purchases.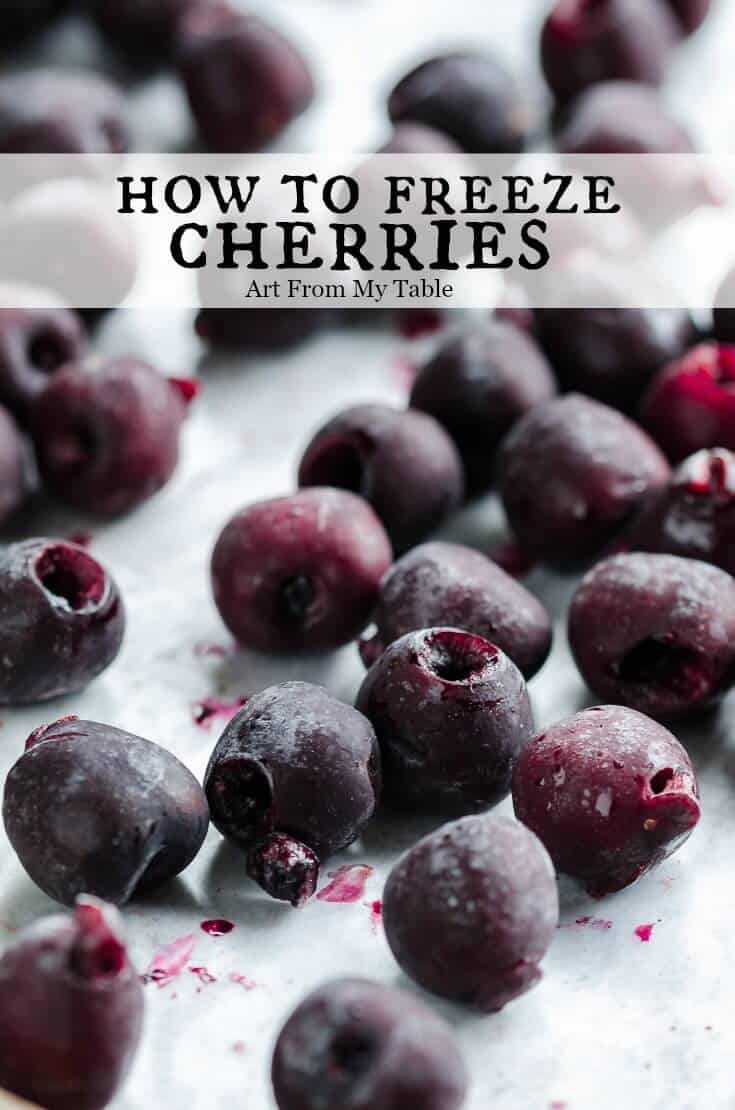 Experience the glorious taste of fresh cherries all year long. Today we're talking all about how to freeze cherries and what to do with them! Read on for all the tips.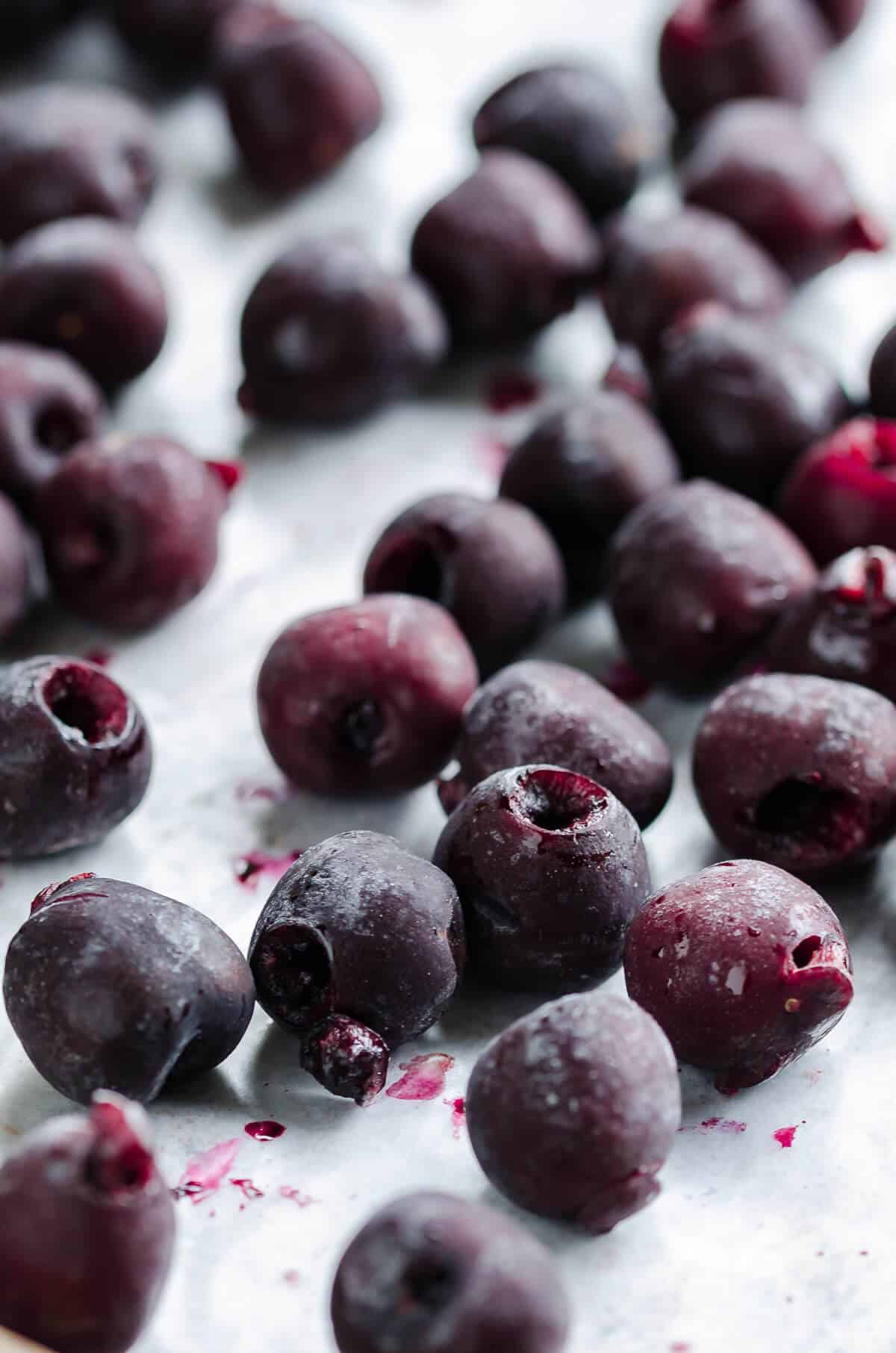 It's cherry season! We're eating them like they're going out of style... because they are. It's such a short season. Yes, we can still get them from the grocery store, but fresh picked is our first choice.
We love to load up and then freeze them for savoring all year long. We have so many favorite fruits to freeze! Check out how to freeze strawberries here, How to Freeze Rhubarb, How to Freeze Blueberries, and you might want to see my hacks on freezing peaches too!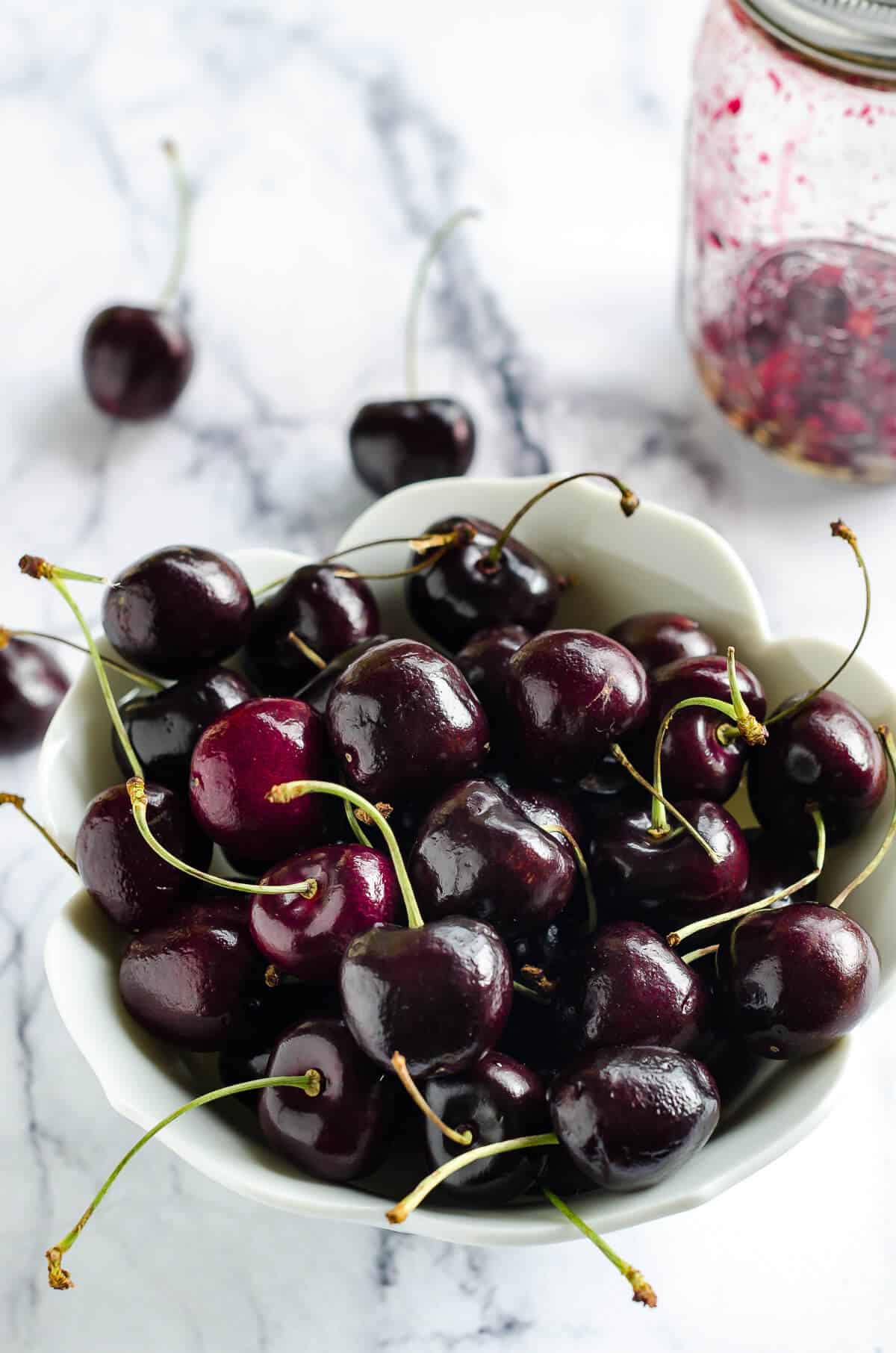 How long do cherries last after you pick them?
A couple years ago, we went cherry picking for fun. I had no idea what great pickers I had with me. We had over 60 pounds!
Cherries stay fresh in your refrigerator about 4-10 days.
Frozen cherries will stay good for up to 6 months in your freezer, or a year in a deep freeze.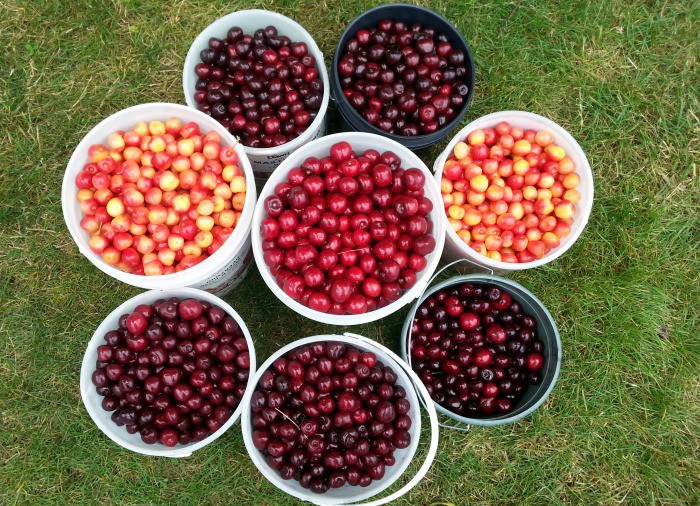 Even with as quickly as these (and all the other foods) go in our house, there was no way we were going to eat over 60 pounds in a week. That's why I needed to learn how to freeze cherries. And, so we could taste summer all year. ????

Are cherries good for you?
Turns out, they are! Here are a few benefits
contain powerful antioxidants
cancer preventative compounds ~ cherries have fiber, vitamin C, carotenoids and anthocyanins which may help play a role in preventing cancer
Reduces inflammation
Contains melatonin, which helps you sleep.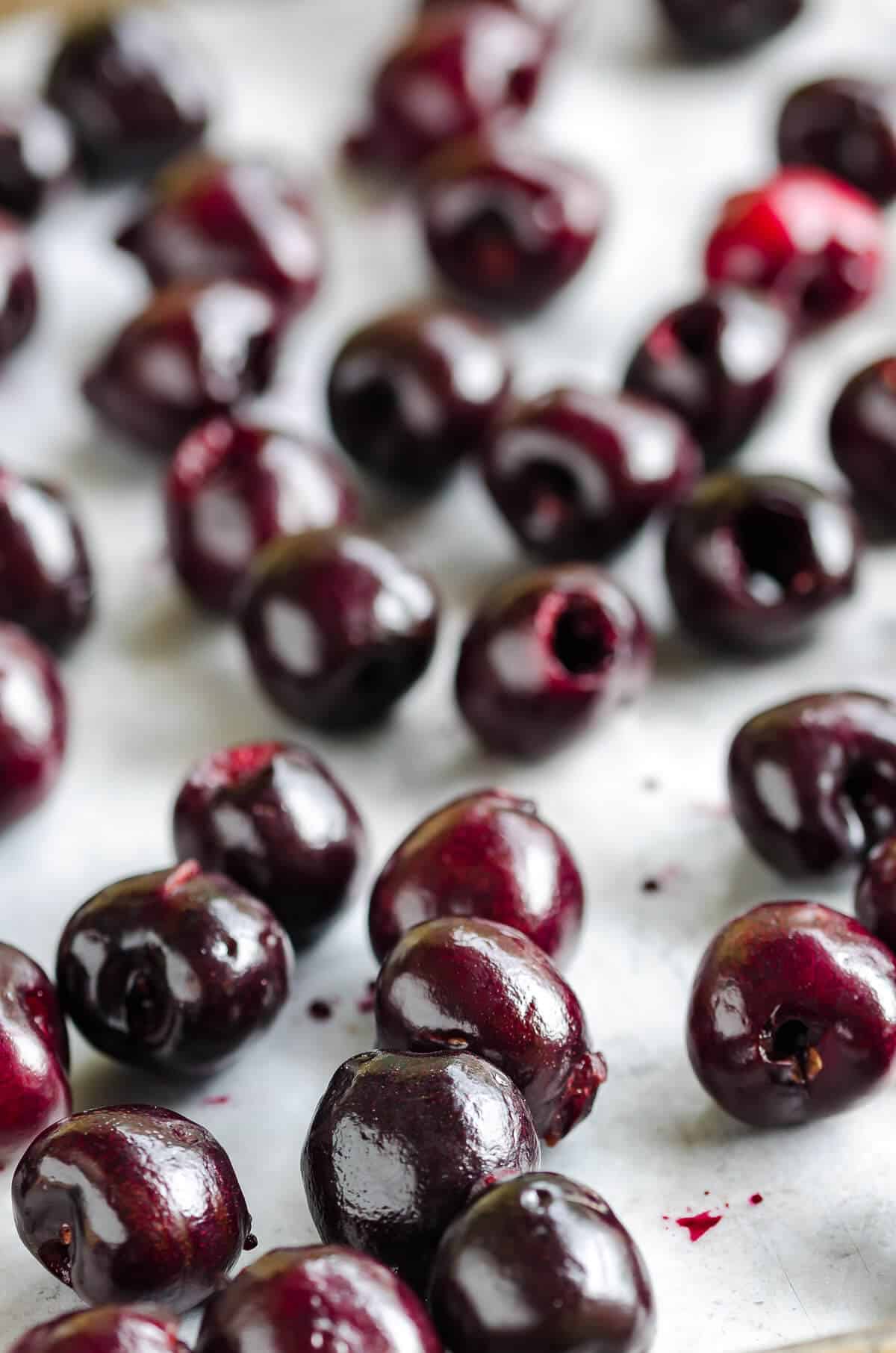 All that's great, but I just love how they taste and all the recipes I can make with them.
Freezing cherries is really quite easy.
How to freeze cherries
Step one: Wash the cherries and pat them dry completely.
Step two: Remove the stems, and pit the cherries (more on this below).
Step three: Spread the cherries out on a rimmed baking sheet lined with wax paper. The wax paper will prevent them from sticking, so make sure you use it. Also, leave space between the cherries, you don't want them touching each other.
Step four: Place the pan in the freezer until cherries are completely frozen. This can take a few hours, but I recommend overnight. Once they are frozen, transfer them to an airtight bag or container, and label it. Store in the freezer.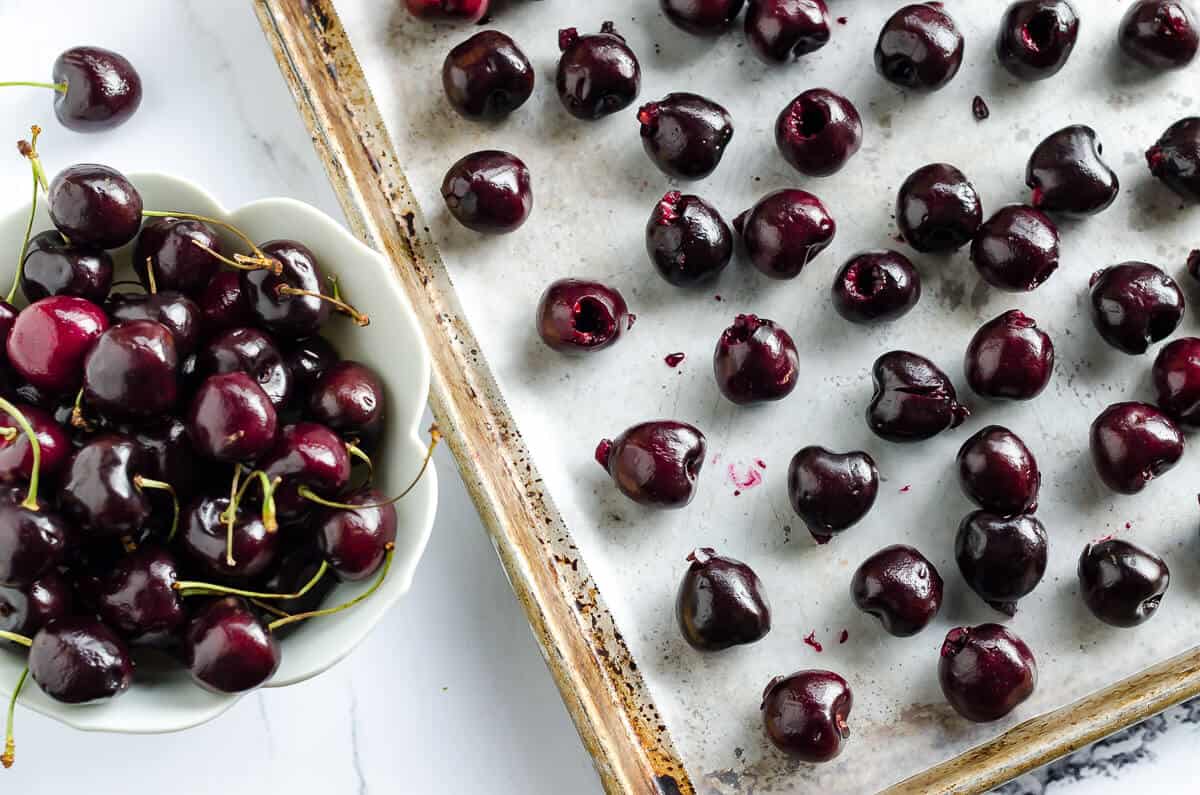 So, easy peasy, right? The most time consuming part is the pitting part, but you've got options.
How to pit cherries
Many people ask if you have to pit the cherries before you freeze them. My opinion is YES. If you wait until afterwards, they'll need to thaw and you'll have an even messier job.
It is a bit of a messy job, but someone's got to do it. ????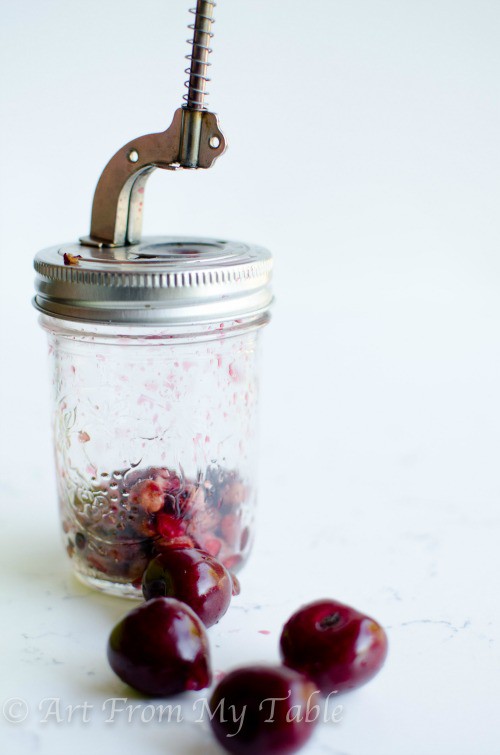 I would highly recommend a cherry pitter, in my opinion, it's the easiest way. At the bottom of this post, I'll link a couple different ones, if you'd like to invest.
If don't have one, and don't want one, you can use a tweezer or an unbent paperclip. Push it into the center of the cherry, and pull the pit out. A chopstick works too, or you can slice the cherry in half and take the pit out.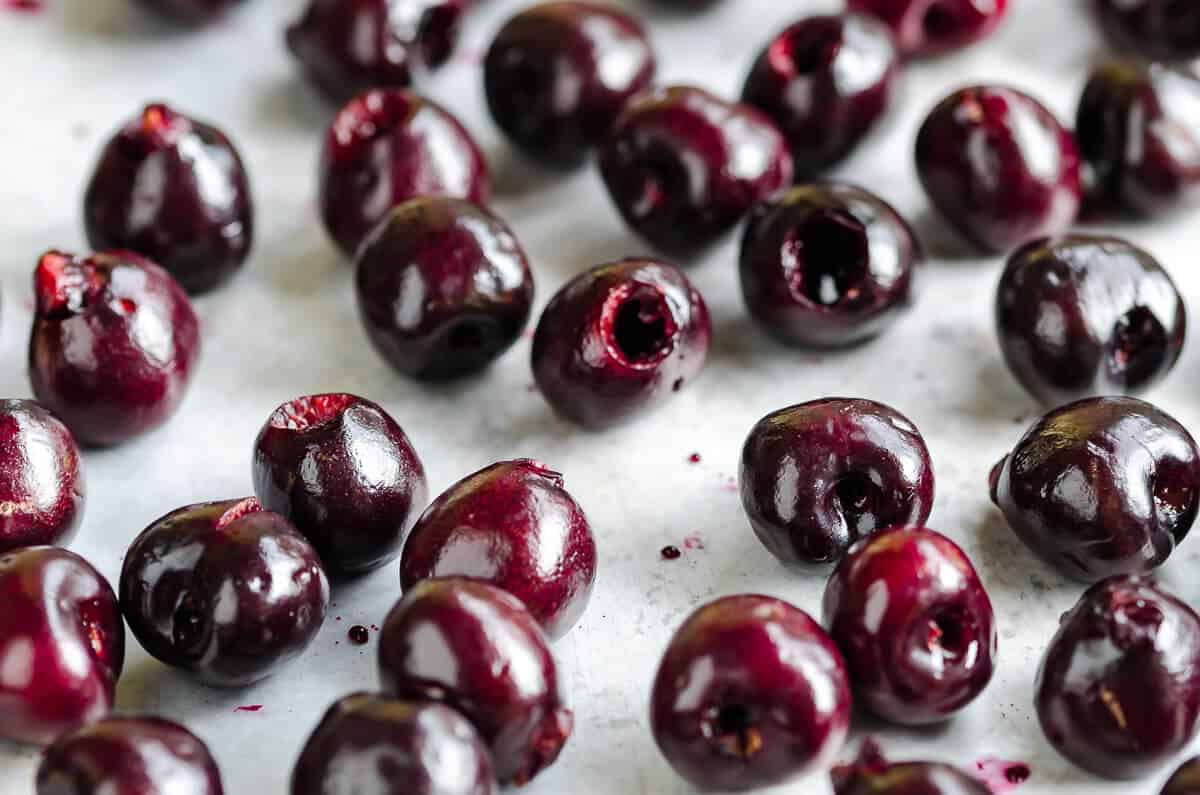 Notes about freezing cherries
It's all pretty simple, but here are some pro tips~
Start with ripe cherries.
Go big! The biggest cherries and boldest in color are the sweetest and juiciest. Varieties like bing should be dark red, Rainier cherries are bright yellow with a little light red color going through them.
Throw out any that are bruised.
Give them space. When placing them on the baking sheet to freeze, you don't want them to touch, that will just result in them all sticking together in one big clump. Put them in a single layer. This will help them freeze more evenly as well.
Wax paper. The cherries will stick to the pan if you don't use wax paper.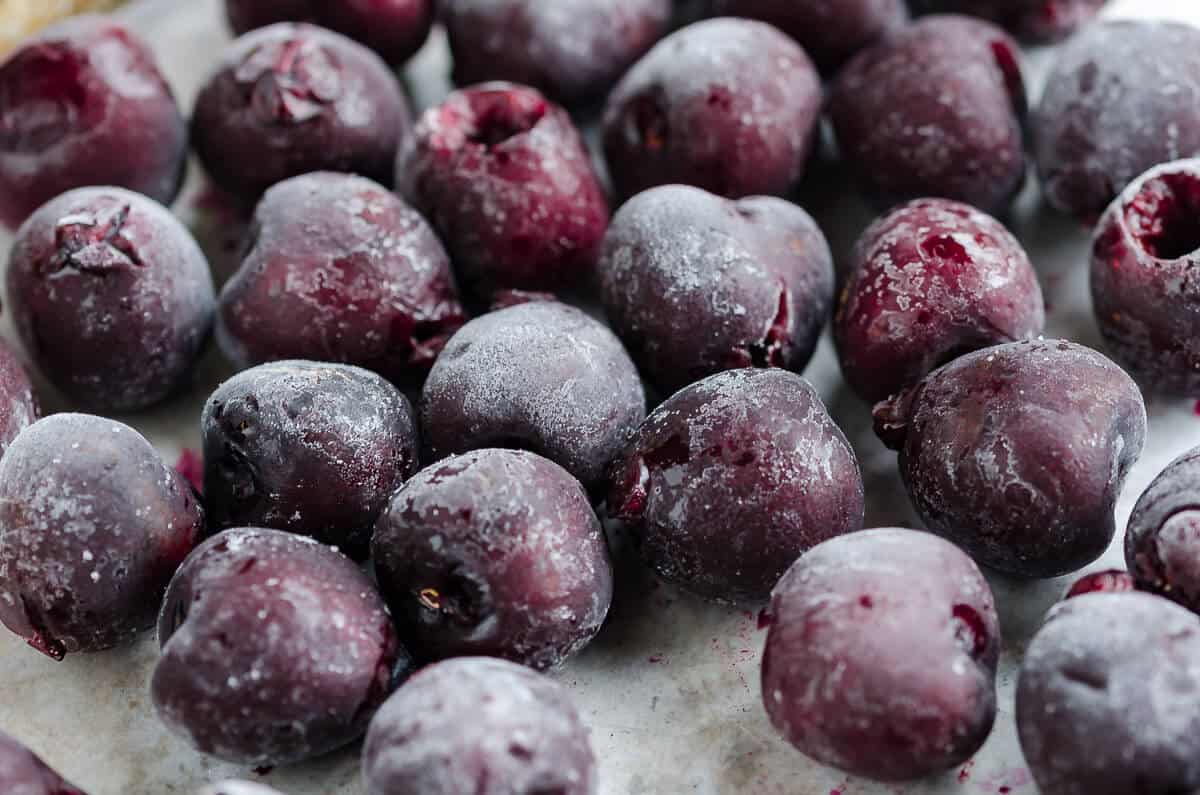 Now for the best part...
Recipes for frozen cherries
Now that we have all this deliciousness in our freezer, which recipe should we make first? There are a plethora out there, but here are a few of my favorites:
Just eat'em! yep, straight from the freezer. For fun, you could also stick a few on a wooden skewer before you freeze them, then freeze, and then just enjoy.
Black Cherry Breakfast Cake. Yes, cake for breakfast and it's guilt free, try it!
Chocolate Covered Cherry Smoothie. This just might be my favorite way to use them. And it's also good for you, so YAY!
What are your favorite recipes for cherries?
You might want to keep some fresh to make this Cherry Salsa which pairs perfectly with these Grilled Pork Chops.
I would love to connect with you! Leave me a comment and follow me on Facebook, Twitter, Instagram and Pinterest.
📋 Recipe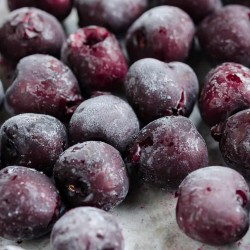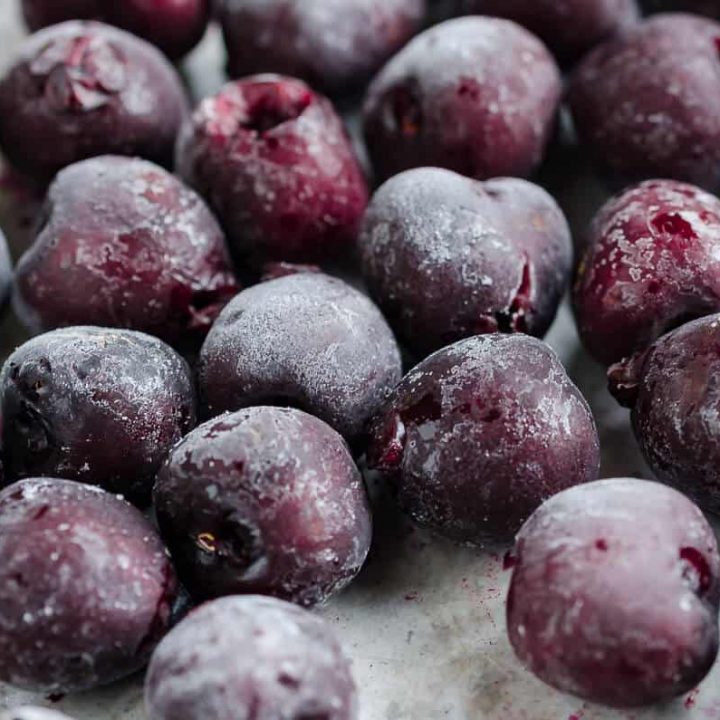 How To Freeze Cherries
The best way to freeze cherries and recipes to use them in.
Print
Pin
Rate
Instructions
Place pitted cherries on a baking sheet lined with wax paper.

Place in the freezer until frozen completely, about 1 day.

Place in resealable bags or airtight container. Store for 6 months in the freezer, or up to one year in a deep freeze.
Nutrition
Calories:
71
kcal
|
Carbohydrates:
18
g
|
Protein:
1
g
|
Potassium:
251
mg
|
Fiber:
2
g
|
Sugar:
14
g
|
Vitamin A:
75
IU
|
Vitamin C:
7.9
mg
|
Calcium:
15
mg
|
Iron:
0.4
mg
Here's some great cherry pitters
The following are affiliate links. We are a participant in the Amazon Services LLC Associates Program, an affiliate advertising program designed to provide a means for us to earn fees by linking to Amazon.com and affiliated sites.
Thanks so much for being a part of Art From My Table!