This will be the Best Roast Turkey Recipe you ever eat! Crisp and golden on the outside, infused with citrus butter and herbs, perfectly juicy and moist on the inside. Here I'm sharing my 3 secrets to perfect roast turkey every time.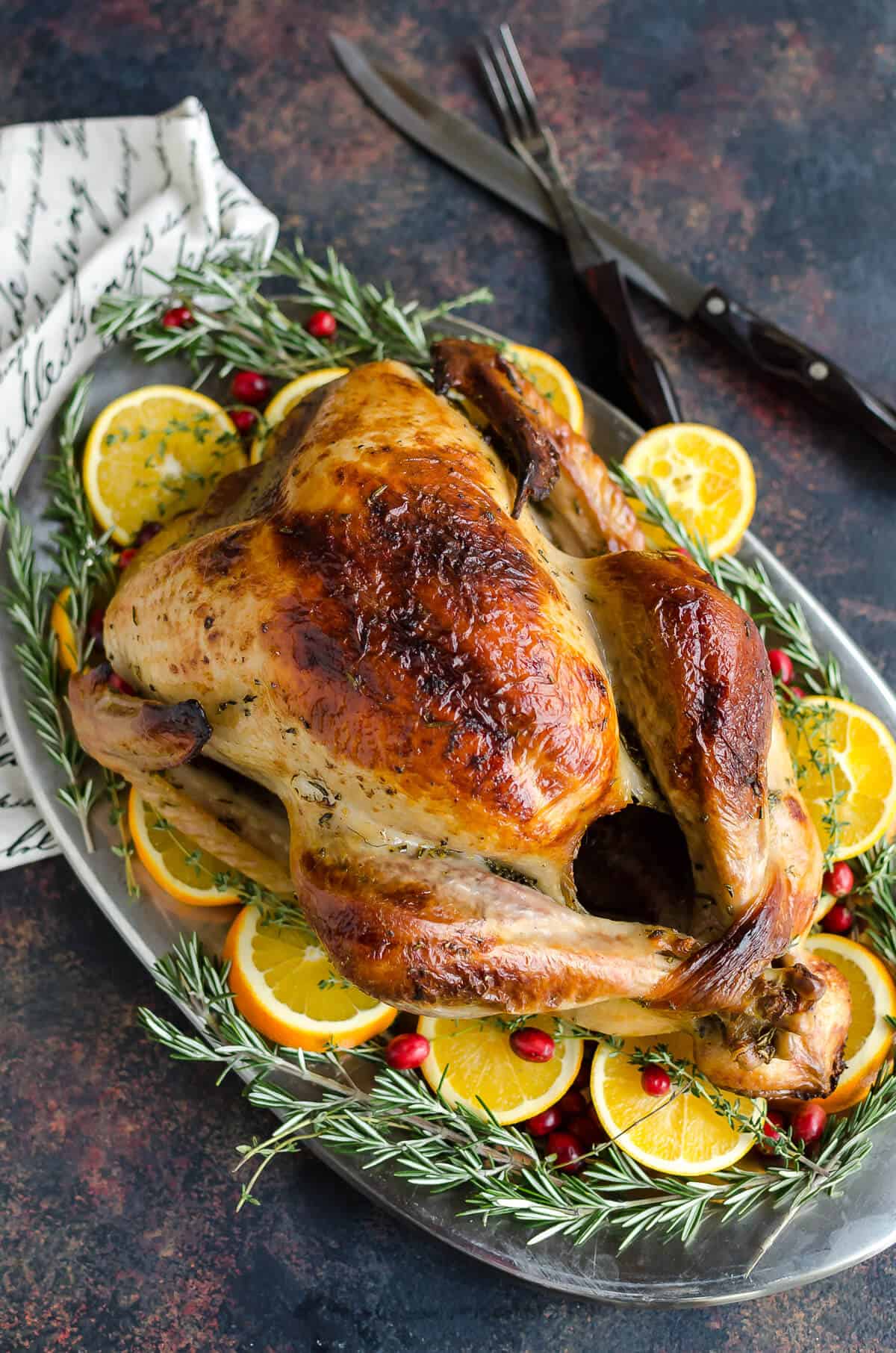 This post may contain affiliate links which won't change your price but will share some commission.
You guys! I finally have a turkey recipe up! Do you know I photographed my turkey's the last 3 years and was never really satisfied with the image? Truth be told, I'm not thrilled with this one either, but, I couldn't hold back any longer.
You need these secrets for the best roast turkey recipe. Warning: you may win the honor of making the turkey every year with this recipe. 😉

This will go perfectly with all your favorite side dishes, (cuz it's all about the sides, am I right?) such as cranberry sauce, green bean casserole (from scratch! no cream soup), and my personal favorite this squash apple cranberry bake.
Best Roast Turkey Recipe
So what's the secret? Well, there are a few proven ways to a perfect turkey. If you use all three, it's the ultimate recipe. But if that's too much work for you, then use Secret #3. It's THE most important one.
Secret #1 for Best Roast Turkey Recipe
Buy a fresh turkey!
Fresh is best. That's what they say, and I think it's true. We have a local Turkey farm that we have been getting our turkey's from for the last several years.

You need to check with your farm on their practices but here's what we love about buying fresh particularly from Otto's:
naturally grown
open air, free range barns
Non-GMO feed is grown, mixed and milled at the farm
anti-biotic free
hormone free
This all makes for high quality meat.
Secret #2 for the Best Roast Turkey Recipe
It's all about the brine!
To brine or not to brine? How do you know? What's the best recipe? I've got you covered.
only brine fresh turkeys
never brine a frozen turkey.
Here's why: Frozen turkeys are injected with a salt solution to help preserve it. This is pretty much brining, except there may be other ingredients in there that you may not be fond of. If you brine that frozen turkey, it will result in a too salty turkey.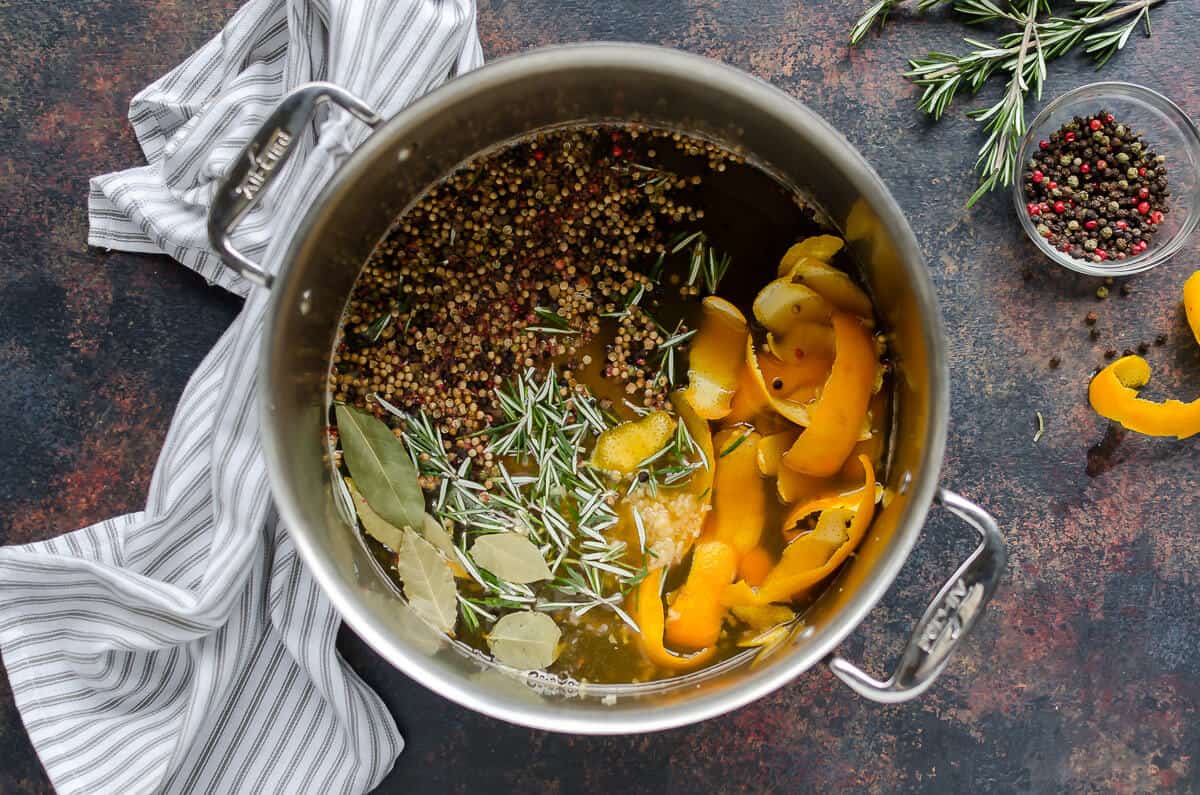 Why brine?
Well, think of brining as your insurance. If you're concerned your turkey might be dry, brining will keep it juicy and moist, even if you overcook it a bit. BUT– you won't overcook it due to Secret #3.
But back to the brine. During brining, the turkey absorbs extra moisture that keeps it moist during and after cooking. And, since it also absorbs the salt, it gets seasoned from the inside out.
It may seem like a big extra step, but I promise you, it's worth it! And once you get the hang of it, it's no big deal. Trust me on this. Last week, I cooked 3, yes, count them, THREE turkeys in preparation for my live cooking show on Facebook.
You can watch it here!
It's an hour long show, so grab a cup of tea or coffee and hang out. Or, just skip through for the highlights.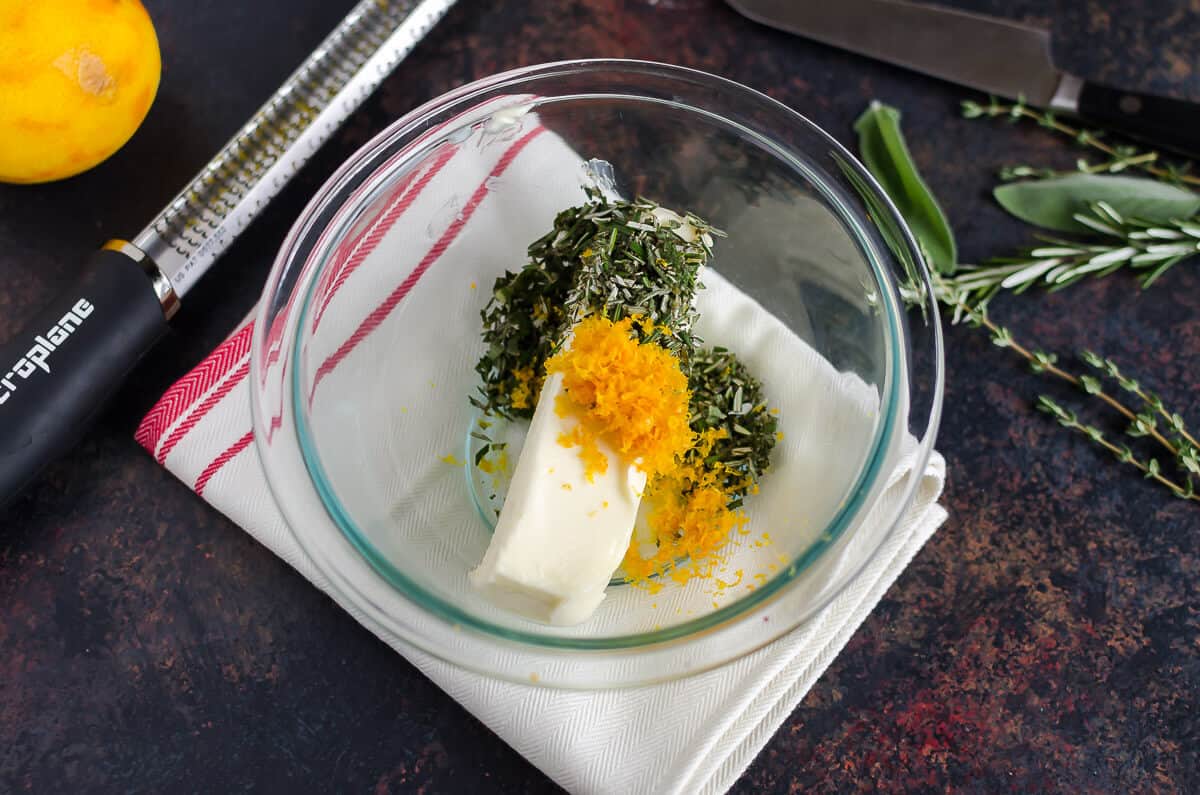 mmmm…. buttah!
The biggest challenge is finding space in your fridge to store it for the 16-18 hours. 🙂 This is one of the times I can be thankful for our cooler climate this time of year. Our garage was at about 39 degrees. So we plop our turkey in a brining bag in a bucket and let it do it's thang.
Secret #3 for the best Roast Turkey Recipe
This is the one you've been waiting for right? If you're going to skip #1 and #2, this is your guarantee.
And stick it in the breast, kind of at an angle, on the side. I know, you've heard it has to go into the thigh. Our oven came with a built in thermometer, and it's instructions say to stick the probe into the breast.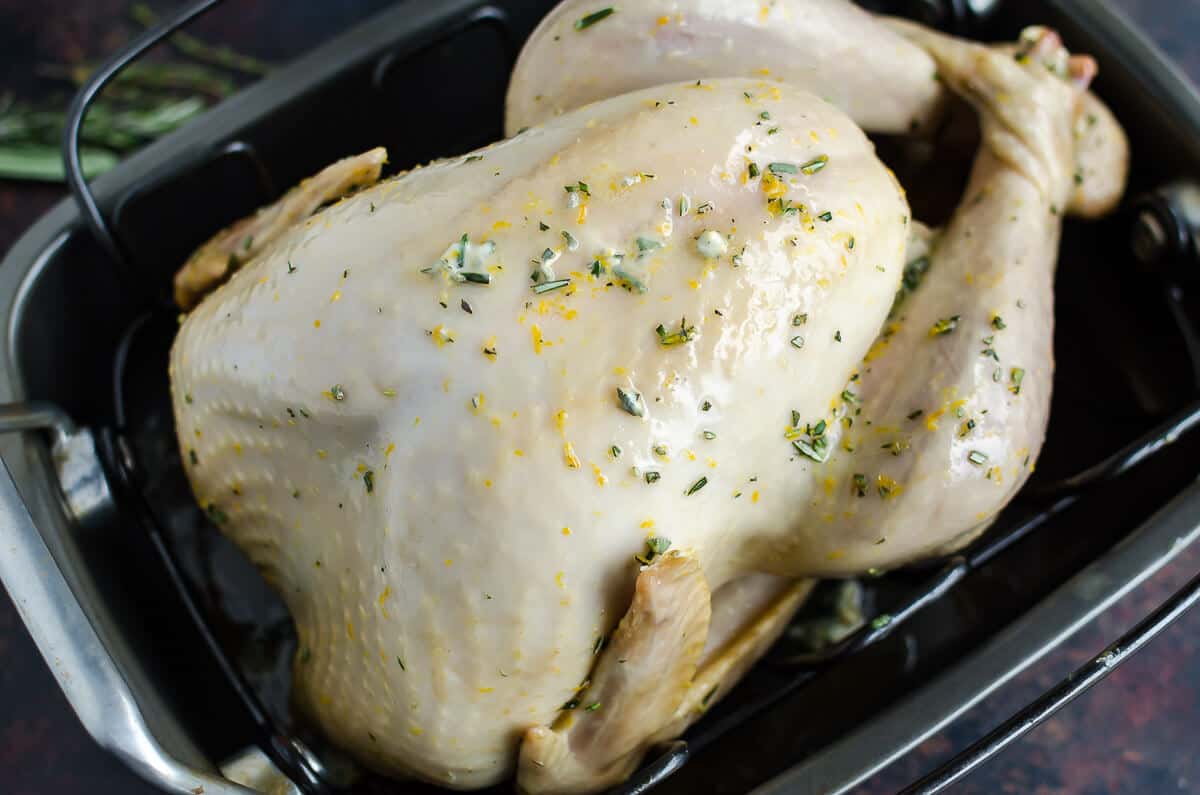 Trust me. We've had a perfect Turkey every. single. time.
Every year, we think– No way, it's done already? The thermeter says '165', which is the temp you're going for. I think the #1 mistake people make when it comes to turkey is overcooking it.
So, we've trusted the thermometer, and it has served us well.
Notes for Best Roast Turkey Recipe
Aside from what's above, here's a few bonus points.
Make sure you brine for 16-18 hours
Use a roasting pan with a rack
You'll do 2 stages of cooking. The first will be 10 minutes per pound (see recipe card for details)
The second stage will be with your trusty thermometer. For us the timing has turned out to be another 3-5 minutes per pound. Just so you can gauge for serving time.
Let the turkey rest, loosely covered when it's finished, for about 15 minutes before you carve it.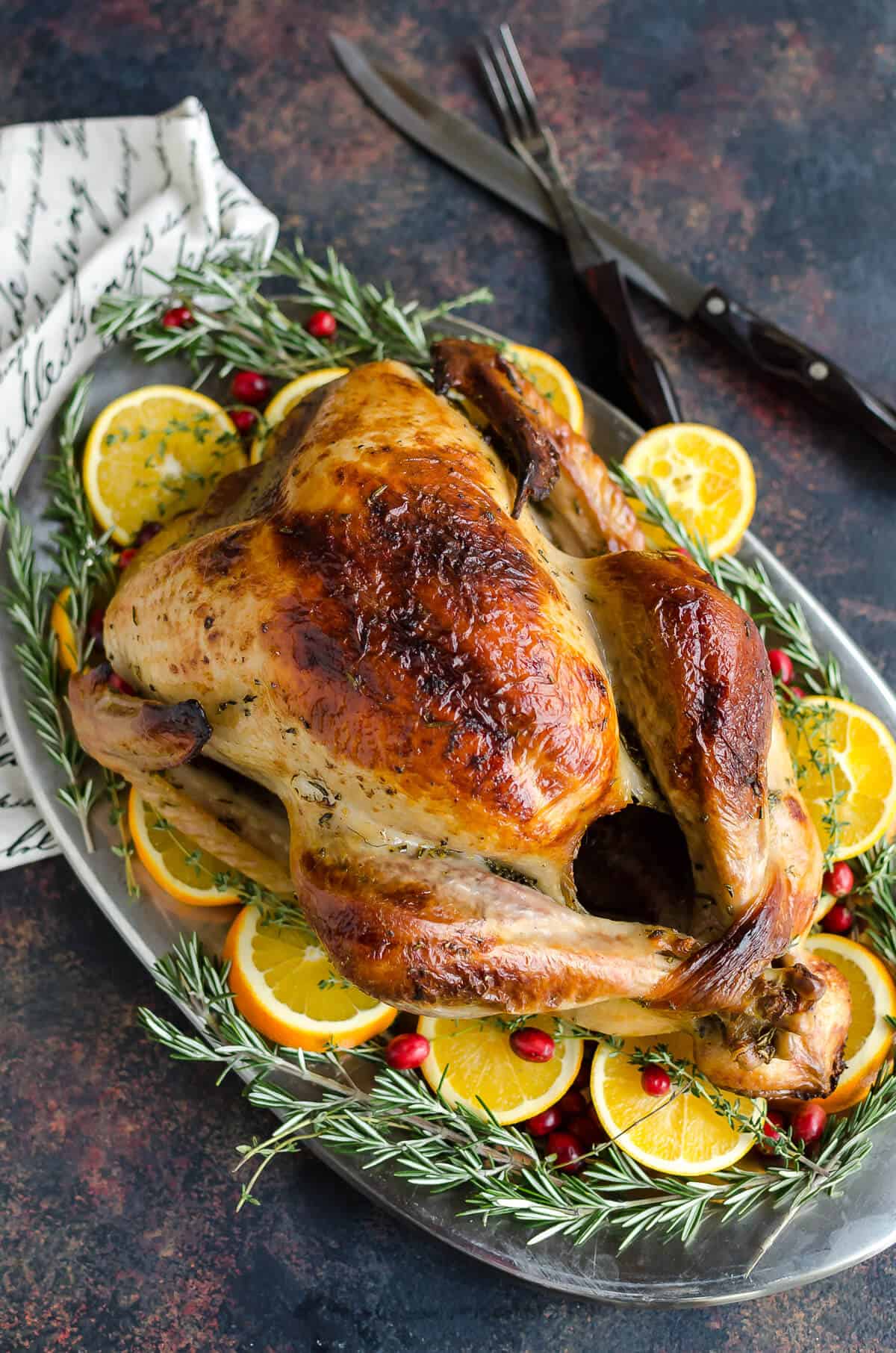 This recipe was adapted from The Pioneer Woman. (my hero, the one I'd love to meet someday)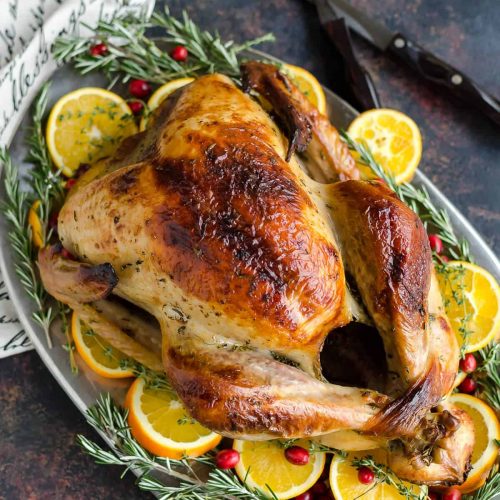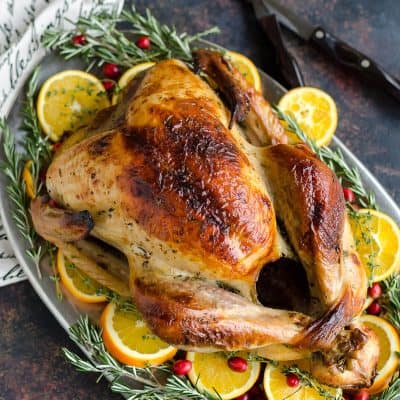 Perfect Roasted Turkey
This will be the Best Roast Turkey Recipe you ever eat! Crisp and golden on the outside, infused with citrus butter and herbs, perfectly juicy and moist on the inside. Here I'm sharing my 3 secrets to perfect roast turkey every time.
Print
Pin
Rate
Total Time:
4
hours
15
minutes
Ingredients
Turkey Brine
3

cups

apple cider

2

gallons

of water

1 1/2

cups

fine sea salt

2

cups

honey

or brown sugar

4

fresh rosemary sprigs

3

oranges

5

garlic cloves

pressed or minced

3

tablespoons

tri color peppercorns

5

bay leaves

1

18 lb

turkey
Roasted Turkey
1

18 lb

brined turkey

zest of 1 orange

1

stick butter

softened

2

fresh rosemary springs

leaves removed and finely minced

3

leaves

fresh sage

finely chopped

3

sprigs

fresh thyme

leaves removed, finely chopped
Instructions
For the brine
Remove the rosemary leaves off the sprigs. Peel the oranges being careful not to get the pith. A vegetable peeler works great.

Combine apple cider, water, salt, honey, rosemary leaves, orange peels, garlic, peppercorns and bay leaves in a large pot. Bring to a boil. Allow it to cool and immerse the turkey into it. Store it in the fridge. Brine for 16-18 hours.

After the brining process, rinse the turkey very well under cold water.
For the turkey
Heat the oven to 275.

Place the turkey breast side up on a rack in a roasting pan.

Cover completely with heavy duty aluminum foil. Roast the turkey for 10 minutes per pound.

While the turkey is roasting, combine the butter, orange zest, and rosemary leaves and mix well so all is combined.

After the first stage of roasting, remove the turkey from the oven, remove the foil and rub the butter mixture all over the skin.

Raise the temperature of the oven to 350.

Insert an oven proof meat thermometer into the side of the breast of the turkey.

Return the turkey to the oven, uncovered.

Baste with the juices every 30 minutes until the internal temperature has reached 165 degrees and the skin is golden brown.

Remove from the oven, tent with foil and let rest 15 minutes before serving.
Notes
If you don't have a pot big enough for all the liquid in the brine, start with just 1 gallon of water. Once you've boiled and cooled it and you can add the rest of the water.
The prep time doesn't include the brining time, which is 16-18 hours. The cook time will vary depending upon the weight of your turkey. An oven thermometer is KEY.
Nutrition
Calories:
13
kcal
|
Carbohydrates:
3
g
|
Sodium:
1
mg
|
Potassium:
58
mg
|
Fiber:
1
g
|
Vitamin A:
55
IU
|
Vitamin C:
0.6
mg
|
Calcium:
22
mg
|
Iron:
0.5
mg
Enjoy your your best roast turkey recipe ever! 🙂
XOXO,
Chellie