Want comfort food at it's best? This Butternut Squash Soup is velvety smooth and all the flavor of fall! It's all comfort, but low on calories.  Gluten free, dairy free and nothing but YUM!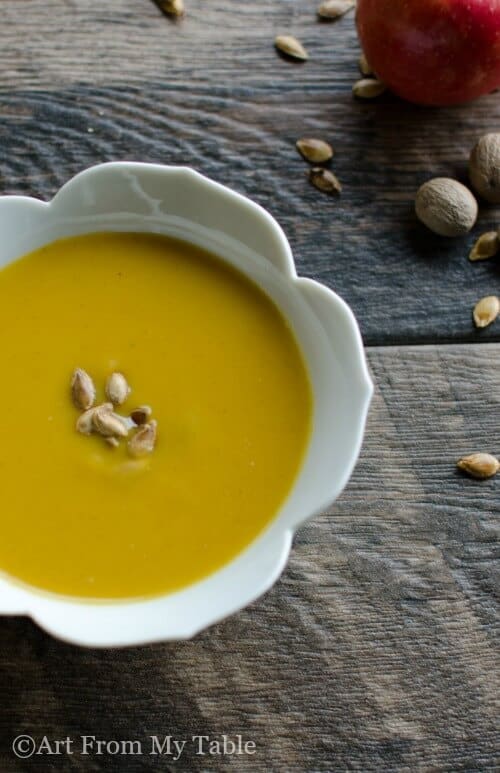 Butternut Squash Soup
Next to pumpkin,
butternut squash
 might be my favorite vegetable in the fall.  We roast it, like in this
Squash, Cranberry Apple bake
, eat it on salads, eat it as a side,
make pasta sauce
, add it to a braised meat… so many possibilities with this autumn vegetable!
I've made butternut squash soup a few times this year, trying to find exactly the right recipe.  And I finally nailed it!  Most recipes have you peel and chop the squash, but I roast mine, it's much easier, and gives it a great flavor.
Food & Friends
Soup is just so comforting, and we do eat this several times throughout the fall and winter served with a big hunk of bread and a colorful salad. But I have to say, my favorite memory that is attached to butternut squash soup was our girls night in. Every time I eat it, I think of them.
Unfortunately the only pictures I have of that night were on my phone and for some reason I couldn't get them to load on my computer.  Technology!  Ugh!  Anyway, we decorated the table all beautiful and christmasy.
We had this soup along with
white bean soup
, fresh salad, and soft yummy rolls.  But the best part? The company.  I've known these 3 women for a lot of years now.  And I love how we all bring something different to the group.  We laugh, cry and vent.  We hug and pray.  These are extraordinary women and I am blessed to know them.  Someday I'll add a picture to this post!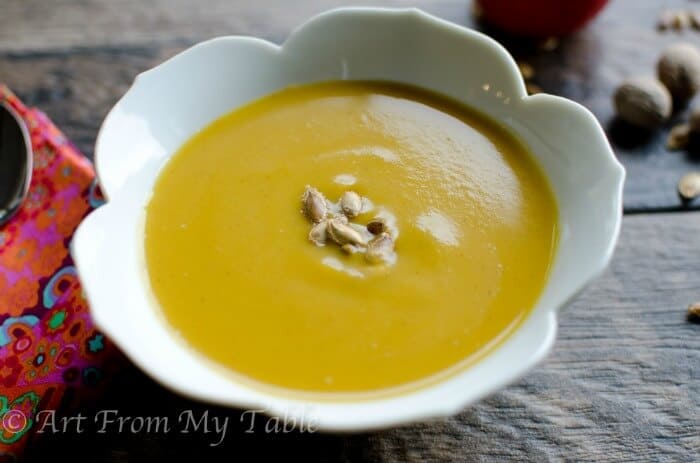 Take it easy
One of the things that makes this soup easy to prepare is roasting the squash, plus it adds a richer flavor!  I don't know if you've ever peeled a butternut squash, but it is no easy task!  Plus your hands get all dried out.  Anyone else experience this?
I mean, I'll do it, the effort is so worth the flavor of this tasty vegetable, but hey, if there's an easier way, I'll take it.  But, as I mentioned, roasting it not only makes it easier, it adds a whole other depth of flavor.
Apples and nutmeg also make this soup extraordinary.  Two more fall favorites.  Oh, there's just so many fall foods I love, how do I really choose a favorite?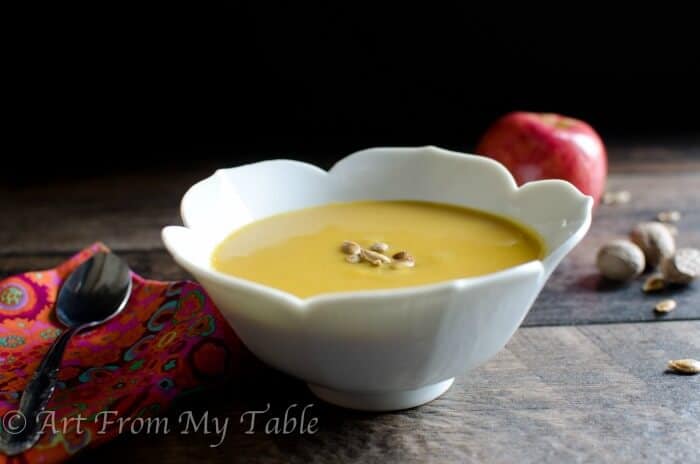 What about you?  What is your favorite fall food?  Let me know in the comments, I'd love to hear from you!!
Ingredients
2 tbs butter
2 medium butternut squash
2 large apples, peeled, chopped
1 large onion chopped
2 tbs brown sugar
3/4 tsp salt
3/4 tsp cinnamon
1/8 tsp pepper
3 cups chicken broth (or vegetable broth)
squash seeds (optional garnish)
nutmeg (optional garnish)
Instructions
Preheat oven to 375.
Cut the ends off of the squash, scoop out the seeds. I save the seeds and bake them and use them as a garnish.
Place them skin side down on a baking sheet.
Bake until fork tender, about 45 minutes to an hour.
Once the squash has cooled enough scoop out the flesh
In a med. sauce pan, saute' onions in a couple tablespoons of butter, until softened.
Add the squash, apples, broth, salt, cinnamon, pepper and squash.
Bring to a boil and simmer covered until apples are soft.
In batches, pour the soup into a blender, or food processor (I use my vitamix), and process until smooth.
Once it has all been pureed, return to a clean pot and heat until warmed.
Ladle into bowls and top with baked squash seeds and a dash of nutmeg.
https://www.artfrommytable.com/butternut-squash-soup/
 Looking for more fall flavor?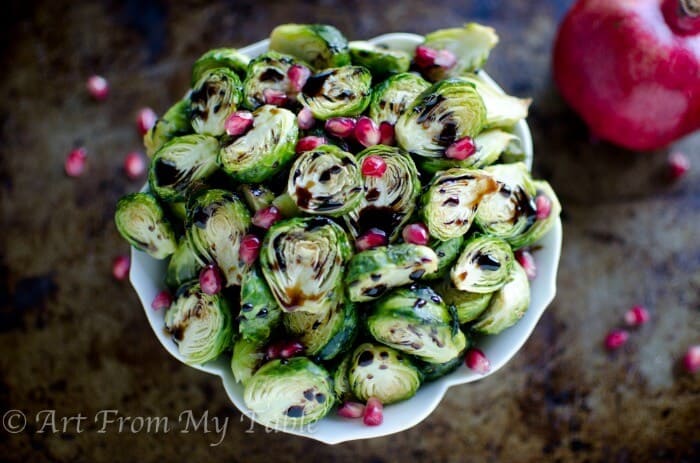 Roasted Brussels Sprouts with Balsamic-Pomegranate Glaze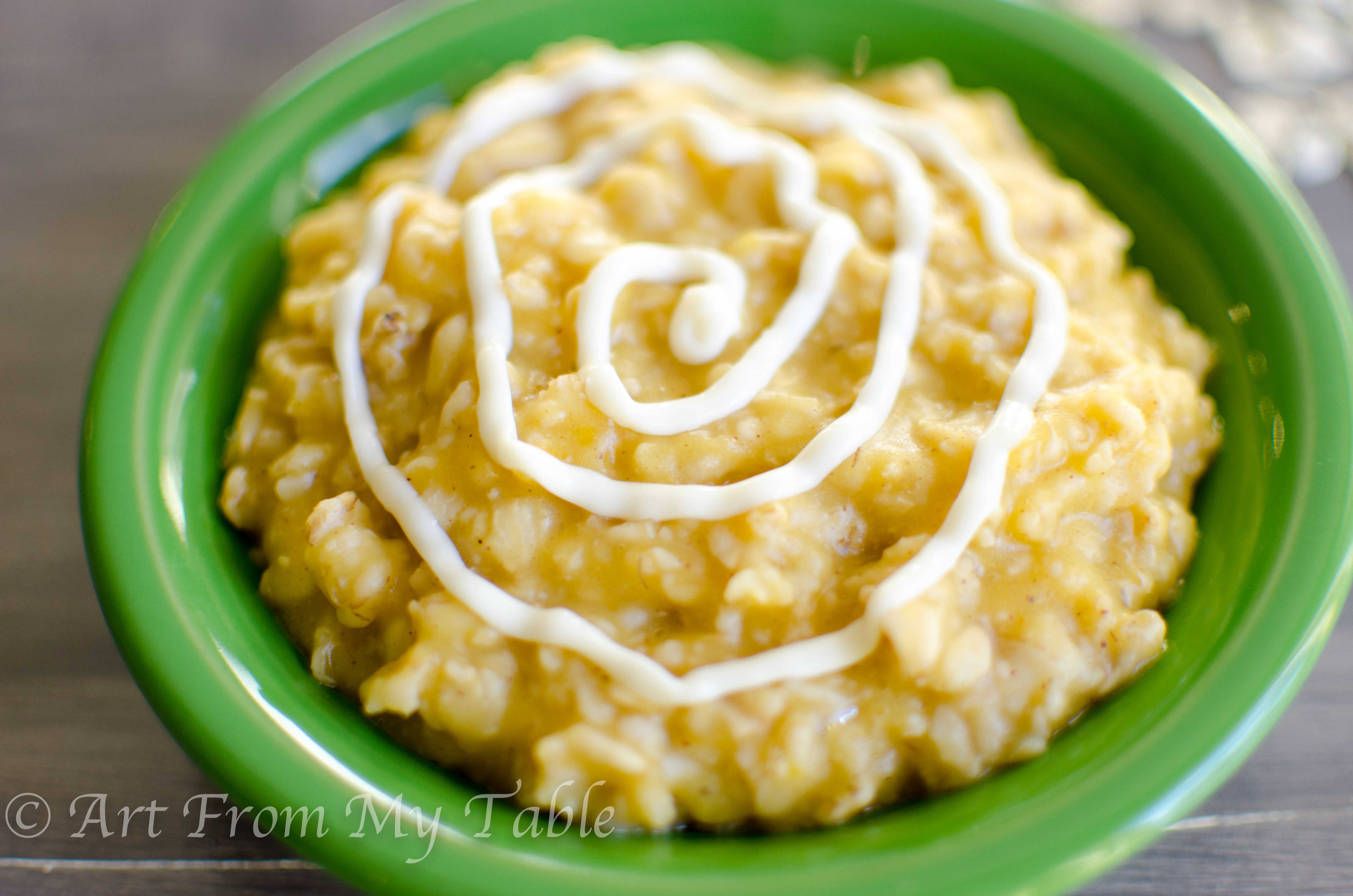 Pumpkin Roll Oatmeal
Blessings, Chellie