Protein packed lentils and delicious vegetables this lentil soup is bathed in bone broth and finished with a splash of balsamic vinegar.
Healthy Lentil Soup
I crave a hot bowl of goodness on these frigid winter days.  This lentil soup feeds my craving perfectly. It's filling, yet it doesn't leave you overly full feeling.  Unless you ate the whole pot, that might leave you feeling a little uncomfortable.  🙂 You will be completely satisfied with this soup.  It makes a perfect meal all by itself, or a really nice addition to your main meal.  It's super healthy, which besides how good it tastes, is what I love about it.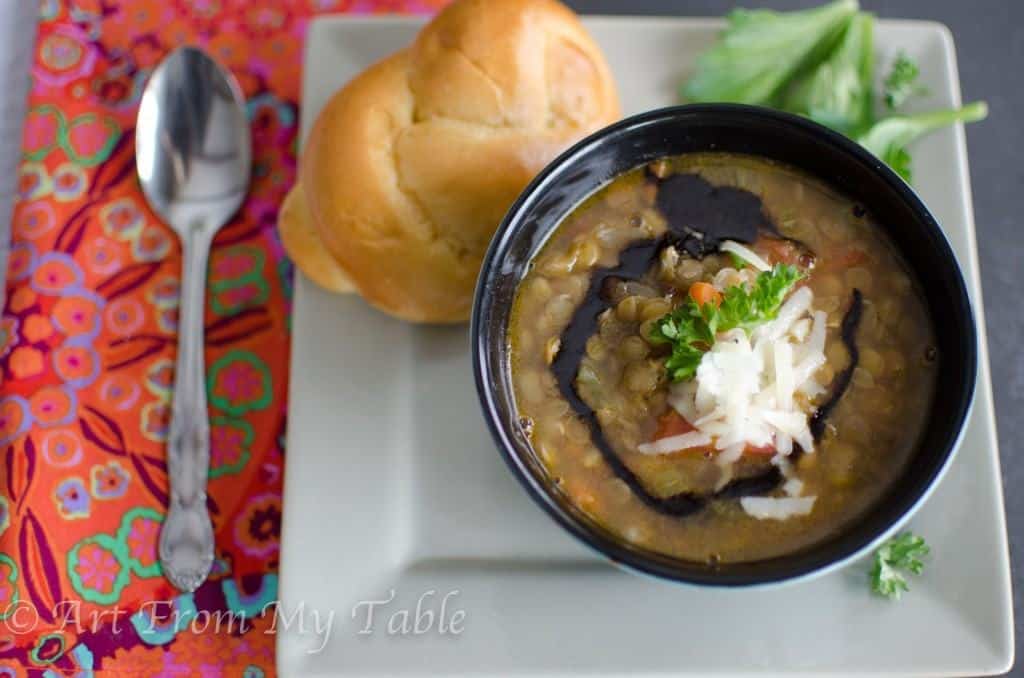 This post may contain affiliate links
I wish I could take credit for this amazing recipe, but I can't.  I found this is in one of my favorite books, Bread and Wine: A Love Letter to Life Around the Table with Recipes
, by Shauna Niequist.  I've adapted it slightly. 
Not only is it flavorful, but it's really easy to prepare.  Make a big pot of this and it's ready to go for quick lunches or dinner.  Make meal time effortless by prepping this ahead of time and all you have to do is warm it up.  Serve it with a quick salad, or some dinner rolls.  That being said, this is a meal that comes together quickly.  If you eat lentils regularly, you might even have all the ingredients already.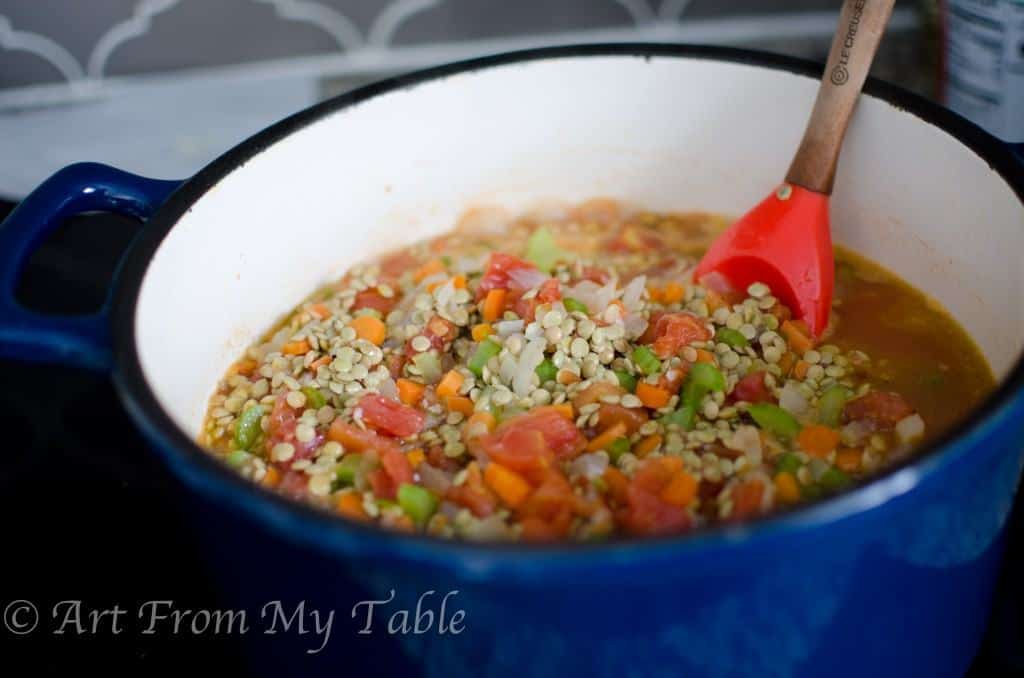 To start out, you'll saute' the vegetables about 15 minutes.  Then add the broth, lentils and tomatoes and simmer for about 35 minutes or so (see complete instructions in the recipe card below).  Dinner in under an hour, plus, you will have leftovers!!  Eat it during the week, or freeze it for later.
This recipe is easily halved if you don't want a ginormous pot of soup.  🙂
One more thing I do to ramp up the health benefits is use bone broth.  Bone broth is made by cooking the chicken and or bones for a really long time and it breaks down the bones and you get all kinds of extra nutrients that you wouldn't from ordinary broth.  Every time I roast a chicken, I make broth after that meal, and I stock it in my freezer.  It's great for your gut and has healing benefits. Here's a great article that talks more about that.
Enjoy your soup!  Oh, and don't leave out the vinegar, it really takes this dish over the top!!

Healthy Lentil Soup
flavorful super healthy soup.
Ingredients
4 Tbs olive oil
3 cups onions, chopped
2 cups celery, chopped
2 cups carrots, chopped
2 cloves garlic, pressed
12 cups chicken broth, vegetable broth, or bone broth
3 cups lentils, rinsed
2 (14.5) oz cans diced tomatoes in juice
Salt and pepper to taste
Balsamic vinegar
parmesan cheese
Instructions
Heat oil in a heavy large sauce pan or dutch oven.
Add onions, carrots, and celery, saute' until they begin to brown, about 15 minutes.
Add garlic and stir until fragrant, about 30 seconds.
Add broth, lentils and tomatoes with juice and bring to a boil.
Reduce heat to medium-low, cover and simmer until lentils are tender, about 35 minutes.
Season with salt and pepper.
Serve with a splash of balsamic vinegar and thick shreds of parmesan cheese
These parmesan crisps would be delicious too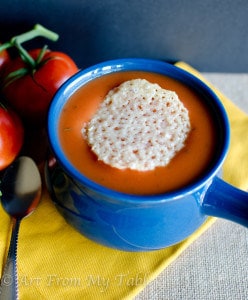 Another favorite soup: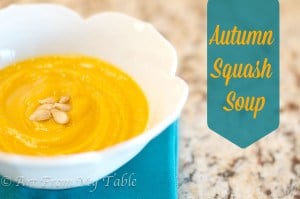 Don't want to miss a single recipe?  Sign up for my FREE newsletter!  You'll also receive a free copy of my Family Favorites Cookbook.