This post may contain affiliate links.  I would only recommend something to you that I absolutely believed in.  
This creamy white chicken chili is the easiest white chili you'll ever make!  
White Chicken Chili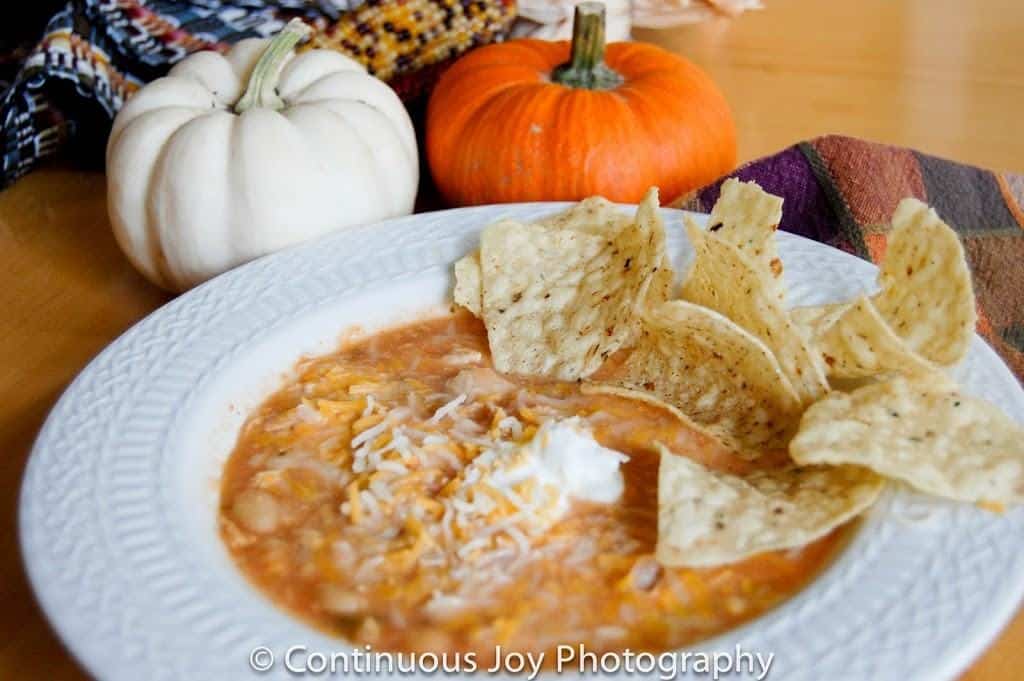 Seriously, this white chicken chili is the easiest chili recipe ever!!  And it tastes amazing.  If you've been reading my blog for anytime at all, you know I really do enjoy being in the kitchen. I enjoy the whole process of a meal coming together.  I don't mind slicing and dicing and stirring and creating.  However, we all need a dump and run kind of a recipe now and then.  Sometimes more often than that!  I'm crazy for my crock pot.  I even use it in the summer.  As much as I don't mind preparing meals that take a little longer, with four children running around, it can be challenging at times.
This is an awesome easy chili recipe passed on to me from "Mom Dyk".  Mom Dyk is my husbands 2nd mom so to speak.  When he moved here from the other side of the state and became friends with her son Scott, she took him in too.  He doesn't have any family in the area, so he ate Sunday dinners there, and holidays, etc.  Once we met, she let me into the circle too.  🙂  I love this recipe because you really just put it all together and let it go in the crock pot. 
I now call this "award winning" because it recently won a chili cook-off!  I really couldn't believe it!  If I was trying to win, I would have done some super special chili with a secret ingredient, but it was a fundraiser for the Porch Steps, which is a clothing closet at a local church.  We were raising money to buy winter coats and accessories.  Not that I didn't want to win,  I just never expected it with this easy of a recipe! Everyone got to eat lots of chili, and then pay to vote for their favorite.  I was shocked!  That tells you how good this recipe is!! I hope you enjoy this one as much as I do.

The only prep for this recipe is cooking the chicken before hand.  I like to poach chicken, it keeps it really tender.  You can even do this the day before, so literally all you have to do is add everything to the slow cooker.
Here's what you need: Chicken, great northern beans, salsa, cumin, chicken broth, milk, green chilis, oregano, cheese, and sour cream.
Award Winning White Chicken Chili
This creamy white chicken chili is easy to make and full of flavor. Easiest chili you'll ever make!
Ingredients
2 lbs chicken, cooked and cut into bite size pieces
1 (48 oz) jar of great northern beans (do not drain)
1 (16 oz) jar of salsa- mild, medium, or hot depending on your taste
2 cups chicken broth
1 cup milk
1 (4 oz) can of diced mild green chili's
1 lb of cheese, shredded--use your favorite kind(s)
1 tsp oregano
1 tsp cumin
sour cream for serving
cilantro for serving
Instructions
Place all ingredients except sour cream and cilantro, in a slow cooker. Cook on low for 6-8 hours, or on high for 3-4 hours.
Garnish with sour cream and cilantro.
https://www.artfrommytable.com/award-winning-white-chicken-chili/
What about YOU??  Please share your favorite chili recipe in the comments!
Blessings, Chellie