As an Amazon Associate I earn from qualifying purchases.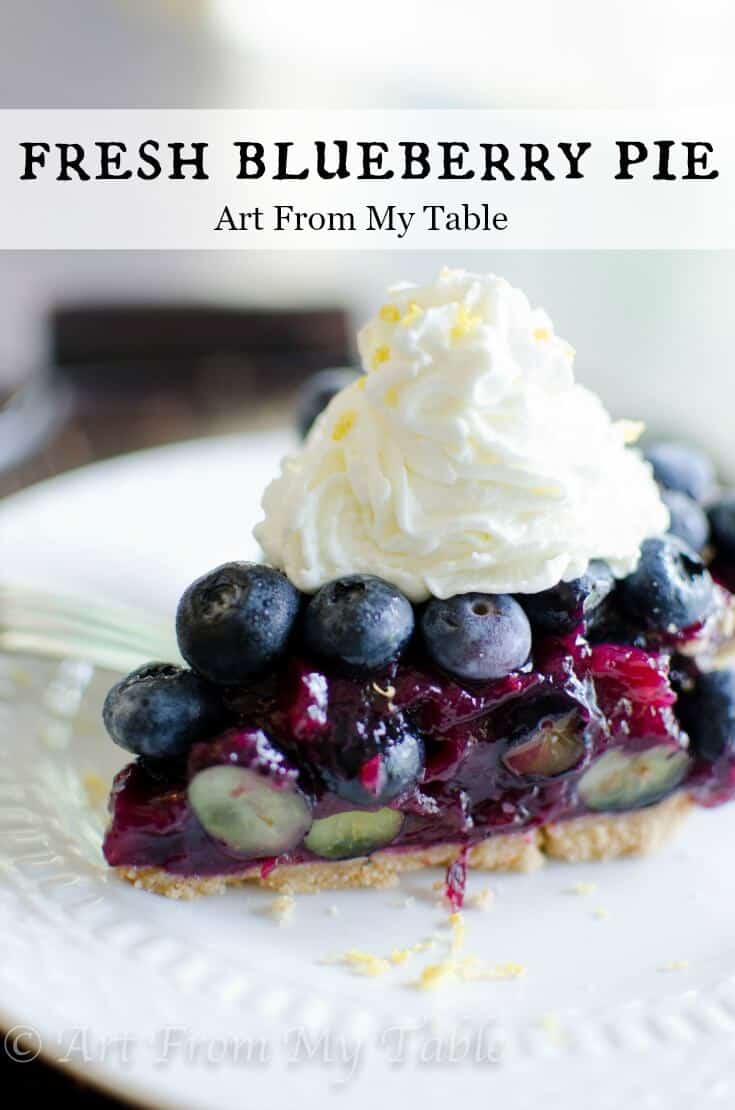 The graham cracker crust and lemon whipped cream make this fresh blueberry pie extraordinary!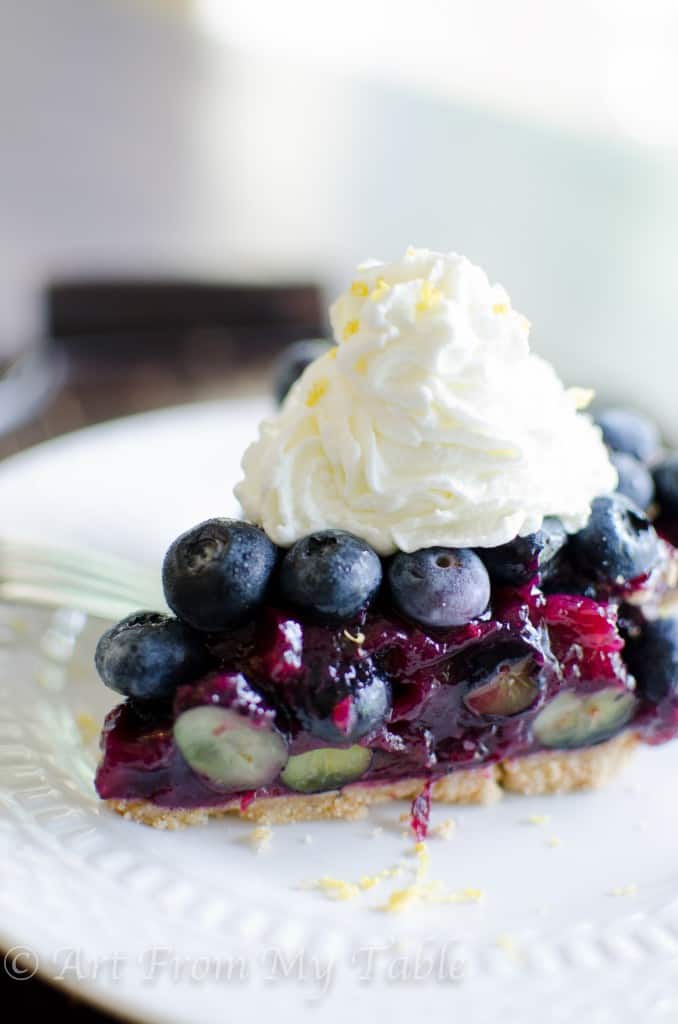 It's blueberry season. I don't know what it is about blueberries, buy oh my yumminess! I can't get enough of them. This week it's all about the blueberries. I'll be sharing some of my favorite ways to enjoy them. First up...
Fresh Blueberry Pie
I'm not much in the habit of making pies. I'm not sure why, I really like pie. I just rhymed, very tempted make the poet/didn't know it line here, but I will refrain. Anyway, I have some friends that bake tons of pies and then freeze them. I like the idea of that, but since I don't eat them super often I guess I just don't think of it. Maybe it's like alot of sweets for me, if they're around, I eat them. I try to do things in moderation. If I make the pie, I eat the pie. If I'm home with the pie, I'm sneaking bites off of it when the kids aren't looking. Pathetic, I know. However, this week, we have indulged in pie, and other blueberry recipes!
I posted a picture on Facebook of our blueberry pickin's a couple weeks ago. My friend Barb commented that she had a fabulous recipe for a fresh blueberry pie. Since I don't eat pie all that often, I thought, YES PLEASE! That sounds great! So she sent me the recipe and told me I could share it with you.
Barb's suggestion is that any pie crust is great, but a graham cracker pie crust is the best. I concur. It was de-lish.
You probably have most of these ingredients in your house. I like when I don't have to run to the store when I get an inspiration. I did have to pick up the graham crackers, but easy peasy stopping for one thing, or, er, sending your husbnad. He's so awesome.
There's 3 parts to this recipe. The crust, the pie fillig, and the lemon whip cream. The lemon whipped cream, that was my addition. I think it tops this pie off beautifully.
On to the recipe! First get your crust ready.
Crush up some graham crackers. You'll need a cup and a half of crumbs. I used my food processor because I'm not into hard labor. 😉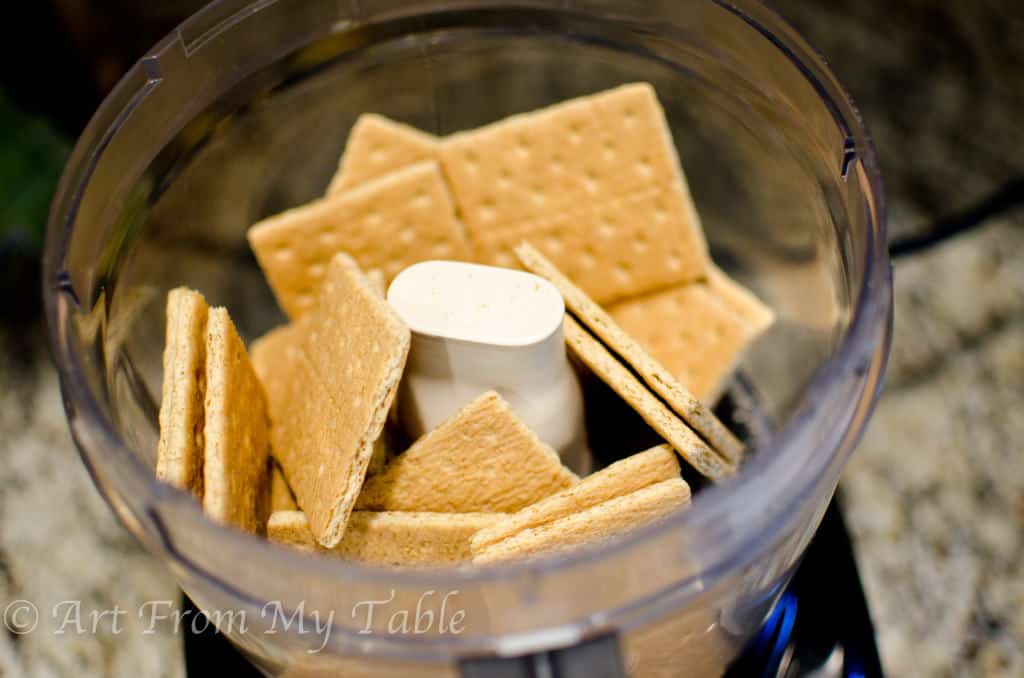 add sugar and melted butter and then press it into the pie plate. Bake it at 350 for 7 minutes.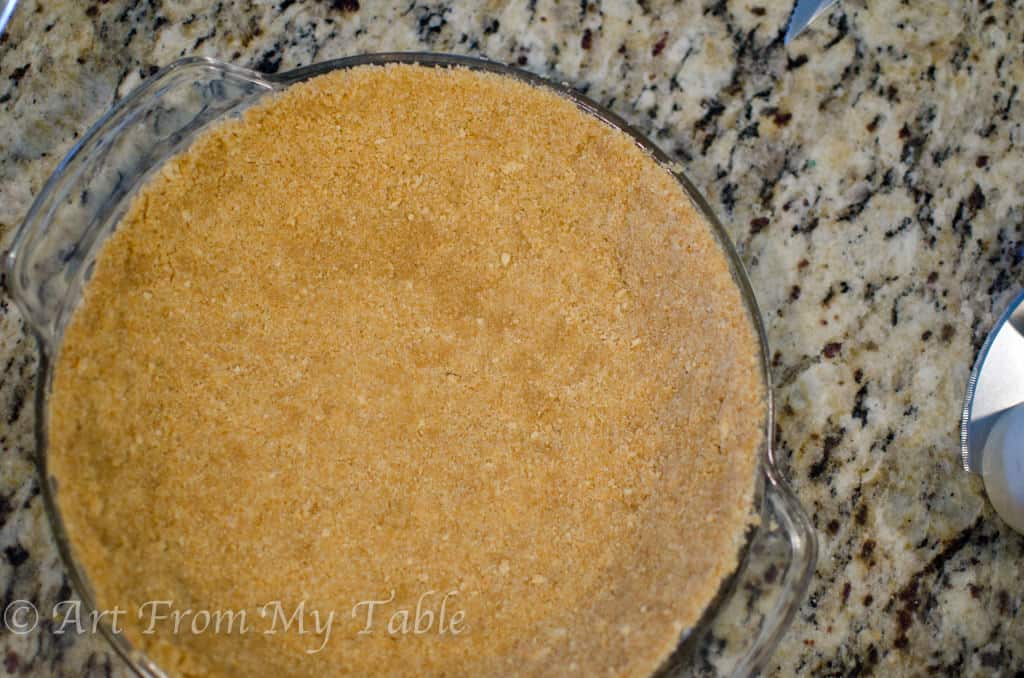 The pie crust needs to be completely cool before using it. So this is a good time to work on the filling.
Mix 1 cup of berries with 1 cup of sugar, 1 cup of water and ¼ tsp salt in a medium sauce pan. Bring it to a boil and let it boil for 1 minute. Remove from heat, and add a cornstarch slurry. Return it to a boil until it gets thick and shiny. Remove it from the heat again, and add a tablespoon of butter. Stir that around and let it cool COMPLETELY. This is very important, Barb says so, and if she says so, it's so. Seriously though, you don't want to mess up the consistency, that's why you let it cool.
Once it's cooled, it's time to put it all together. So add your 3 cups of fresh (washed annd dried) berries. They must be dried completely or it will mess up the consistancy. Again, Barb says so, it must true. Very gently fold them into the pan.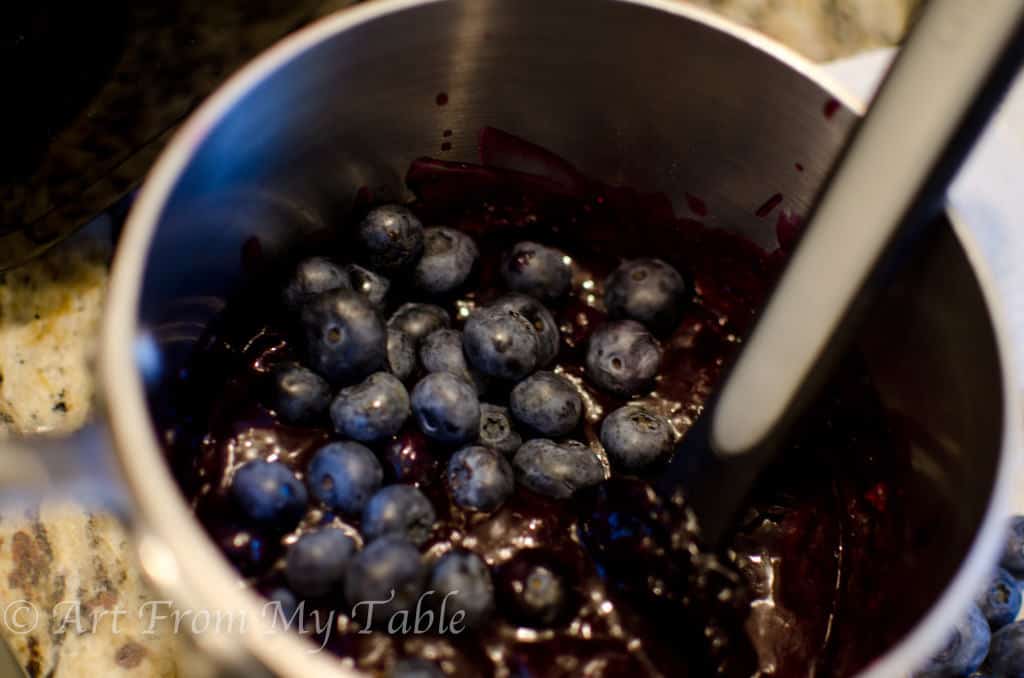 Place this goodness into your pie crust. Top it off with more fresh blueberries. Chill.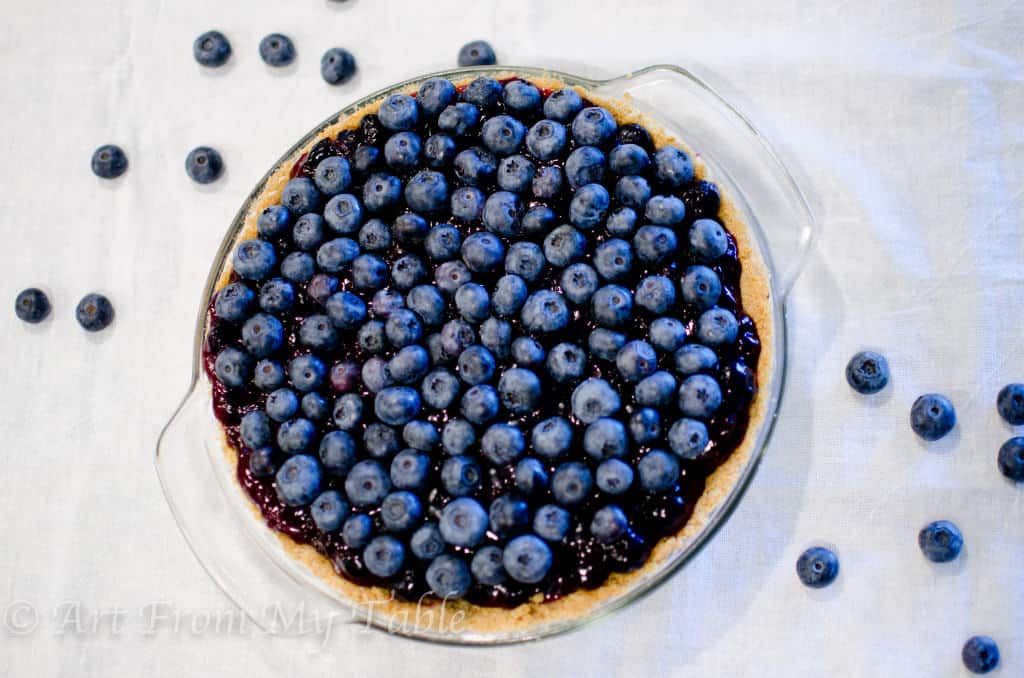 For the whipped cream, place 1 cup heavy whipping cream, 2 Tbs sugar, 2 tsp of lemon zest and 1 Tbs of fresh squeezed lemon juice into a stand mixer. Beat at a high speed until soft peaks form. Top off that gorgeous chilled pie, and enjoy!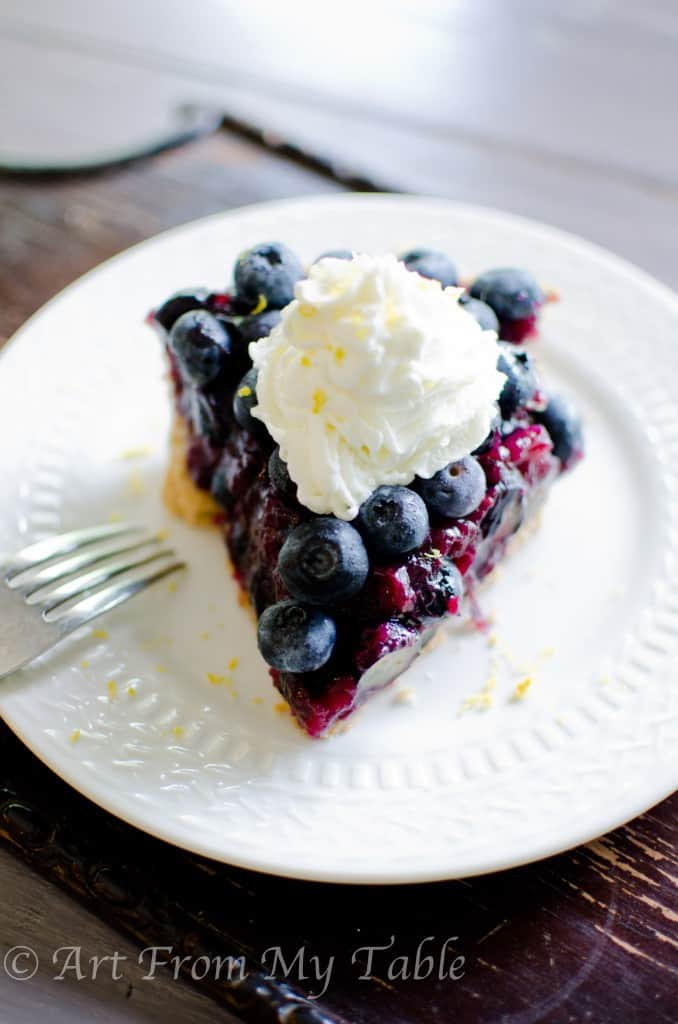 Are you a blueberry fan? What's your favorite way to eat them? Let me know in the comments, I'd love to hear from you!
As I mentioned, I'll be sharing more blueberry recipes this week. So stay tuned!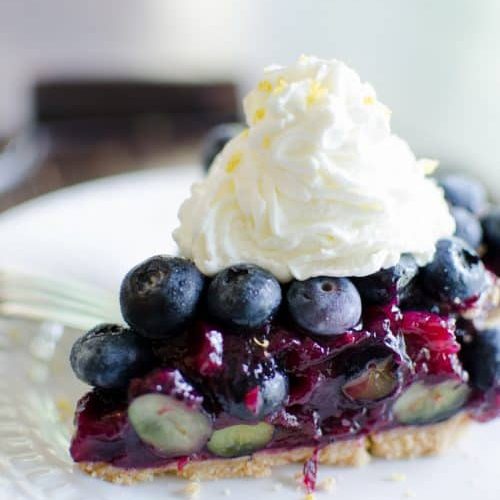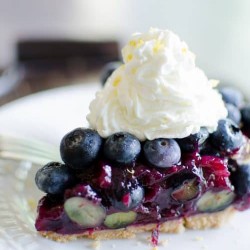 Fresh Blueberry Pie with Lemon Whipped Cream
A no-cook Fresh blueberry pie made with a graham cracker crust and whipped cream
Print
Pin
Rate
Ingredients
Crust
1 ½

cups

graham cracker crumbs

about 10-11 crackerrs

⅓

cup

sugar

6

Tbs

melted butter
Filling
5 ½

cups

fresh blueberries

divided

1

cup

water

1

cup

sugar

1

tsp

salt

¼

cup

cornstarch

1

Tbs

butter
Topping
1

cup

heavy cream

2

Tbs

sugar

2

tsp

lemon zest

1

Tbs

lemon juice
Instructions
To make the crust
Combine graham cracker crumbs, sugar, and butter, and mix well.

Press into pie plate.

Bake at 350 for 7 minutes.

Cool completely.
To make the filling
Mix cornstarch with a couple of tablespoons (or more) of water and mix well. It should be a white liquid with no lumps. Set aside.

Place 1 cup of water, 1 cup of sugar, 1 tsp salt and 1 cup of blueberries in a medium saucepan.

Bring to a boil and boil for 1 minute.

Remove from heat and add cornstarch slurry.

Return to heat, bring a boil until mixture is thick and shiny.

Remove from heat and add 1 Tbs butter.

Cool completely.

When the mixture is cooled, gently fold in 3 cups of fresh berries.

Pour the blueberry mixture into the pie crust.

Top with remaining 1 1 /2 cups fresh blueberries.

Chill until set (about 3 hours)
To make the topping
Combine heavy cream, sugar, lemon zest and lemon juice in a stand mixer.

Beat until soft peaks form.

Serve pie chilled topped with lemon whipped cream.
Nutrition
Calories:
370
kcal
|
Carbohydrates:
67
g
|
Protein:
2
g
|
Fat:
12
g
|
Saturated Fat:
7
g
|
Cholesterol:
27
mg
|
Sodium:
487
mg
|
Potassium:
106
mg
|
Fiber:
3
g
|
Sugar:
50
g
|
Vitamin A:
365
IU
|
Vitamin C:
11
mg
|
Calcium:
21
mg
|
Iron:
1
mg