As an Amazon Associate I earn from qualifying purchases.


The Palmer House Hilton Brownie is not your usual cake-like brownie. It's rich, velvety, and decadent. You'll relish every bite!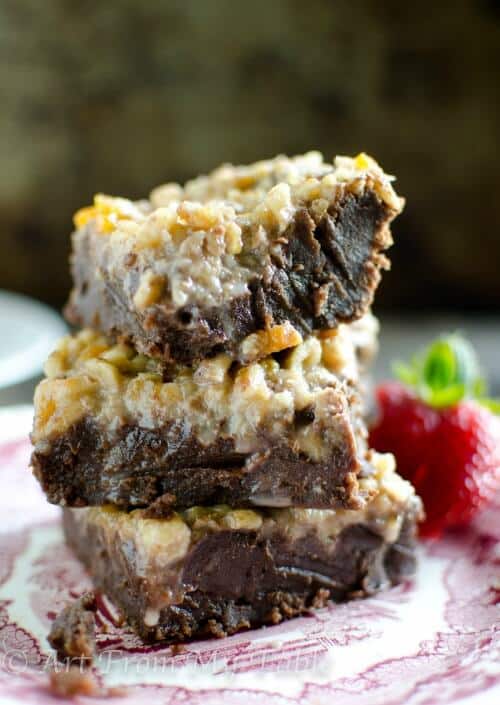 Did you know?
The first reference to the "brownie" in America appears in the Sears Roebuck Catalog published in Chicago in 1898. Specifically at the direction of Bertha Palmer to be served at the Columbian Exposition World Fair in 1893, the brownie was created in the Palmer House Kitchen in the late 19th century. (source)
The recipe hasn't been changed and is still served in the Palmer House Hilton today. It remains one of the hotel's most popular confections.
Now, how do I know this and why do you care? It all started with this fascinating book that we read for our book club.

Friends, this book was SO good!
But I have to tell you, at first glance, I was skeptical. First of all, it has "Devil" in the title. Creepy! This is not my genre. However, one of the best things about being in a book club is that it stretches you. So my thought was simply that I would start reading it, and if I was too creeped out, I wouldn't.
The book highlights two stories happening side by side. The first is the story of how the World's came to Chicago and all about the architects and the process. I found this so interesting!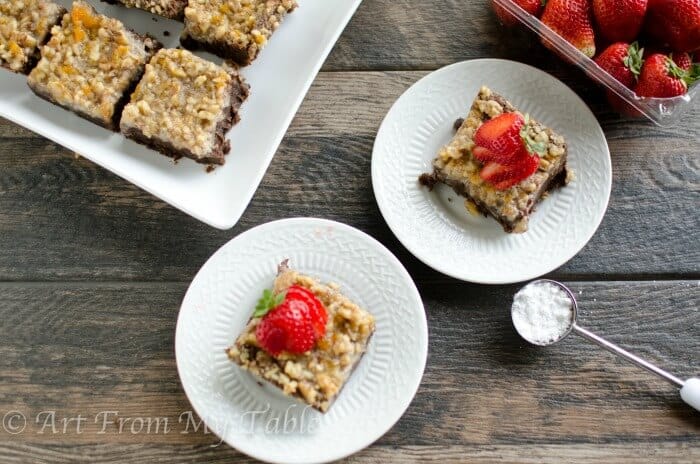 The second is the story of the cunning serial killer who used the fair to find his victims. I know! More creepiness! I don't even watch the news because I don't like being scared!!
Rest assured, I was pleasantly surprised. I truly found this read completely fascinating, all the way around. For those of you that are like me and tend to shy away from this genre, no worries, it's really not that graphic or gory (I can't handle blood!).
So how does the Palmer House Hilton Brownie fit in? They were served at the World's Fair in 1893. The gal that chose this book found the recipe and made these for us. They were so good that I wanted to share them with all of you!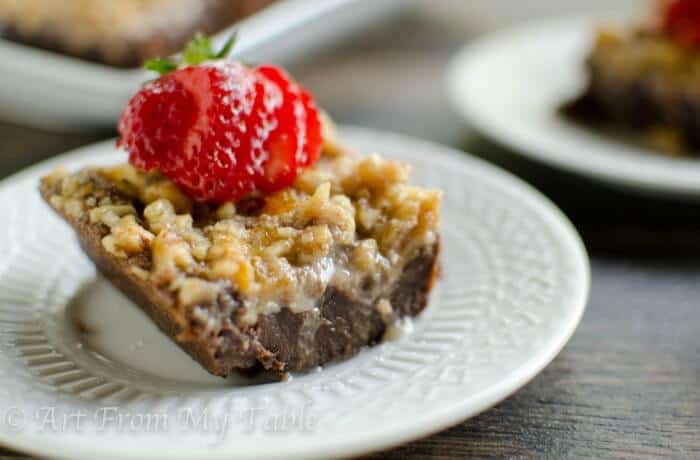 In addition to the Palmer House Hilton brownie, our hostess gave us these swag bags. Aren't they fun? These ladies are super creative, I'm always completely impressed! The black and white, the fair ticket. Fun fact-- wrigley's juicy fruit gum was invented in 1893 when the World's Fair took place. There were tons of fun facts along the way.
Palmer House Hilton Brownie
Wanna bake? Let's get going! When I first looked at this recipe, I thought, wow! There is not much flour in it! After making these, that is just one of the things that gives them the fabulous velvety texture.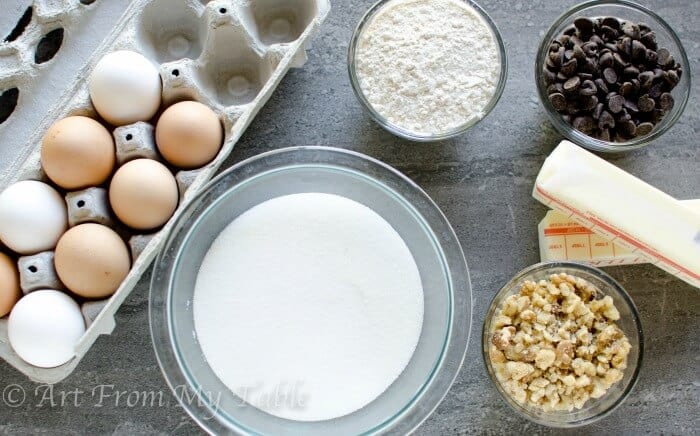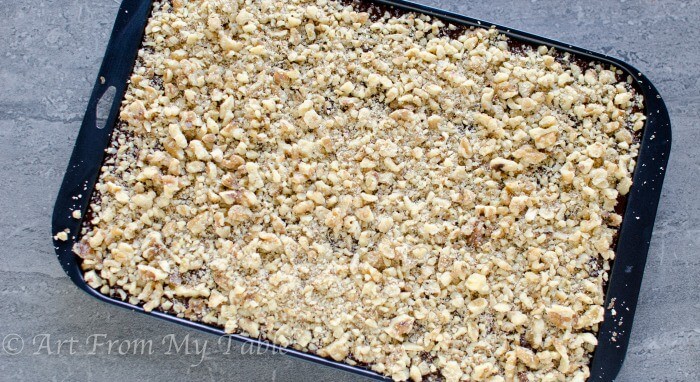 Besides the texture, another thing that makes the Palmer House Hilton Brownies so unique is the glaze. Do you have any idea what it might be?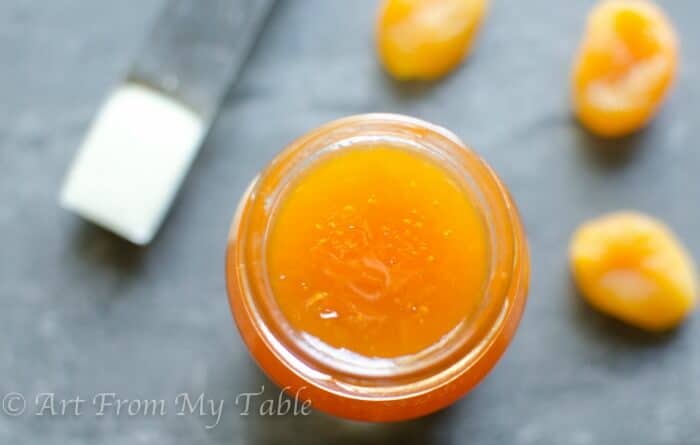 Apricot preserves! I don't know about you, but this isn't the first thing that comes to mind when I'm looking to top off my brownie. Makes it that much more intriguing doesn't it.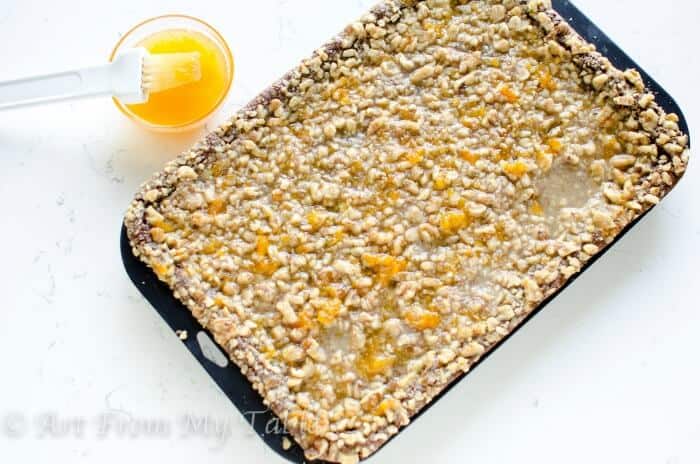 I'd also like to note, that while I love walnuts, I don't usually like them in my brownies. Since this dessert comes with more of a walnut topping, I loved it!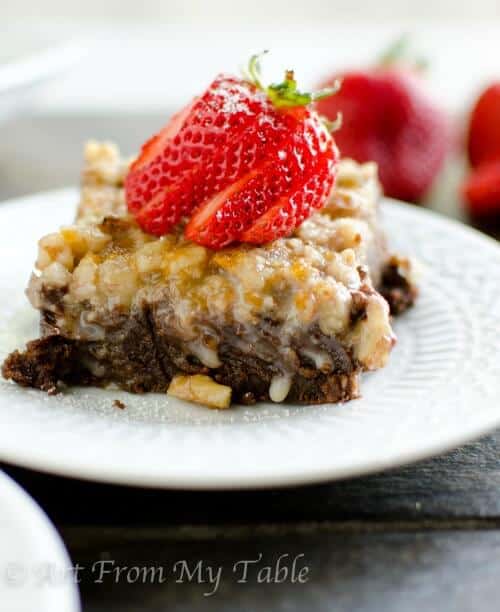 Bonus Tip:
Cut brownies with a plastic knife. Ya know how they tend to cake up on the knife? That doesn't happen with plastic. Your welcome! 🙂
More great desserts
I would love to connect with you! Tell me what you're reading in the comments. Let's keep in touch, follow me on Facebook, Twitter, Instagram and Pinterest.
📋 Recipe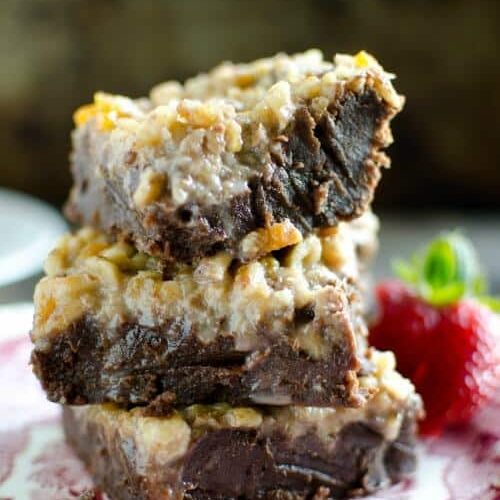 Palmer House Hilton Brownie Recipe
The first ever brownie! It's rich, velvety smooth, and decadent! You'll relish every bite.
Print
Pin
Rate
Ingredients
For the brownies:

14

oz.

semi-sweet chocolate chips

4

sticks butter

1 ½

cups

sugar

¾

cups

flour

8

eggs

3

cups

crushed walnuts

1

teaspoon

vanilla extract

For the glaze:

1

cup

water

1

cup

apricot preserves

1

teaspoon

unflavored gelatin
Instructions
Preheat the oven to 300

Melt the chocolate with the butter in a double boiler pan.

Combine the sugar and flour into a mixing bowl

Add the melted chocolate to the dry ingredients and Mix for 4-5 minutes with a stand mixer.

Add the eggs and mix again.

Pour the batter into a 9"x 12" rimmed baking sheet.

Sprinkle the walnuts on top, and press them down slightly into mixture.

Bake for 30 to 40 minutes. When it's done, the edges will start to become a little crispy and the brownies will raise about ¼ inch.

Allow the brownies to cool for about 30 minutes before spreading a thin layer of the glaze on top with a pastry brush.

For the glaze:

Mix together water, preserves and unflavored gelatin in a saucepan.

Mix thoroughly and bring to a boil for two minutes.

Spread the glaze while its still hot.
Notes
This recipe isn't written super clear, so I've re-written it the way I baked it. All of the measurements were by weight, I did weigh them and recorded the volume here for you.
If you don't have a double broiler pan, simmer about an inch or two of water in a medium sauce pan and place a large mixing bowl over the top. Melt the chocolate and butter that way.
Even when the brownie is properly baked it will test "gooey" with a toothpick in the middle due to the richness of the mixture.
The brownies are easier to cut if you place them in the freezer for about 3-4
hours after glazing.
Nutrition
Calories:
557
kcal
|
Carbohydrates:
53
g
|
Protein:
11
g
|
Fat:
35
g
|
Saturated Fat:
10
g
|
Cholesterol:
111
mg
|
Sodium:
50
mg
|
Potassium:
365
mg
|
Fiber:
5
g
|
Sugar:
39
g
|
Vitamin A:
181
IU
|
Vitamin C:
1
mg
|
Calcium:
67
mg
|
Iron:
4
mg