As an Amazon Associate I earn from qualifying purchases.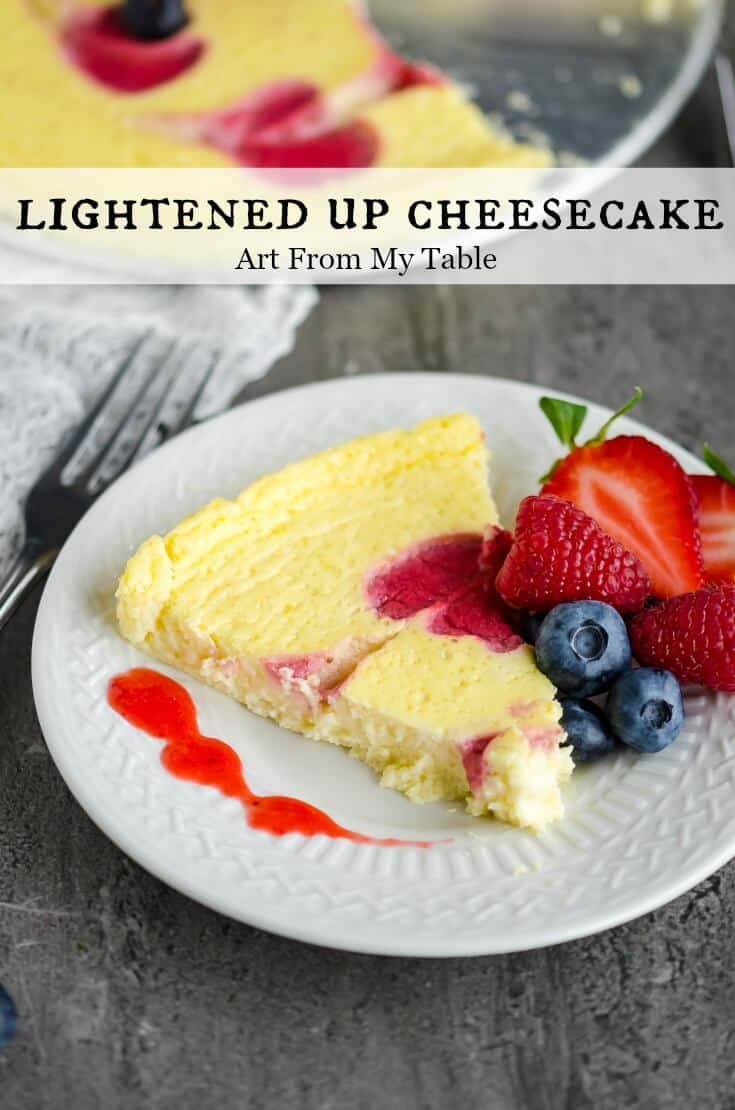 This Lightened Up Cheesecake is just as luscious without losing an ounce of flavor! It's creamy, and decadent and and refined sugar free!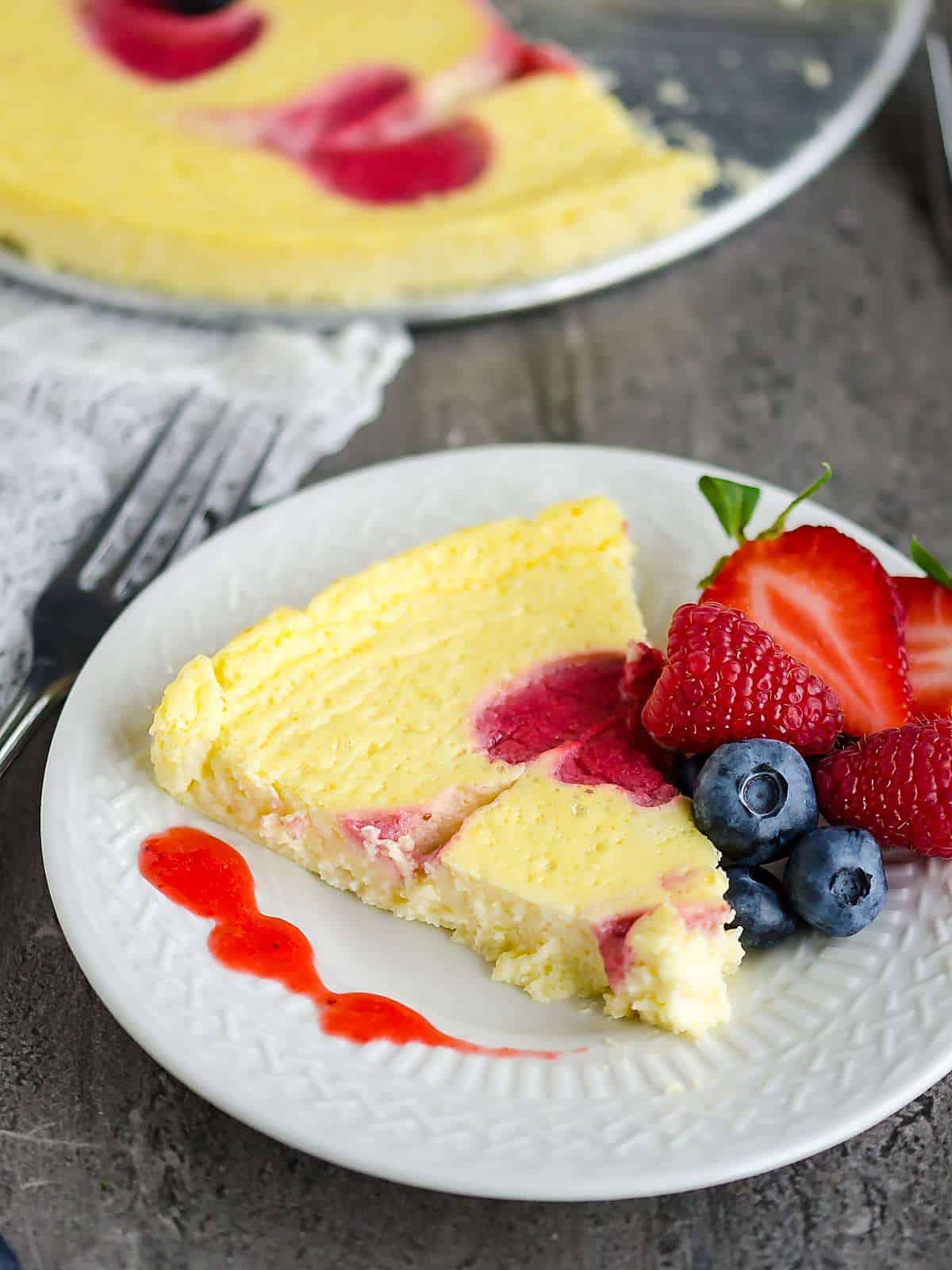 You may be wondering why lighten up your cheesecake? Can't you just indulge once in a while? While I'm a firm believer in occasional indulgences--I kind of have a sweet tooth.
Cheesecake for Breakfast?
So in order to indulge more often, I like to take something, such as a dessert, and transform it into a better for you option. Most cheesecakes have 257 calories, 18g fat, 20.4g carbohydrates and 4.4g of protein per slice.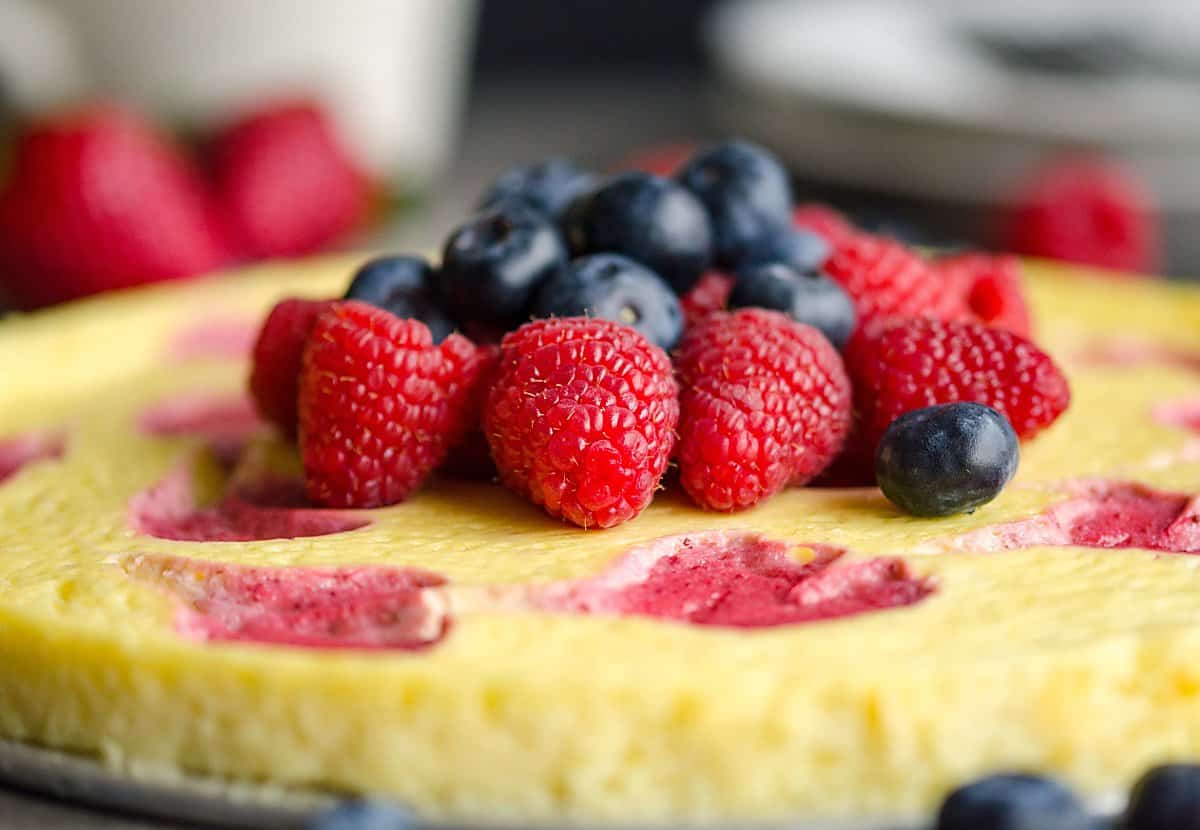 My Lightened Up Cheesecake has 118 calories, 3g of fat, 9g carbohydrates and 13g protein per slice. And, just as decadent, I might add. 🙂 You could even put this in the 'healthy' category, which means, you could eat cheesecake for breakfast! (in perfect world?) Another reason for it's lightness is no crust.
Now, that being said, I'm not typically a calorie counter myself, but I am impressed when a dessert has this many nutritional benefits. There's really nothing "bad" for you in this recipe.
The Ultimate Cheesecake
Most cheesecakes are made with cream cheese (yum!) and heavy cream or sour cream, along with some eggs, sugar and starch to hold it all together. I've used Cottage cheese and Greek yogurt in this version, and no refined sugar.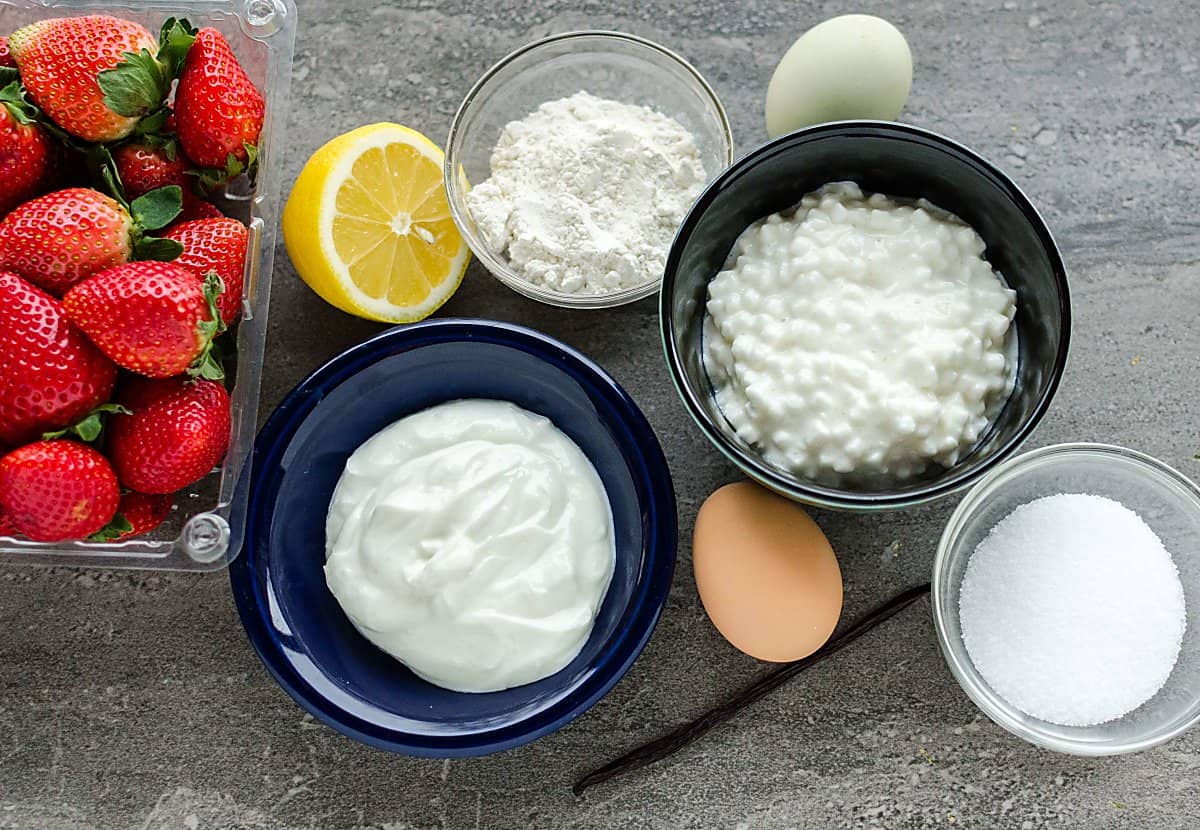 To Bathe or not?
Many people wonder if you have to use a water bath to bake a cheesecake. I've also kept this recipe really simple by not using a water bath to bake it. This isn't really a traditional recipe, so I didn't find it necessary in this case, but it's up to you.
The purpose of a water bath is to create an extra creamy texture, and to prevent cracking. If the surface of the cheesecake gets too dry it will crack.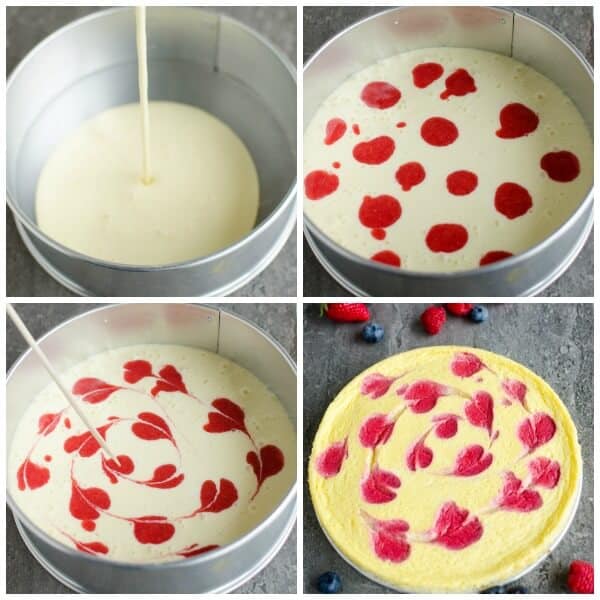 All occasion cheesecake
This would be a lovely Easter dessert, or even a Mother's Day treat. Can you imagine serving this to your mom and telling her it's guilt free? What a gift. 😉 But, I plan to eat this on more than just holidays.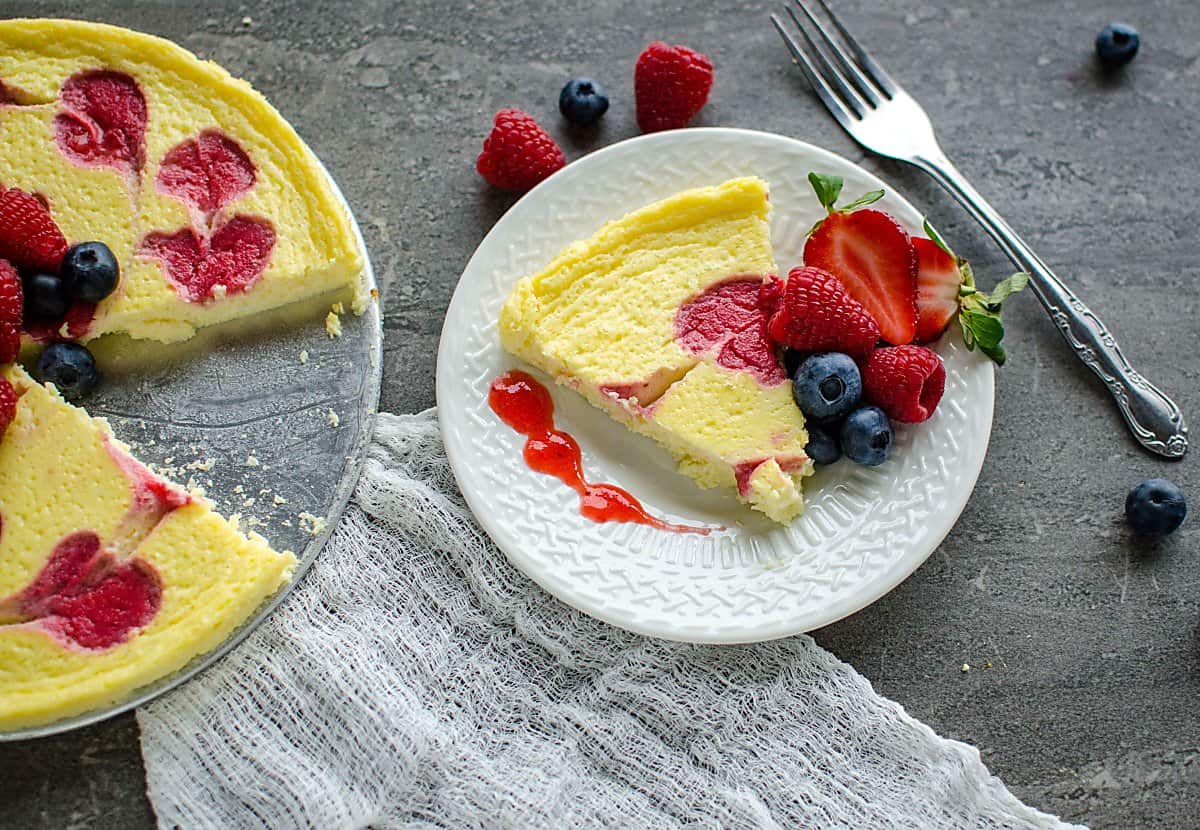 This recipe was adapted from Sarah at Passion RX Fitness
Looking for more healthy desserts?
No Churn Dairy Free Strawberry Banana Ice Cream
📋 Recipe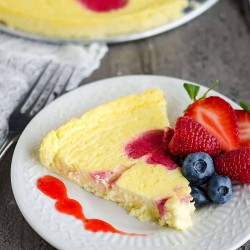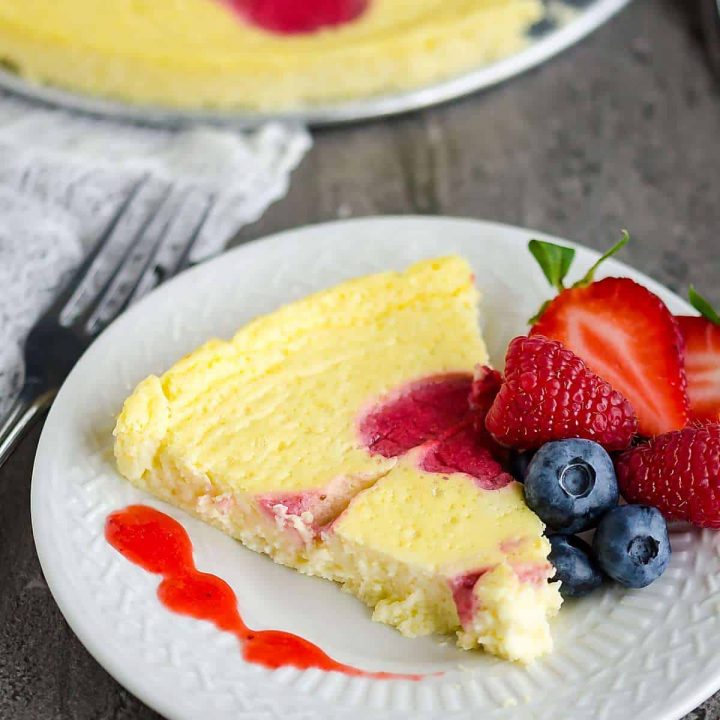 Lightened Up Cheescake
This Lightened Up Cheesecake is just as luscious without losing an ounce of flavor! It's creamy, and decadent and and refined sugar free!
Print
Pin
Rate
Ingredients
2

cups

low fat cottage cheese

½

cup

non fat Greek yogurt

2

eggs

2

tablespoon

Truvia or other stevia based sweetener

3

tablespoon

whole grain unbleached flour

1

teaspoon

vanilla extract

1

tablespoon

lemon zest

¼

cup

pureed fresh strawberries plus more for garnish

fresh berries for garnish
Instructions
Place cottage cheese and yogurt into a blender and process until smooth

Add the eggs, sweetener, flour, vanilla and lemon zest and blend agin until combined well.

Pour into an 8 or 9 inch greased spring form pan.

Drop small spoonfuls of strawberry puree' in a circle, or randomly on the batter. Using a skewer, toothpick, or butter knife, drag it through the spoonfuls of puree.

bake for 30 minutes, or until the top pulls away from the pan and looks smooth and solid.

Let cool completely before refrigerating for several hours or overnight.

Serve with additional fruit if desired.
Notes
To puree' strawberries, just place them in a food processor or blender and process until smooth. Use any extra for a garnish or on top of yogurt, ice cream, waffles or pancakes.
You don't have to use a spring form pan, any round one will work. These silicone ones are amazing, (affiliate link) they require no greasing.
If you are using a different type of sweetener, make sure you use a conversion chart to get the right amount.
To make Trim Healthy Mama compliant:
Use baking blend instead of the flour OR use ground Oatmeal in place of the flour.
Nutrition
For more recipe inspiration, follow me on Pinterest and Facebook!