Looking for the perfect fall treat? Nothing says "fall" like these Pumpkin Chocolate Chip Muffins. Moist, soft, and full of pumpkin flavor!  You'll eat them all season long. Bonus~these are lighter than the traditional recipe yet still carries all the flavor.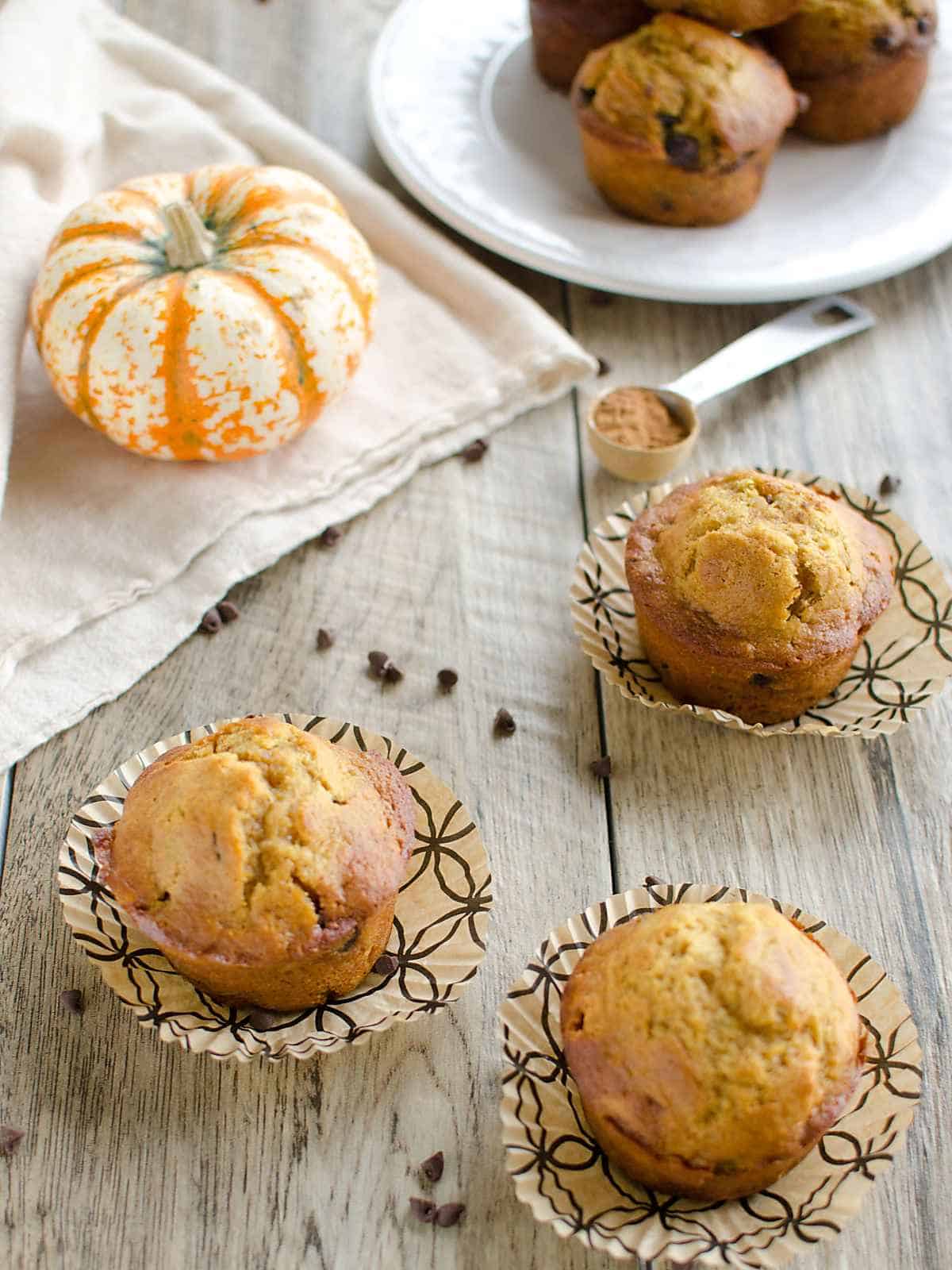 Pumpkin Chocolate Chip Muffins
These are my all time favorite pumpkin muffins.  I make them every year.  Multiple times. To me, the addition of chocolate chips is what makes this recipe.

The first time I had the pumpkin/chocolate combination was many years ago at a small group meeting. The hostess had made them, and I couldn't get enough!  From then on, I have made these muffins every fall, and even other times of the year.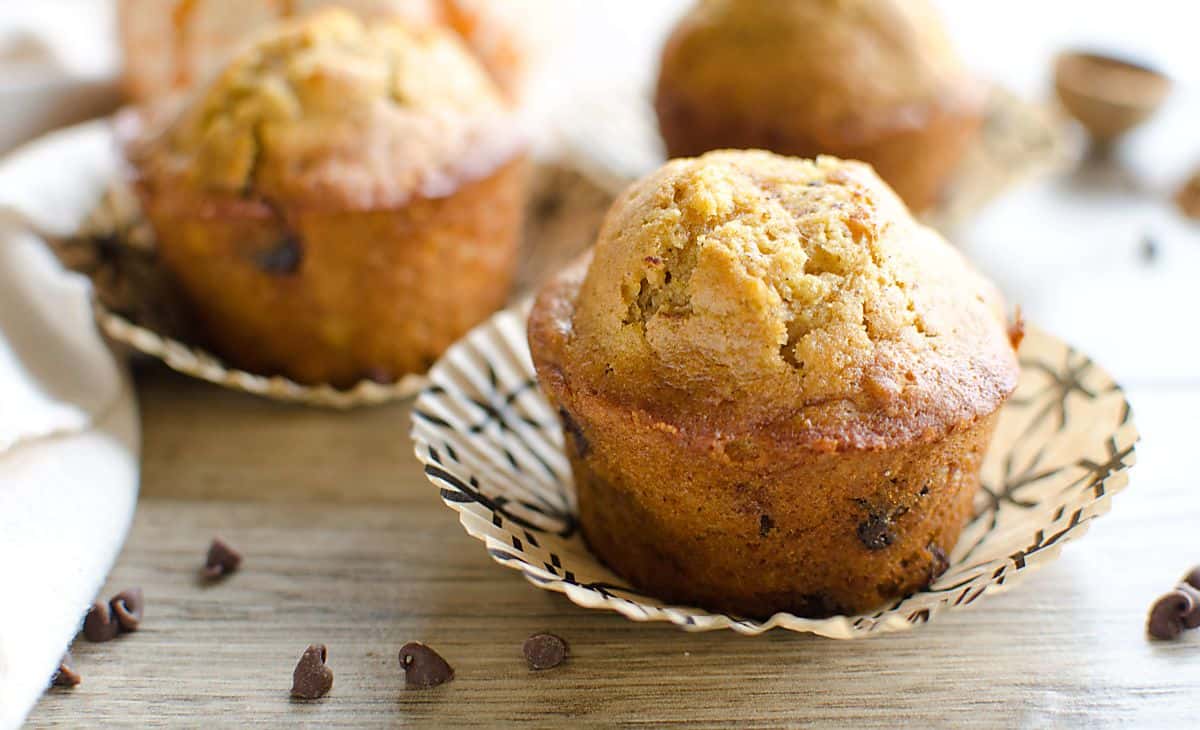 This post may contain affiliate links
Who says you can only eat pumpkin in the fall anyway?
But the memory of this muffin stretches beyond that.  Here we were, a group of people, likeminded with a mission.
But never could I have guessed that ten years later, (long after the group had dissipated) the lovely hostess that made these pumpkin chocolate chip muffins, and I would have such a heart connection.
Over the past few years we were in a homeschool community together, and we have both adopted children.  We've shared stories together, and we've cried together.  If you are in either one of these positions, I'm sure you can relate.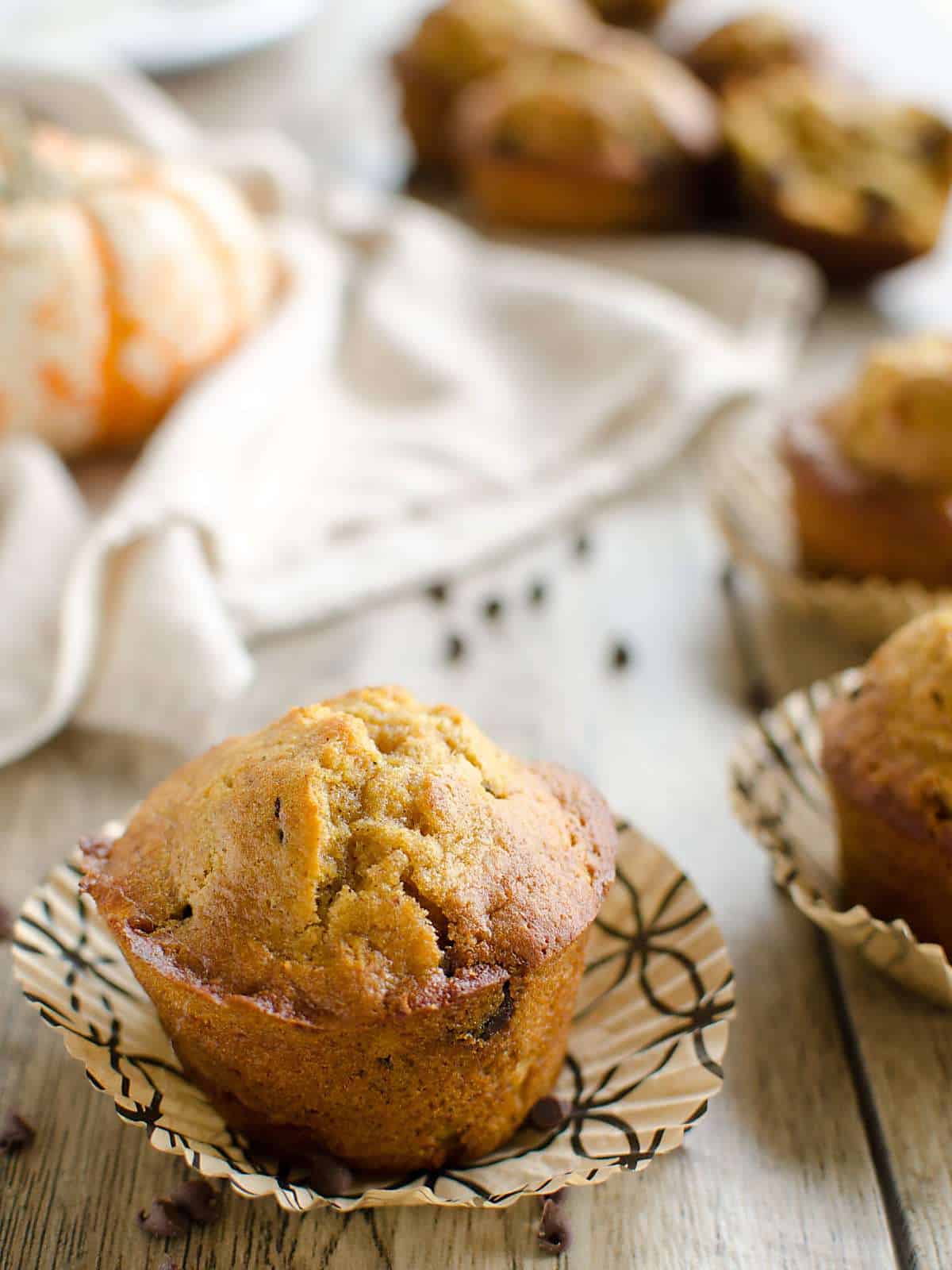 I don't see her very often anymore, but you know those people, that you just have a strong connect with even though you're not in constant communication?
Every time we have these Pumpkin Chocolate Chip Muffins, I think of her.
Another thing I like about these, is it's a lighter version substituting applesauce for oil. So go ahead and have two!  heehee.
Easy Clean Up!
Lastly, I have to share with you this awesome muffin pan.  Removing your muffins has never been easier! Cleaning your muffin pan has never been easier!  No greasing the tray! I'm not kidding, this is amazing! Look at this~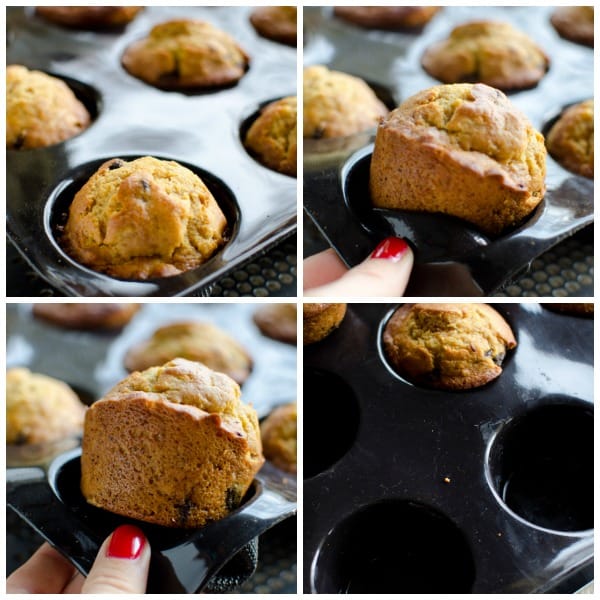 The muffins just pop right out! I even did it one handed, because I was holding the camera at the same time.
I know you want one.  So, the Straight Muffin Tray Is from the Demarle At Home Collection. If you haven't seen this stuff, you NEED to check it out!  I don't promote something unless I absolutely believe in it. 
Along with the muffin tray, you'll need the Perforated Baking Sheet.  This makes everything bake up all even.  
Don't limit yourself to muffins either.  Anything you make in a muffin pan can be done with this, it will just be 1000x easier.  🙂
Try these ideas~
mini meatloaves
mini frittatas,
individual servings of baked spaghetti.
The possibilities are endless!
Pumpkin Chocolate Chip Muffins Recipe
Nothing says "fall" like these Pumpkin Chocolate Chip Muffins. Moist, soft, and full of pumpkin flavor!
Ingredients
4

eggs

1/2

cup

coconut oil

or substitute applesauce for this too

1

cup

unsweetened applesauce

2

cups

pumpkin puree

homemade is what I use, canned is fine

1 1/2

cups

sugar

3

cups

flour

2

teaspoons

baking soda

2

teaspoons

baking powder

2

teaspoons

pumpkin pie spice

1

teaspoon

salt

12

ounces

semisweet mini chocolate chips
Instructions
Preheat oven to 400.

Mix first 5 ingredients together;

separately, mix dry ingredients.

Blend the two mixtures together.

Fold in chocolate chips.

Generously fill 24 greased or paper-lined muffin cups. (No need to grease if you're using the Demarle muffin tray--see the post for details: http://wp.me/p5ZTLQ-C)

Bake at 400 degrees for 16-20 minutes.
Recipe Notes
I use coconut oil and applesauce to 'lighten' it up. If you want them even lighter, you can substitute applesauce for all the fats. Make sure it's unsweetened.
I use homemade pumpkin puree in this recipe, but canned is fine too. Make sure it's pure pumpkin, not pie filling. (here's a link to homemade pumpkin puree--https://www.artfrommytable.com/how-to-make-pumpkin-puree/)
I would love to connect with you!  Let's keep in touch, follow me on Facebook, Twitter, Instagram and Pinterest.  
More from Demarle…

Looking for more pumpkin recipes?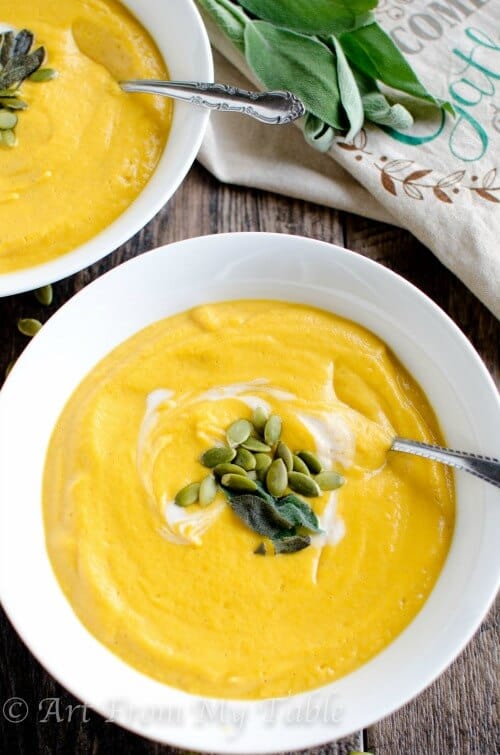 Smoky Pumpkin Soup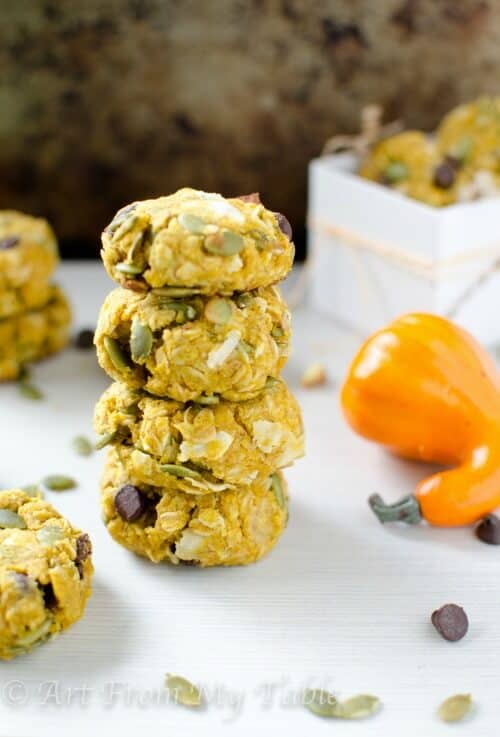 Pumpkin Breakfast Cookies