As an Amazon Associate I earn from qualifying purchases.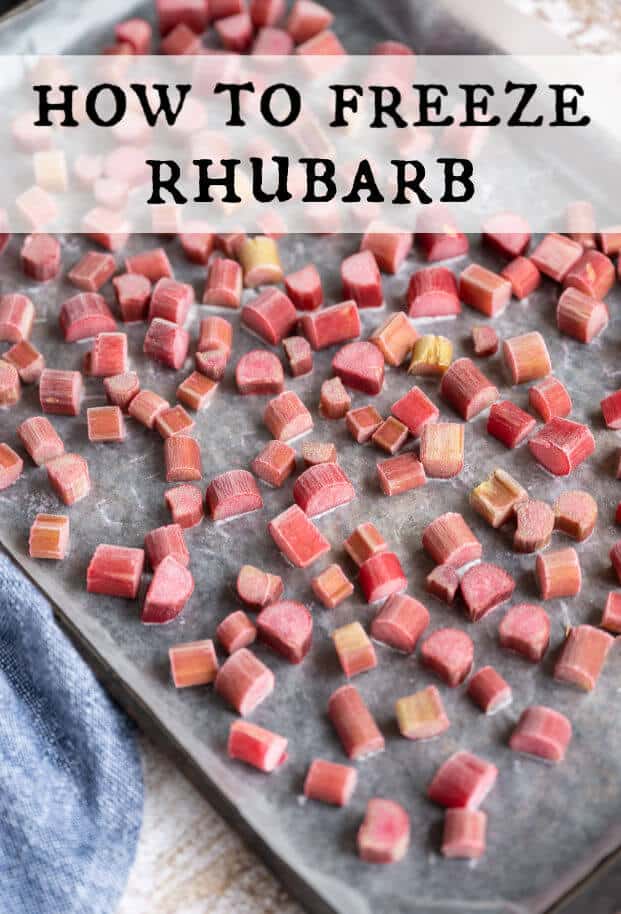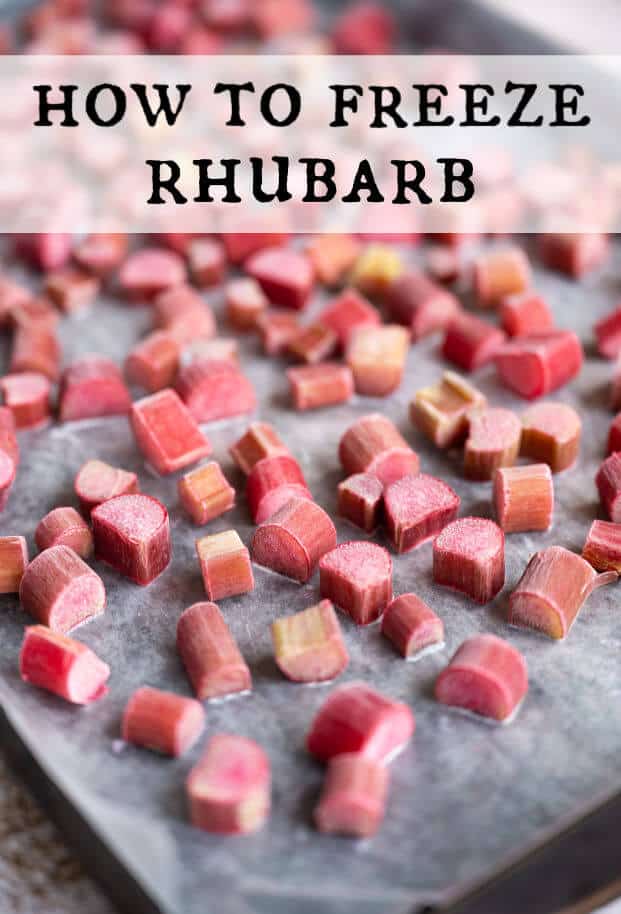 Rhubarb is only in season during the spring months of April-June. But, you can enjoy it all year by preserving it in your freezer! Here's how to freeze rhubarb the very best and easiest way, so you'll have it whenever the craving comes calling.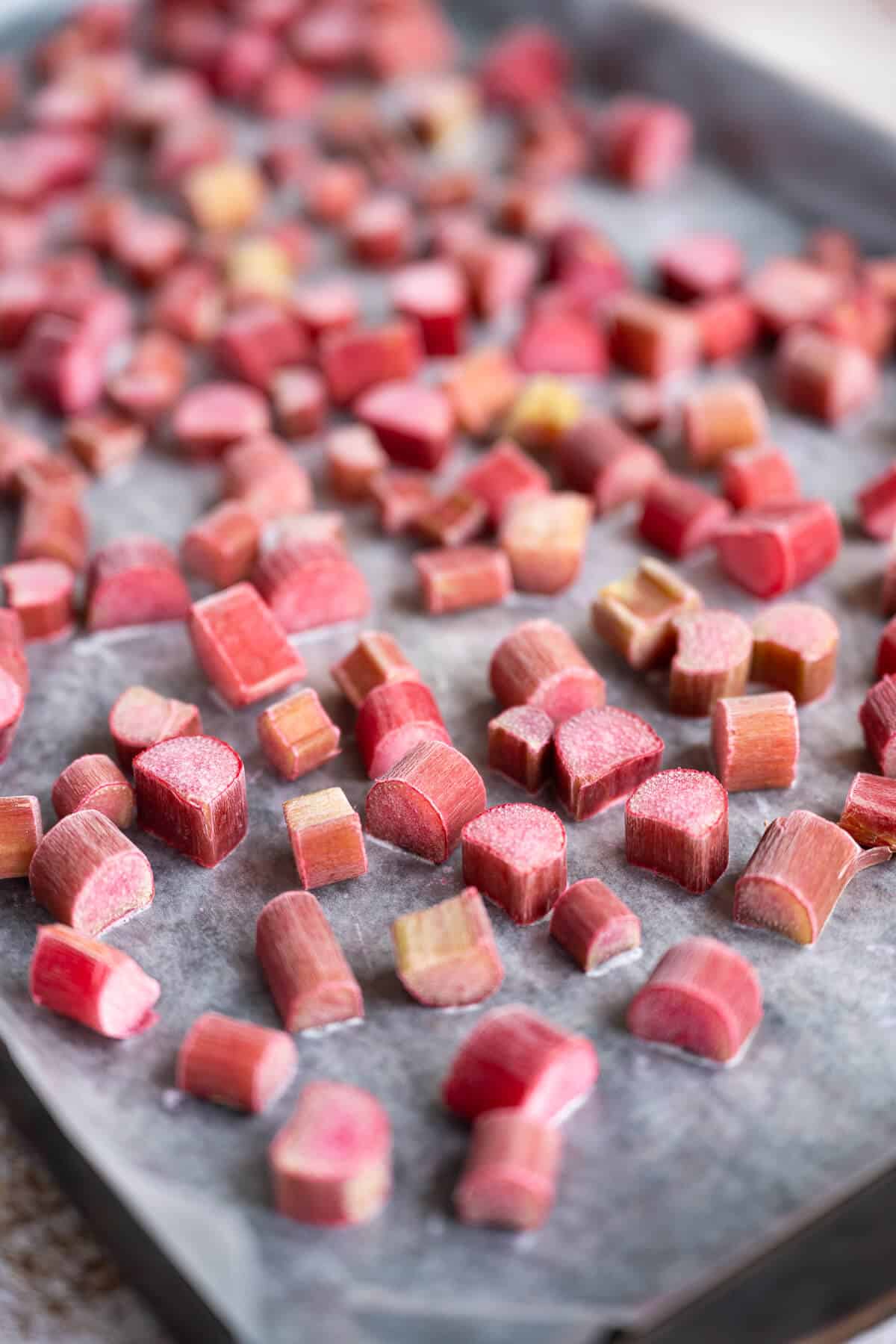 Jump to:
Rhubarb is technically a vegetable. It's very tart in flavor which is why you always find it paired with something sweet, whether that's straight up sugar or another fruit.
Rhubarb adds a distinct acidity and tanginess to your favorite desserts and recipes. Pairing it with strawberries is a popular combination, we absolutely love Rhubarb Crisp With Strawberries. It's also wonderful in jam.
WHY YOU'LL LOVE THIS RECIPE
It's easy and quick to stock the freezer.
No blanching required.
You don't need to thaw it before using.
Ingredients and Equipment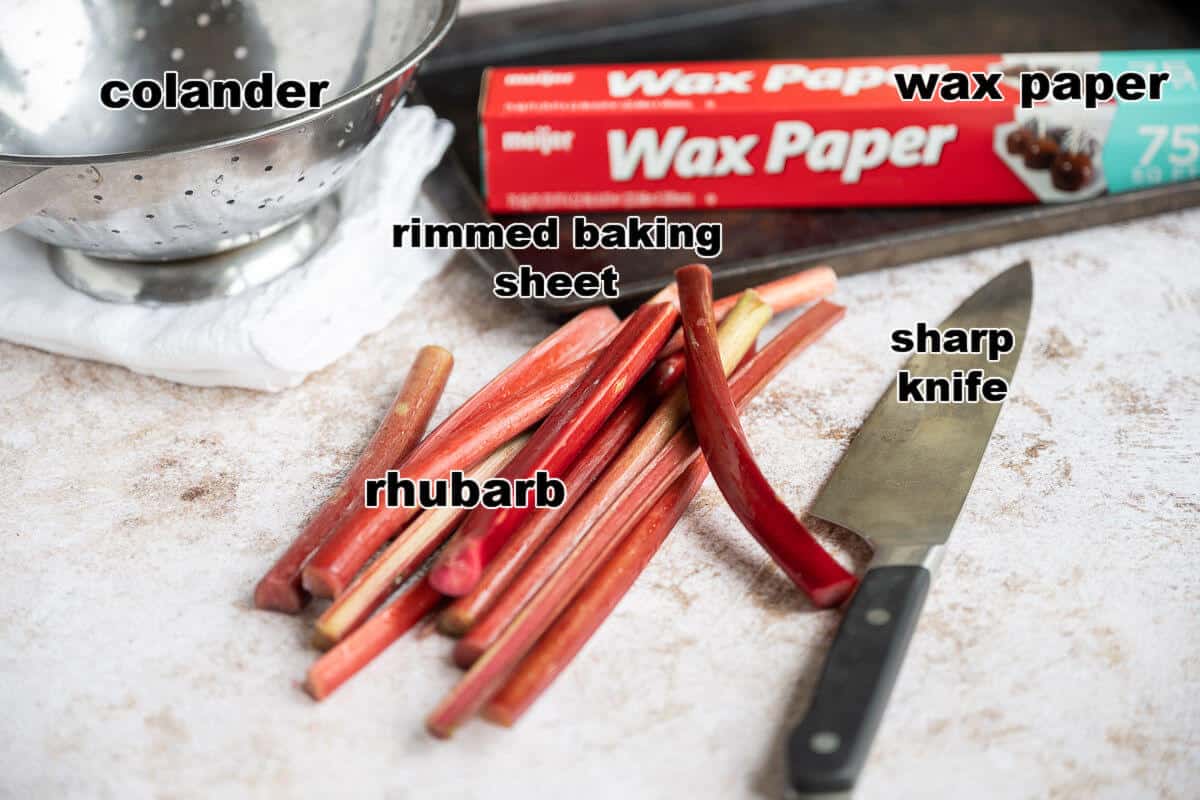 Rhubarb-There are two types of rhubarb available in the store: hothouse rhubarb and field-grown rhubarb.

Hothouse has pink to pale-red stalks and greenish-yellow leaves.
Field-grown rhubarb has a stronger flavor and can be easily spotted by its dark crimson stalks and bright green leaves.
A good sharp Chef's knife.
cutting board - I recommend wood of some sort, plastic ones are not good for your knives.
Wax Paper
Rimmed baking sheet
Freezing Rhubarb Instructions
This is an overview of the instructions, be sure to see the recipe card for all the details.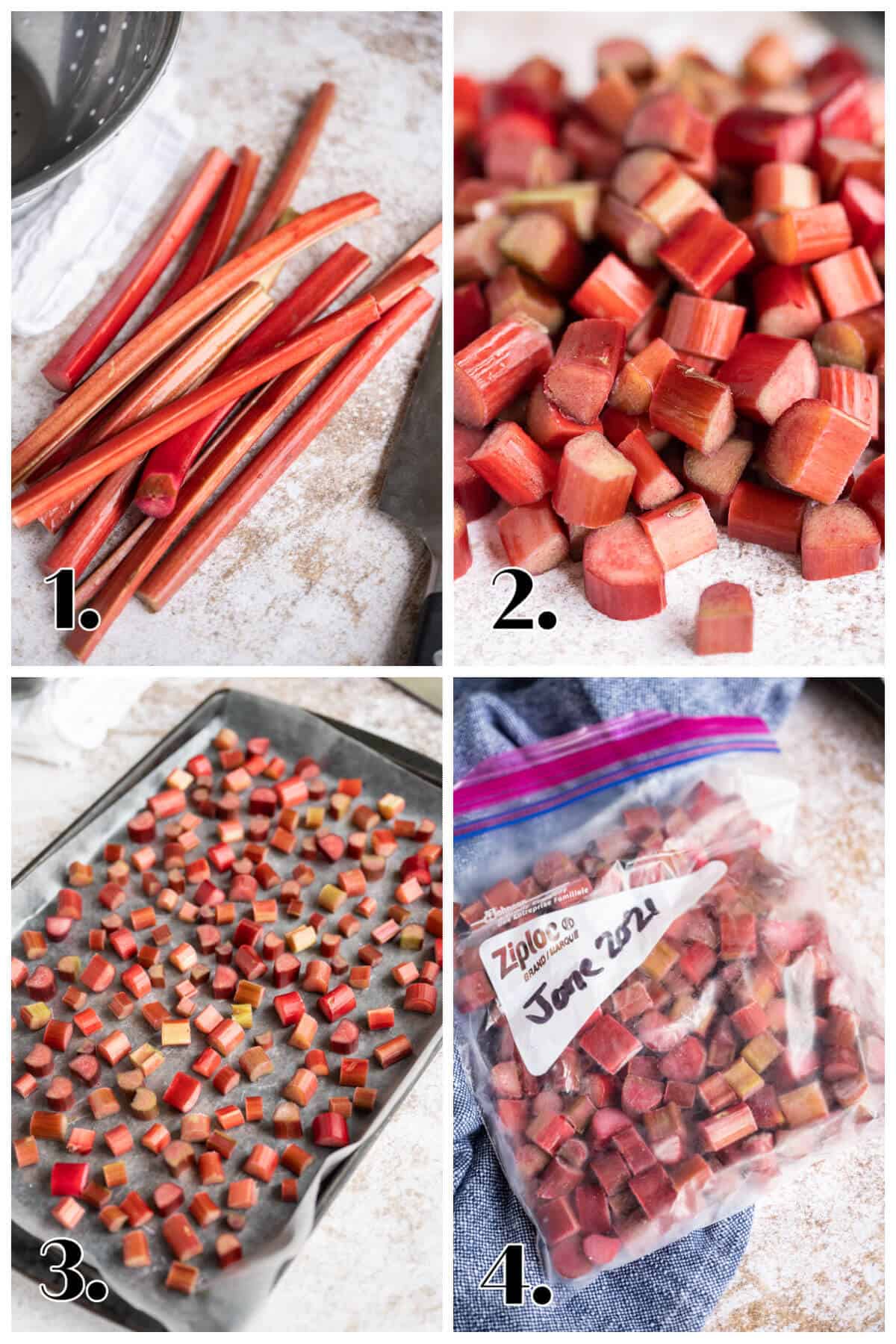 Wash- Cut off the leaves and rinse the rhubarb stalks well under cold running water, removing any dirt. The leaves of rhubarb are poisonous. They contain oxalic acid, which can be fatal if consumed in large quantities.

Cut- Cut the rhubarb into ½ inch pieces. I recommend this size because most recipes call for it this way.

Flash Freeze- Spread the diced rhubarb in an even layer on a wax paper lined baking sheet. Then place it in the freezer for 4 hours, or overnight.

Bag- Label Ziplock freezer bags with the contents and date. Transfer the rhubarb to the bags, squeeze as much air out of the bags as possible and seal them.
Expert Tips
When you spread the rhubarb pieces on the pan, leave space in between them. It's best if they are not touching. Flash freezing is just this--freezing individual pieces. This makes it easier to portion out what you want, when you want it for a recipe.

Make sure you use Freezer bags and not Storage bags. They are thicker and have a better protective barrier

Double bag. Things get tossed around in a freezer, and small holes can form that you didn't even know were there. If you thaw it, you'll have a leaky red mess.

Freeze Flat. Once it's all bagged up, spread it out in the bag and freeze it flat. This maximizes space in your freezer, and it does thaw quicker.
Frequently Asked Questions
Should rhubarb be peeled before freezing?

No. Rhubarb does not need to be peeled.
Do you have to blanch rhubarb before freezing?

No you don't. Blanching helps to retain the color and preserve nutrients and texture. It's completely optional to blanch it.
Can you bake with frozen rhubarb?

Absolutely! It works well in cooked dishes like jams and crisps, as well as fresh dishes like compote.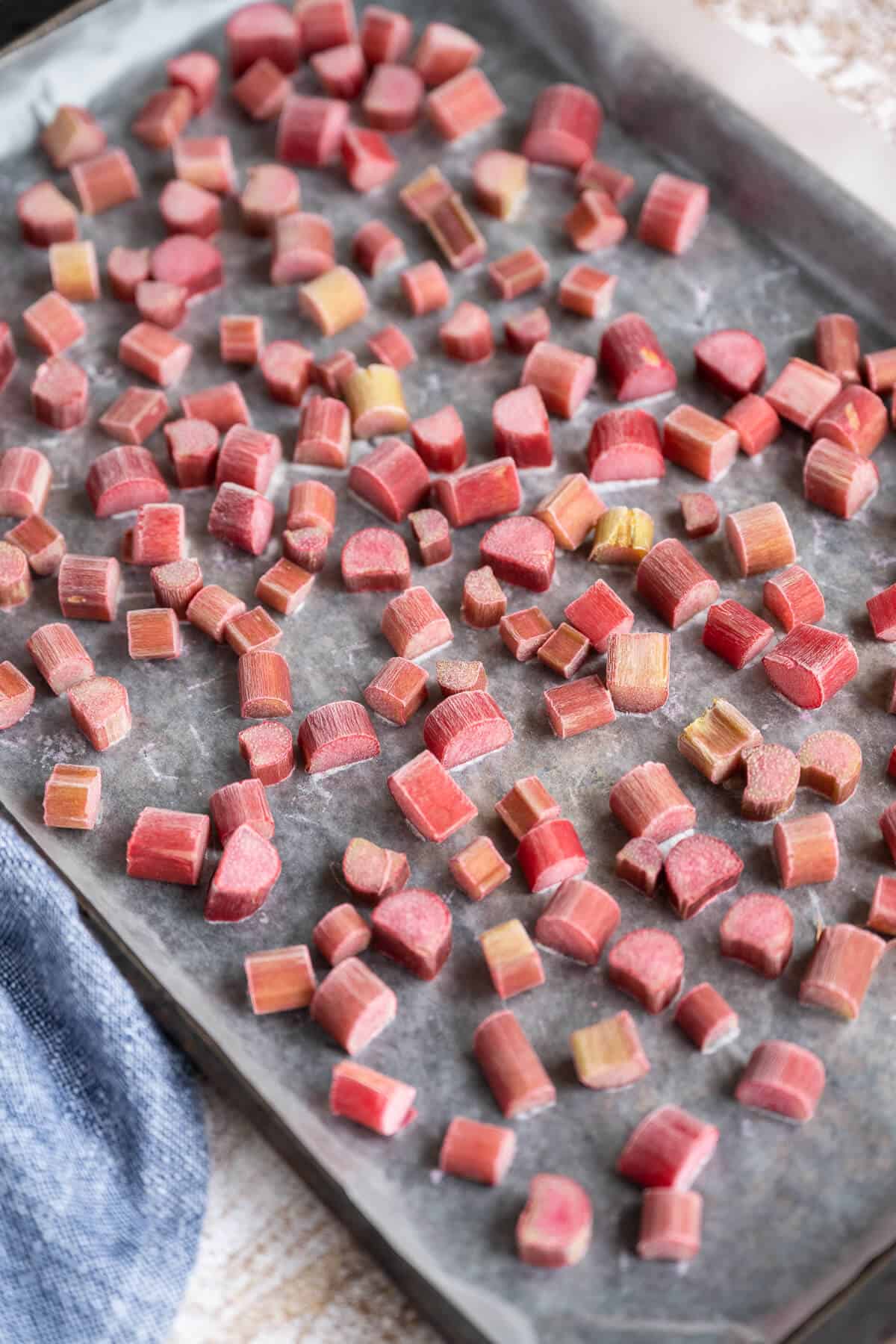 Additional Freezing Methods
Freezing rhubarb is perfectly fine to do whether it's raw, blanched, or fully cooked. In this post, I shared the flash freeze method for raw rhubarb. But there are two other options for freezing rhubarb.
Freezing Blanched Rhubarb
Blanching: Blanching vegetables helps preserve color, nutrients, and texture. Since rhubarb is usually baked or cooked down, I don't see a need for this, however, if you want to, here's how:
Bring a pot of water to a boil.

Add the rhubarb, cook for 1 minute.

Quickly remove the rhubarb and immediately place it in an ice bath (bowl of ice water) to stop the cooking.

Dry it by laying it out on towels.

Cut into ½ inch pieces.

Spread it in a single layer on a wax paper lined rimmed baking sheet.

Freeze for four hours or overnight.

Transfer to freezer bags and store in the freezer.
Freezing Cooked Rhubarb
Simmer the rhubarb in the liquid of choice (water, orange juice or another juice) and a tablespoon or so of sugar. You should have enough liquid to cover the bottom of the pan.

Gently cook until it's tender. Add more sugar if desired. This largely depends on what you'll use the cooked rhubarb for, rhubarb is very tart on its own.

Once it's completely cooled, freeze in portions in an air tight container.
Storing
Frozen rhubarb will store for up to a year in the freezer. To use it after that is fine, it just may loose it's color and start deteriorating a little bit.

Before you begin the process of freezing rhubarb, it should be stored in the refrigerator. With these simple steps it will last 2-4 weeks.
Wrap the stalks in a damp paper towel
Place them in a perforated plastic bag
Keep them in a crisper drawer of the refrigerator.
You may also like
Please share
Your shares are how this site grows, and I appreciate each one. Do you know someone who would enjoy this recipe?

I'd love it if you shared it on your favorite Pinterest board or Facebook! AND…if you like this recipe, please do me a favor and give it a ⭐️ ⭐️ ⭐️ ⭐️ ⭐️ rating! TIA 🥰

You can also follow along on YouTube and Instagram!
📋 Recipe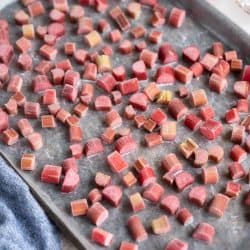 How To Freeze Rhubarb
The easiest way to preserve rhubarb is in your freezer. This guide will show you step by step how to freeze rhubarb.
Print
Pin
Rate
Equipment
Half sheet pans

wax paper

Sharp knife and cutting board

Freezer bags
Ingredients
Fresh Rhubarb

As much or little as you want
Instructions
Prepare your pans by lining them with wax paper.

Dice the rhubarb into ½ inch pieces.

Put the rhubarb pieces onto the prepared pans. They should not be touching each other.

Place the pans in the freezer, uncovered for 4 hours or until frozen.

Label the freezer bags while the fruit is freezing. Include what it is, and the date.

After the rhubarb is frozen, remove the pans from the freezer and transfer the frozen pieces to the labeled freezer bags. Stack in the freezer for later use.
Notes
This method is known as flash freezing.. This is beneficial because each piece is frozen individually and won't be stuck together in one big clump. This makes it easy to grab exactly the amount you need, when you need it, for your recipes.
Double bagging is always a great idea. Things get tossed around in the freezer, and bags can tear or get small holes in them. In the event that you were going to use a whole bag of rhubarb and you were going to thaw it, this can leave a mess.
Be sure to label your bags with both the contents and the date!
Rhubarb will stay good in the freezer for up to one year.
Nutrition
Calories:
17
kcal
|
Carbohydrates:
4
g
|
Protein:
1
g
|
Fat:
1
g
|
Saturated Fat:
1
g
|
Polyunsaturated Fat:
1
g
|
Monounsaturated Fat:
1
g
|
Sodium:
3
mg
|
Potassium:
234
mg
|
Fiber:
1
g
|
Sugar:
1
g
|
Vitamin A:
83
IU
|
Vitamin C:
7
mg
|
Calcium:
70
mg
|
Iron:
1
mg
HUNGRY FOR MORE? Subscribe to my newsletter to have recipes delivered to your inbox and to stay up to date on the latest!