As an Amazon Associate I earn from qualifying purchases.


Homemade Cranberry Sauce compliments Thanksgiving dinner, sandwiches, and much more. Once you try this easy cranberry sauce recipe you'll never buy canned again!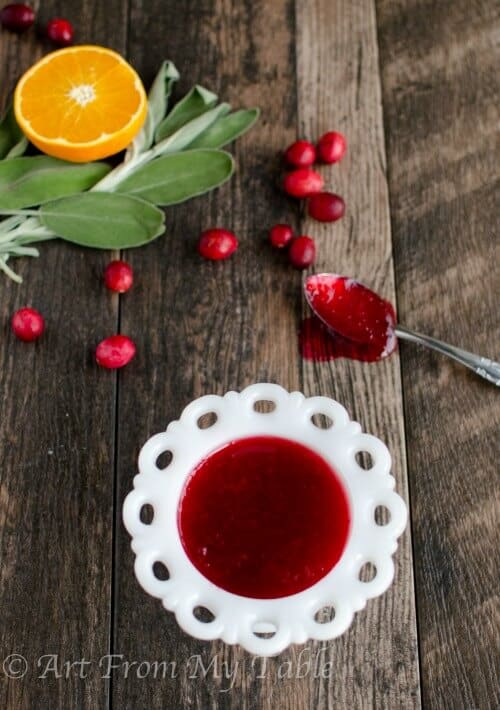 Cranberry sauce was never my favorite dish on the Thanksgiving dinner table. But that's because I had only ever tried the canned sauce that usually looks like a big red blob.
If you have the same feelings, I think you'll change your mind with this homemade version!
On top of being so fresh and delicious, you won't believe how easy it is to make this classic holiday side dish.
You only need three ingredients to make it!
How to make Cranberry Sauce
This sauce is a jellied cranberry sauce. The sugar and natural pectin preserve it and make it gel. You don't have to put it in a mold, (but you can) I typically don't. And it will be 'looser' than what you would buy at the store.
I promise after making this, you'll skip the canned stuff for good.
Ingredients
Fresh cranberries- usually available in your produce department from October-December. You can use frozen cranberries as well. Cranberries are loaded with health benefits, and naturally low in carbs.
100% cranberry juice- You can use water instead of juice if you prefer. Another flavor of juice can also be used, just keep in mind your sauce will be infused with that flavor. Orange is great if you like a citrus cranberry sauce. Pomegranate is nice if you like a more intense flavor.
Sugar- straight up granulated sugar. Read on for a

sugar-free and healthier version.
That's it!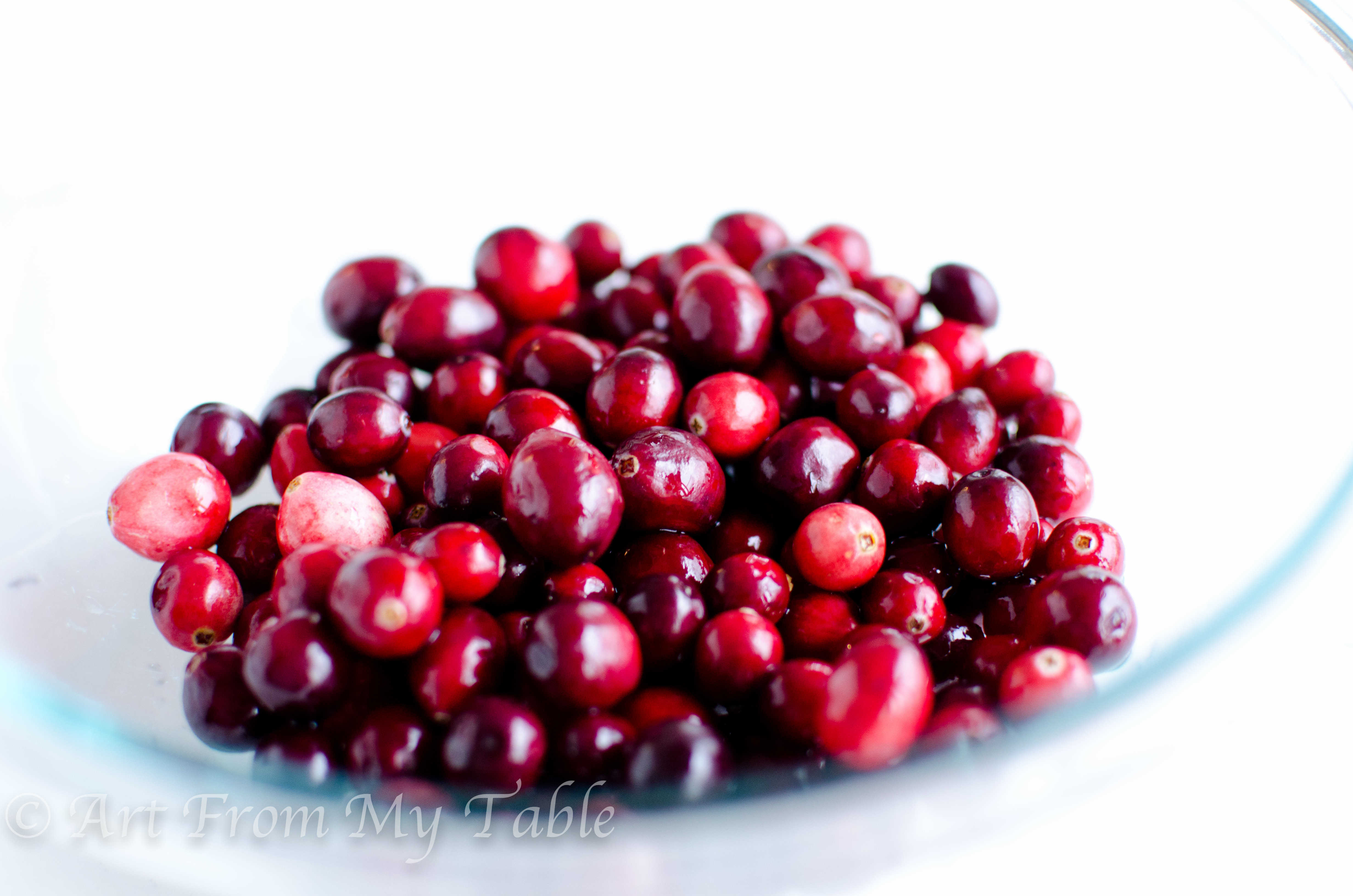 Three steps to homemade cranberry sauce
The key to making delicious cranberry sauce is reducing the liquids until you have a thick, smooth jelly, while still retaining all the flavors of the fresh cranberries.
Supplies:
Small saucepan to heat all the ingredients
Fine mesh sieve to strain the berries after they're finished cooking
Wooden spoon or mason jar to help smash and stir the cranberries as they cook
STEP ONE: PREPARE THE BERRIES
rinse and sort- discard berries that are shriveled or have brown spots. Ripe cranberries are plump and range in color from light to dark red.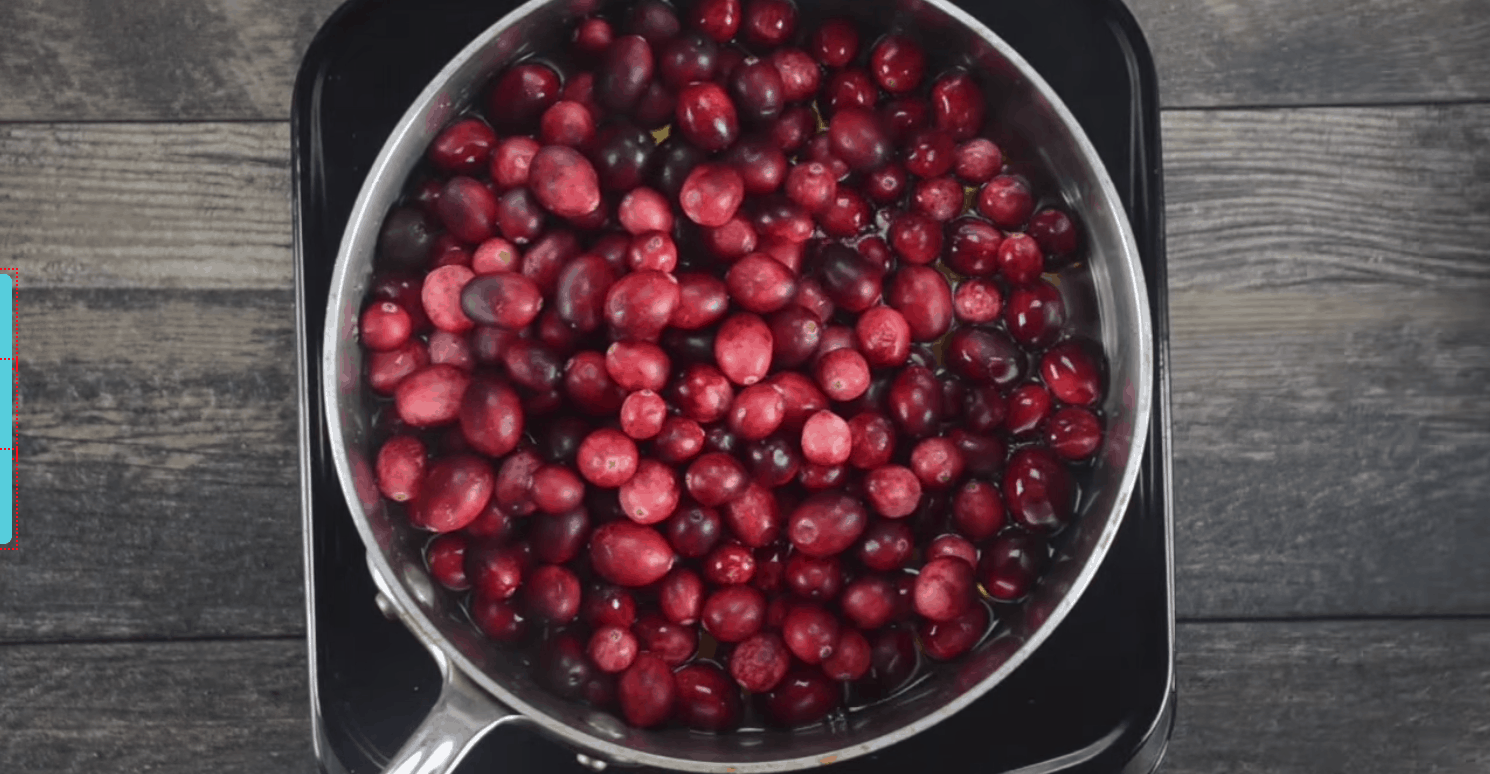 STEP TWO: COOK
Pour the juice into the saucepan and cook over medium high heat, allowing it to come to a boil.
Reduce the heat slightly and add the cranberries. Stir to combine the ingredients, then let the berries simmer for 10-15 minutes. They will begin to burst which makes a subtle 'popping' noise.

***NOTE: The longer you let them cook, the thicker your sauce will become.***

When the berries have softened, and thickened, use the wooden spoon to mash the berries into the juice. It should all be blended at this point.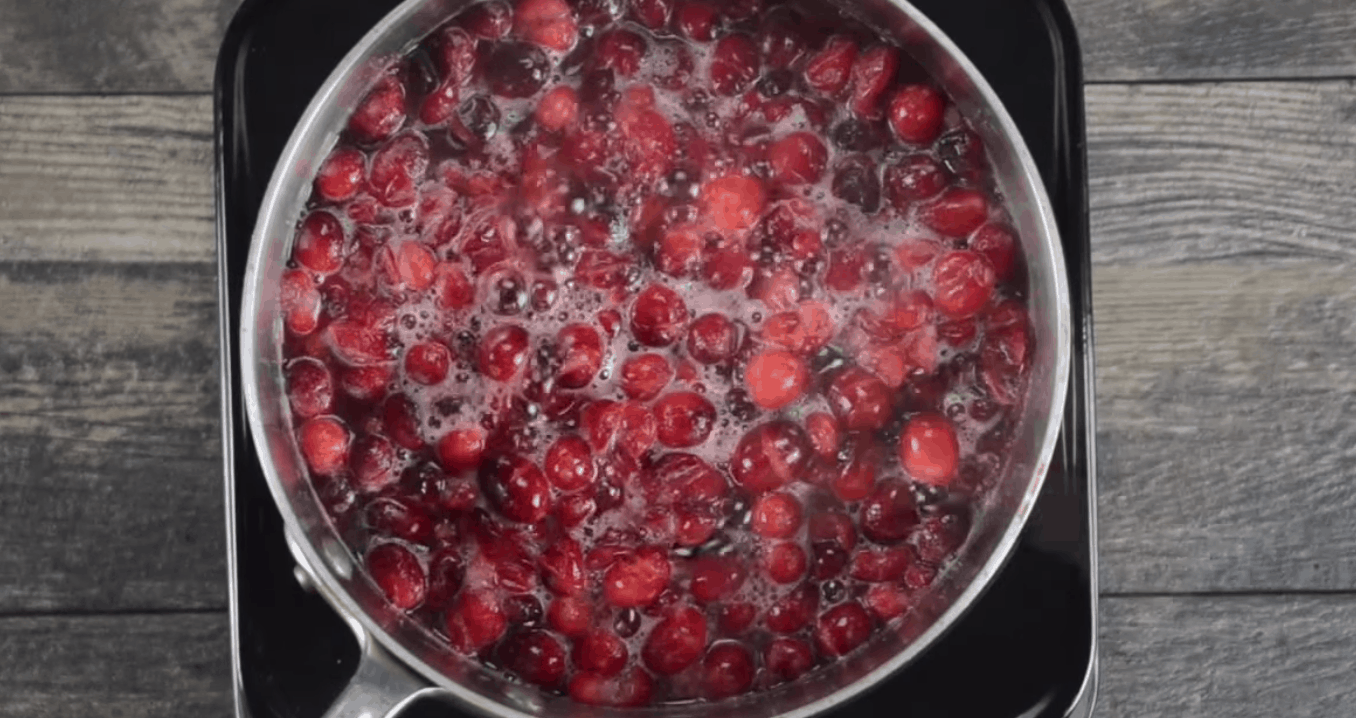 STEP THREE: STRAIN AND CHILL
Place a fine-mesh sieve over a bowl. Press the berries through the strainer using the back of a wooden spoon or a small mason jar. Alternatively, you can use a food mill to grind the cooked berries until the mixture is smooth, I've done it this way before, but I tend to gravitate to the simplicity of using a sieve.
Return the sauce to the pan and bring to a boil. Add the sugar and stir to combine. Boil for one minute, then remove the pan from heat.
Let it cool for about 10-15 minutes before transferring to a container. (Optional: You can add it to a Jell-o mold to give your jellied cranberry sauce a festive look for the holidays)
Place in the refrigerator to chill and set up.
Notes
If you prefer whole berry sauce, just omit the straining of the berries. Still mash them, but not completely. This gives you a chunkier sauce and is just as good!
Add orange zest at the very end for a hint of citrus.
Storing
Fresh homemade Cranberry Sauce can be stored in the refrigerator for 10-14 days.
If you do a sugar free version, it will last 3-5 days.
You can freeze it too! It will keep for up to six months in the freezer. Thaw it in the refrigerator before using it.
Sugar-Free Cranberry Sauce
This recipe for traditional cranberry sauce contains sugar (a lot), which means it's not a good option for anyone watching their carbs or sugar intake.
Fortunately, it's simple to adapt this to a sugar-free cranberry sauce and still keep it all-natural. Substitute the sugar for a stevia-based sweetener.
There are many different sweeteners on the market to choose from. Here's what you need to know:
This sauce will be looser, more like jam, if you substitute the sugar with a natural sweetener. However, you can make it gel and mold if you add gelatin. (more below).
Different sweeteners convert differently to sugar, so

be sure to check a conversion chart

if you use something other than my suggestion.
NATURAL SWEETENER OPTIONS
stevia (straight up)
Trim Healthy mama super sweet blend
I use different options depending on the recipe I'm making. For this recipe, my first choice is Swerve granular. It measures like sugar and it tasted great. As a matter of fact, I didn't tell my family and they didn't notice!
If you're concerned about consuming carbs, it may also be a good idea to substitute cranberry juice with water to reduce the carbs even further.
Easy peasy! Just swap out the sugar for Swerve and you're good to go!
If you want it to mold- After straining the berries, and adding the sweetener. Mix 2 tablespoons of unflavored gelatin with ¼ cup of cold water. It will gel. Add that 'jelly' to the sauce, immediately, while it's hot and whisk it in well. Transfer to your mold and let it set up in the fridge.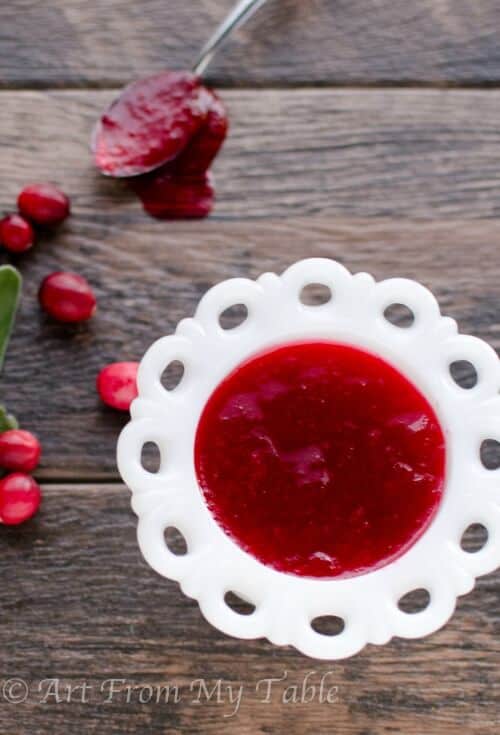 Ways to use Cranberry sauce
Pancakes/waffles
Over ice cream
More recipes using fresh cranberries
Check out my Kitchen basics for more "from scratch" easy recipes
HUNGRY FOR MORE? Subscribe to my newsletter to have recipes delivered to your inbox and to stay up to date on the latest!
Please share!
Your shares are how this site grows, and I appreciate each one. Do you know someone who would enjoy this recipe?

I'd love it if you shared it on your favorite Pinterest board or Facebook! AND…if you like this recipe, please do me a favor and give it a ⭐️ ⭐️ ⭐️ ⭐️ ⭐️ rating! TIA 🥰

You can also follow along on YouTube and Instagram!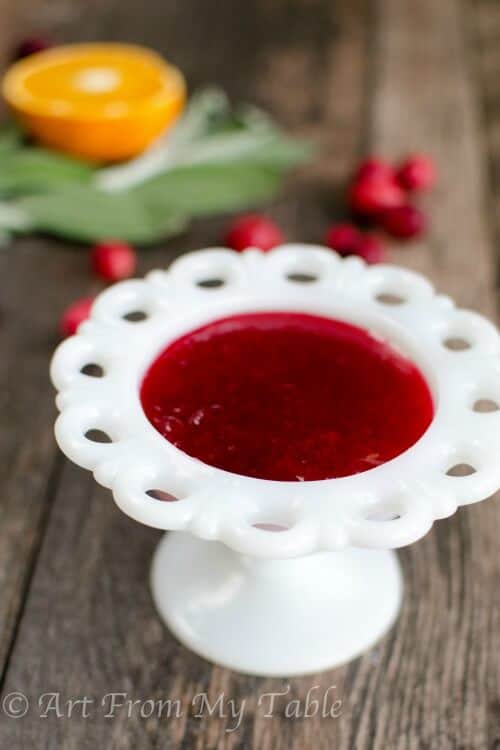 📋 Recipe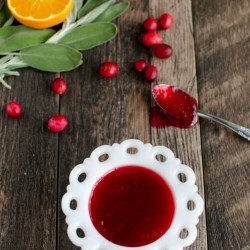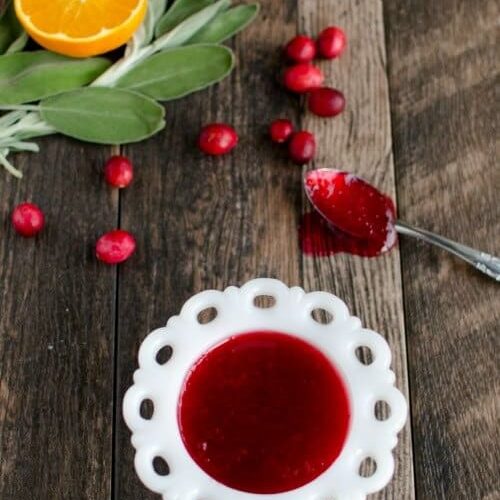 Jellied Cranberry Sauce Recipe
Cranberry Sauce, made from scratch, compliments Thanksgiving dinner, sandwiches, and much more. This recipe is so easy you'll never buy canned again!
Print
Pin
Rate
Equipment
sauce pan

fine mesh sieve

wooden spoon

jam jars
Ingredients
1

12 oz bag fresh cranberries

¾

cups

100% cranberry juice

1

cup

sugar
Instructions
Wash cranberries and discard any that are not ripe, shriveled, or brown.

Bring the juice to a boil, add cranberries and let them cook 5-10 minutes, stirring occasionally.

Crush and strain the berries through a fine mesh sieve, using the bottom of a mason jar, or back of a spoon. (alternatively, you can use a food mill)

Return the strained berries to the pan and heat until boiling.

Add sugar and boil for 1 minute.

Place into a container or mold in the refrigerator. Sauce will set up in a few hours.
Notes
You can use any 100% juice flavor, just keep in mind it will alter the flavor. You can also use water in place of juice.
Add orange zest at the end for a hint of citrus.
This recipe can be made sugar free by substituting the sugar with a sweetener. For this recipe, I prefer Swerve granular. It measures just like sugar, and tastes great. See the post for more sweetener options.
Cranberries are naturally low carb and very good for you. If you follow Trim Healthy Mama, Keto, or a low carb diet, this recipe fits as long as you swap out the sugar for something on plan.
Nutrition
Calories:
862
kcal
|
Carbohydrates:
223
g
|
Protein:
1
g
|
Fat:
1
g
|
Saturated Fat:
1
g
|
Sodium:
6
mg
|
Potassium:
146
mg
|
Sugar:
223
g
|
Vitamin A:
85
IU
|
Vitamin C:
18
mg
|
Calcium:
15
mg
|
Iron:
1
mg
Update Notes: This post was originally published on August 26, 2016, but was updated with some more information, step by step instructions, and updated notes and tips in January of 2021.