As an Amazon Associate I earn from qualifying purchases.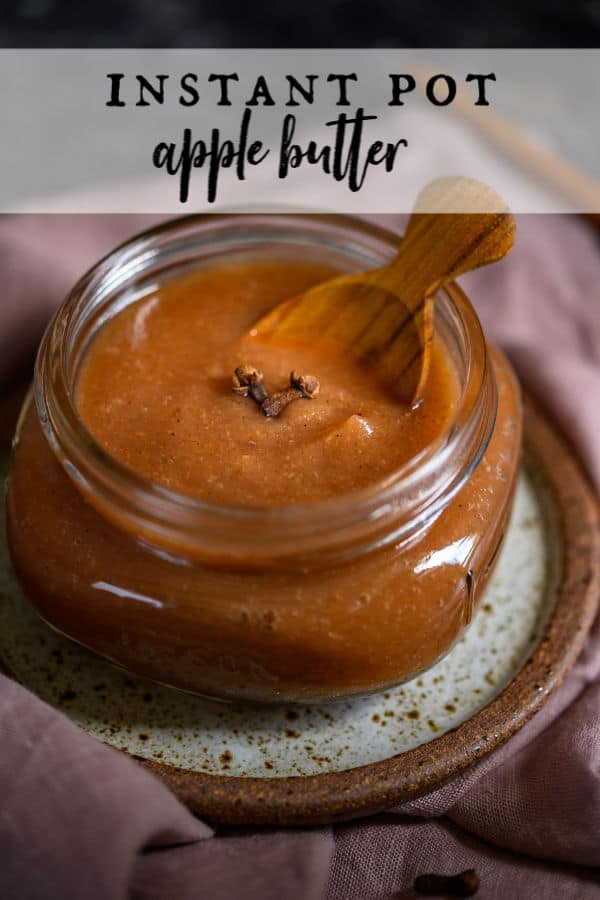 This simple recipe for homemade apple butter is absolutely delicious!
All the best flavors of fall wrapped up in a smooth, creamy spread that's great on just about anything.
All the sweetness comes straight from the apples, not added sugar. The instant pot strikes again here, cutting down a typically long cooking process into just an hour!
Read on to see how to make apple butter.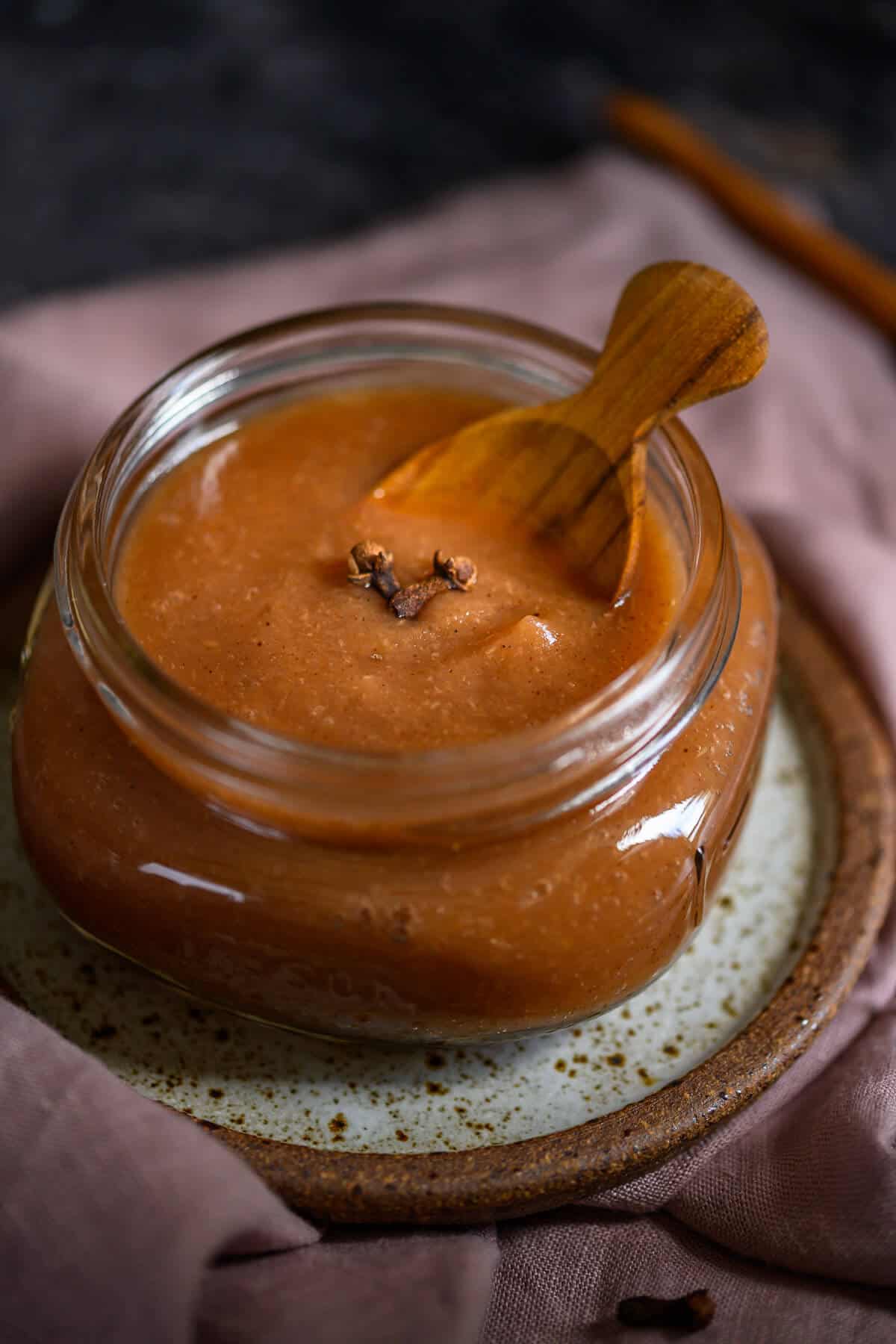 There's nothing like fresh apples from your local orchard. We can't get enough of them (Honey Crisp is my absolute fave!).
We have 5 fall birthdays in our family and at least one or two people will request Apple Crisp or Baked apples as their birthday treat. And of course, these are so much better with fresh apples.
Apple Butter is another way to enjoy all those fall apples.
Tips
Before we get started, here are a few things to know:
Buy seconds or #2's from the orchard. These are the apples that don't look perfect. They might have a mark on them or be a weird shape. Guess what? These are about half the cost and they taste the same! We're cooking them down so they don't need to be pretty.
You do not need to peel the apples. This is a huge time saver, plus there are benefits to eating the skins. Don't worry, they blend right in!
You don't need to add sugar. You can, but I think the apples are sweet enough on their own.
Use a variety of apples to vary the flavor.
Step by Step Instructions
Step One: Cut the Apples
As I mentioned before, you do not need to peel the apples. I cut around the core and then quarter each of those pieces. You're left with large chunks of apples.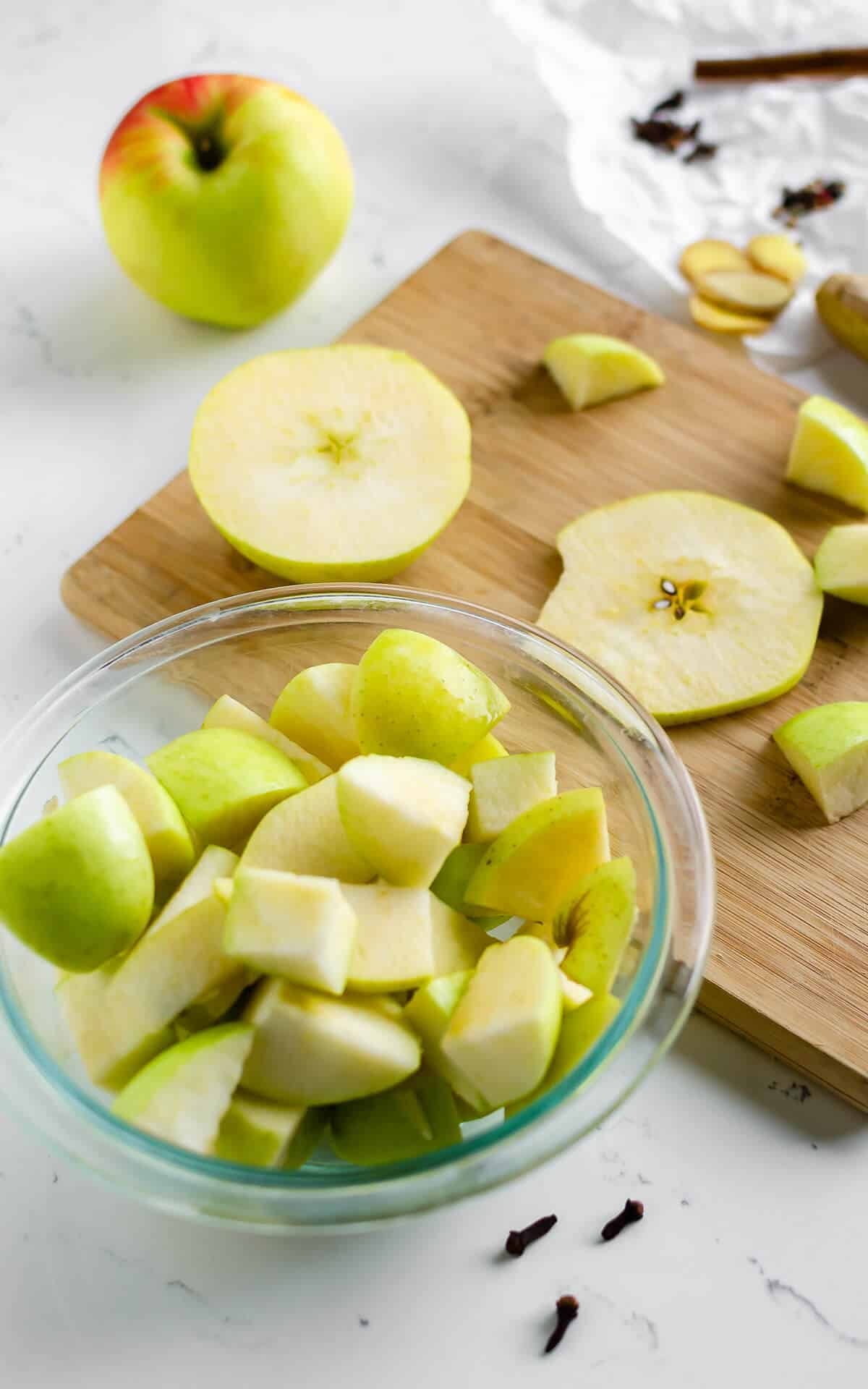 Step Two: Add liquid and spices
Once the apples are in the Instant Pot or Pressure Cooker, add the apple cider, apple cider vinegar, and the flavorings. If you don't have apple cider, water is fine. I like to use cinnamon, ginger, cloves, allspice, and cardamom, But you can get a little creative here if you like. The vinegar really adds a nice tang to the recipe.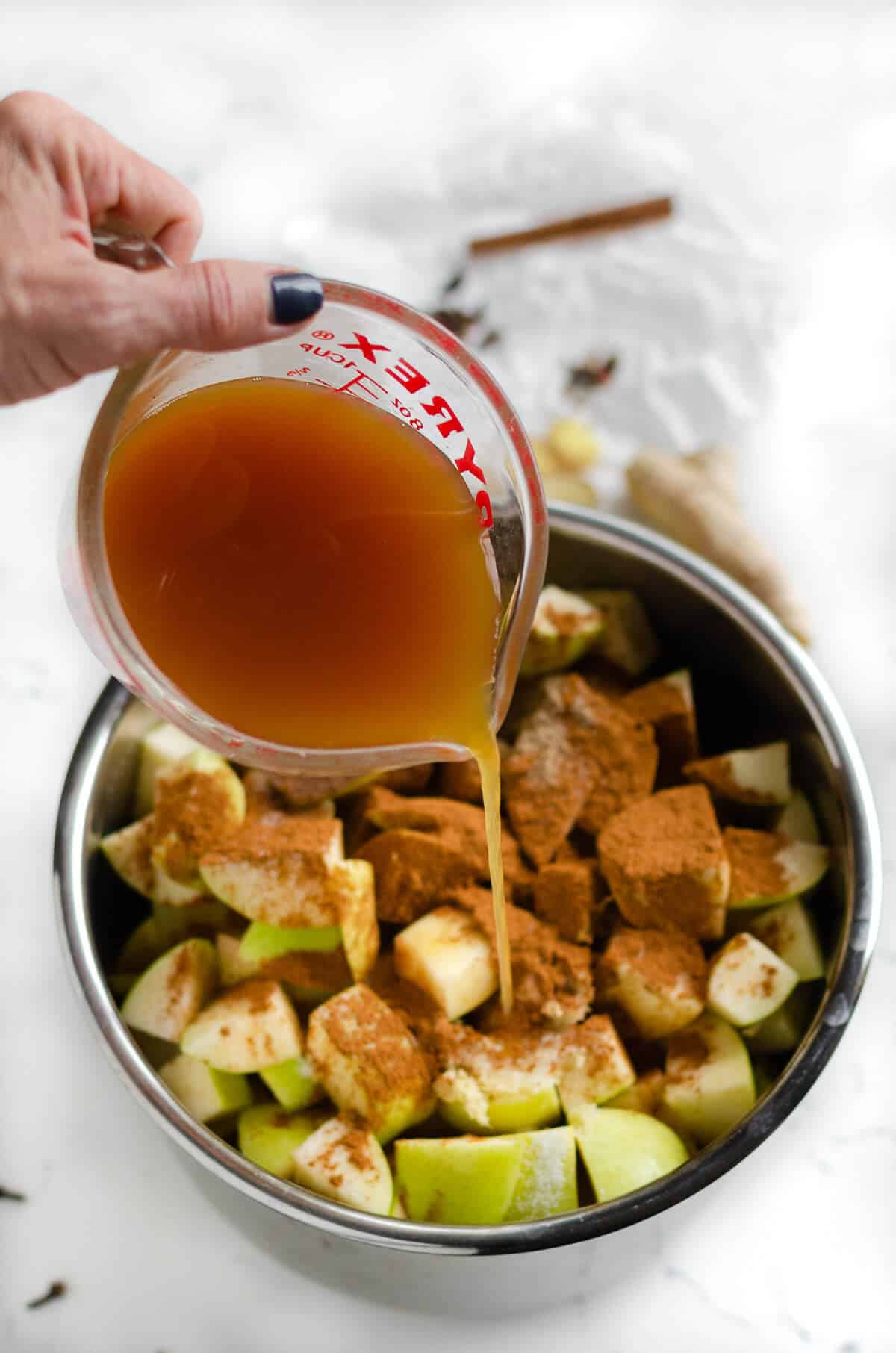 Step Three: Cook the apples
Turn the Instant Pot to 'Manual' high pressure for 1 hour. Make sure the valve is sealed. Allow to naturally release.
Step Four: Blend the mixture
You can use an immersion blender (also known as a stick blender) to puree' the mixture. If you'd rather, you can transfer everything to a blender and puree it that way. If you use a traditional blender, work in batches and use caution as the apple butter is very hot.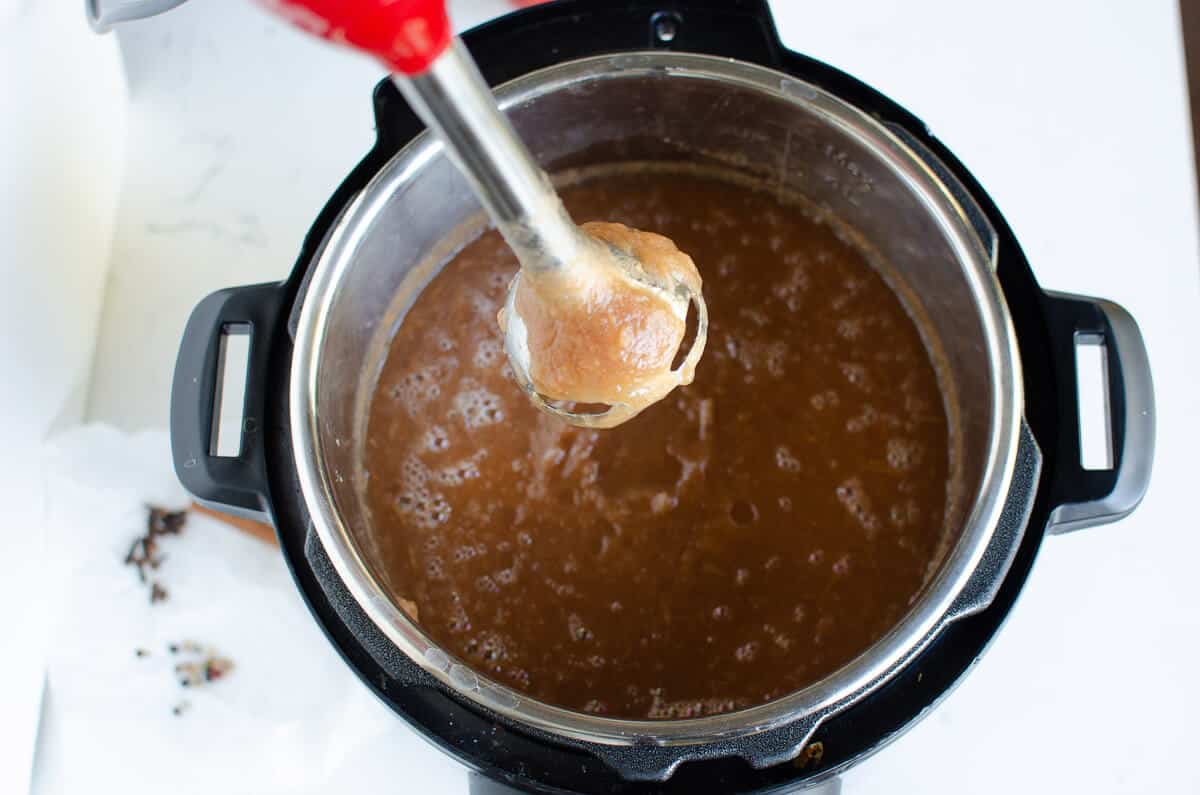 For thicker apple butter, turn on the 'Saute' function of the Instant Pot, adjust the setting to low or normal, and let it simmer, uncovered. Stir occasionally.
You can also do this on the higher setting, but it will splatter quite a bit and you need to stir it more often so it doesn't burn. It can cook an additional 30-45 minutes, depending on how thick you like it. It will also thicken as it cools.
After it's finished cooking, let it cool completely before storing it.
Storing Instructions
Put the cooled apple butter in jars and store it in the refrigerator. With growing kids, it doesn't last long around here, but it should be good for about a month in the fridge.
To freeze it, place the cooled apple butter in ziplock bags, get all the air out, seal well and lay flat in the freezer. This makes for quicker thawing, and maximizing space in the freezer. It will stay good for 6 months to a year. Make sure you double bag it.
You can also freeze it in jam jars, let it thaw in the refrigerator before using it.
Another option is to take it through the canning process. Canned Apple Butter will last almost indefinitely. Once it's opened, it should be stored in the refrigerator.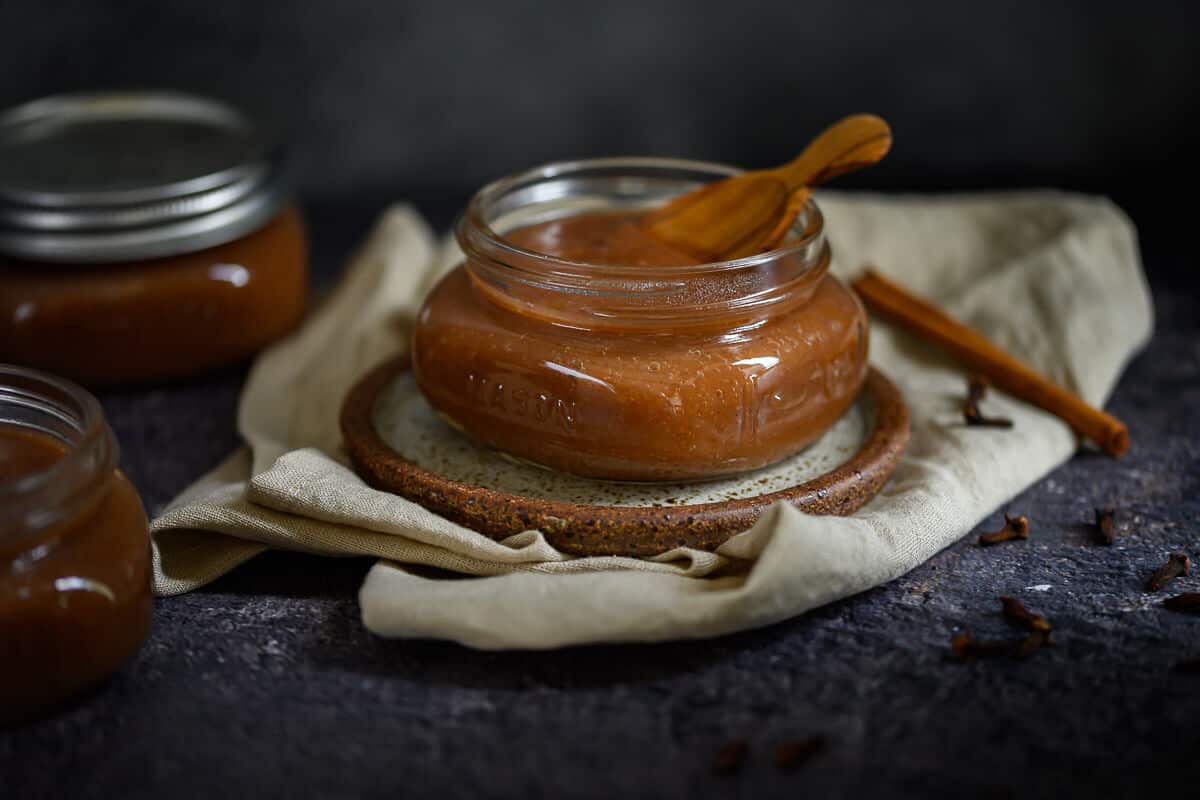 Best apple varieties
Typically, a softer apple is used for apple butter because they break down quicker. That being said, I've never had an issue with any type of apple for the Instant Pot apple butter. Here are a few suggestions:
Ginger Gold
Fuji
Golden Delicious
Braeburn
Cortland
Ida Red
Mix a few varieties for the best flavor. Fuji and Golden Delicious are popular mix for apple butter. If you like your apple butter extra sweet and no added sugar, then use a sweeter variety instead of adding a blend.
Ways to use
Use it on toast
Top your muffins with it
As ice cream topping
Put it on waffles or pancakes
Bake with it. I often substitute applesauce for oil in quick bread recipes, apple butter works the same way. I just used it the other day in my banana bread recipe.
Use it in marinades or dips
Mix it into your yogurt
On sandwiches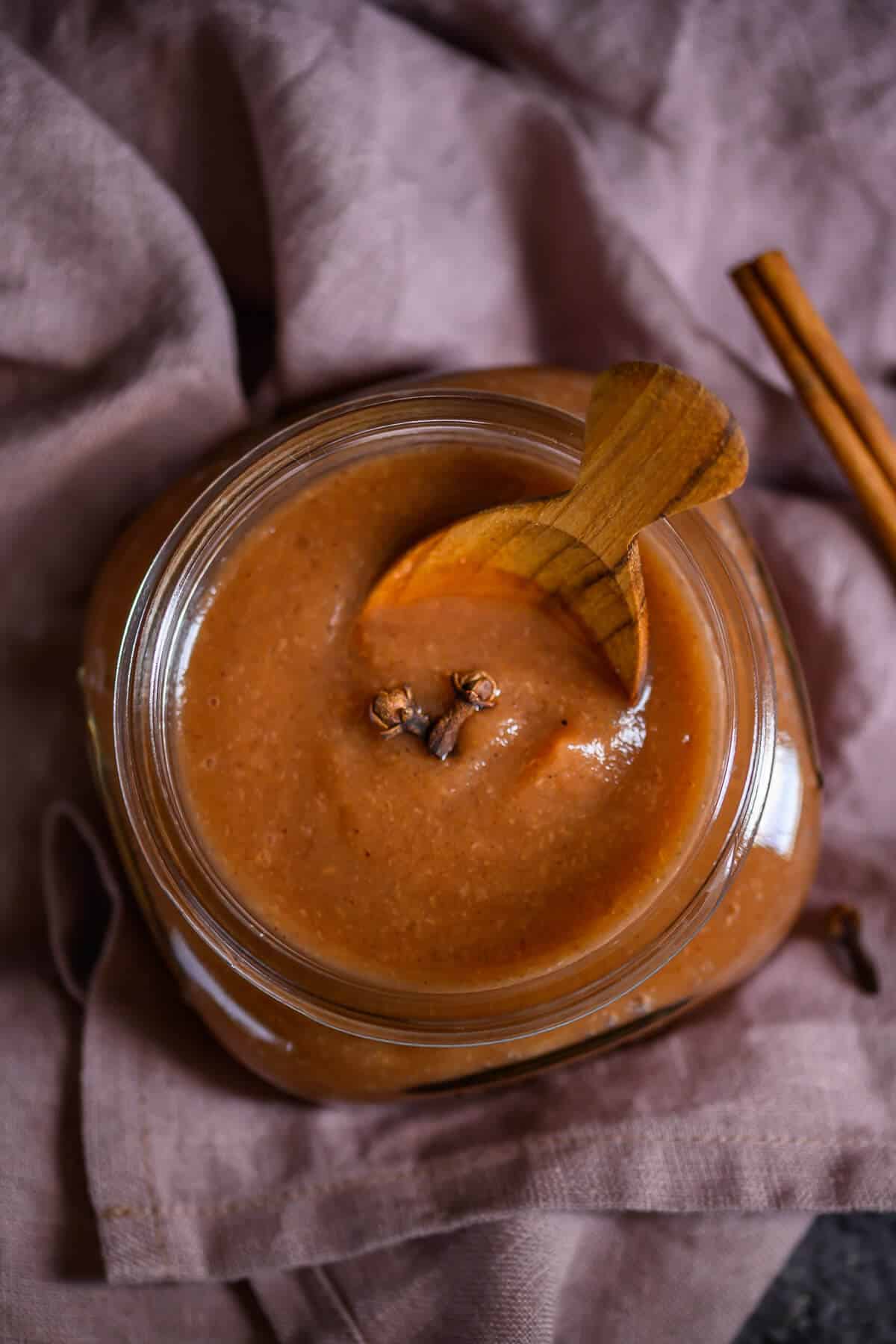 More Apple Recipes
Salted Caramel Apple Oatmeal
📋 Recipe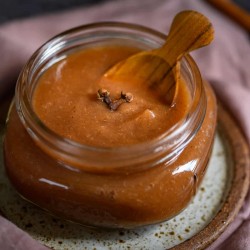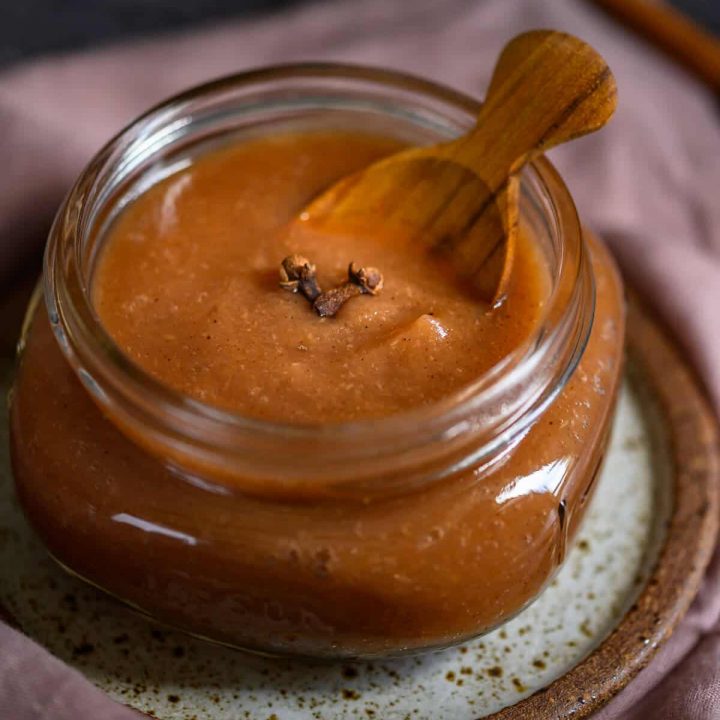 Instant Pot Apple Butter
Delicious, sweet, and smooth Apple Butter made in the Instant Pot which cuts down on time dramatically.
Print
Pin
Rate
Ingredients
6

lbs

Apples

I used Ginger golds

1

tablespoon

cinnamon

½

teaspoon

ground ginger

⅛

teaspoon

allspice

¼

teaspoon

ground cardamom

2

tablespoon

apple cider vinegar

1

cup

apple cider

or apple juice or water
Instructions
Cut the apples in large chunks. I cut around the core and then cut those pieces into quarters.

Place the apples, cinnamon, ginger, cloves, allspice, cardamom, apple cider vinegar, and apple cider into the Instant Pot. Cover and make sure the valve is in the sealed position.

Cook on manual high pressure for 1 hour.

Puree' apple butter with an immersion blender, or run through a standard blender in batches. use caution, it's hot.

After apple butter has cooled, transfer it to glass jars and store in the refrigerator for up to one month.
Notes
If you don't have apple cider, water works just fine.
For a thicker apple butter, cook 30-60 minutes longer, uncovered, using the 'saute' function on the instant pot.
To Freeze: Can be stored in jars in the freezer for 6-12 months. I recommend putting the apple butter in freezer ziplock storage bags and laying them flat. This maximizes space in the freezer, and makes for quicker thawing time.
Generally softer apples are recommended because they are easier to break down. If you use a firmer apple (like a honey crisp or a Zestar), longer cooking time may be required.
Nutrition
Calories:
32
kcal
|
Carbohydrates:
9
g
|
Protein:
1
g
|
Fat:
1
g
|
Saturated Fat:
1
g
|
Sodium:
1
mg
|
Potassium:
66
mg
|
Fiber:
1
g
|
Sugar:
6
g
|
Vitamin A:
31
IU
|
Vitamin C:
3
mg
|
Calcium:
5
mg
|
Iron:
1
mg