As an Amazon Associate I earn from qualifying purchases.


Sweet and crunchy, this easy homemade Caramel Corn with warm gingerbread spices is perfect for the Christmas season!
WARNING! HIGHLY ADDICTIVE!
Caramel corn is a delightful treat to enjoy any time of year. But, when you add a few holiday spices into the mix, you get a heavenly Christmas treat!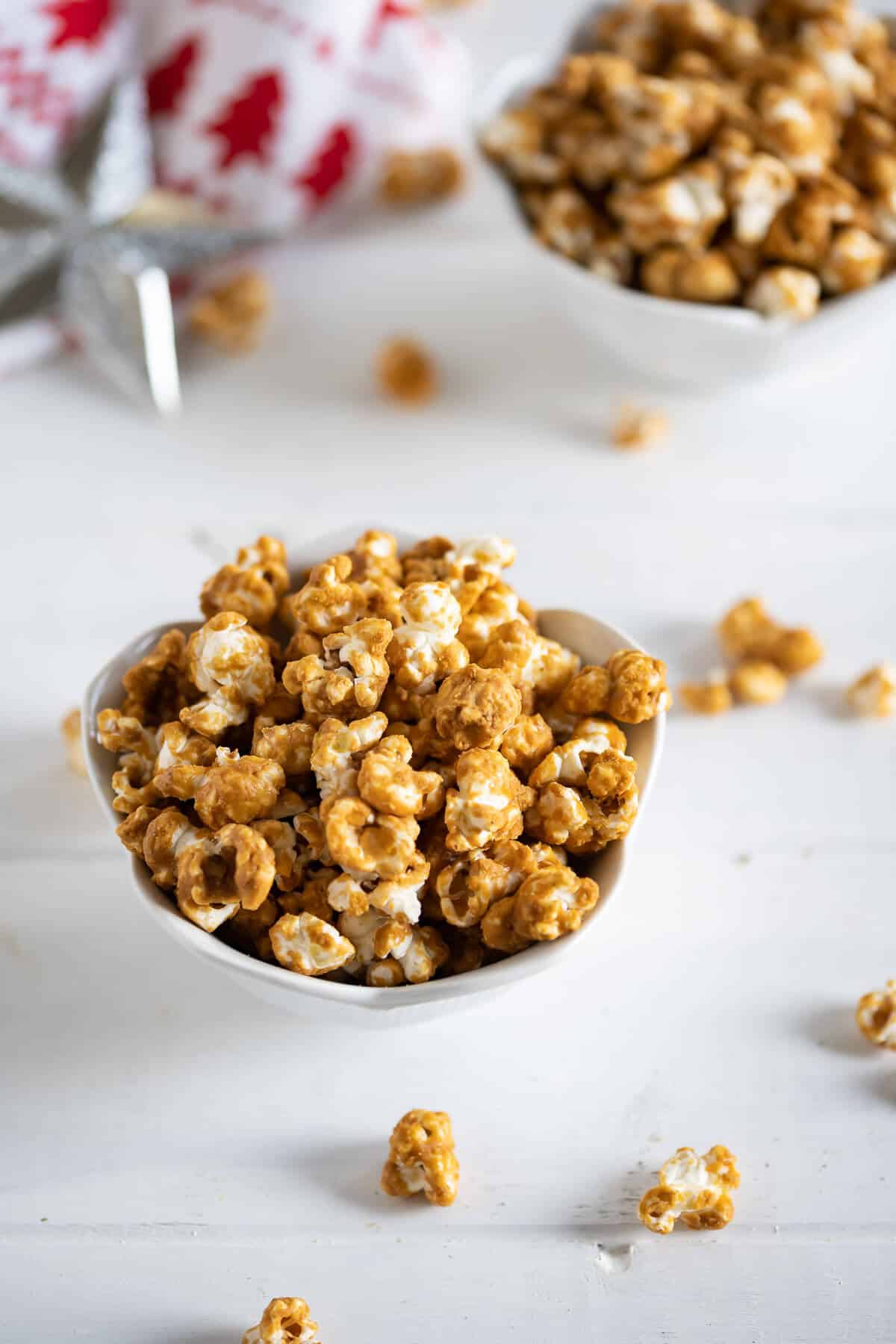 This recipe is a fun way to enjoy the classic flavors of a gingerbread cookie combined with a crunchy snack.
It's perfect for holiday parties or to package up and give as a gift (if you can keep your hands out of it--ha!).
Ingredients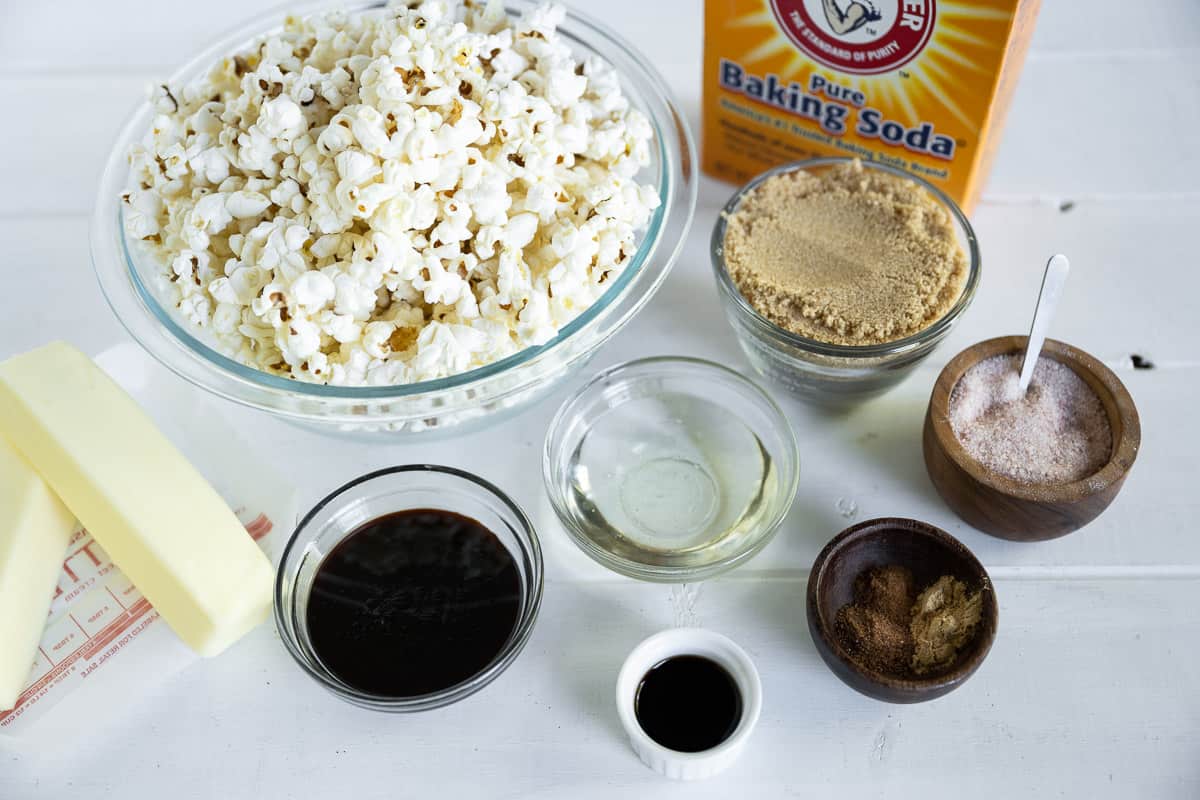 Gingerbread caramel corn uses a combination of gingerbread cookie and caramel corn ingredients, resulting in a spice-filled snack that's perfect for the holidays.
Key Ingredients
Popcorn- Plain popcorn is best for this recipe. You can use an air popper to make it, or cook it on the stovetop. I use and highly recommend a Whirly Pop. Best. Popcorn. Ever.

Butter- The fat from the butter will help meld your sweet ingredients together, giving your caramel corn a smooth, silky texture.

Molasses- This sweet syrup is a staple in any gingerbread recipe, so you can't forget it when you're making gingerbread caramel corn!

Corn syrup- This prevents the sugars from crystallizing, so it is an important ingredient.

Brown sugar- The rich flavor of brown sugar is a must when making sweet popcorn – especially when you add the gingerbread spices to the sauce.

Salt- Adding a small amount of salt to your caramel sauce enhances the flavor and adds a nice contrast to the sweetness of the caramel.

Vanilla- Mixing in vanilla extract will add flavor to your caramel corn to complement the sweetness of the corn syrup and brown sugar.

Baking soda- The secret ingredient to smooth caramel corn is baking soda, which reacts with the acid in the brown sugar and corn syrup to give your caramel a softer texture to make it easier to eat.

Gingerbread spices- To give your caramel corn a gingerbread flavor, you need a handful of gingerbread spices, including ginger, cinnamon, nutmeg, and cloves.
How to Make Gingerbread Caramel Corn
There are two main parts to making caramel corn.
Make the caramel sauce.
Bake the caramel corn, this is what makes it crunchy.
STEP ONE: MAKE THE SAUCE
Pro-tip- Before you begin, have your popcorn popped and in the roasting pan. Pre-measure all your ingredients because this moves fast!
Place the butter, corn syrup, molasses, brown sugar, and salt in a medium saucepan.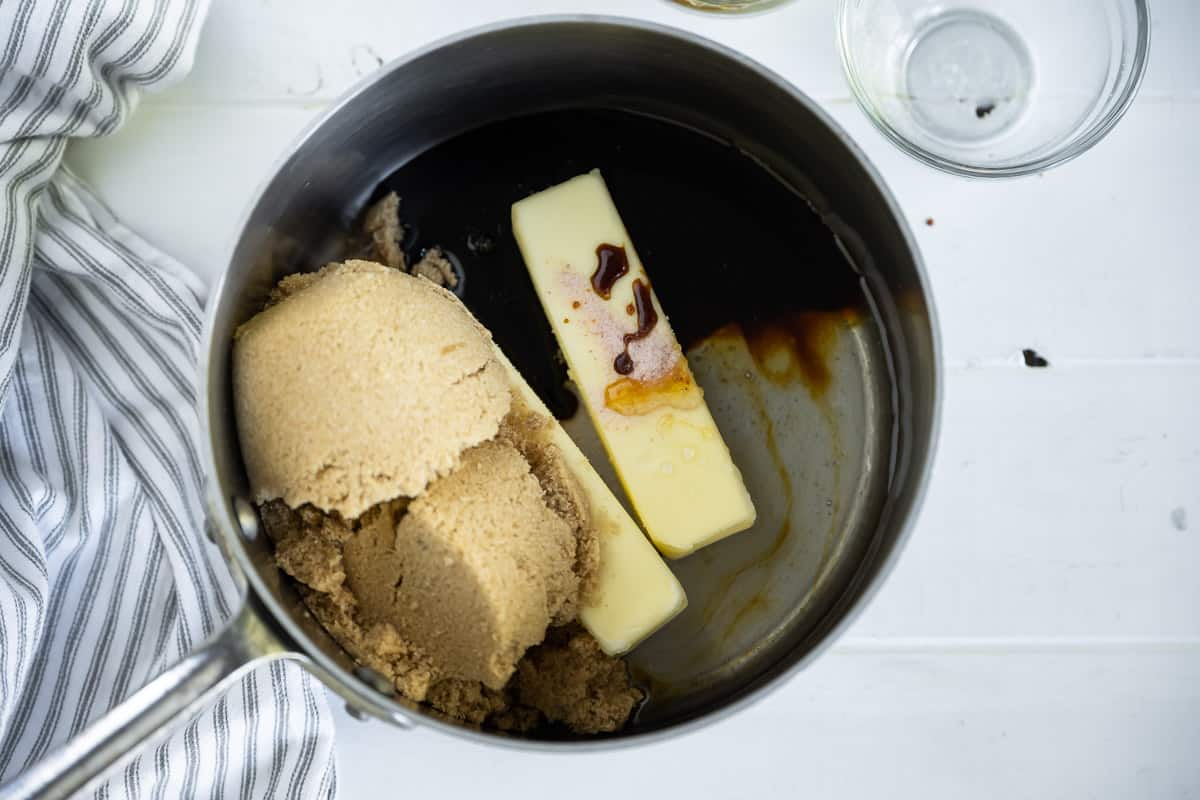 2. Cook the ingredients over medium-high heat, stirring constantly to prevent the mixture from burning on the bottom of the pan.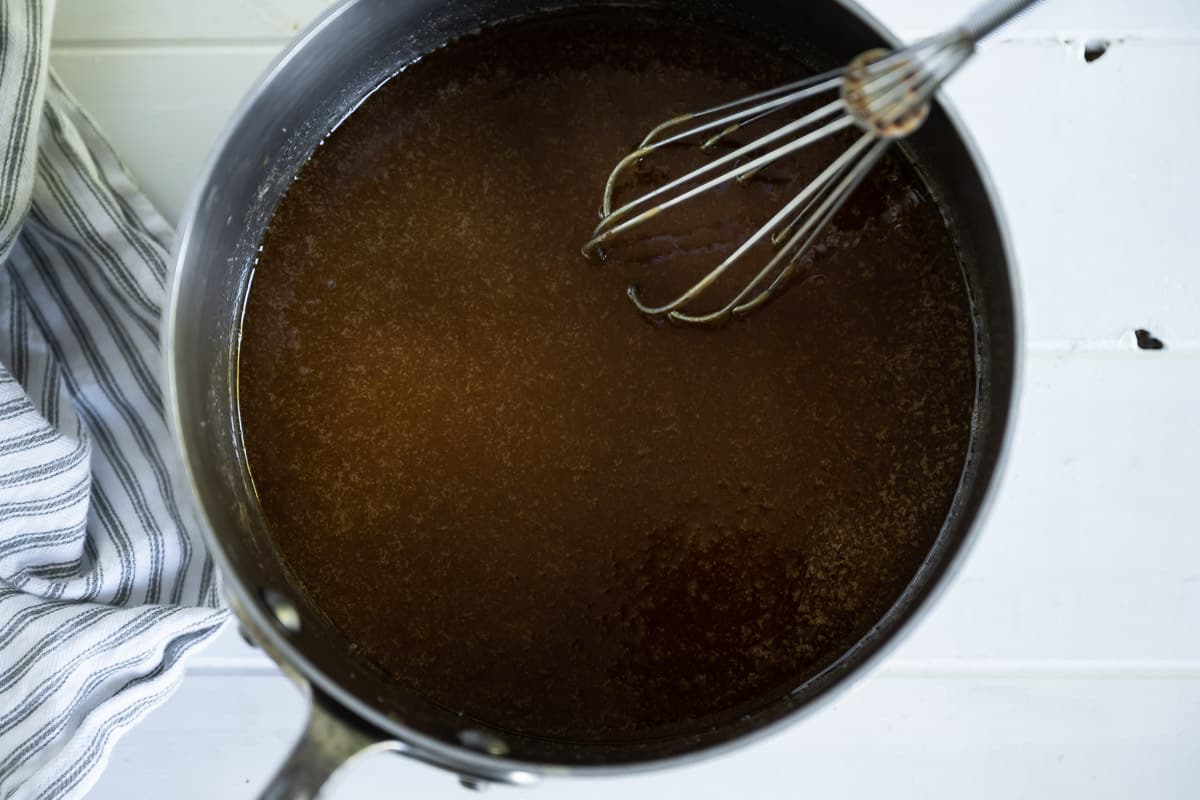 3. When the butter is melted, stop stirring and allow the mixture to come to a boil. Give the sauce a chance to boil for around five minutes without stirring or disturbing the mixture.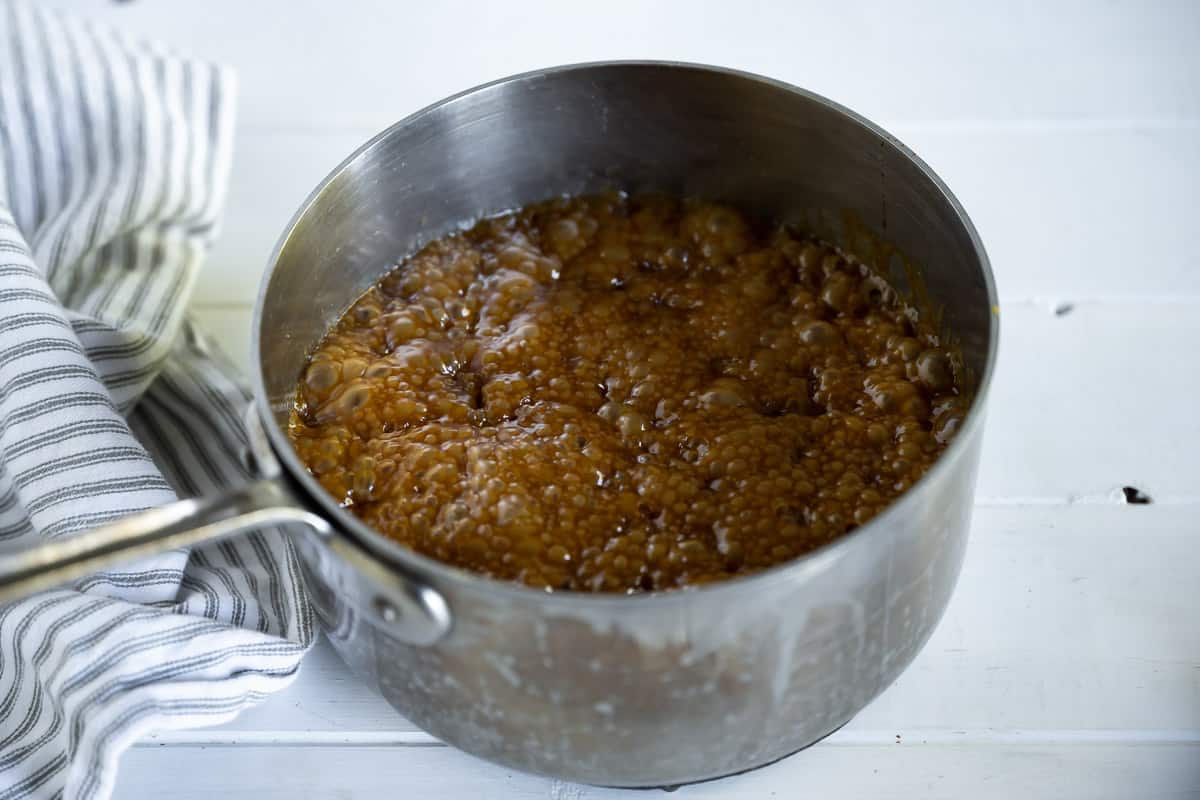 4. When your sauce has thickened, remove it from the heat and immediately stir in the vanilla, ginger, cinnamon, nutmeg, and cloves.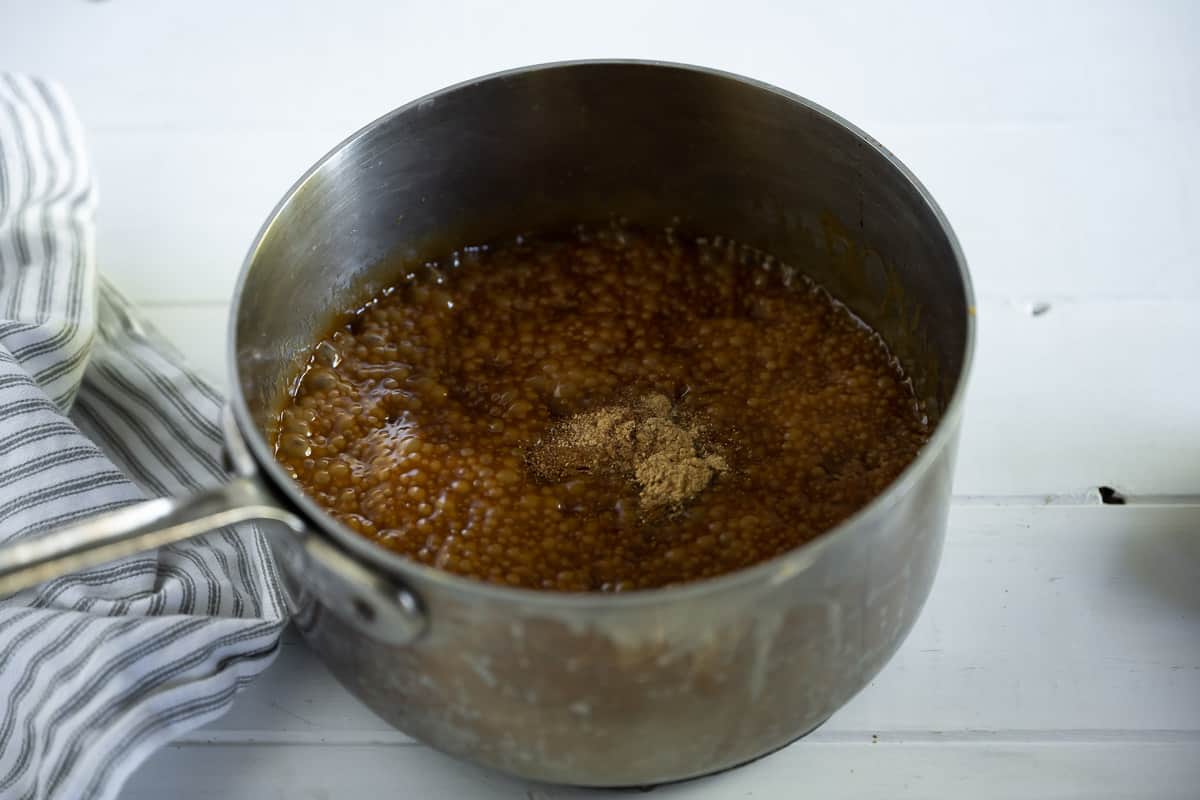 5. Pour the baking soda into the caramel sauce and stir until the sauce begins to bubble and foam.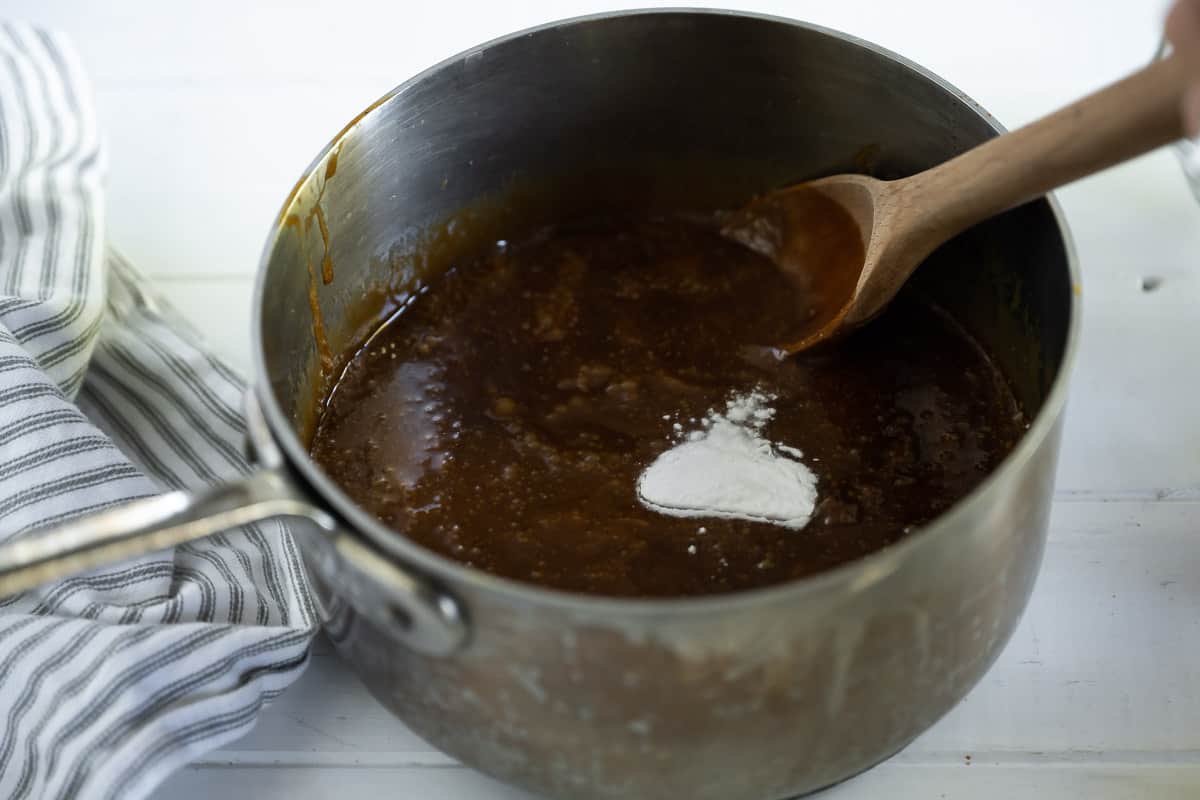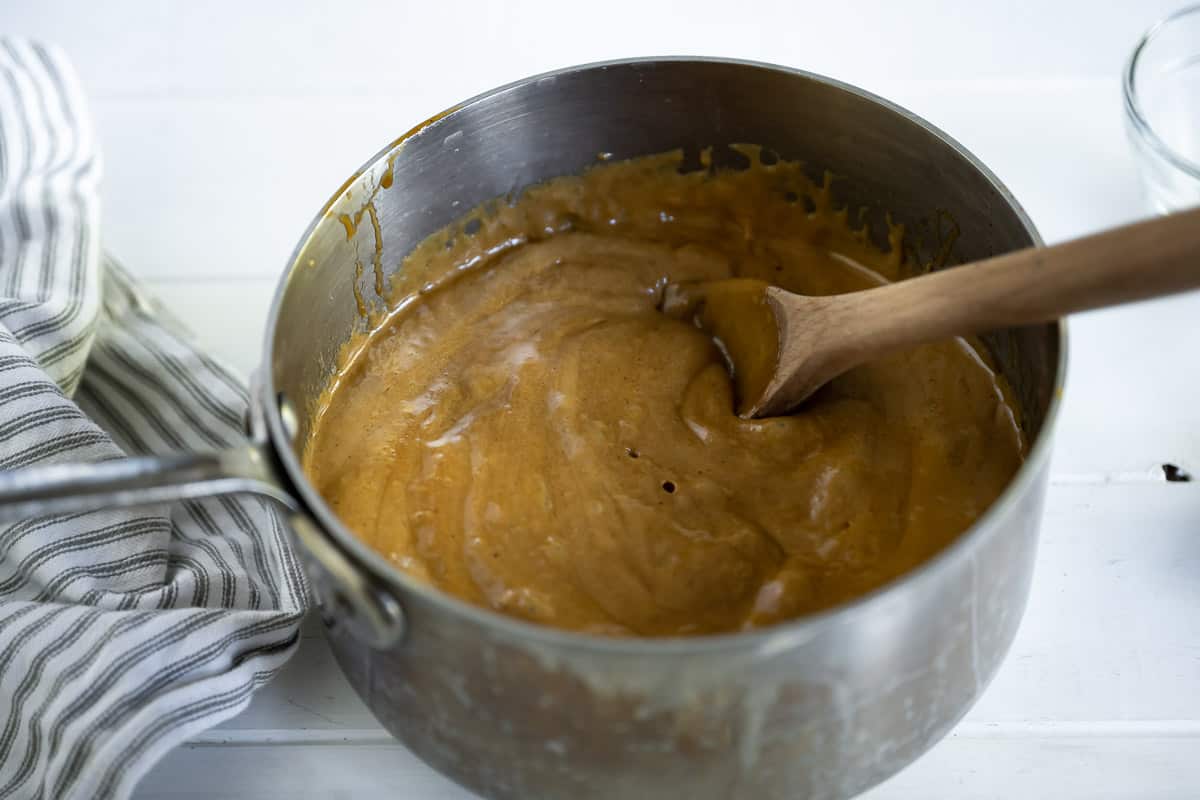 STEP TWO: BAKE THE CARAMEL CORN
Pour the caramel sauce over the top of the popcorn. I recommend using a roasting pan for this because there is ample room to stir and mix it.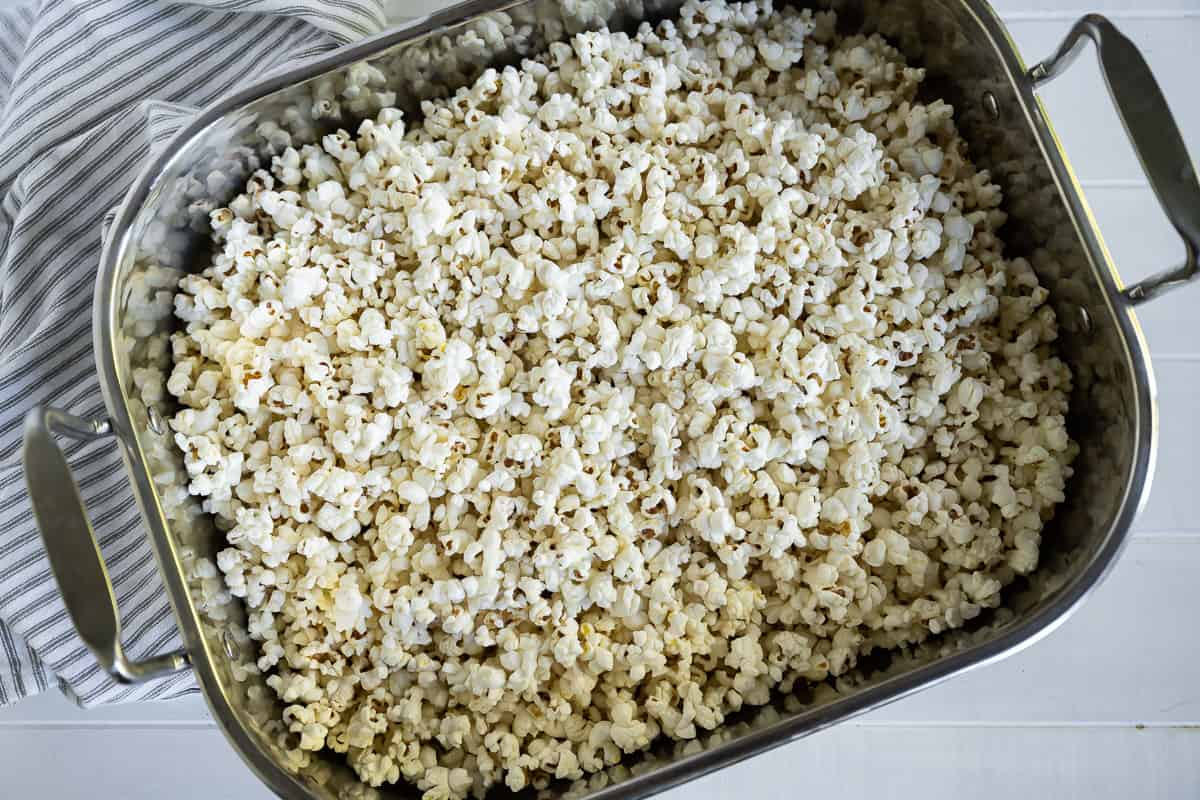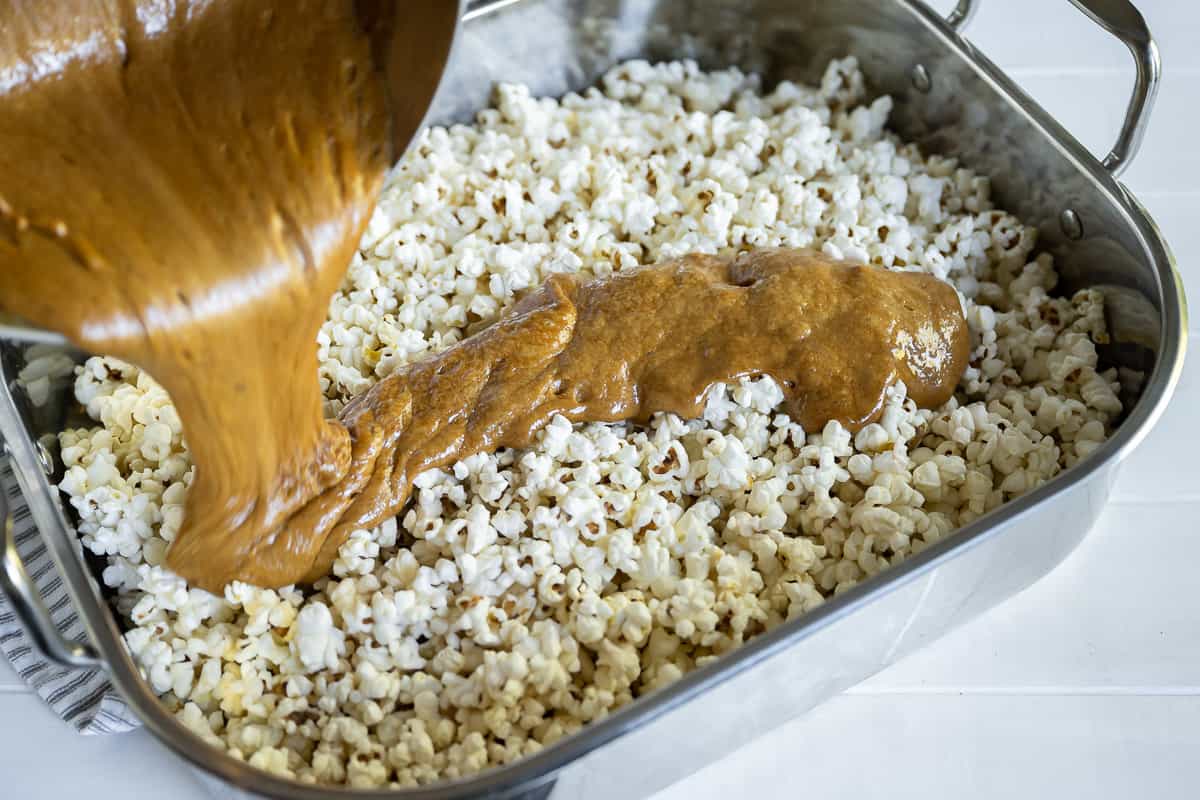 2. Stir the caramel and popcorn together until all the popcorn is well coated.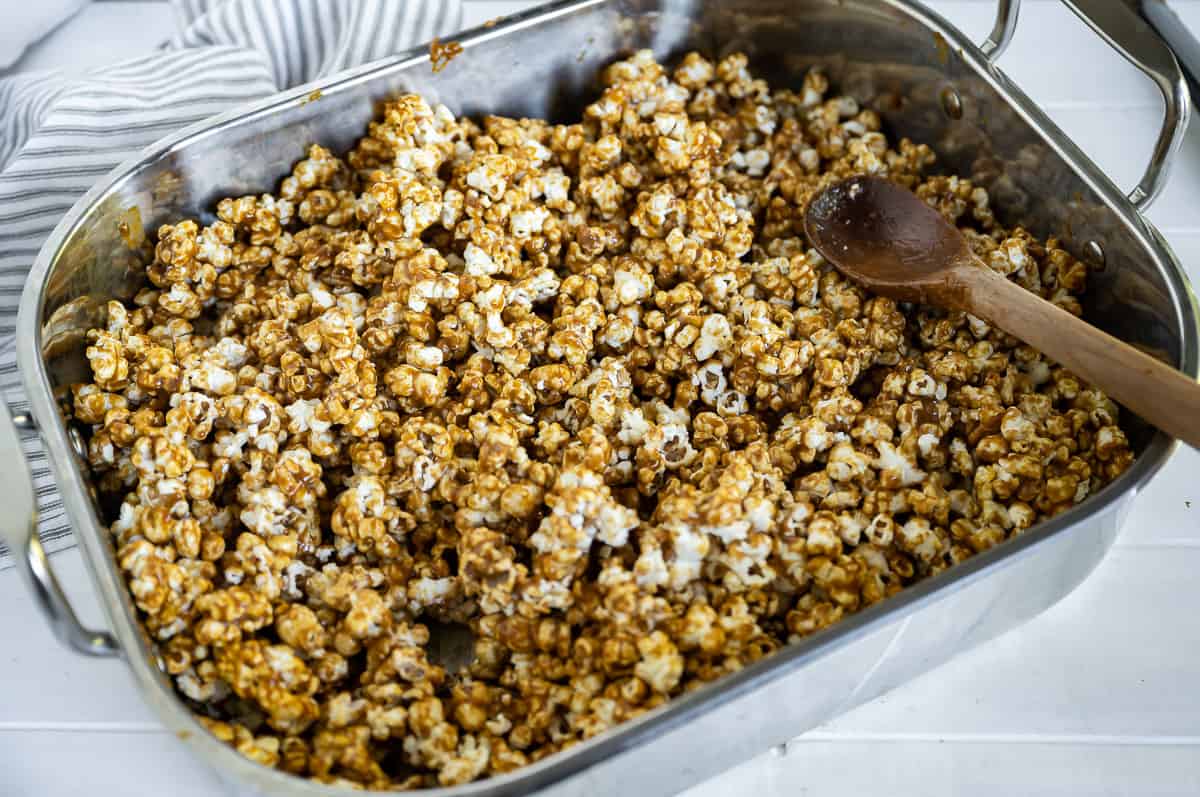 3. Spread the popcorn in an even layer over the pan and place it in the oven at 250° to bake for one hour.
4. Every 15 minutes, give the popcorn a good stir.
5. When the baking time is up, transfer the homemade caramel corn to two rimmed baking sheets and allow it to cool completely before serving.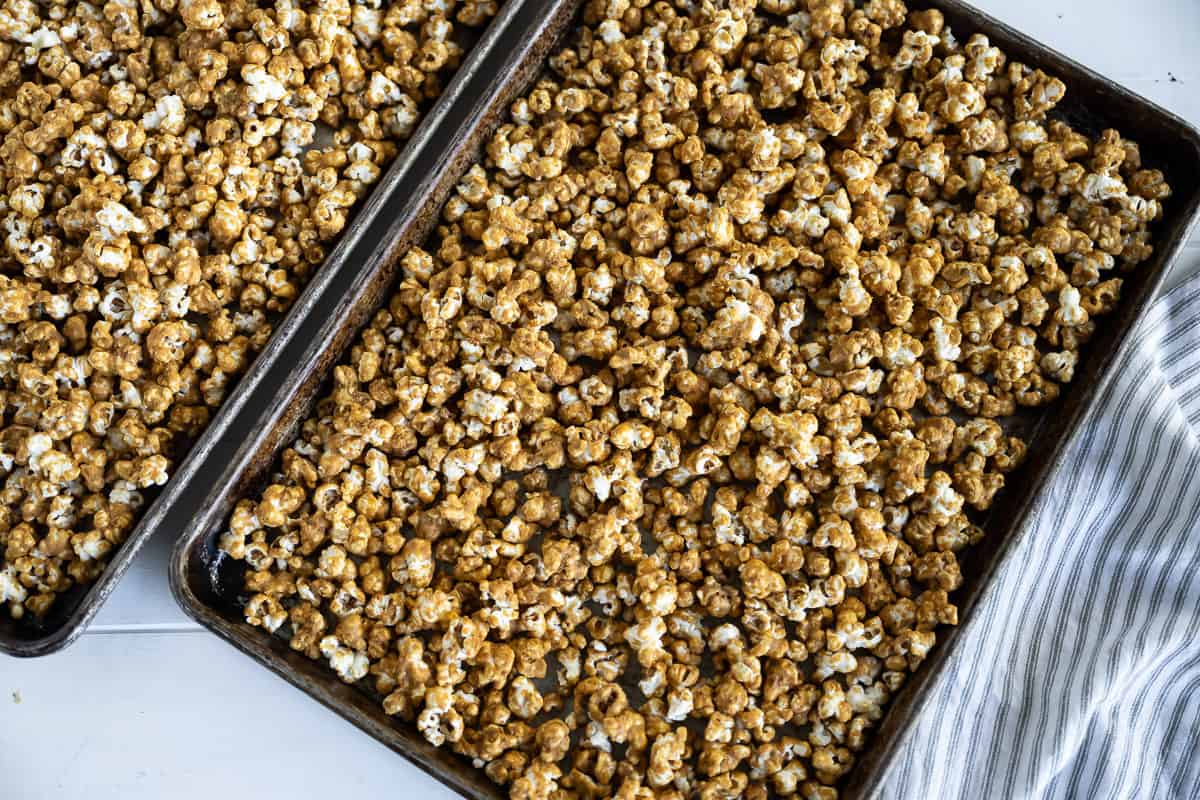 Once you make homemade caramel corn, you'll never want store bought again! This can be a really fun family tradition. I know my kids LOVE to help in the kitchen.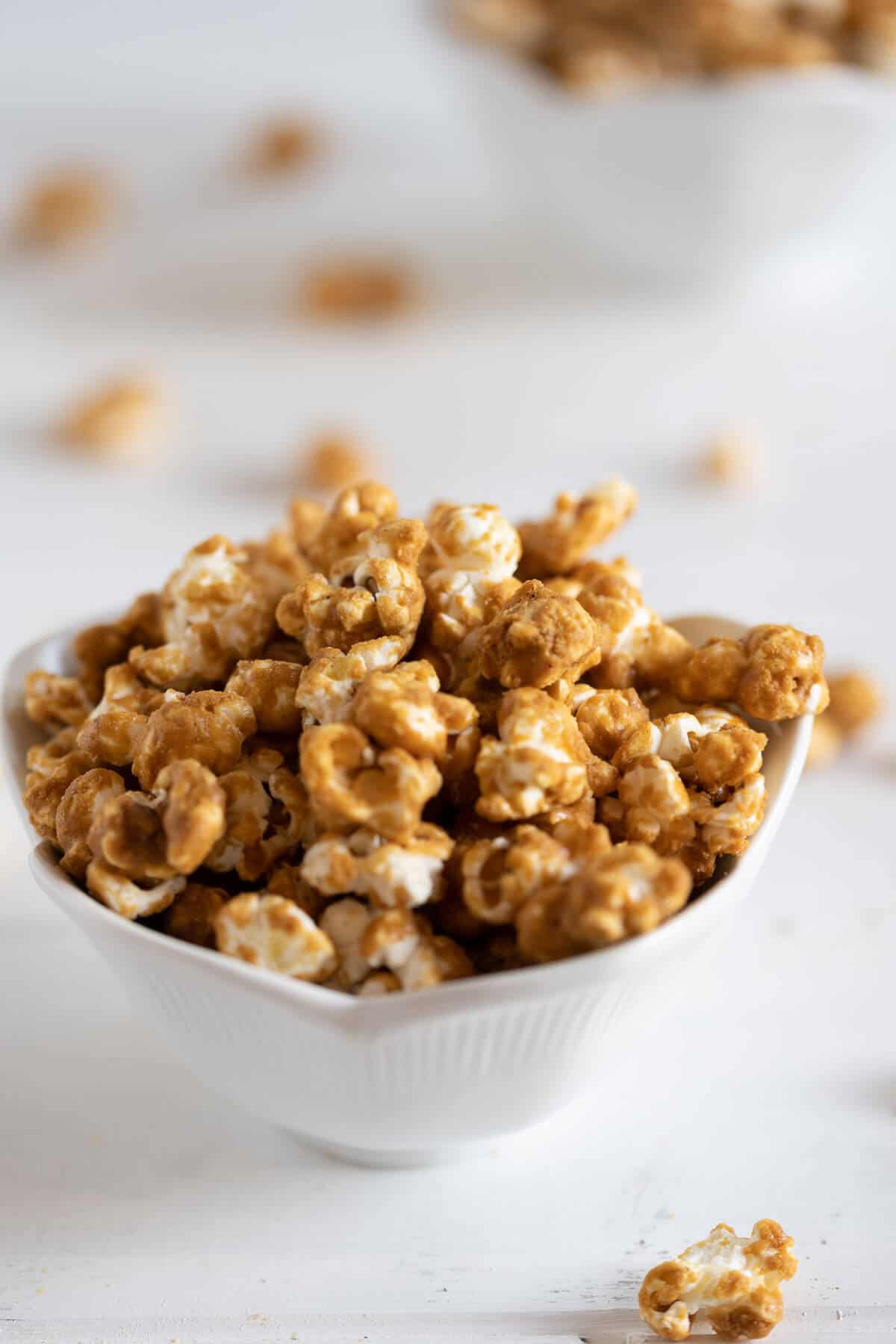 Storing
Once it's completely cooled, store the caramel corn in an airtight container or bag. It will stay fresh at room temperature for up to two weeks.
If you're making it for yourself, it probably won't last that long. But, if you're making it to gift, you can certainly make it a bit ahead of time.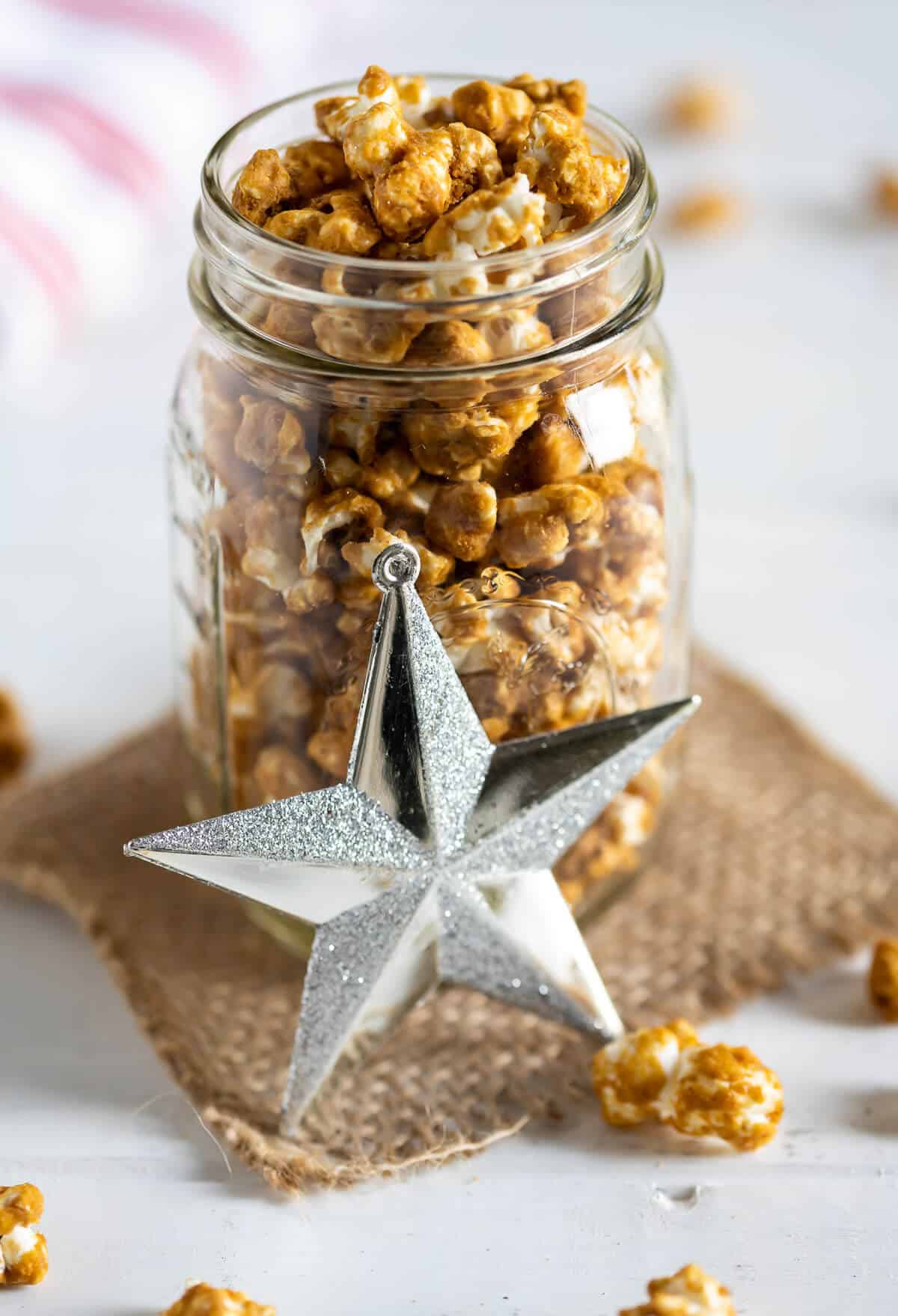 You can also freeze caramel corn! Who knew? Make sure it's in an airtight container, and you can freeze it for up to a year.
Notes & Tips
Use a roasting pan to mix the caramel corn- it's large and deep, which makes it much easier to mix without it spilling over.
Pre-measure your ingredients- The recipe moves quickly, and you don't want the sauce to set up before you can mix it well.
Use freshly grated nutmeg-

This is my secret

to taking the flavor up a notch and standing out! Freshly grated nutmeg is soooo much better than prepackaged. And it literally lasts for years. (um, the nutmeg, not the caramel corn). Use a Microplane or the small side of a box grater to grate it. The same one you'd use for citrus zesting or chocolate.
That being said, NO PRESSURE! It'll still be great (and completely addicting) even if you use already ground nutmeg.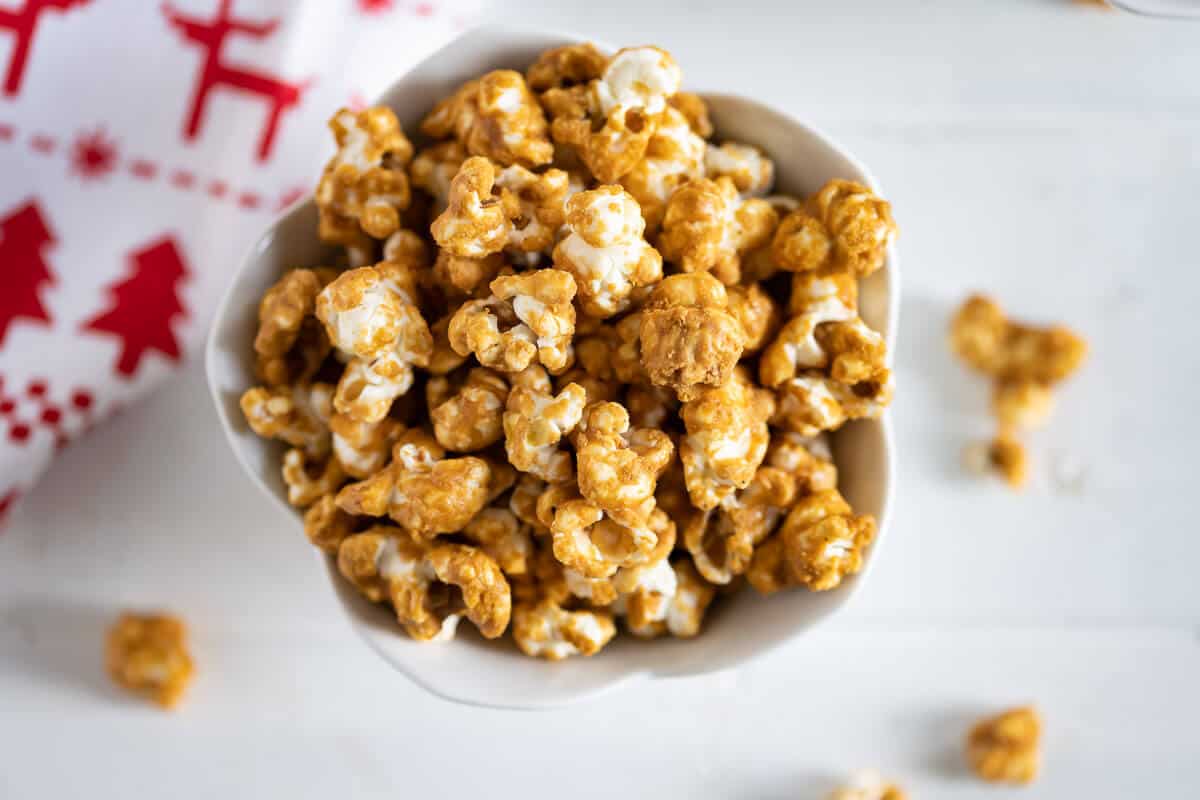 FAQ'S
Do I have to bake the caramel corn?
Baking the caramel corn is what makes it crunchy. It crisps it up so it's not sticky and stays fresh longer. Note, it will become a bit crunchier after it has completely cooled.
How do I revive old popcorn?
If your caramel corn somehow got too much moisture in it, it may be chewy. Spread it out on a pan and bake it again on a low temperature for 15 minutes. Then let it cool.
Why do you put baking soda in caramel corn?
Baking soda causes the caramel sauce to foam up which aerates it and gives it a nice crisp texture, and not too hard.
More Holiday Recipes
HUNGRY FOR MORE? Subscribe to my newsletter to have recipes delivered to your inbox and to stay up to date on the latest!
Please Share!
Your shares are how this site grows, and I appreciate each one. Do you know someone who would enjoy this recipe?

I'd love it if you shared it on your favorite Pinterest board or Facebook! AND…if you like this recipe, please do me a favor and give it a ⭐️ ⭐️ ⭐️ ⭐️ ⭐️ rating! TIA 🥰

You can also follow along on YouTube and Instagram!
📋 Recipe
Gingerbread Caramel Corn
Sweet and crunchy, this easy homemade Caramel Corn with warm gingerbread spices is perfect for the Christmas season!
Print
Pin
Rate
Equipment
medium saucepan

roasting pan

rimmed baking sheets
Ingredients
20

cups

popcorn

1

cup

butter

2 sticks

¼

cup

corn syrup

light or dark

¼

cup

molasses

2

cups

brown sugar

1

teaspoon

salt

1 ½

teaspoons

vanilla extract

1

teaspoon

ground ginger

½

teaspoon

cinnamon

½

teaspoon

nutmeg

½

teaspoon

ground cloves

1

teaspoon

baking soda
Instructions
Preheat the oven to 250°.

Place the popped corn in a roasting pan.

Heat the butter, corn syrup, molasses, brown sugar, and salt in a saucepan over medium high heat, stirring constantly, until the butter is melted and everything is combined.

Allow the mixture to come to a boil, and let it boil for 5 minutes without stirring it.

Remove it from the heat, quickly add the vanilla extract, ginger, cinnamon, nutmeg, and cloves. Stir to combine.

Add the baking soda and stir. Mixture will bubble up and become foamy.

Pour the caramel over the popcorn and stir so that all of it is coated.

Bake in the oven for one hour, stirring every fifteen minutes.

Pour the caramel corn onto two rimmed baking sheets and allow to cool completely.

Store in an airtight container for up to 2 weeks.
Notes
I recommend using a roasting pan because it's much deeper and therefore easier to stir the caramel corn without it spilling over the sides.
Once the caramel is made, the recipe moves very quickly, so it's a good idea to have your extract, spices and baking soda pre-measured and ready to go.
Using freshly grated nutmeg makes this even better!
Nutrition
Calories:
806
kcal
|
Carbohydrates:
150
g
|
Protein:
18
g
|
Fat:
16
g
|
Saturated Fat:
7
g
|
Cholesterol:
24
mg
|
Sodium:
274
mg
|
Potassium:
543
mg
|
Fiber:
21
g
|
Sugar:
29
g
|
Vitamin A:
284
IU
|
Calcium:
38
mg
|
Iron:
5
mg