This Squash Apple Cranberry Bake dusted with cinnamon and nutmeg is the perfect holiday side dish. Also great for an easy weeknight side. Sweet squash compliments tart cranberries perfectly.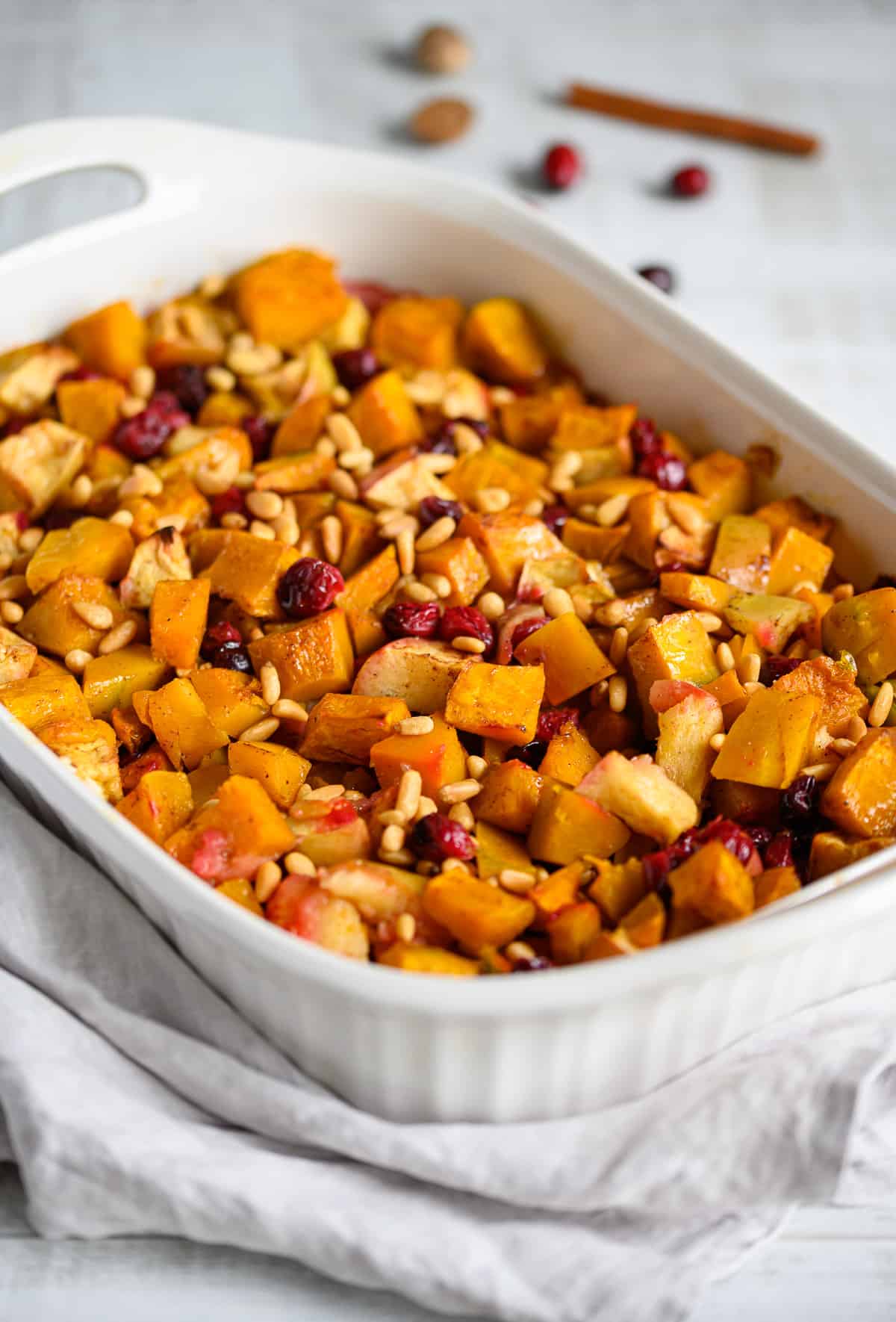 Squash Apple Cranberry Bake
Thanksgiving-my favorite holiday- is approaching quickly. I'm sure you can figure out why it's my favorite. The food of course! Squash Apple Cranberry Bake is a dish that was inspired by my sister. She has brought this the past couple years and I just love it. So, I decided I would try to make it.
Typically people use Butternut squash in this recipe. But my sister suggested buttercup squash. Hmmm, I thought, I'm not sure I've had buttercup squash. Buttercup squash it is!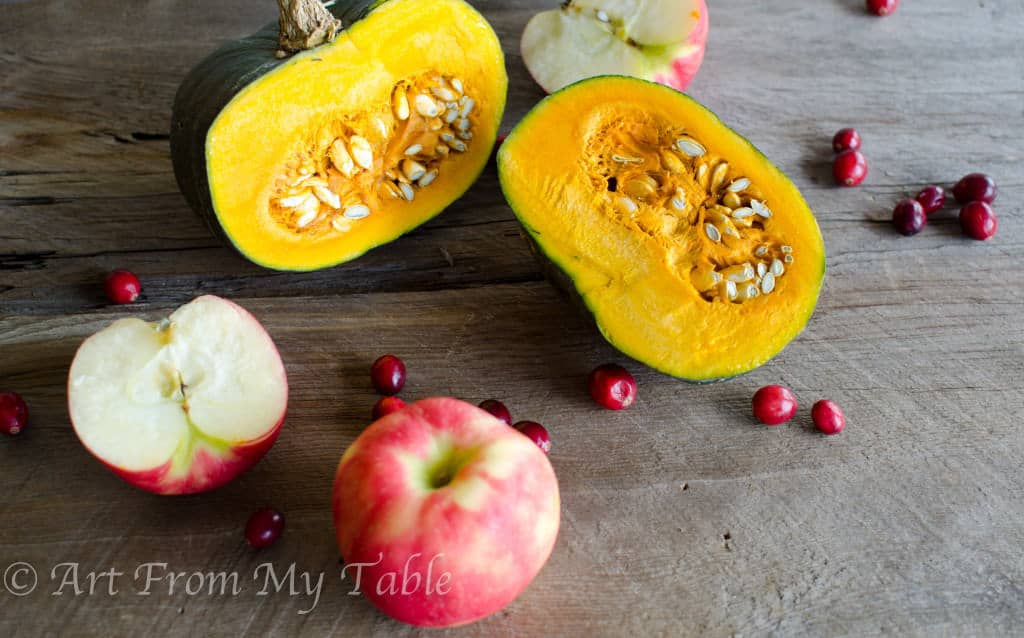 I used the natural spices one would use with squash, cinnamon and nutmeg, those are scrumptious on squash. But what could I do to bring this dish to the next level? How could I put it over the top?
Before we get to that…What are your plans? Do you host? Do you travel? Do you cook? I know Thanksgiving can be daunting if you're hosting. Some people really enjoy that sort of thing, they have the gift of hospitality. Others, it's a task, a burden, to say the least.
I actually enjoy hosting, but it is still a ton of work. Mostly though, because I make it that way. I could let someone bring 'potato bud' mashed potatoes, but I want real potatoes. They're easy, I can whip up a batch of those. Rolls you say? Oh, fresh, homemade rolls are sooo good! It won't be that much trouble, no, I've got it, don't bring rolls.
Of course I'm cooking the turkey because it's at my house, I mean that only makes sense right? And my sister loves my homemade from scratch green bean casserole, I want to make that for her. My dad really likes coconut creme pie, I should make one from scratch, it would be incredible! He would really like that… and on and on.
See? I bring this on myself because I'm type A. Just in case you haven't figured that out yet. I love real, homemade, from scratch food. My family? They don't really care. So, if you're family doesn't care? Have a great day, and give yourself some grace, do what's easy and most enjoyable. If you don't care? Make something great that is easy for you. Don't burden yourself people! Learn from my experiences. 🙂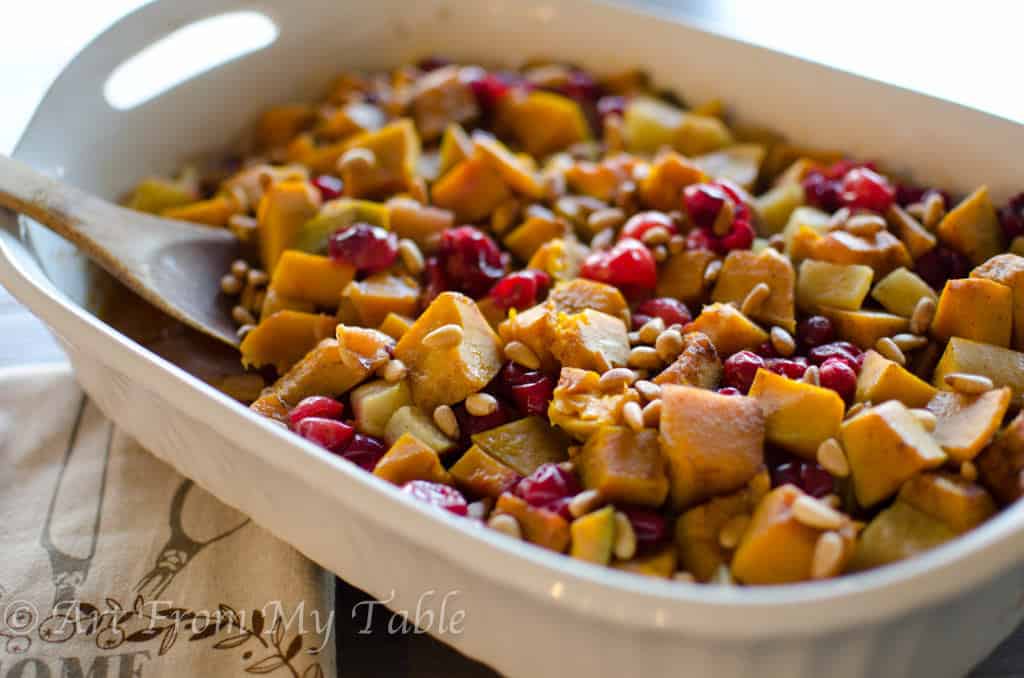 So, on to the recipe. The hardest part of Squash apple cranberry bake, is cutting the squash. Yes, you will work for your food, but mmm, it's worth it! You can even cut your squash the day before, that will make it come together super easily.
Tips for cutting squash~
As for cutting the buttercup squash, here's what I found to be the least complicated.
 Cut it in half stem to root. Cut it a little off center, not right through the stem.
Once you get your big kitchen knife firmly in there, just pick it up (squash, knife and all) and give it a good whack, then another. Maybe two or three and it will be cut through.
Scoop out the seeds, then turn it flesh side down and cut it in slices.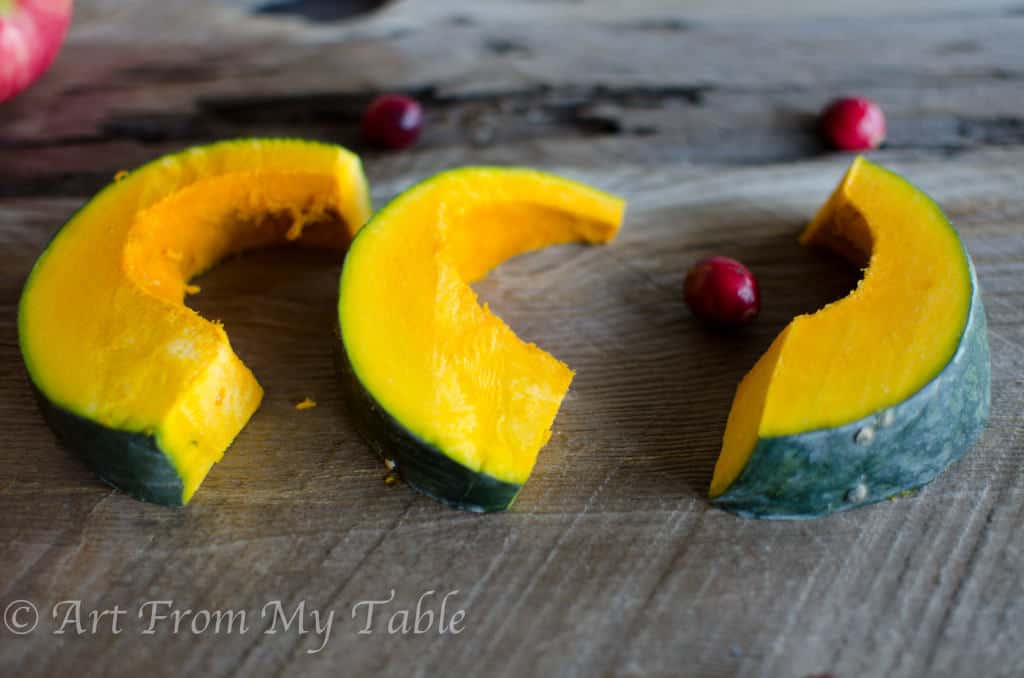 Then cut the flesh away from the skin, as if you are taking the rind off of a watermelon.
Then cut it into bite size pieces.
There, the hard work is done!
Before you cut the apples and mix everything with the cranberries, make the brown butter. Yes, this is it, this put the dish over the top. Browned butter has a lovely nutty flavor.
All you do is take a stick of butter, and melt it on medium in a small saucepan. Make sure your pan isn't a really dark one so you can see the color of the butter. It will foam up, let it continue to cook, stirring occasionally until you have a nice golden brown color.
You'll get some solid bits on the bottom of the pan, so I suggest running it through some cheesecloth, a fine mesh sieve, or if you don't have either of those a coffee filter.
Now, cut up your apples and mix the squash, apples, and cranberries in large bowl. Drizzle the brown butter over the top, add your spices and toss to coat. Pour it in a 9×13 casserole dish and bake it at 375 for 45 minutes, or until the squash is tender.
While that's in the oven, toast some pine nuts. You can do this is an small pan over the stove, or in the oven. They'll take about 5-10 minutes. I actually waited until the squash apple cranberry bake was finished, then I popped the nuts in the oven on a baking sheet for 5 minutes. Then sprinkle them over the top.
The colors alone of this dish make me happy. 🙂
I'll be sharing more Thanksgiving dishes this week, so if you don't want to miss a thing, subscribe to my newsletter. It's free! My subscribers get to see all my posts first.
I would love to hear from you! How do you make Thanksgiving easier on yourself?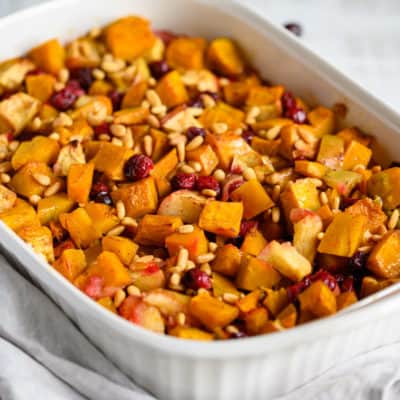 Squash Apple Cranberry Bake
Buttercup squash, apples and cranberries drizzled with brown butter and dusted with cinnamon and nutmeg, topped off with toasted pine nuts
Print
Pin
Rate
Total Time:
1
hour
5
minutes
Ingredients
2

medium buttercup squash

peeled and diced

3

apples

peeled and diced

1

12 oz bag of fresh cranberries

1

stick butter

2

Tbs

pure maple syrup

1/2

tsp

ground cinnamon

1/2

tsp

ground nutmeg

1/4

tsp

ground allspice

1/4

cup

pine nuts

toasted (slivered almonds can be substituted)
Instructions
Toast pine nuts, place in a small fry pan over medium heat, tossing every couple of minutes. Alternatively, place them on a rimmed baking sheet in a 350 degree oven for about 5 minutes.

Brown the butter: Place 1 stick of butter in a small saucepan on medium heat. Allow the butter to foam and continue cooking, stirring occasionally. After 5-7 minutes, the butter should be a nice golden brown color. Strain through a fine mesh sieve or cheesecloth to remove solid bits at the bottom of the pan.

Combine squash, apples and cranberries in a large bowl.

Pour browned butter, maple syrup and spices over top and toss to coat well.

Place mixture in a 9x13 casserole dish and bake at 375 until squash is tender, about 45 minutes.

Sprinkle toasted pine nuts on top and serve.
For more great recipes using cranberries, check out these: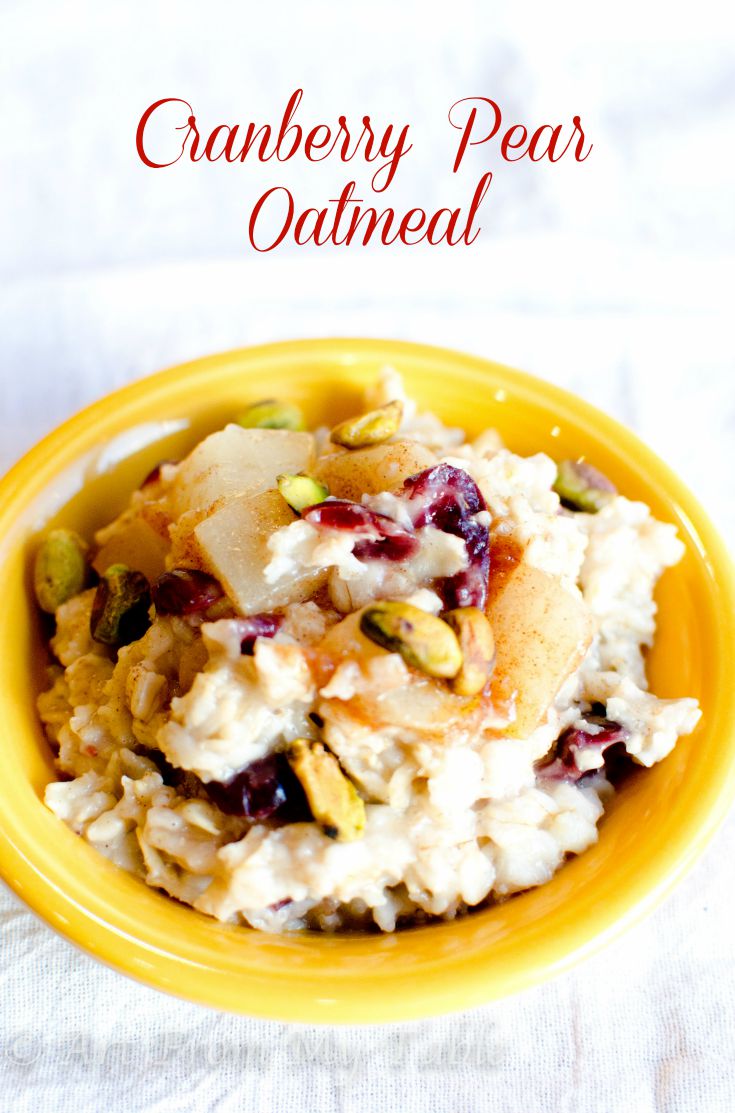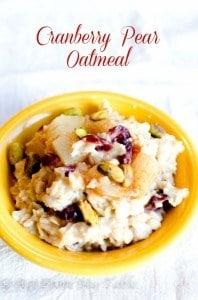 Cranberry Pear Oatmeal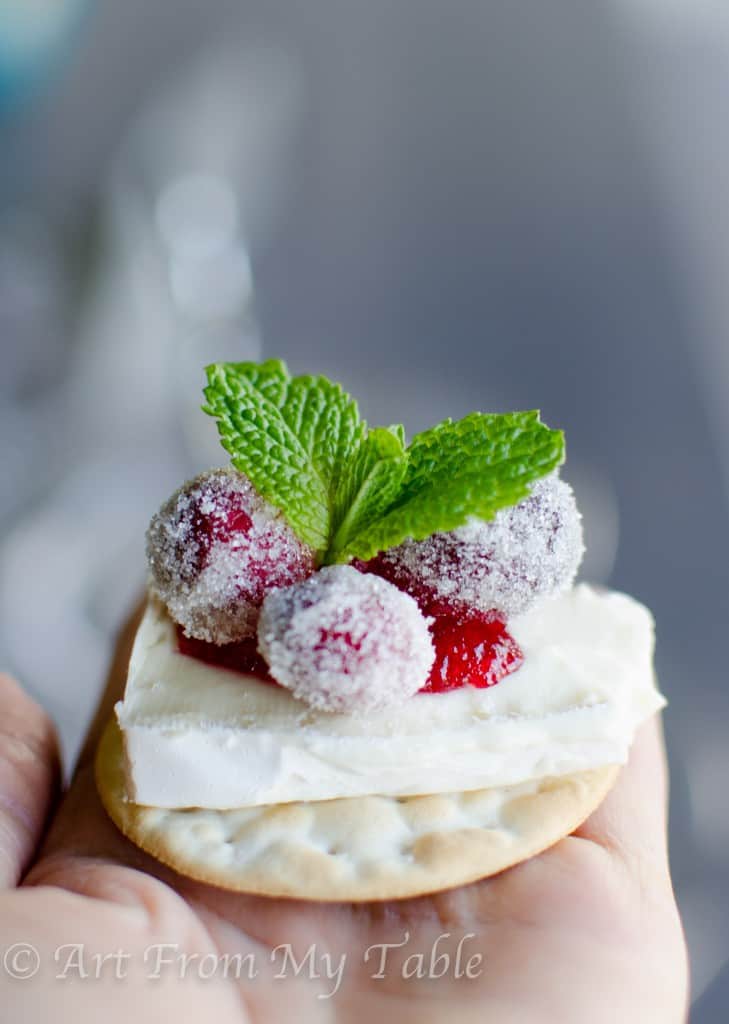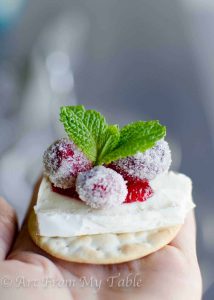 Sparkling Brie Bites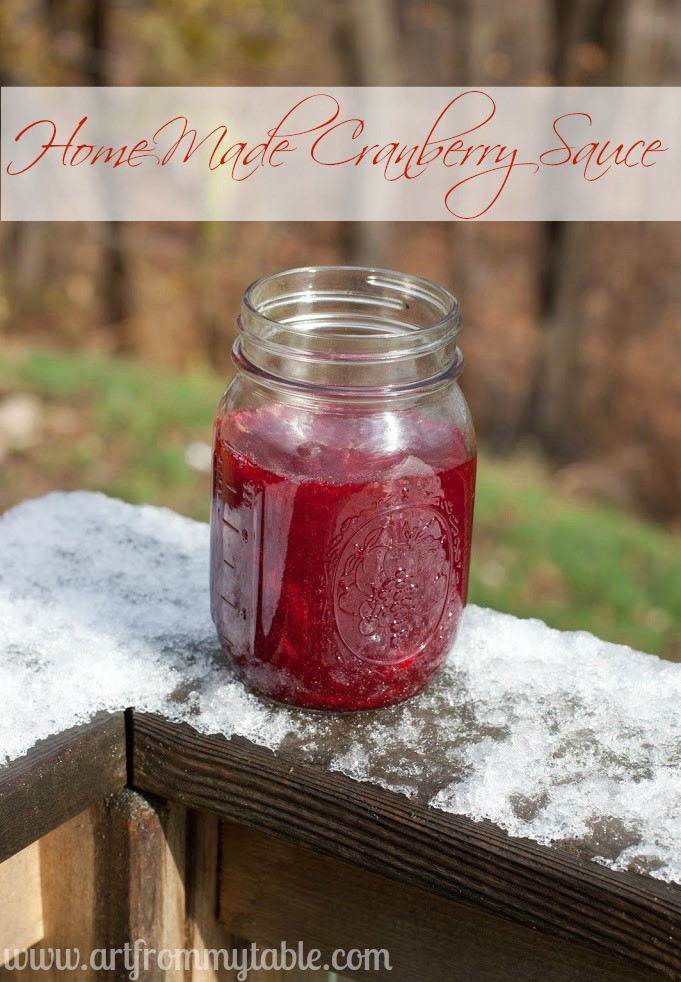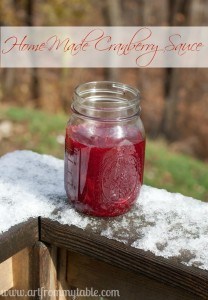 Homemade Cranberry Sauce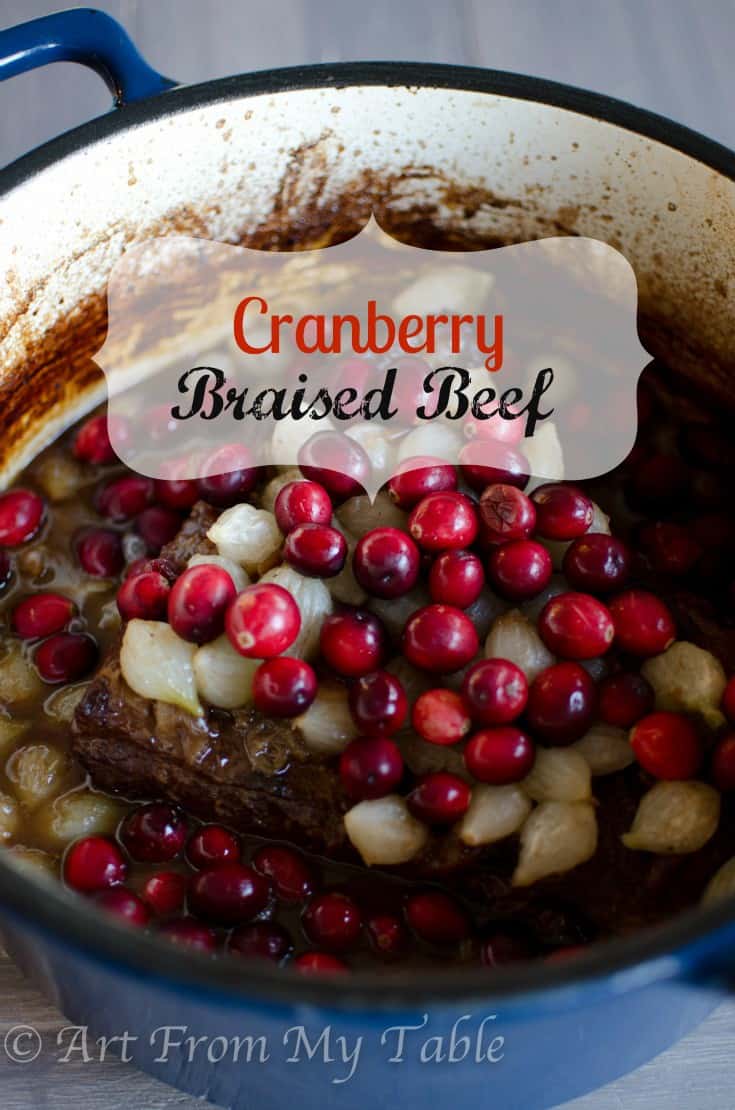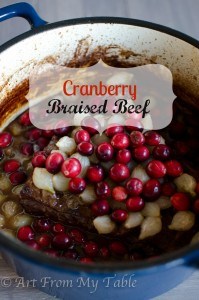 Cranberry Braised Beef