As an Amazon Associate I earn from qualifying purchases.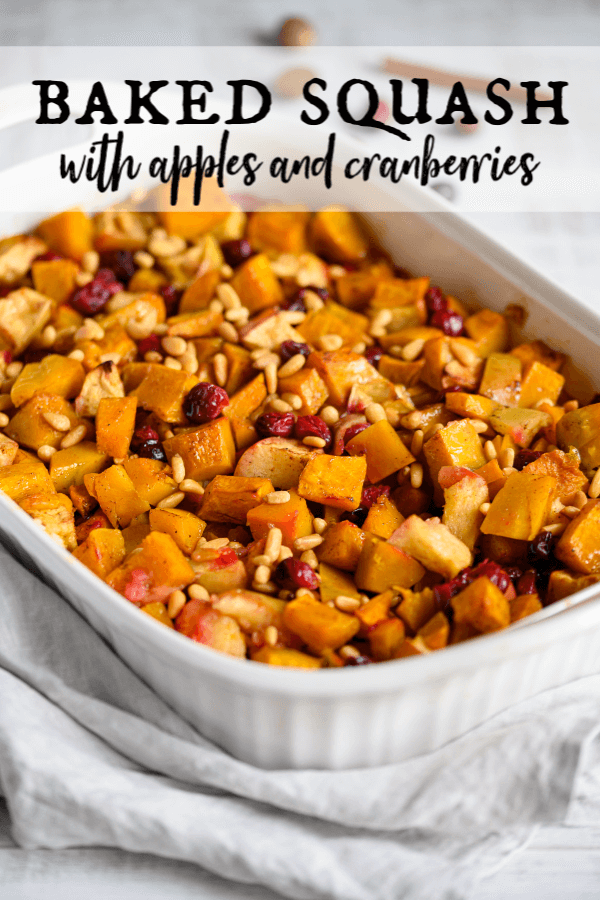 This Squash Apple Cranberry Bake dusted with cinnamon and nutmeg and baked in brown butter is the perfect holiday side dish. Tart cranberries compliment sweet squash and apples perfectly.
This is a dish that was inspired by my sister. She brought this one year and now no Thanksgiving dinner is complete without it.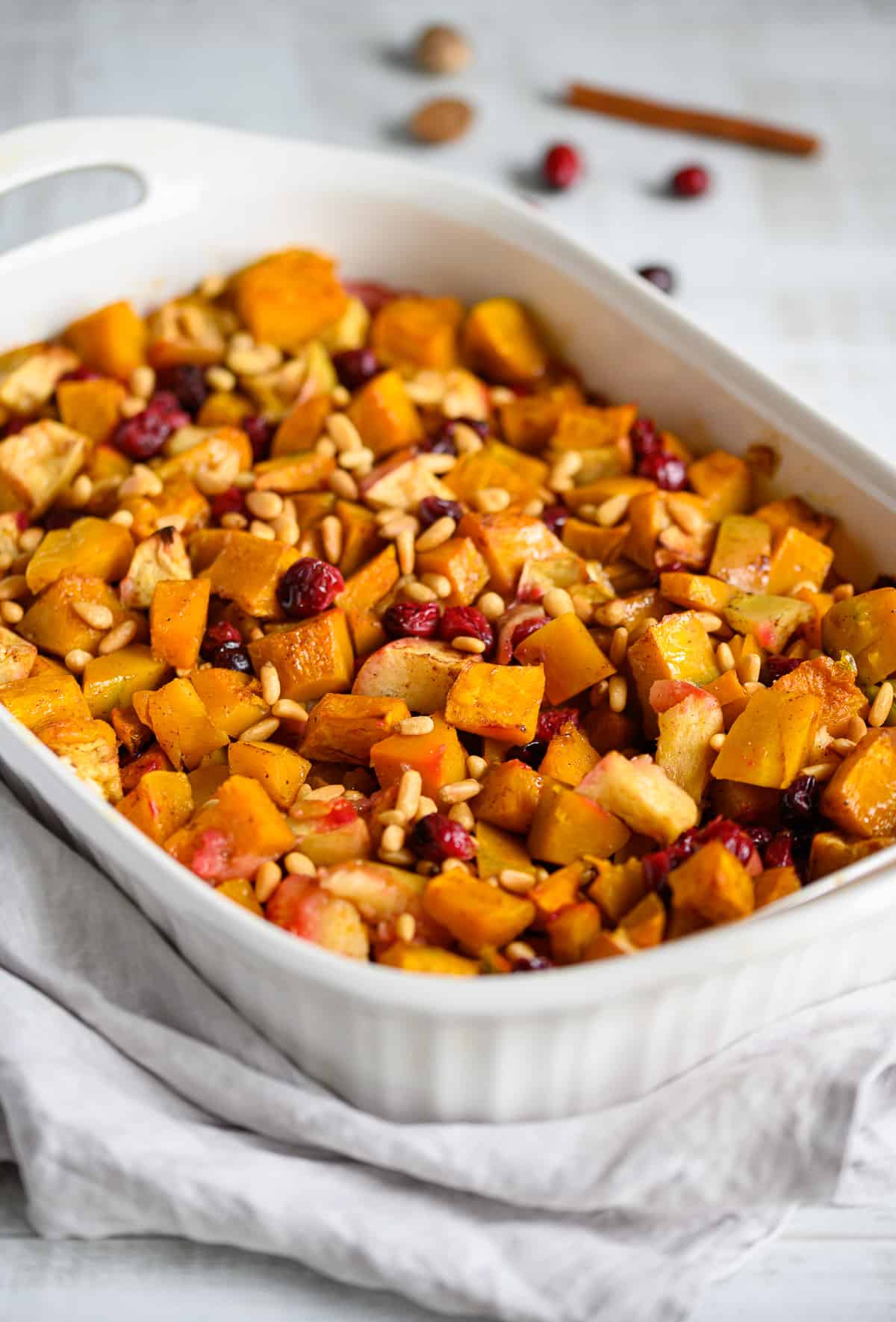 Thanksgiving is my favorite holiday. I'm sure you can figure out why, the food of course!
I know the Roasted Turkey is supposed to be the star of the show, but how about those sides? The Green Bean Casserole, the Cranberry Sauce, the Sweet Potatoes… I'm getting hungry.
We're using buttercup squash in this dish because of its sweet flavor and creamy texture.
Ingredients
buttercup squash- this is a variety of winter squash that starts early fall and lasts through winter.

It looks like a small pumpkin with green skin and orange flesh.
The taste and texture are similar to butternut squash, but they look completely different on the outside. Buttercup squash is a little sweeter.
butternut squash works well as a substitute if desired.

apples- a sweeter apple that cooks down easy is preferred. I use honey crisp.
fresh cranberries- this will give it tartness. Find these in the produce section of your grocery store.
butter
maple syrup- only the real stuff here! 100% pure.
ground cinnamon, ground nutmeg, ground allspice- perfect warm fall spices.
pine nuts- toasting these bring out the flavor. you could also use slivered almonds. Pine nuts do tend to be pricey.
Helpful equipment
Instructions
There are only a few steps to making this dish come together. Below I will go into more detail for each step.
Cut the squash and apples
Make the brown butter
Assemble the ingredients and bake
Toast the pine nuts and garnish
How to cut the squash
There are several ways to prepare buttercup squash, but today's recipe calls for cutting it into cubes. We'll need to both cut it and peel it.
Here's what I found to be the least complicated.
Cut it in half stem to root. Cut it a little off-center, not right through the stem.
Once you get your big kitchen knife firmly in there, keep pushing the knife down, with a flat hand to protect those fingers! (If it's really tough, I have been known to pick it up--squash, knife and all-- and give it a good whack, then another to cut it through).
Scoop out the seeds, then turn it flesh side down and cut it into slices.
Then cut the flesh away from the skin, as if you are taking the rind off of a watermelon.
Then cut it into bite-size pieces.
Tips for working with squash
Put the squash in the microwave for a few minutes to soften the skin.
Use an ice cream scoop with a flat edge (like the one shown) to scoop out the seeds. Life-changing!
Make the brown butter
Brown butter is the secret ingredient that takes this dish over the top. It has a lovely nutty flavor.
Melt one stick of butter on medium heat in a small saucepan. Make sure your pan isn't a really dark one so you can see the color of the butter.
It will foam up, let it continue to cook, stirring occasionally until you have a nice golden brown color, about 3 minutes.
You'll get some solid bits on the bottom of the pan. To get rid of those, run it through some cheesecloth, or a fine mesh sieve. If you don't have either of those a coffee filter will do.
Assemble the ingredients
Combine the cut squash, apples, and cranberries in a large bowl.
Add the cinnamon, nutmeg, maple syrup, and brown butter and stir to combine.
Transfer the mixture to a 9x13 dish and bake at 375° for 35-45 minutes, until the squash is tender.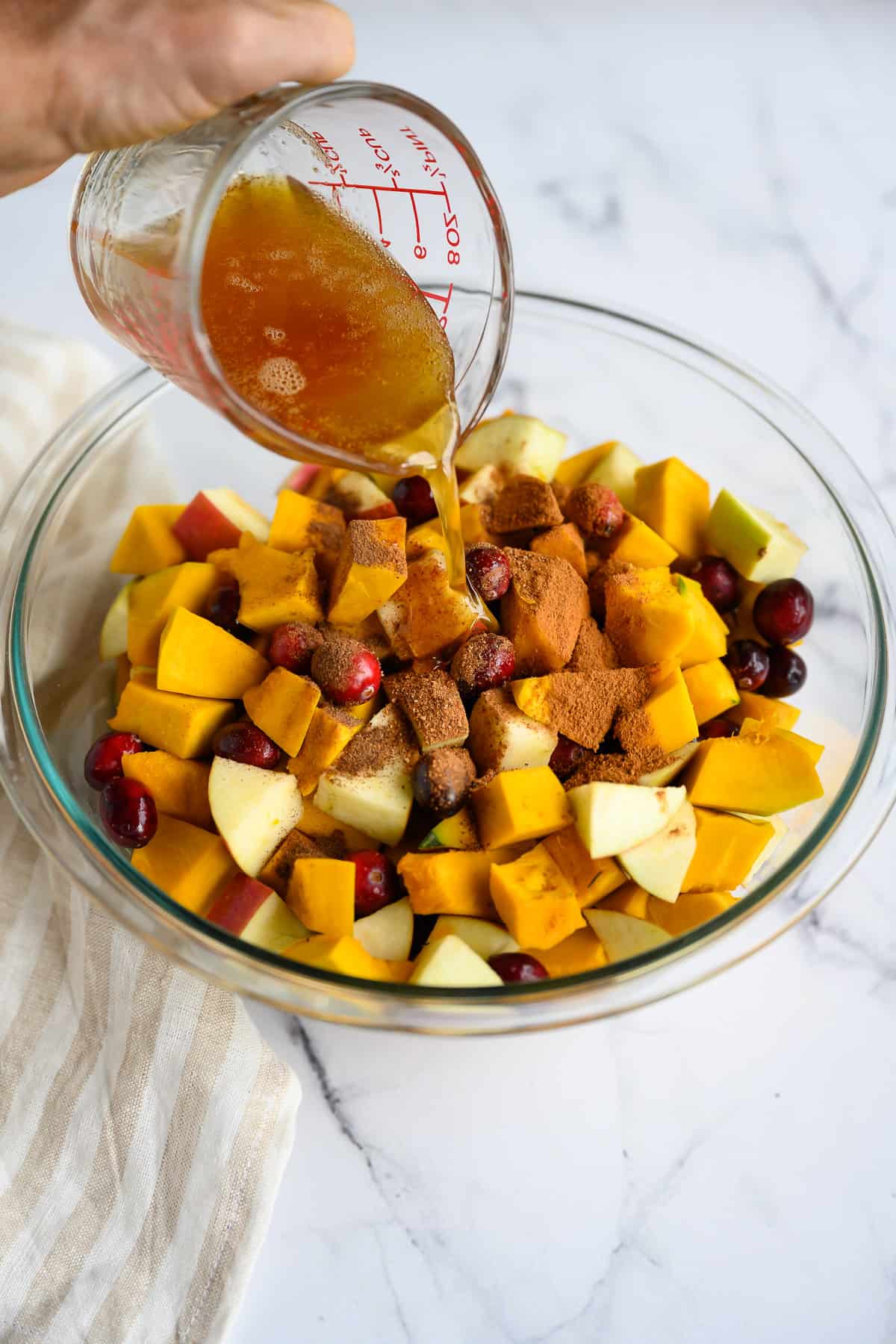 Toast The Pine nuts
You can toast the pine nuts either in a small pan over the stove or in the oven. They'll take about 5-10 minutes.
On the stovetop: Heat a small skillet over medium heat. Add the pine nuts, toss occasionally, until they start to deepen to a nice golden color and release a nutty aroma.
In the oven: Place the pine nuts on a baking sheet, place in the oven for 5 minutes. Remove, give them a toss, and return to the oven for another 3-5 minutes. They will deepen to a nice golden color and release their nutty aroma.
Keep in mind, ovens vary, so the times may vary as well. To keep things low maintenance, after the squash is finished, remove it from the oven, and put the pine nuts in. Let them toast, garnish, and serve.
Tell me! What are your favorite Thanksgiving Dishes? What makes it to your table year after year?
More Thanksgiving Show Stoppers
HUNGRY FOR MORE? Subscribe to my newsletter to have recipes delivered to your inbox and to stay up to date on the latest!
Please share
Your shares are how this site grows, and I appreciate each one. Do you know someone who would enjoy this recipe?

I'd love it if you shared it on your favorite Pinterest board or Facebook! AND…if you like this recipe, please do me a favor and give it a ⭐️ ⭐️ ⭐️ ⭐️ ⭐️ rating! TIA 🥰

You can also follow along on YouTube and Instagram!
📋 Recipe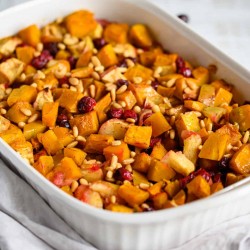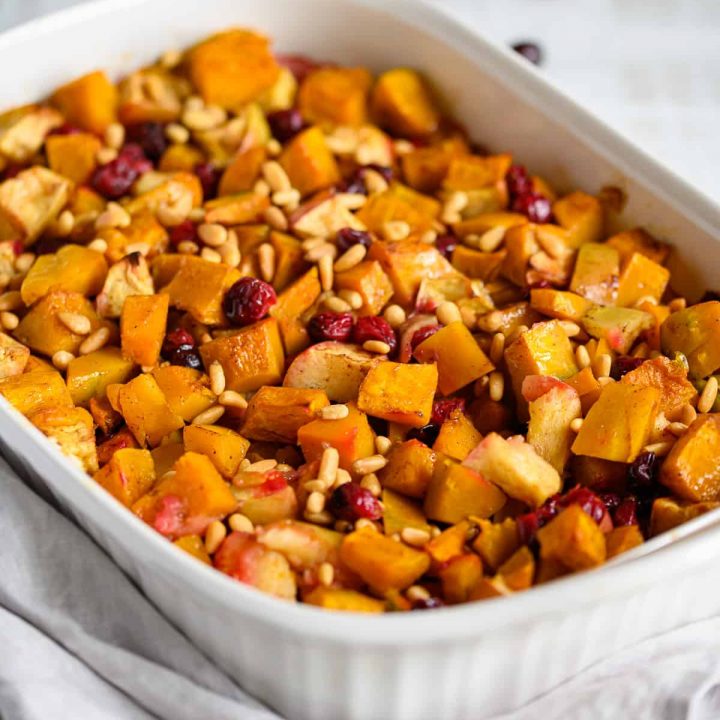 Squash Apple Cranberry Bake
Buttercup squash, apples and cranberries drizzled with brown butter and dusted with cinnamon and nutmeg, topped off with toasted pine nuts
Print
Pin
Rate
Ingredients
2

medium buttercup squash

peeled and diced

3

apples

peeled and diced

12

ounces

fresh cranberries

8

tablespoon

butter

2

Tbs

pure maple syrup

½

teaspoon

ground cinnamon

½

teaspoon

ground nutmeg

¼

teaspoon

ground allspice

¼

cup

pine nuts

toasted (slivered almonds can be substituted)
Instructions
Toast pine nuts, place in a small fry pan over medium heat, tossing every couple of minutes. Alternatively, place them on a rimmed baking sheet in a 350 degree oven for about 5 minutes.

Brown the butter: Place 1 stick of butter in a small saucepan on medium heat. Allow the butter to foam and continue cooking, stirring occasionally. After 5-7 minutes, the butter should be a nice golden brown color. Strain through a fine mesh sieve or cheesecloth to remove solid bits at the bottom of the pan.

Combine squash, apples and cranberries in a large bowl.

Pour browned butter, maple syrup and spices over top and toss to coat well.

Place mixture in a 9x13 casserole dish and bake at 375 until squash is tender, about 45 minutes.

Sprinkle toasted pine nuts on top and serve.
Notes
Butternut squash can be substituted for buttercup squash if desired.
Tips for working with squash:
put it in the microwave for a few minutes to soften the skin, which makes it easier to cut and peel
Use an ice cream scoop with a flat edge (like in the picture) to scoop out your seeds. This is a game changer!
Nutrition
Calories:
221
kcal
|
Carbohydrates:
30
g
|
Protein:
3
g
|
Fat:
12
g
|
Saturated Fat:
6
g
|
Cholesterol:
24
mg
|
Sodium:
91
mg
|
Potassium:
881
mg
|
Fiber:
5
g
|
Sugar:
13
g
|
Vitamin A:
3411
IU
|
Vitamin C:
30
mg
|
Calcium:
75
mg
|
Iron:
2
mg