As an Amazon Associate I earn from qualifying purchases.


This post was sponsored by Milk Means More, all opinions are my own.
Stuffed Flank Steak Pinwheels are impressive looking yet relatively easy to make. Filled with delicious cheese, roasted bell peppers, and spinach, it's a meal that will be devoured!
It's a beautiful presentation, especially for entertaining. But you don't need to wait for a dinner party to serve this, it works great for a regular family meal too.
There are several variations of this for different flavors, and I'll share some with you in the post. It pairs nicely with Instant Pot Wild Rice, or Perfect Asparagus.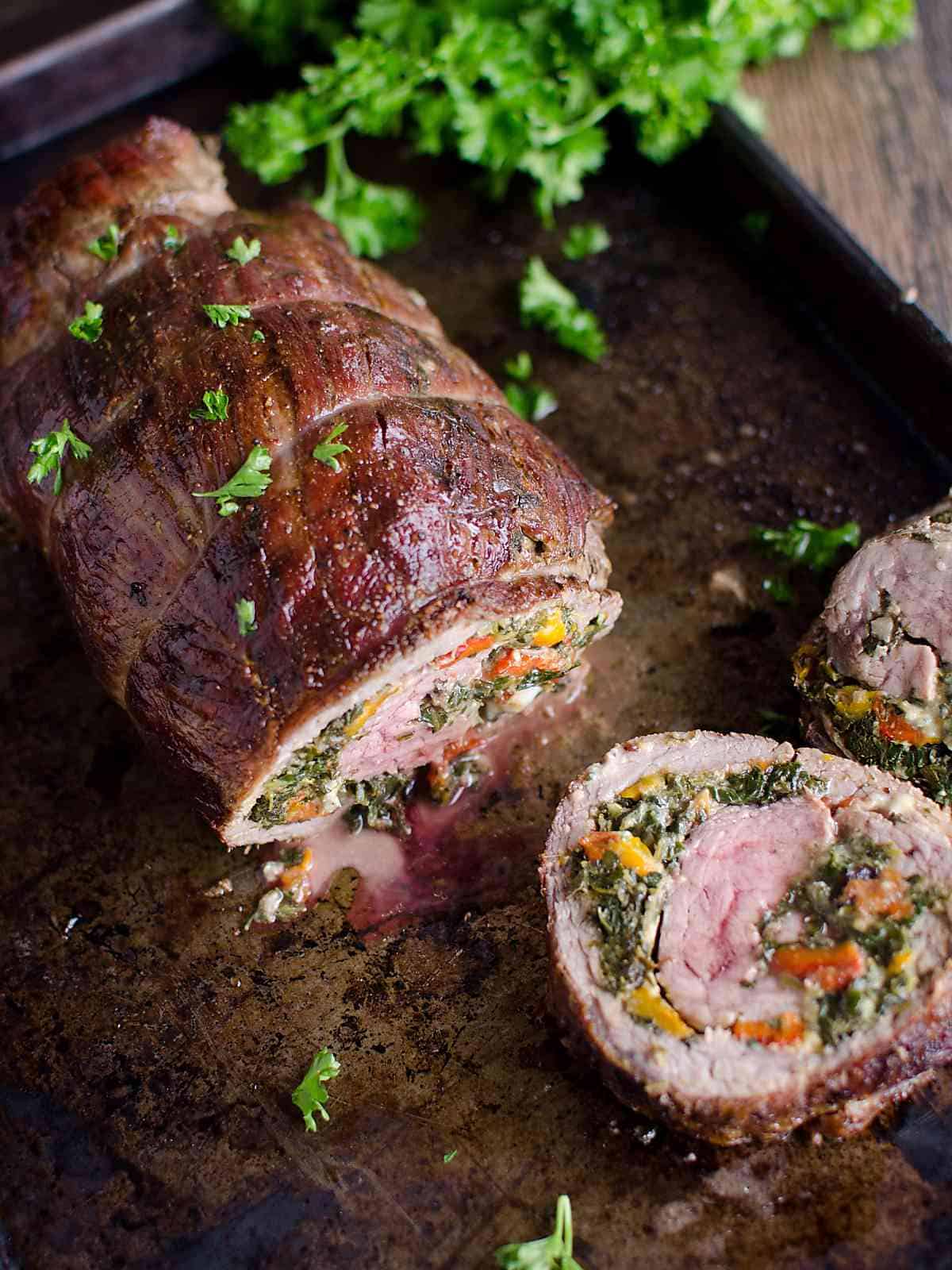 Are you a steak lover? Flank steak is a pretty affordable cut of red meat. So if you have a larger family, or you're entertaining, this is a great way to enjoy some red meat.
It's the same cut of meat I use in my Steak Fajitas, and they are oh so tender!
Flank steak is somewhat known for being a tougher piece of meat, but you'll see with this recipe how tender it can be when treated properly.
Good to know before you start
For Steak Pinwheels, you'll need about 1 ½ pounds of flank steak butterflied. Have your butcher butterfly it for you. They're experts and it saves you a step!

I've included instructions on how to do it just in case that's not an option.

You'll need frozen spinach thawed. Take it out of the freezer a day ahead so it's ready for you. Just let it thaw in a bowl in the fridge
This recipe calls for roasted peppers-- I love doing these myself because the flavor is amazing, but, they sell roasted peppers in a jar, so if that's easier for you, go for it.
The steak is tied up with kitchen twine. Have this out and ready before you begin.
How do you thaw frozen spinach?
Option 1: thaw in the refrigerator overnight.
Option 2: take the spinach out of the package, place it in a microwave safe bowl, cook 1-2 minutes until the spinach is thawed, but not cooked. Drain in a colander.
Option 3: Place the spinach in a colander and run under cold or tepid water. Break it apart as it thaws more. Drain well.
How do you get the excess water out of frozen spinach?
After thawing the spinach, put it in a few layers of paper towel and squeeze the water out. Repeat until most of the moisture has been removed. It may take several times.
How to butterfly the steak
It sounds fancy, but this just means to slice it horizontally, in half, but not all the way through, you want it to open like a book. You're making the steak thinner.
Lay the steak out on a cutting board with the shorter end closest to you. It should be somewhat rectangular shaped, and you want to cut on the long side.
Put your hand on top to hold the steak in place, using a long sharp knife, lay it halfway down the edge of the steak, keeping it level with the cutting board.
Begin slicing the steak horizontally. Once you get a little way in, it helps to grab the edge that you just cut and slowly peel that back as you cut. Stop cutting when you are about an inch from the end. DON'T CUT ALL THE WAY THROUGH. Open the steak up like a book. Now it's ready to stuff.


How To Roast Peppers
Char the peppers by placing them, whole, on a rimmed baking sheet. Put them in the oven, under the broiler on high. They should be 1-2 inches from the broiler. The skin will turn

completely black

. You'll need to turn the peppers so all sides are charred.
Using tongs, remove the peppers from the oven and place them in a bowl. Cover the bowl tightly with plastic wrap, let it rest 15 minutes.
After the peppers have rested, and are cool enough to touch, peel off the char, remove the stem and seeds, and dice.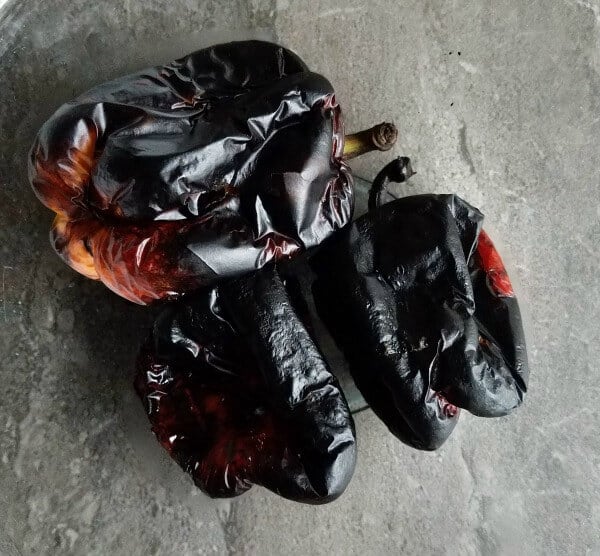 Like playing with fire? You can also roast the peppers over a flame on a gas stove. Use tongs and an oven mitt!

Simply use the tongs to hold the pepper over the open flame. This is a more hands-on approach.
How to make Stuffed Flank Steak
Ingredients
red bell pepper
yellow bell pepper- both bell peppers are tender with a touch of sweetness and smokiness after roasting
egg yolk- acts like glue, it will hold all the stuffing together
frozen spinach- needs to be thawed, and moisture squeezed out, see post for tips
garlic- because, YUM! flavor!
blue cheese- strong and tangy. If you're not a fan substitute with gorgonzola, goat cheese, or your favorite.
breadcrumbs- absorbs moisture and adds texture, and also acts as a binding agent.
lemon juice- flavor booster
balsamic vinegar- adds fullness and tang
flank steak, butterflied
salt & pepper- salt adds flavor as well as tenderizes the meat, be generous.
Instructions
STEP ONE: Prep ingredients
Roast the peppers (how to above)
Butterfly the steak if your butcher didn't do it for you. (how to above)
While the peppers are resting, combine the rest of the stuffing ingredients in a bowl. Once you've finished with the peppers, add them in and stir.
STEP TWO: Stuff the steak
Spread the spinach mixture over the meat, leaving a one-inch border around the edges. If the filling is too close to the edges it will ooze out during cooking.
Starting with the long edge, roll the steak up and secure it with 3 pieces of kitchen twine.
Sprinkle the roll with salt and pepper.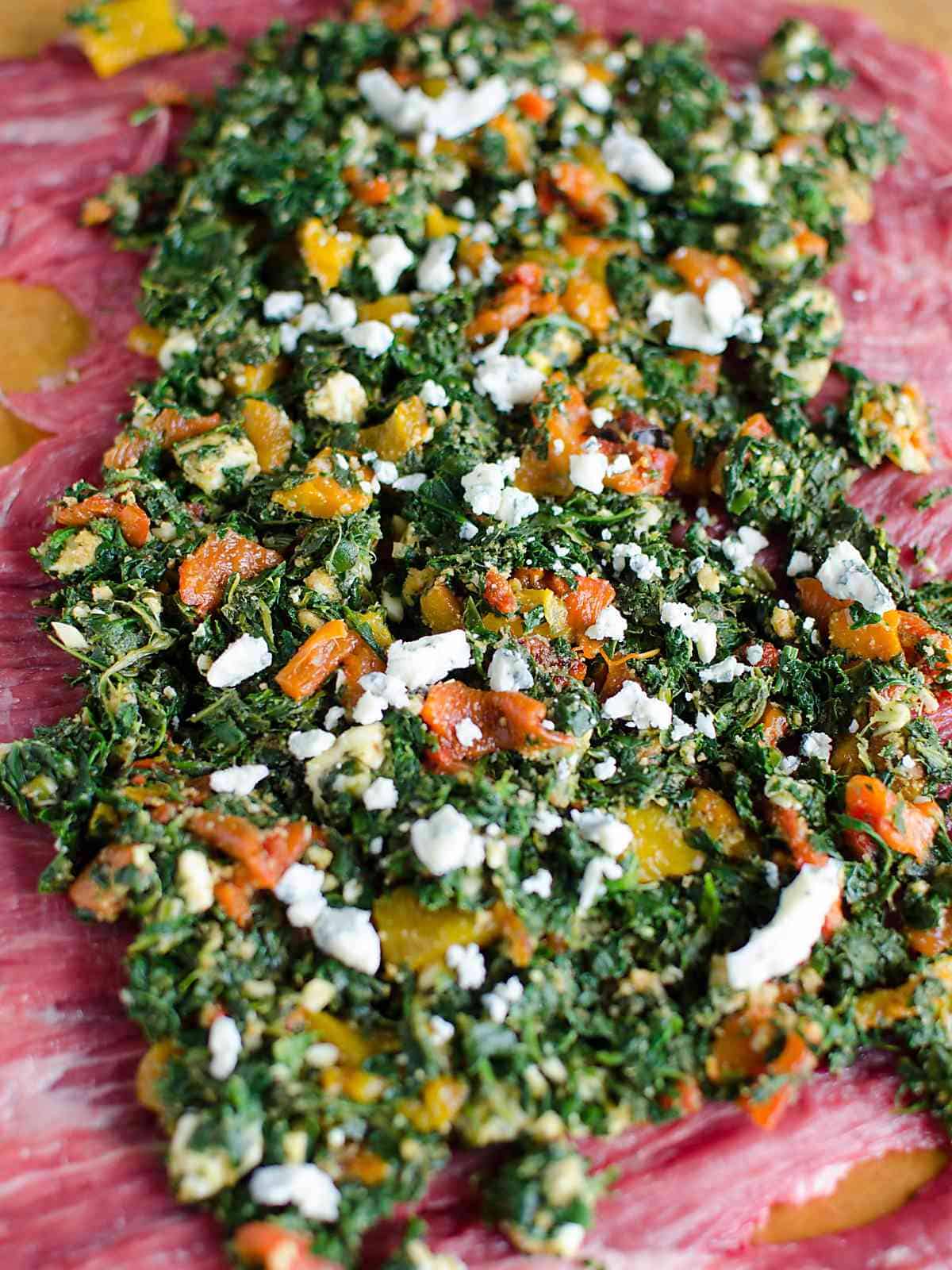 STEP THREE: Cook
Place the stuffed steak on a rimmed baking sheet and bake in a 425° oven for 35 minutes.
Then move the pan to the broiler. My broiler is in the top of my oven, so I move the pan to the upper third rack and turn the broiler on.

The meat can be 3-5 inches away from the broiler

.
A broiler is a heating unit in the top of an oven, and when it's on, that is the only heat source to cook your food. It's great for toasting bread, browning things up (think bubbly cheese), or charring a bit (like in this fajita recipe)
Broil for 10 minutes, turning once. This will brown up the meat and give it a golden crust.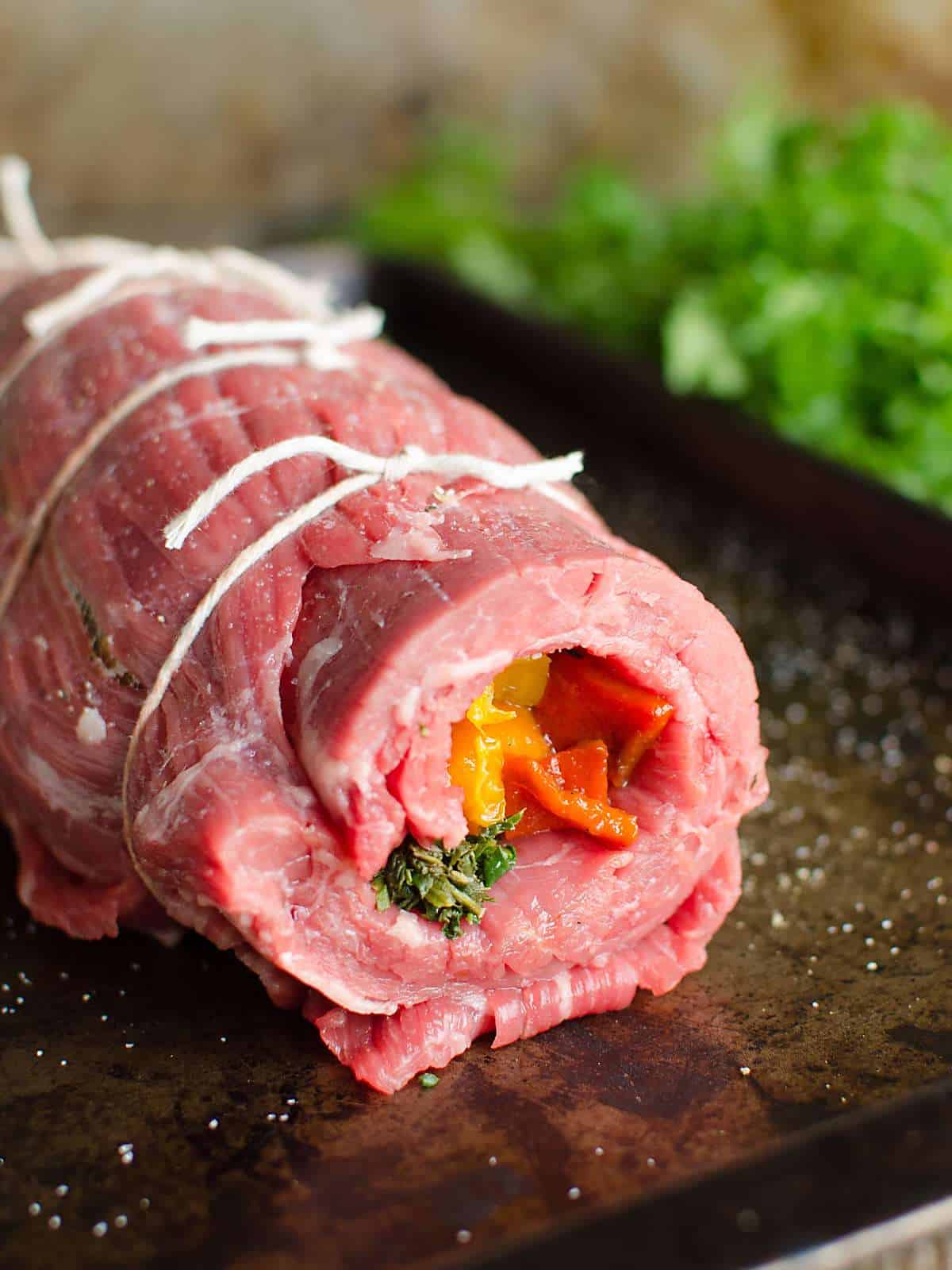 Notes:
To get a head start, you can prepare the peppers the day before, store in an airtight container in the refrigerator
Thaw the spinach the day before or well before you start your recipe.
Use the cheese of your choice. We love blue cheese, but goat cheese, feta, or gorgonzola also tastes wonderful! You can even use shredded mozzarella or provolone.
For a low carb option, substitute almond flour or for the bread crumbs
Use 2 sets of tongs to turn the meat halfway through it's broiling time. Take it out the oven, use a pair of tongs in each hand and grab the ends of the steak roll, turn it halfway, and put it back in the oven.
Any color bell peppers work, but I think that red, orange or yellow taste the best.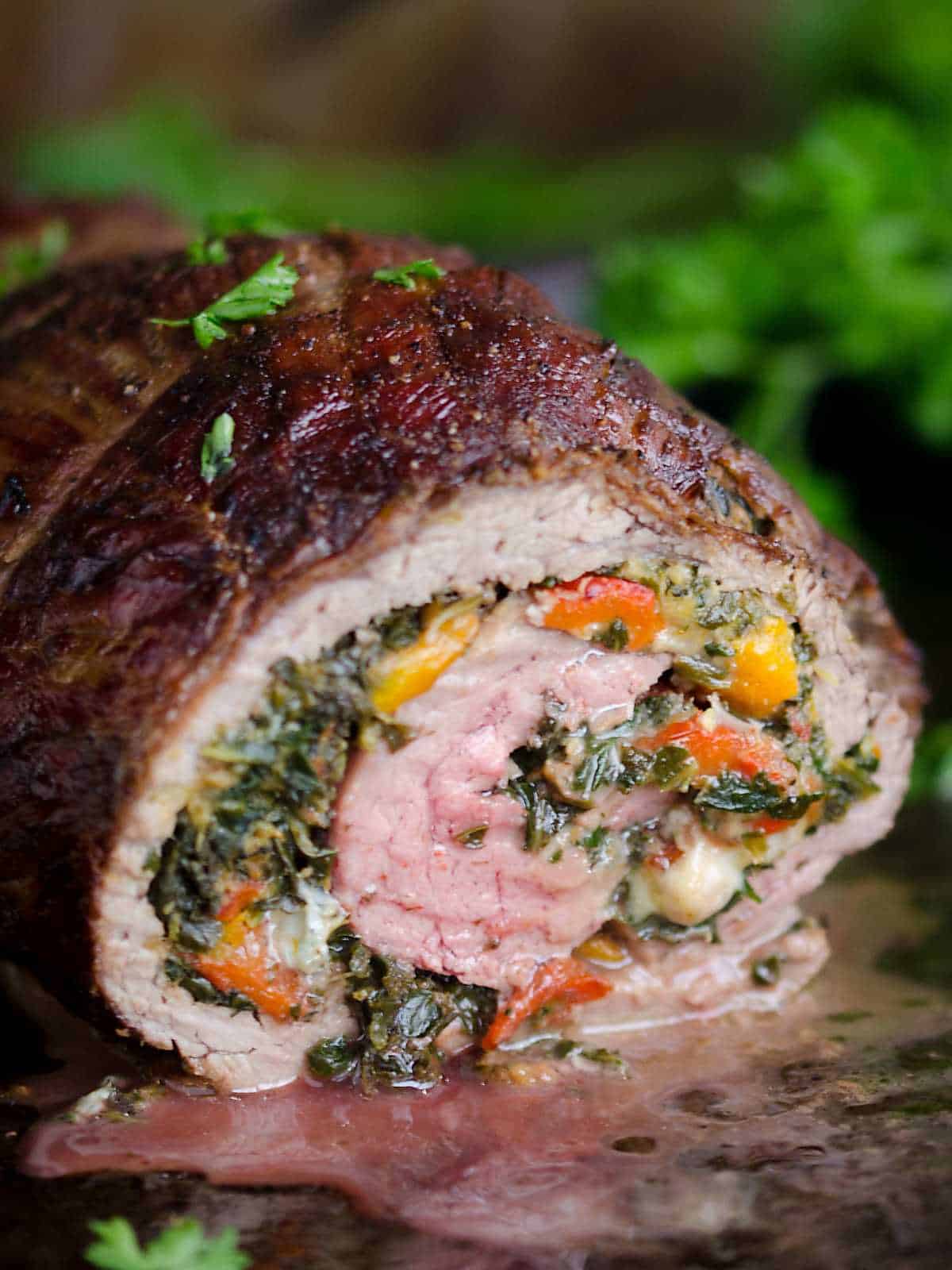 More Steak Recipes
Grilled Steak Fajitas
Tender juicy steak loaded with flavor, topped with crisp peppers and onions and all the fajita fixin's. These grilled flank steak fajitas will feed a crowd.
Check out this recipe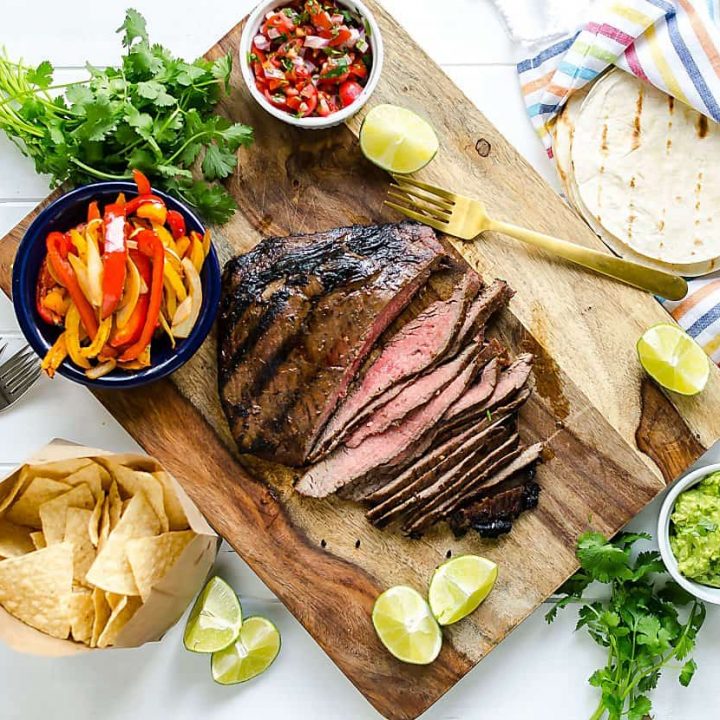 Sheet Pan Steak and Veggies
An easy flavorful steak dinner in minutes! Sheet Pan Steak and Veggies is an easy weeknight meal, or a fuss free fancy dinner. Tender steak and perfectly roasted vegetables smothered in a homemade Boursin cheese sauce.
Check out this recipe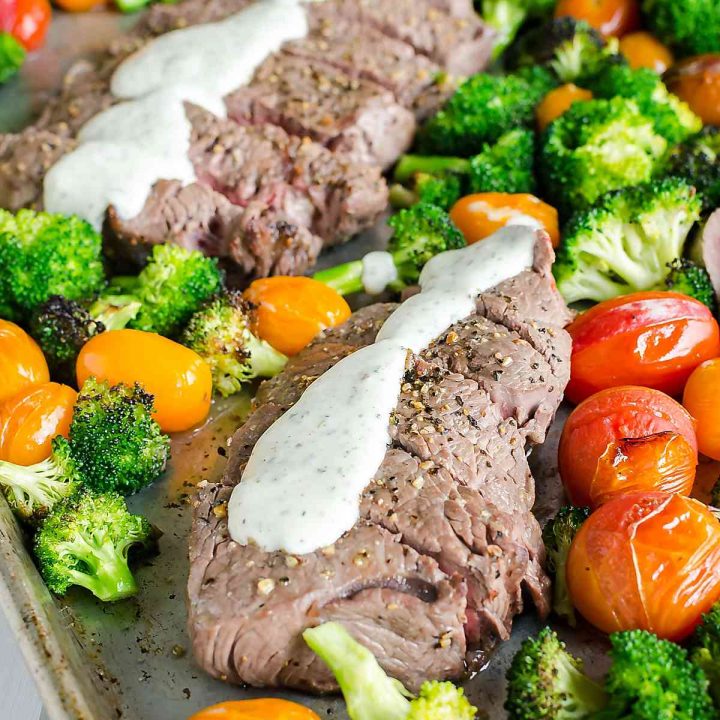 Homemade Philly Cheesesteak
Now you can have the popular Philly Cheesesteak sandwiches at home! Tender steak, green peppers, and onions smothered in melted cheese! This will become one of your go-to dinner recipes!
Check out this recipe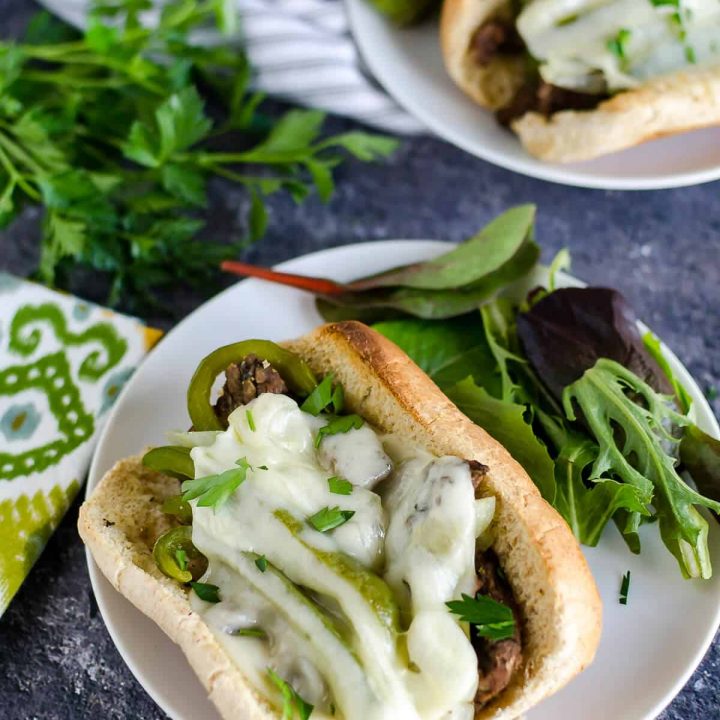 Recipes for Entertaining
HUNGRY FOR MORE? Subscribe to my newsletter, to have recipes delivered to your inbox and to stay up to date on the latest!
Please Share!
Your shares are how this site grows and I appreciate each one. Do you know someone who would enjoy this recipe?

I'd love it if you would share it on your favorite Pinterest board or Facebook! AND…if you like this recipe, please do me a favor and give it a ⭐️ ⭐️ ⭐️ ⭐️ ⭐️ rating! TIA 🥰

You can also follow along on YouTube and Instagram!
Stuffed Flank Steak Recipe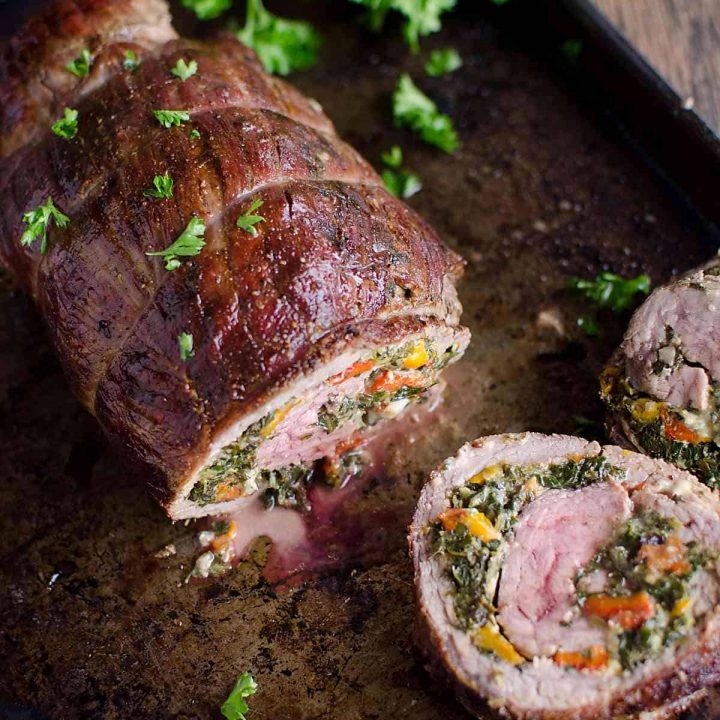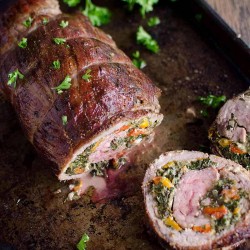 Stuffed Flank Steak
These flank steak pinwheels are stuffed with blue cheese, spinach and roasted peppers. They're easy enough for a weeknight meal, yet impressive enough for your next dinner party.
Print
Pin
Rate
Ingredients
1

red bell pepper

1

yellow bell pepper

1

egg yolk

1

pkg

frozen spinach, thawed and extracted of water

2

cloves

garlic, minced

½

cup

blue cheese

½

cup

bread crumbs

2

tbsp

lemon juice from half of a lemon

1

tbs

balsamic vinegar

1 ½

lbs.

Flank Steak

butterflied

salt & pepper, to taste
Instructions
Turn the broiler on high. Place the bell peppers on a baking sheet and place under the broiler. Turn every few minutes until both peppers are completely black

Remove from the broiler and place in a bowl and cover with plastic wrap for 10 minutes.

Turn off the broiler and preheat the oven to 425.

Combine egg yolk, spinach, garlic, lemon juice, vinegar, cheese, and bread crumbs in a bowl. Set aside

Once the peppers are cool enough to touch, peel off blackened skin, it should come off easily. Dice the peppers and add them to the spinach mixture.

Butterfly the steak (or have the butcher do it!) and lay it out. Spread the spinach mixture on top leaving a one inch boarder around the edges.

Roll steak up and secure with kitchen twine.

Sprinkle Salt and Pepper over the steak roll.

Turn on the broiler again and bake for 10 minutes more, turning once. This browns up the meat beautifully.

Remove from the oven and let rest for 10 minutes, slice and serve.
Notes
Have your butcher butterfly the steak for you.
To get a head start, thaw the spinach and prepare the peppers the day before, store in an airtight container in the refrigerator.
You can use jarred roasted peppers in place of roasting them yourself.
substitute goat cheese, shredded mozzarella, or provolone cheese for the blue cheese.
For a low carb option, substitute almond flour or oat flour for the bread crumbs
Use 2 sets of tongs to turn the meat halfway through it's broiling time. Take it out the oven, use a pair of tongs in each hand and grab the ends of the steak roll, turn it halfway, and put it back in the oven.
Nutrition
Calories:
269
kcal
|
Carbohydrates:
12
g
|
Protein:
30
g
|
Fat:
10
g
|
Saturated Fat:
4
g
|
Cholesterol:
109
mg
|
Sodium:
321
mg
|
Potassium:
680
mg
|
Fiber:
2
g
|
Sugar:
2
g
|
Vitamin A:
6340
IU
|
Vitamin C:
66.2
mg
|
Calcium:
167
mg
|
Iron:
3.4
mg
Update Notes: This post was originally published in 2016, but was updated with some more information, step-by-step instructions, and updated notes in February of 2021.