An easy flavorful steak dinner in minutes! Sheet Pan Steak and Veggies is an easy weeknight meal, or a fuss free fancy dinner.  Tender steak and perfectly roasted vegetables smothered in a homemade Boursin cheese sauce.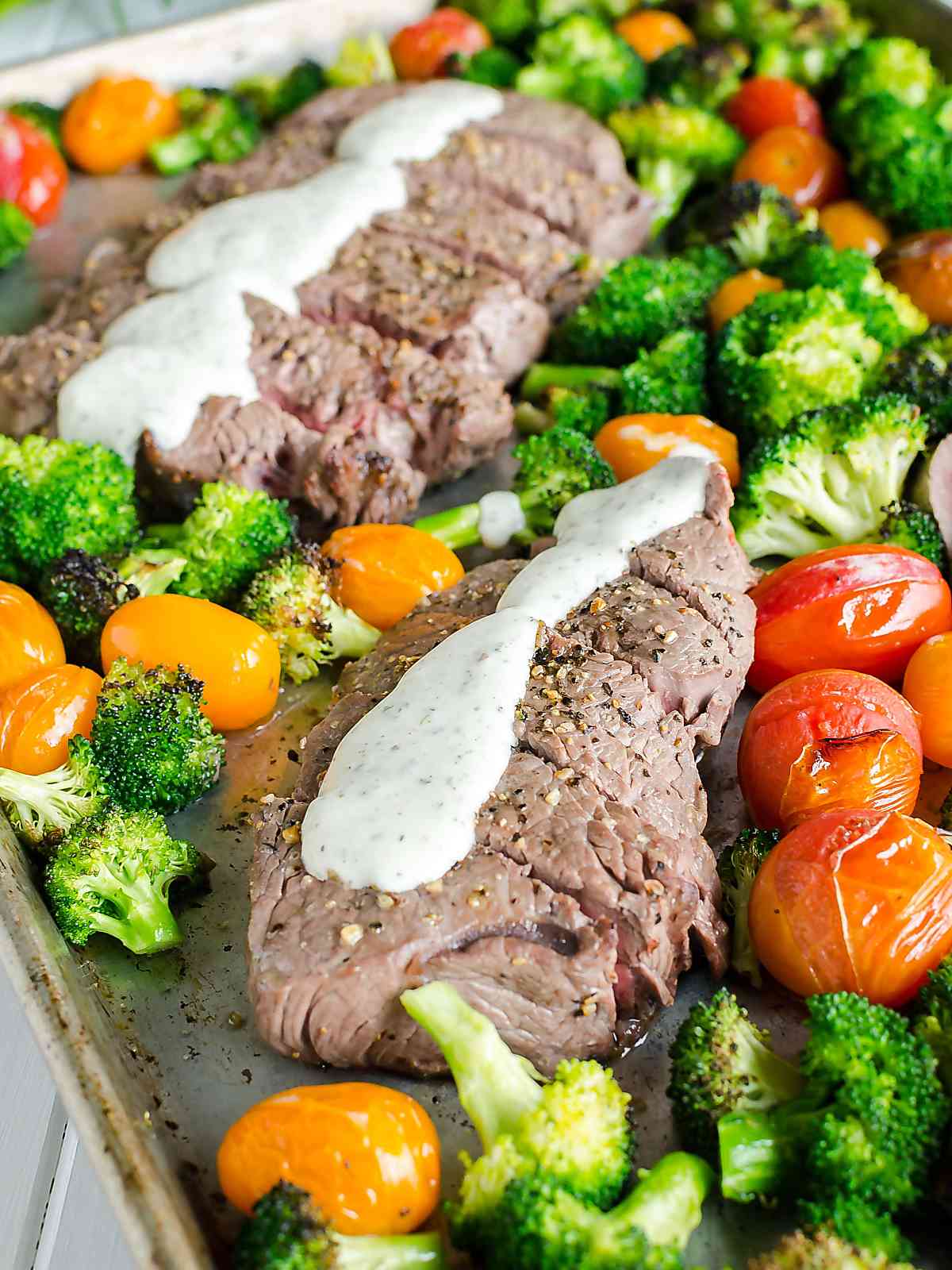 Sheet Pan Dinners are Brilliant! It has to be the easiest meal to make. Everything on one pan, in the oven, done at the same time.  Have you guys made these?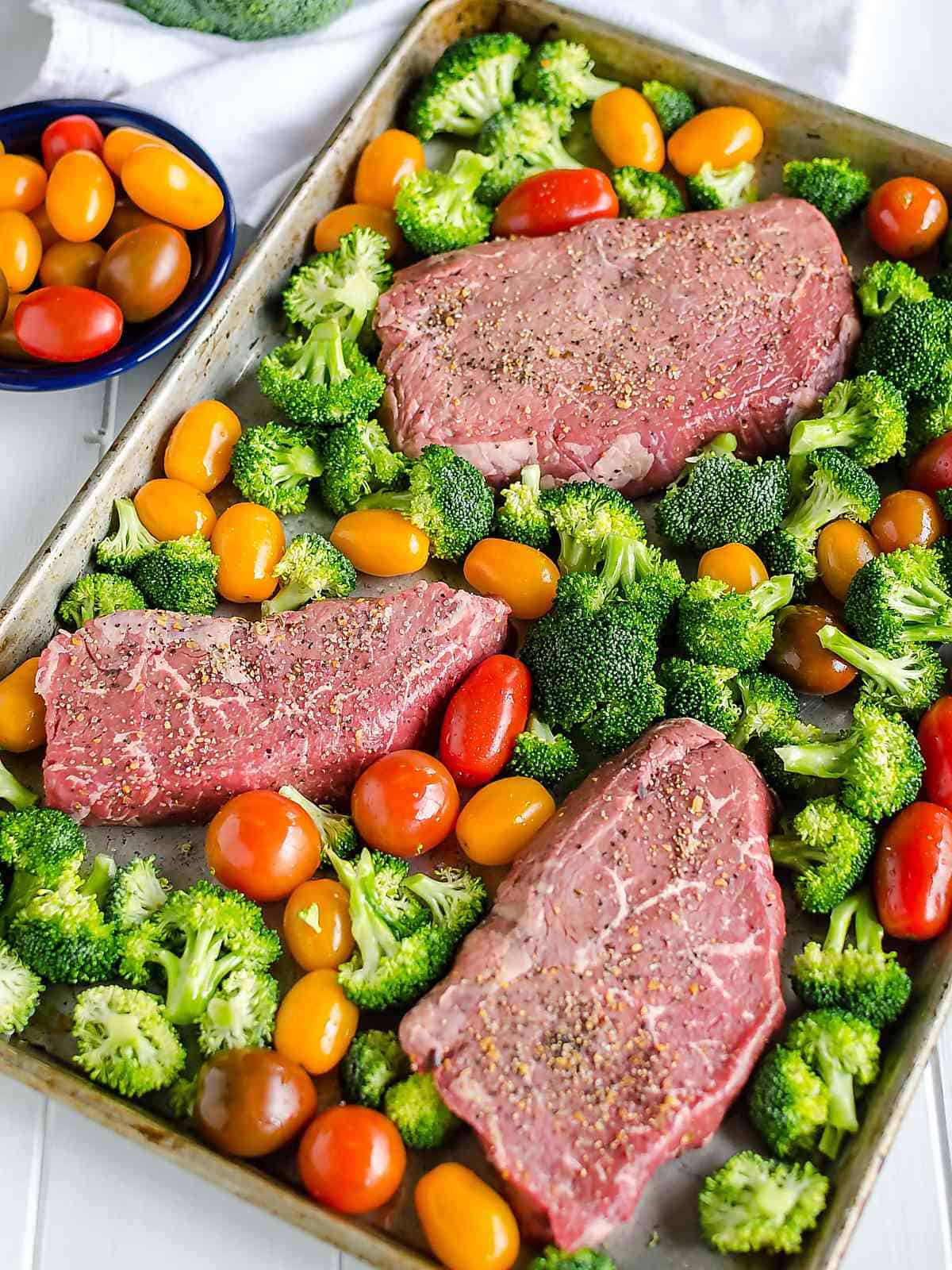 There are so many variations, the possibilities are endless.  And although this is the first Sheet Pan dinner I'm posting, I have to tell you, I make them quite frequently.  Like, several times a week.
You know I like to cook, right?  One would get that impression by visiting my blog.  But have I ever told you I don't like to cook under pressure? If it's four o'clock and I have to figure out what's for dinner and then cook it while children are coming in and are tired and cranky, etc…
No thanks.  To overcome that challenge, I do two things:
Meal planning is key. It will make your life SO much easier.  But the next thing that will ease the stress is Sheet Pan Steak and Veggies.  Or Sheet Pan anything!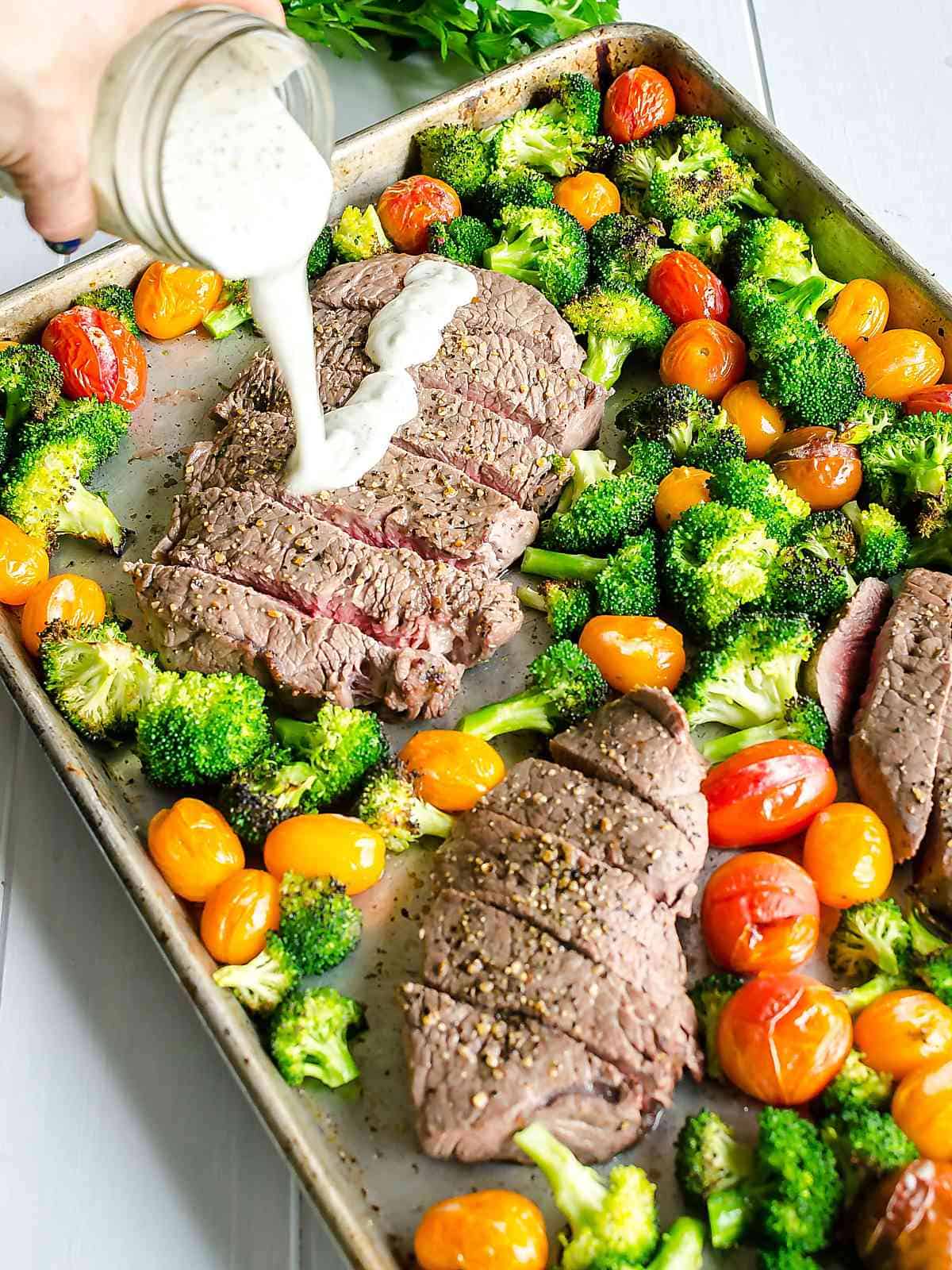 You must think we're pretty fancy having steak on a weeknight, but let me tell you, that's not the norm. It's usually chicken.  My husband and I do have steak once a week though.  We call it our "in-date".  All the children are tucked in their rooms early, so we can have some quality time together.
We used to get take out, but then we decided to cook.  Or, I should say my husband did.  I liked take out, because I needed a break from the week and for the next week.  But he said, "I'll cook and clean". Alrighty then!  Don't gotta ask me twice!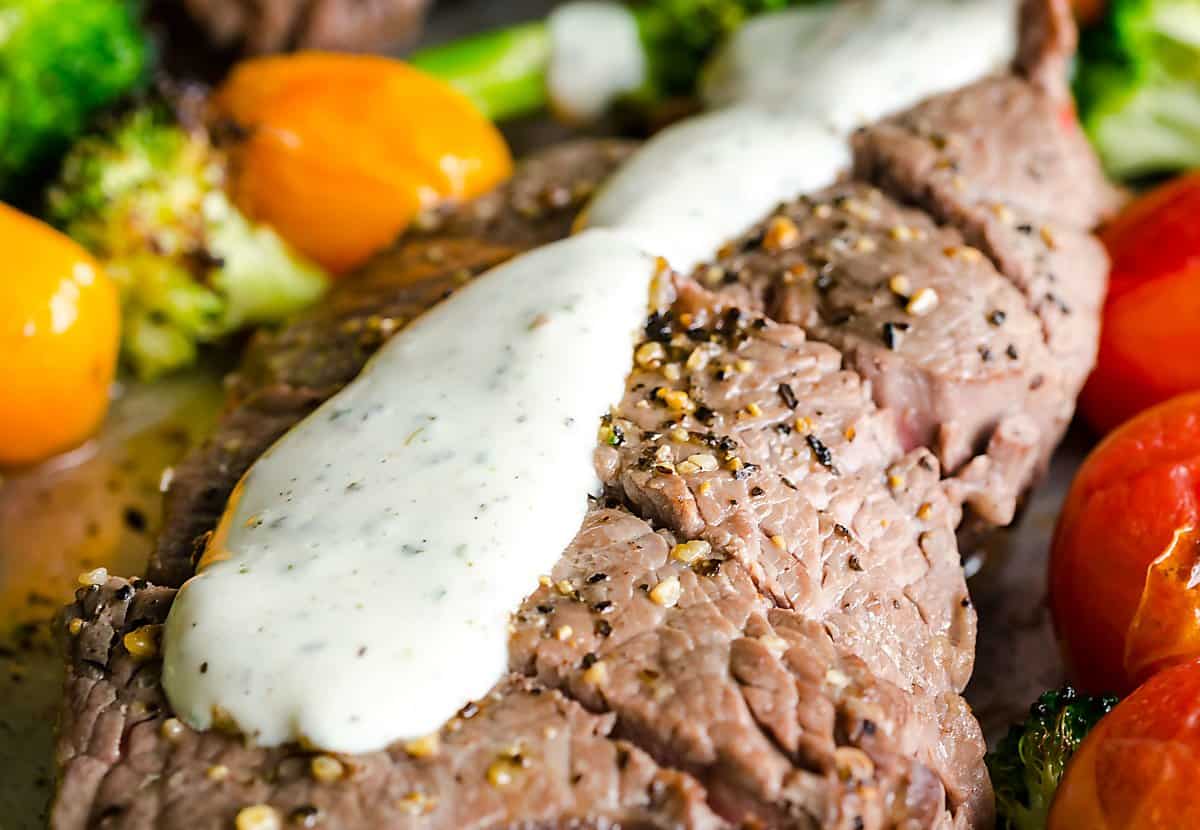 So we eat steak.  This method is quick, easy, and you only have to clean one pan.
To take this recipe a step further,  I made this awesome Boursin Cheese Sauce. I found this recipe over at The View From Great Island, and adapted it for the sauce.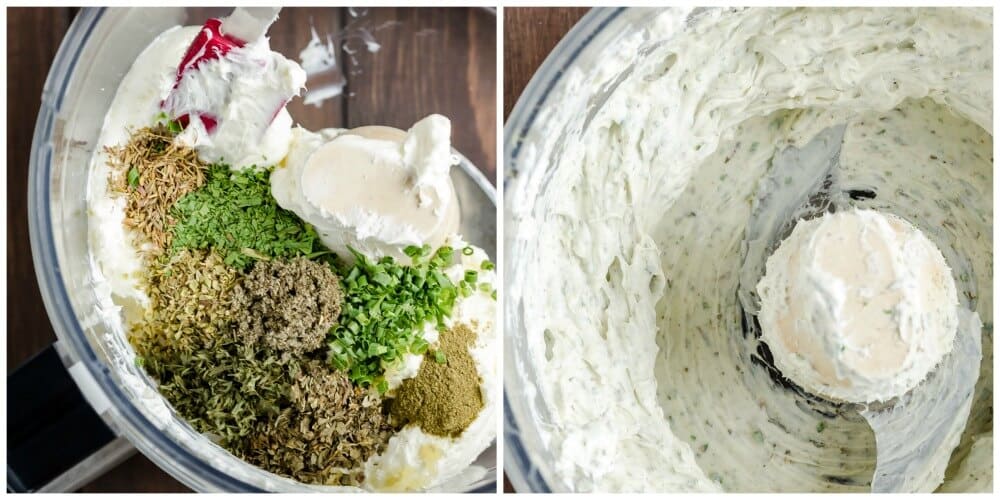 It's optional, you don't have to go this far.  But… cheese! Why wouldn't you?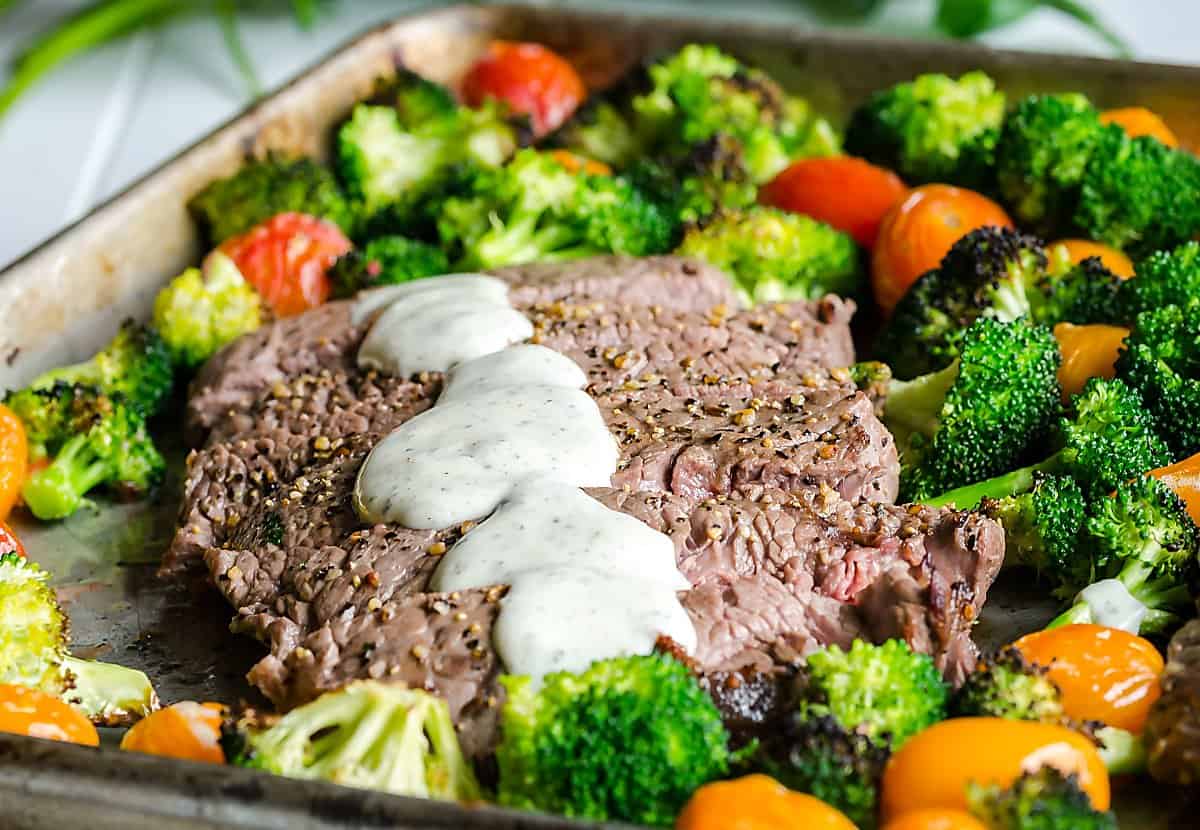 I would love to connect with you! Leave me a comment and follow me on Facebook, Twitter, Instagram and Pinterest. 
If you love this Sheet Pan Steak and Veggies meal, here are some other great ones to try~
If you need a meal plan, I post a new one each Friday.  You can find all the meal plans here. 
For tips and ideas on meal planning, join conversation over on the Facebook group.