As an Amazon Associate I earn from qualifying purchases.


These Sheet Pan Chicken Fajitas just might change the way you do "Taco Tuesday" forever! They're healthy, perfectly seasoned and come together in about 30 minutes. It's Fiesta time!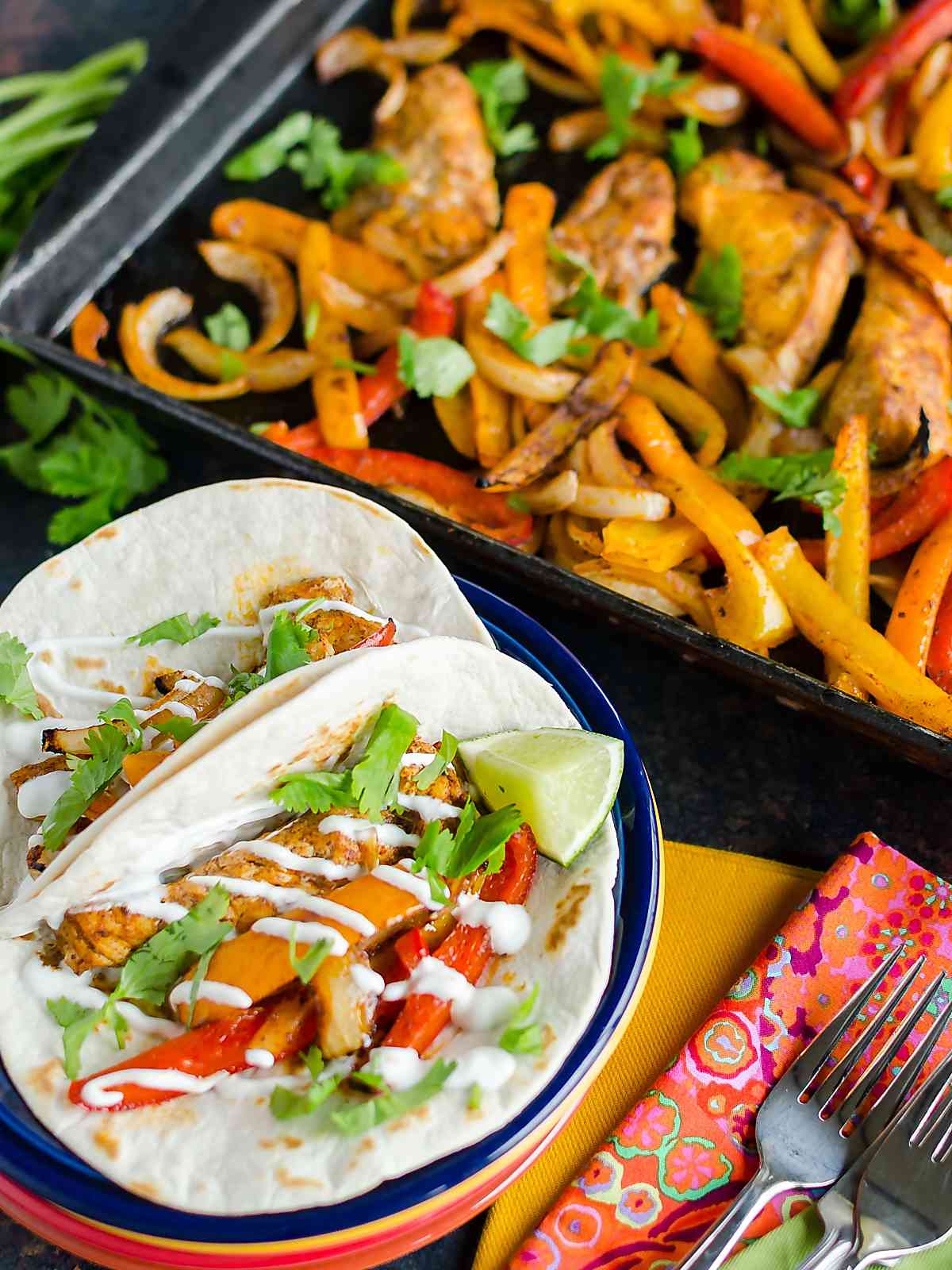 Sheet Pan Chicken Fajitas
Sheet Pan Suppers are everywhere these days. Search Pinterest and you can scroll for miles on all the varieties. And I love them for 2 reasons:
They're super easy, quick, and are made in one pan.
Endless flavor varieties.
Honestly, I could probably list 20 more reasons, but we'll leave it at that, you get the idea. Are you making sheet pan dinners yet?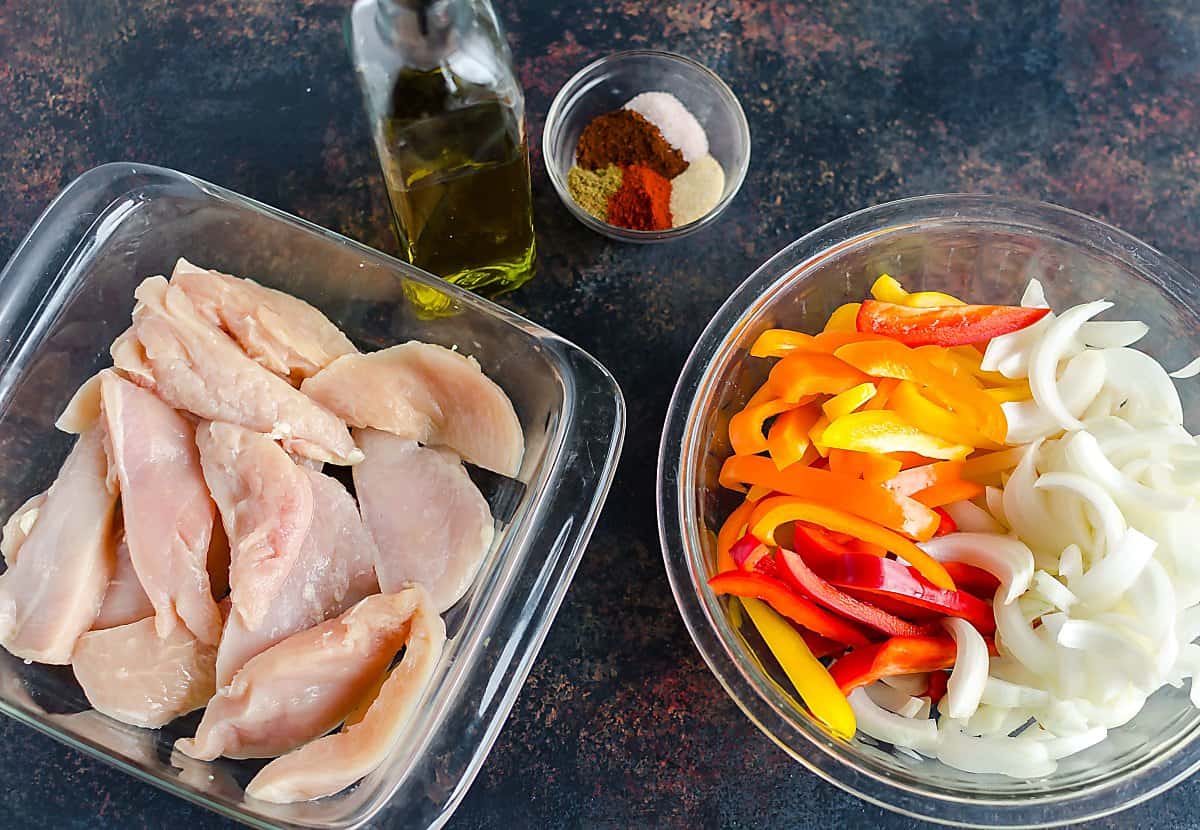 This post may contain affiliate links
Do you have any foods that bring back a memory for you? I actually have a few, but Fajitas always bring back the memory of a time with our former small group. This was quite a few years ago. We had all decided to go out to dinner together.
One of our friends just wanted to have a little fun with the waitress. So when she asked for his order, he, in all seriousness, said, "I'd like the fuh-jite-uz please." yeah pretty much pronounced Fajitas phonetically. Of course we are all trying to smother our smiles and laughter as she tried to figure out what he meant.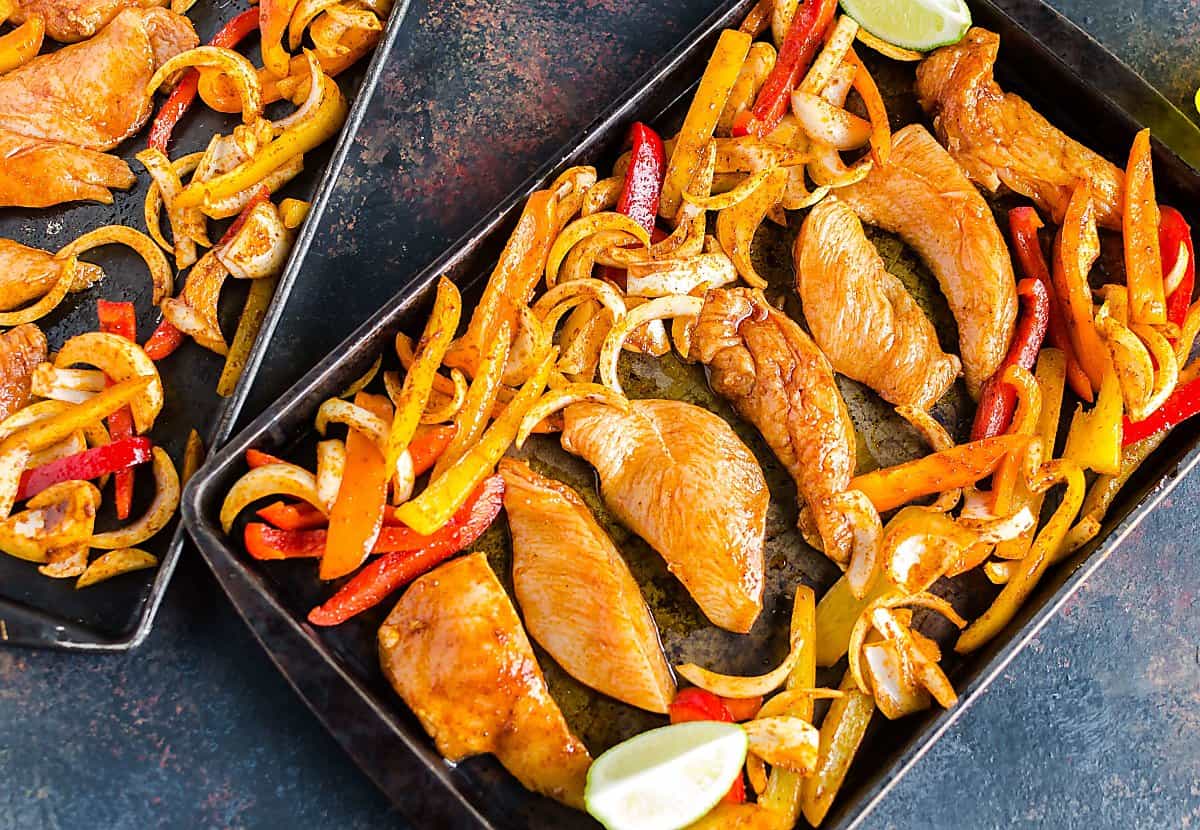 So when I make these Sheet Pan Chicken Fajitas, THAT pronunciation is always in the back of my mind.
Tips for perfect sheet pan dinners:
1. Use the right kind of pan
The best baking sheet to use for sheet pan suppers is called a half sheet pan. It's a heavy gage metal and measures 18x13 inches with a one inch rim. It can handle the heat, and you can spread the food out. If the food is crowded on the pan, it will get mushy because it will be steamed instead of roasted. Because the rim is low enough, the heat can move across the ingredients and give you a nice caramelized, crisp and brown finish
2. Line the pan for easy clean up
You won't see much of this on all the beautiful blog posts out there (foil doesn't photograph well), but hey let's be real, most people want easy clean up, so this will help. 🙂
2. Keep your meat and veggies close to the same size and thickness
In the case of the sheet pan chicken fajitas, I often butterfly or fillet chicken to keep it thinner, you can slice it as well. This will ensure even cooking.
3. Give Denser Vegetables a head start
If you're cooking potatoes, or squash, they will need more cooking time than green beans, asparagus or tomatoes. Add those types of veggies later in the cooking time.
4. Always Add Oil
Oiling up the ingredients will keep them from drying out. You can toss them with oil and seasonings right on the pan if you want to. I find using my hands to toss and coat works the best.
5. Add A Rack
If you want to do a breaded chicken or fish, place a rack over the veggies with the meat on it. It will keep the coating crisp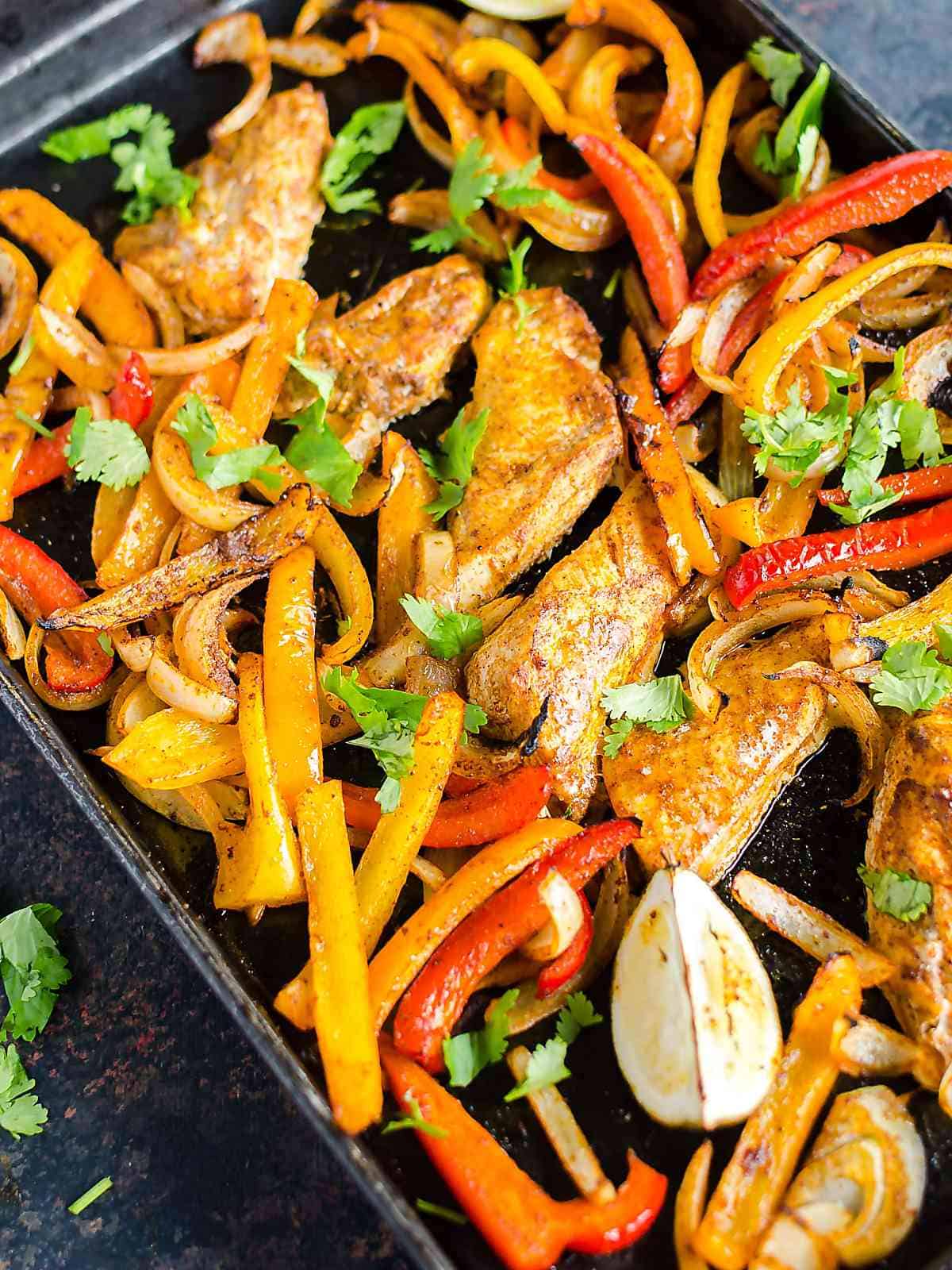 These tips will help you make any sheet pan dinner a success! But let's get on to Sheet Pan Chicken Fajita's first. This one cooks all together all at the same time. 🙂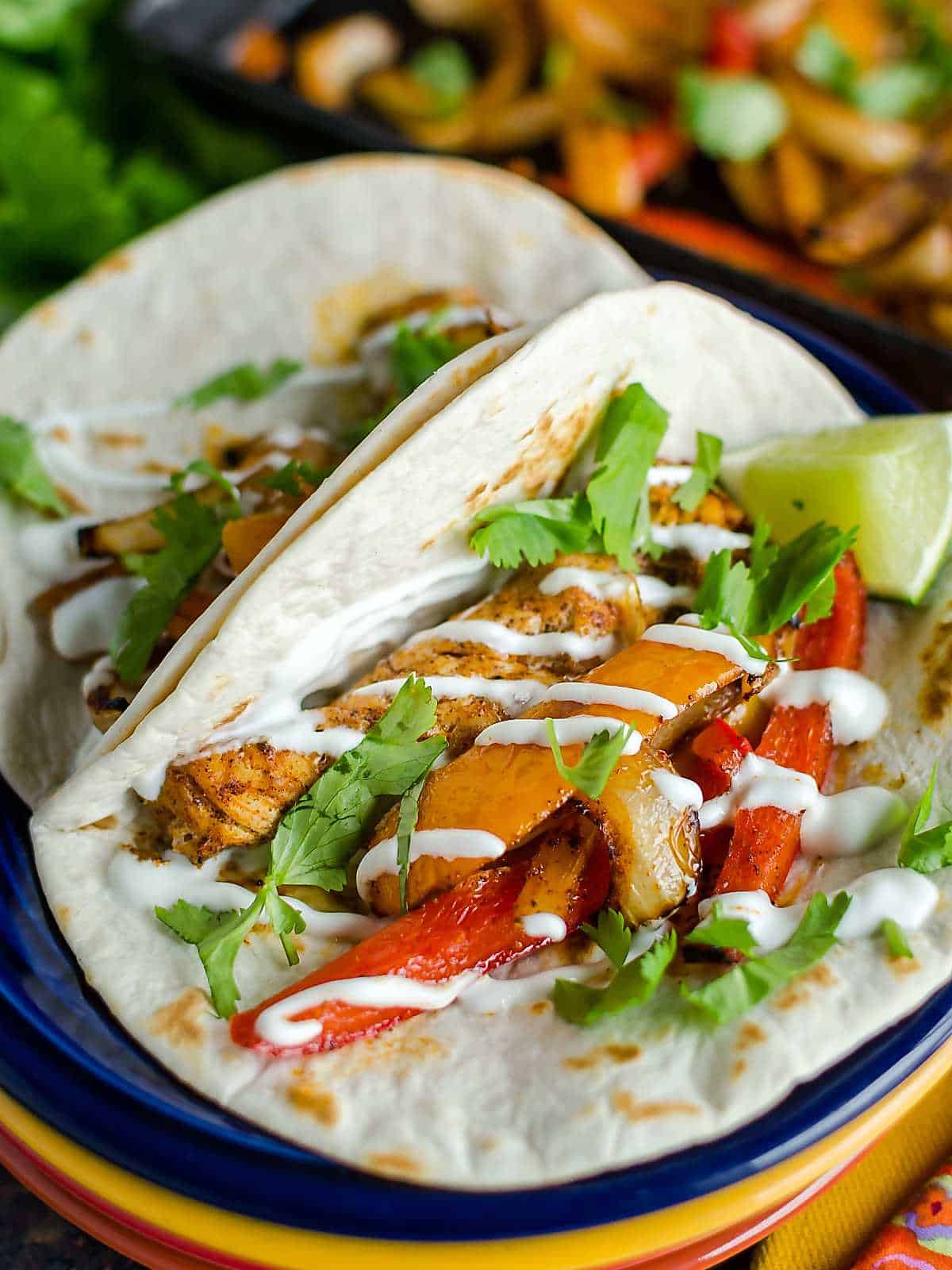 These are perfect served with flour or corn tortillas, over rice, or for a low carb option, cauliflower rice.
Try these great Sheet Pan dinners too~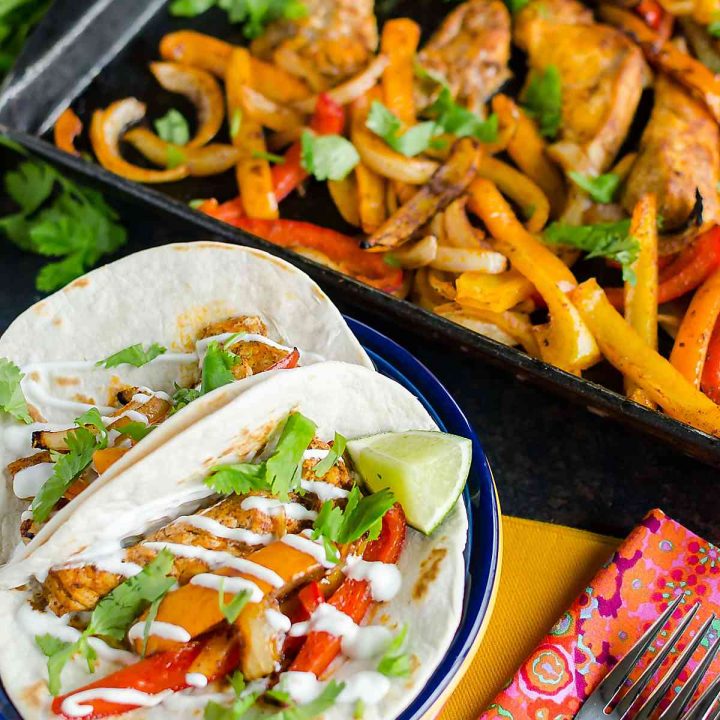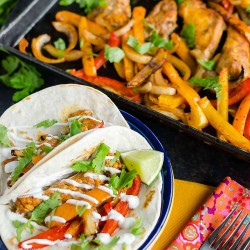 Sheet Pan Chicken Fajitas
These Sheet Pan Chicken Fajitas just might change the way you do "Taco Tuesday" forever! They're healthy, perfectly seasoned and come together in about 30 minutes. It's Fiesta time!
Print
Pin
Rate
Ingredients
1

tbsp

chile powder

1

tsp

garlic powder

1

tsp

cumin

1

tsp

smoked paprika

½

tsp

salt

¼

cup

olive oil

1

red bell pepper, sliced

1

yellow bell pepper, sliced

1

orange bell pepper, sliced

1

onion, sliced

3

skinless, boneless chicken breasts, sliced into thin strips

1-2

fresh limes, cut into wedges
Instructions
Combine chile powder, garlic powder, cumin, smoked paprika, salt, and olive oil.

In a bowl, or on the sheet pan coat the veggies and chicken in the seasoned oil mixutre.

Arrange the chicken and veggies on the sheet pan into an even layer, don't crowd the pan (use two if necessary).

Roast at 425 for 10 minutes. Then, place the pan under the broiler and toss vegetables every 60-90 seconds until a little charred.

Just before serving, squeeze lime wedges over chicken and veggies. The lime wedges can be roasted on the pan as well, but this is optional.

Serve with flour or corn tortillas, or over rice or cauliflower rice for a low carb option.
Notes
Low carb options:
use low carb tortillas
eat on lettuce as a salad
use lettuce as a wrap
Nutrition
Calories:
242
kcal
|
Carbohydrates:
7
g
|
Protein:
25
g
|
Fat:
12
g
|
Saturated Fat:
2
g
|
Cholesterol:
72
mg
|
Sodium:
351
mg
|
Potassium:
616
mg
|
Fiber:
2
g
|
Sugar:
3
g
|
Vitamin A:
1875
IU
|
Vitamin C:
91
mg
|
Calcium:
20
mg
|
Iron:
1
mg
For more recipe inspiration, follow me on Pinterest and Facebook!